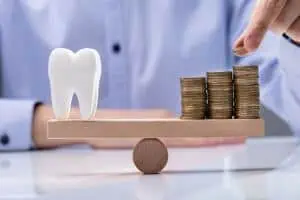 If you're wondering how to finance dental work you need, we're about to explain your options for dental financing in the US.
You might be able to lower the cost of your treatment by getting dental insurance or traveling abroad, and then there are several ways to spread the cost into more manageable payments.
Whether you want to get implants, braces or veneers on finance – or you need to pay for expensive restorative treatment – we hope this guide to dental financing plans helps you make an informed decision on how to pay for dental work.
How can I afford dental work?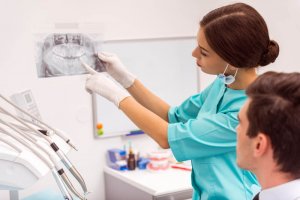 While some people are able to pay thousands of dollars for private access to a dentist and specialty care, most of us are stuck wondering how we're going to foot the bill of a medically necessary procedure.
Going to the dentist isn't cheap, and this hasn't gone unnoticed by patients. In fact, in a survey by DentaVox, top patient complaints when it comes to dental care include the unexpectedly high costs, and the Kaiser Family Foundation found that 41% of Americans have medical or dental debt.
Why are these costs so high?
Dentists in the US are in school for up to eight years and then must complete a few years of residency after graduation. With high graduate education costs in the US, this can often add up to hundreds of thousands of dollars.
Of course, they must also purchase all the necessary equipment, employ staff, and cover the cost of running a clinic. So if you feel ripped off after sitting in the dentist's chair for half an hour, remember you're paying for much more than just one person's time.
But this is little consolation if you find yourself unable to afford the dental work you need or want. Below we will go through the different ways you can finance your dental work and make it more affordable.
Loans or credit cards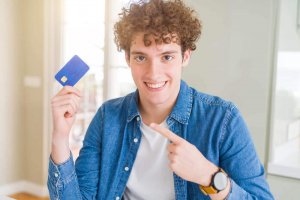 One of the dental financing options you may want to consider is a loan or credit card. You apply for these just as you would with any other big purchase, like a car or a new kitchen.
You'll need to research different lenders to find one that suits your financial situation. Read more about how to choose a dental loan or credit card in our complete guide. We also have an article on loans for cosmetic dentistry.
Paying for dental work with a credit card gives you the flexibility to make repayments as and when it suits you. However, credit card interest rates can be very high and if you only repay the minimum amount each month it will end up costing you an awful lot.
Some cards have an introductory 0% interest rate, which is a good option if you're confident you can repay the full amount before the special offer ends. Be careful with dental credit cards, as if you don't pay off the card within the 0% interest rate introductory period, the rate may double dating back to when the credit contract began.
With a loan, you borrow the money from a lender and use it to pay your dentist in full. You might get a small discount for paying in cash up-front; it's worth asking.
Interest rates vary considerably depending on the amount you borrow, for how long and what your credit rating is like. A personal loan may or may not be more cost-effective than a payment plan, so take the time to compare your options.
If you want to search for personal loans, SuperMoney's loan search engine makes it easy to compare personal dental loans from a large network. You may even be able to find providers who offer dental finance with no credit check. You can click the button below to get started.
Dental financing for bad credit
Is there a way to get dental finance for bad credit? Fortunately for those of us who don't have a spotless credit record, there are some lenders who will provide dental financing if you have bad credit. Only accept the terms of financing if you are confident that you will be able to comply. You can search for loans with bad credit using the same SuperMoney loan engine mentioned above.
CareCredit
CareCredit is a type of credit card resulting from a partnership of lenders and healthcare companies to help consumers pay for healthcare. Healthcare providers accept the CareCredit card as payment for treatment, including copayments and elective procedures.
But before you choose this option, you need to understand that CareCredit is one of many dental finance companies that exists to make a profit, so if you aren't able to pay your bills in time, you will likely owe CareCredit a lot of money.
As with any credit system, make sure you fully understand the terms and that you will be able to pay back your bills in time before you choose this option.
Dental insurance
Many Americans don't buy a dental insurance plan because they aren't aware of the options available to them.
Dental insurance is one of the most common dental financing options in the US and can help with the cost of dental work by giving you a way to pay your expenses (or at least a portion of them) in predictable monthly payments.
Most policies have annual limits though, so don't expect your insurance to cover all your costs every time you see the dentist, especially if you have poor oral health and often need dental work.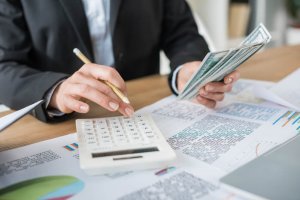 When choosing an insurance plan, depending on your personal needs, the following are some of the things you'll want to know if your plan offers:
Emergency treatment cover
Treatment of pre-existing conditions
Dental implant insurance
Cosmetic dentistry coverage
Oral cancer coverage
Hospital stay allowance
It can be reassuring to know you have some financial protection in place should you find yourself in need of any of these services or types of treatment.
Your insurance policy options in the US include:
Indemnity insurance: Indemnity insurance offers high premiums and high annual deductibles in exchange for high annual caps for a broad range of treatments. This type of insurance is usually only available for groups and may only be a good idea if you are a high-risk patient.
DHMO: DHMOs have low monthly premiums and no deductibles. These plans are ideal for those who want affordable dental care and don't mind sticking to an approved provider network.
PPO: With a PPO you can see any provider you want for your various treatments needed. In exchange for more flexibility, the premiums are higher than with DHMOs.
When choosing what type of dental insurance is right for you, it is very important to take into consideration your needs and, even though it's impossible to know, how much treatment you expect to require.
If you're a senior on Medicare you may want to check out our guide on supplemental Medicare for dental treatment here. If you aren't on Medicare, but you think you may like a supplemental plan anyways, you can read more about these here.
Finance your dental work with an insurance plan
You might feel a bit overwhelmed at first when trying to find the right insurance for you, but Dentalinsurance.com has a solution.
This online marketplace is effortless to use—all you have to do is type in your zip code and your date of birth, and you'll be shown the best dental insurance plans in your state. You can then compare the plans, and look at detailed, and well-explained information, and enroll right from there.
This user-friendly insurance marketplace also offers helpful tips for choosing your plan, plus quick videos that explain how the different plans work. And if you need guidance, you can call their friendly, licensed customer service agents at 888-626-0057.
Considerations
Some dental insurance plans apply waiting periods to at least some types of treatment. If you already need urgent dental care, it's no good taking out a new insurance policy with a 3 month waiting period, so make sure to choose a plan that has no waiting period. Also, be aware that there are usually higher costs for pre-existing conditions and dental problems.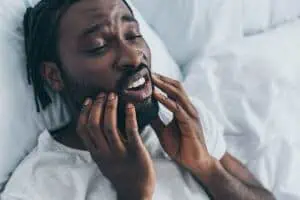 Insurance might not save you a lot of money on your dental care in the long run, and you may still need to look at dental financing for patients requiring bigger treatments, but it will make payments more manageable and offer some protection in emergency situations.
Read more about the different options and things to consider in our full guide to dental insurance in the US.
And if dental insurance simply isn't an option, you can read about how to find a cheap dentist without insurance.
Dental discount plans
Dental discount plans (also known as dental savings plans) are sort of like insurance except that there's no annual deductible or maximum and no waiting period once you enroll. You pay your dentist a sort of membership fee and in exchange, you can get discounted dental work.
These are especially handy with cosmetic dental work, like if you're looking for cheap veneers, or teeth whitening, since these treatments aren't covered by insurance.
Ask your dentist if they offer a discount plan, or learn more about how to find one near you in our dental savings plan article.
You can also search for dental discount plans on Dentalinsurance.com. This online dental insurance marketplace offers a wide range of both insurance and discount plans. Just enter your zip code and your date of birth and you'll get to compare the best dental discount plans in your state. You can then enrol directly from the site.
And if you need help along the way, there's a team of licensed, friendly agents standing by to help you through the process. You can speak with one of them by calling 888-626-0057.
Dental payment plans
Many dental clinics offer their patients the option to pay for their treatment in installments with a payment plan. This type of dental financing involves paying a certain amount up-front and then splitting the remainder into smaller monthly installments.
Payment plans can be used to finance dental implants or other expensive prosthetic treatments. You might also consider this dental financing option if you need several fillings or root canals and can't afford the full cost up-front.
Choosing a provider
There are many companies that offer dental finance options in the US. In most cases, dentists have an agreement in place with one particular provider. You'll find that each provider has different terms and conditions, and some may have special offers like 0% interest or no sign-up fee.
Before taking out a payment plan with your dentist, be sure you understand:
Interest rates: How much interest will you be charged in total?
Admin fees: Is there a charge to apply or sign up for the plan?
Early/late repayment fees: Do any charges apply if you're late with a repayment or you want to pay off the finance sooner than planned?
Credit checks: Does the company run a credit check when you apply? If yes, are you likely to meet their criteria?
You can read more about all of these considerations and the different types of payment plans for dental care.
If you're not happy with the terms of the provider your dentist uses, you could look at other clinics in your area and see which providers they use. There are also some companies that offer dental financing options that can be used at any dental clinic.
Dental tourism
Are you wondering how to pay for dental work and go on a vacation at the same time? One way to save significantly on expensive treatments like implants, veneers and crowns is to travel to another country where dentistry is cheaper.
You may be wary of this idea at first, but countries like Mexico, Costa Rica, Hungary, Poland and Spain have well developed dental tourism industries with world-class dental facilities offering prices 50-70% lower than in the US.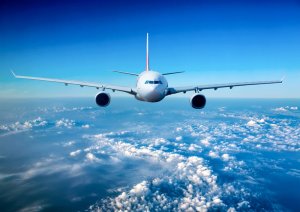 It's important to take into consideration what work you need done. For instance, If you don't require much work then going across the border to Mexico will be much more cost-effective than flying to Europe when you consider the combined cost of your flights, accommodation and treatment.
If you need a lot of treatment, however, you may find that your costs will still be cut considerably even if you fly across the Atlantic.
And you could venture to somewhere like Thailand or Turkey and enjoy an exotic holiday while you're there.
Of course, you shouldn't just jump on a plane and visit the first clinic that offers you a good deal. It's important to carefully research your choices before getting affordable dental work overseas.
To discover more about the best countries to visit and things to consider before you book, read our dental tourism guide. 
If you want help finding a quality clinic abroad, you can get help from Medical Tourism Corporation. They are experts in selecting reputable clinics abroad. They put a strong emphasis on customer service, and facilitate the process of going abroad for dental care.
Fill in your details below for a free quote, and you'll receive a callback promptly.
Request a free quote for dental treatment abroad
You can also have a look at other sites that claim to offer similar services — for one example, read our Dental Departures reviews.
Dentistry covered by Public Assistance
If you are eligible to receive benefits from Medicaid, and can't afford dental work, then your children will receive limited but free dental care. This care must at least include:
Relief of pain and infections
Restoration of teeth
Maintenance of dental health
In some states, Medicaid dental financing extends to adults who can also receive limited free dental care. Check out this article on Medicaid dental coverage to learn more.
Additionally, adults and children with disabilities who receive Medicaid benefits may struggle to find dental offices that can accommodate their needs. Dentists are required to provide referrals to offices that provide dental care for people with disabilities.
Veneers on finance

Dental veneers, being a nearly completely cosmetic treatment, are almost never covered by insurance or Medicaid.
If you want to get veneers to improve the appearance of your smile as part of a free dental makeover, you'll need to pay for private treatment or find an insurance plan that includes this service, often with a much higher premium.
Veneers can cost anywhere from $250 to $2,500 each, depending on the type, with porcelain veneers being the most expensive. If you want to fix several teeth or a whole jaw, you might need to get financing for your veneers
Insurance rarely covers cosmetic veneers, but you might consider getting treatment abroad at a clinic that specializes in cosmetic treatments for overseas patients.
Braces on finance
Medicaid provides free braces for kids when considered medically necessary, but if you want adult braces, you'll probably need to fund your own treatment. However, there are some caveats to this. You can learn more in our article that talks about if Medicaid covers Invisalign.
On the upside, this opens up your choices for better aesthetics, for example with Invisalign, clear braces or lingual braces. On the downside, it means you'll be paying thousands of dollars for your treatment.
Plenty of dentists offer orthodontic financing to make braces cheaper. You can also find orthodontic insurance plans to add on to your dental or health insurance. These plans cover part of the price of braces and associated costs, and in some cases might even provide some reimbursement for clear aligners. Read more about Invisalign insurance here.
Depending on your situation, you may be able to find low-cost or free braces. Reader more about nonprofits that provide free braces here.
Dental implant financing
By far the most expensive type of routine dental work is implants. With a price tag anywhere between $1,500 and $6,000 for a single implant in the US, and some clinics charging much more, it's not surprising that many people need to explore dental implant finance options.
Although there are some places that claim to offer $399 implants, these offers are simply too good to be true.
Some insurance policies make an allowance for implants, but this probably won't cover the full cost. You might choose to travel overseas for cheaper implants or get more affordable dentures while you save up for your treatment.
A dental financing option such as a loan or payment plan, especially when combined with another strategy, can make implants much more attainable.
You can read more in our articles about finding free dental implants or cheap dental implants.
Cosmetic Dentistry Grants
Cosmetic Dentistry Grants is a program that provides assistance with funding some dental procedures.
If you are interested in this option, you must be able to :
Pay for all x-rays associated with the initial assessment
Pay for all treatments needed to restore your oral health before starting the program
Fund all remaining expenses not paid for by the program
If you aren't able to pay for your treatment with a grant, a loan or credit card may be a better option for you. Read our dental implants grants article for more information about options like this.
Conclusion
When you need to make dental work more affordable, there are two main ways to go about it:
First, you can reduce your costs with a good dental insurance policy or by getting dental work overseas.
Second, you can take out a payment plan or loan, or pay with a credit card, to break the treatment cost down into smaller repayments.
You may even be able to combine these two strategies, especially if you want dental financing for more expensive treatments like veneers and dental implants.
FAQs
What credit score is needed for Care Credit?
According to Care Credit, you normally need a credit score of 623 or higher to be approved. When financing dental work with credit isn't a possibility, you can look at other options. Look into payment plans, discount plans, insurance, charities and dental tourism.
How can I get dental implants with bad credit?
You can still get dental implants with bad credit. First you should look into your options for dental insurance, or find out if Medicaid in your state covers dentistry for adults. If insurance isn't an option, talk to your dentist about a payment plan, or consider going to a dental school for low-cost or even free treatment.
What is the best way to finance dental work?
You have options, but the best way for you to finance dental work depends on your financial resources, your credit score, and your insurance eligibility, among other things. If you have limited financial resources and can't afford insurance, dental schools, nonprofits and dental plans may be some of your best options.
Sign up to receive the latest news and offers from Dentaly.org