Cosmetic dentistry loans can help you finance dental work that isn't medically necessary but can help you achieve the smile you want. Cosmetic dentistry can be very expensive, and most people don't have the money to pay for procedures up-front.
The good news is that there are personal loans that you can take out and use to pay for veneers, gum contouring, smile makeovers, and many other cosmetic dental procedures.
In this article we'll cover the following information:
How cosmetic dental loans work
How to get loans for cosmetic dentistry
Loans for cosmetic dentistry with bad credit
We hope this information helps you find the best loan for your cosmetic dentistry needs.
What counts as cosmetic dentistry?
Some procedures are clearly medical, while others are cosmetic. Medical procedures include tooth extractions, treatment for gum disease, cavity fillings, fluoride treatments etc. Cosmetic procedures are those that will improve the look of your smile, without necessarily benefiting your oral health. These include teeth whitening, veneers, and gum contouring.
Sometimes there are procedures that can be used to improve both the aesthetics and the health of your smile — including crowns and dental implants.
Let's have a quick look at the most common types of cosmetic dental work that you might be looking to finance with cosmetic dental loans:
Veneers: Veneers are thin shells often made from porcelain or composite resin that cover the surface of the front teeth to create a more uniform look and lend a whitening effect as well.
Whitening: Professional tooth whitening typically involves a bleaching procedure, and maybe an activating light as well.
Tooth filing: If you don't like how the edges of your teeth line up, you may opt to get them contoured and filed for a more pleasing effect.
Gum contouring: If you feel like your gums are too big, you may have a gummy smile. Gum contouring is a common procedure to reduce the appearance of gums and make them seem smaller.
Cosmetic dentistry costs
In the table below you can see a basic estimate for the costs of common cosmetic dentistry procedures:
| | |
| --- | --- |
| | |
| | |
| | $250 - $2,500 (single tooth) |
| | $50 - $300 (single tooth) |
| | |
| | $1,000 - $6,000 (single tooth) |
| | Up to $50,000 (Seriously rough estimate) |
How do cosmetic dentistry loans work?
A cosmetic dentistry loan is just a personal loan that you take out for dental work. When you take out a personal loan for cosmetic dentistry work, it allows you to borrow a large sum of money. You can use this money to pay for your treatment all at once, and upfront.
Personal loans can typically go up to as much as $50,000, so that should be enough to cover even the more expensive cosmetic dentistry procedures.
When using a personal loan to pay for cosmetic dentistry work, you take out the money all at once, and then you repay the loan with fixed monthly payments over the amount of time as stated in your loan agreement. This can be months or years, depending on your financial situation and the amount of money you borrowed.
Loans typically have interest rates, but the good thing is that personal loans tend to have fixed interest rates, meaning that they won't go up over time. But, there is a downside, which is that interest rates are usually based on your credit score; if you have a good credit score, you'll have lower interest rates, and if you have a bad credit score, your interest rates will be higher.
Taking out a cosmetic dental loan involves the following steps:
Confirm treatment costs: You'll need to consult with your dentist to find out exactly how much your cosmetic dental treatment will cost. Make sure you've asked about all of the costs involved, and any extra work you may need.
Search online for a loan: There are plenty of online loan search engines that will help you find the best loan deal for you. We recommend the SuperMoney loan search engine for its ease of use and wide range of loan options.
Read the fine print: Make sure you understand the terms and conditions of the loan offer, including the total amount you'll need to repay, including interest fees.
Apply for the loan: At this point, it's time to officially apply for the loan. The company that offers the loan will run a credit check and either approve or deny you the loan.
Receive the funds: If you are approved for the loan, the funds will be transferred to your bank account and you can pay your dentist.
Repay the loan: You will repay the loan over time, typically in monthly installments, until your loan is repaid in full.
Compare dental loan offers
As we mentioned above, cosmetic dentist loans are just personal loans that you take out to use for dental work. There are many reasons why you may want to take out a cosmetic dental loan.
Maybe you need dental loans for veneers, implants, or loans for a complete smile makeover. Either way, a loan can be a great way to pay for your cosmetic dental work, as long as you are confident that you can pay the loan back in time.
The table below shows the different dental loan offers available in your state. You can browse them according to your credit score and the amount of money you need to borrow:
Can I get a cosmetic dental loan with bad credit?
When you search for loans using SuperMoney's loan search engine, you'll be able to find loans that are available to people with bad credit, although it will be a bit more difficult. It's hard to obtain financing for dental work when you have bad credit, and even more difficult to find a loan that doesn't require a credit check.
That being said there are loan providers that specialize in providing dental loans to people with poor credit ratings; however, interest rates tend to be much higher. So much so, that you may want to consider working on improving your credit score before taking out a loan for cosmetic dental work.
The video below shows ways that you can rebuild your credit store, and Forbes has some good advice here.
Other ways to finance your dental work
If it turns out that a cosmetic dental loan isn't the best option for you, don't despair — there are other ways to finance your treatment. Have a look at the four most common ways below:
We have an entire article dedicated to financing dental work if you want to learn more. You can also find out about cosmetic dentistry grants options that may be available to you.
Conclusion
Cosmetic dental procedures can be costly, and most people aren't able to pay for them upfront and out-of-pocket. Even if you have dental insurance, it isn't going to cover cosmetic treatment.
Thankfully, you can take out a personal loan and use it for cosmetic dental procedures. Loans are more affordable if you have good credit, because then your interest rates will be low.
If you do decide to take out a loan, make sure you are in a position to pay it back on time. If you're ready to find a loan for your cosmetic dental work, you can use the SuperMoney loan search engine to get started.
FAQs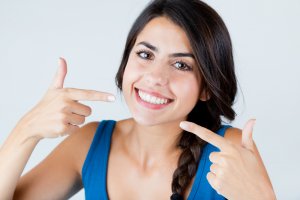 Can you finance cosmetic dentistry?
Yes! There are various ways to help pay for cosmetic dentistry procedures, including dental loans, dental credit cards, dental discount plans, and going abroad for more affordable work.
Can I do dental loans with bad credit?
You can get cosmetic dental loans with bad credit, and in fact there are loan suppliers who specifically offer this type of loan. Watch out, though, because they will be more expensive.
What credit score is needed for cosmetic dental loans?
Typically the minimum score to qualify for a personal loan is from 610 to 640. Some lenders may still give you a loan with bad credit, and a high score doesn't guarantee a low interest rate.
Sign up to receive the latest news and offers from Dentaly.org