Looking to switch to a more natural mouthwash? With all sorts of options to choose from, it can be an overwhelming task to look for the best natural mouthwash for you. That's why we at Dentaly.org have put together this handy list of best mouthwash options for natural mouthwash. We'll be touching on different categories such as:
Organic mouthwash
Vegan mouthwash
Natural mouthwash for periodontal disease
Mouthwash with special ingredients
Fluoride-free mouthwash
Hopefully by the end of this article you'll know exactly what to look for in the world of natural mouthwash and which one is best to take care of your smile. Briefly before we get started, let's take a quick look at how and when to use mouthwash, as well as why you might want to switch to a natural one.
Types of natural mouthwashes
Many people have questions about how often and when they should rinse with mouthwash. Basically, mouthwash (also called mouth rinse) is a method of cleaning that gives you another chance to get between teeth apart from flossing.
According to the American Dental Association, there are two types of mouthwash: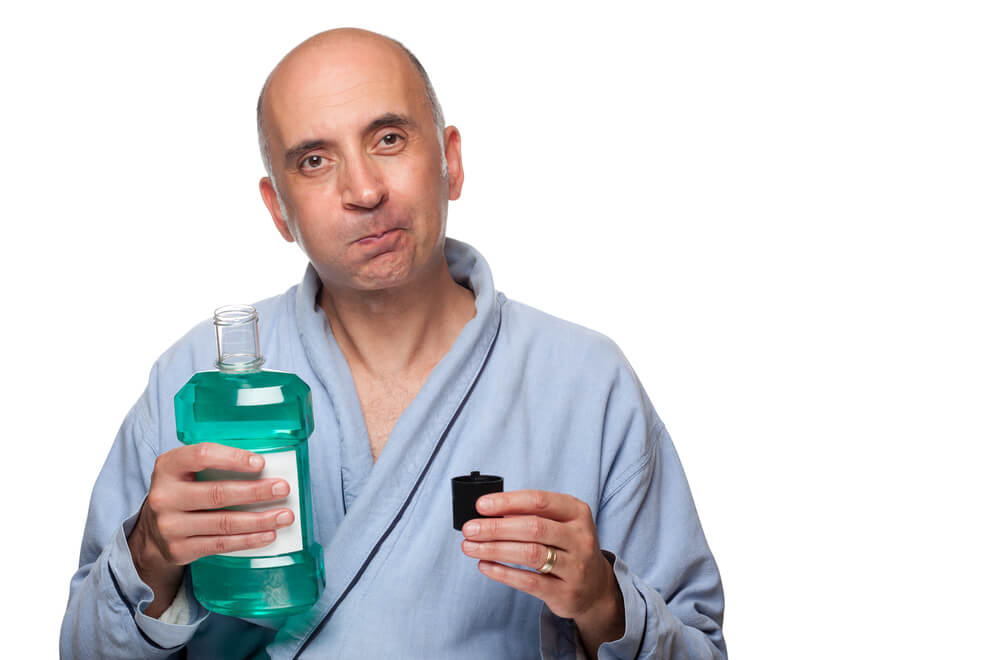 Therapeutic mouthwash includes active ingredients meant to kill bacteria and help treat gingivitis. Some also contain fluoride to help against cavities and reduce tooth decay by strengthening enamel.
Cosmetic mouthwash is basically only meant to freshen your breath but doesn't contain anything that will contribute to better dental health.
One of the main advantages of using a mouth rinse is that those therapeutic ingredients reach the space between your teeth and can help with decay or strengthen enamel in addition to freshening your breath. Cosmetic mouthwash doesn't really do much, so if you want anything more than fresh breath, make sure you look for active ingredients.
What's the best way to use natural mouthwash?
No matter which type of mouthwash you use, the method is the same: swish it around every part of your mouth for at least 30 seconds. You can do this once every few days or more frequently. The important thing to remember is that you shouldn't use it right after brushing your teeth! After brushing, your teeth still benefit from residual toothpaste and you don't want to lose that effect!
A great time to use a mouth rinse if you can is after lunch. Most people don't brush or floss in the middle of the day, but a rinse with mouthwash can freshen your breath and give you the health benefits you're looking for.
Have a look at this instructional video on how to use mouth rinse.
Best natural mouthwash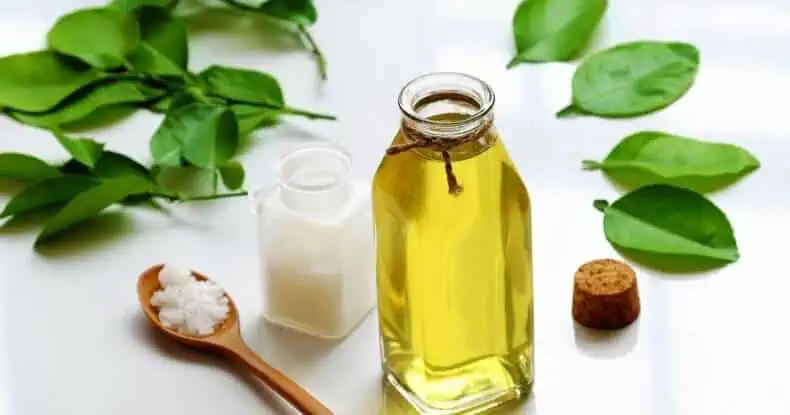 There are several reasons why someone may look for a natural mouthwash. One of the most common reasons for seeking an alternative mouthwash is a fluoride allergy. However, many people avoid fluoride even though they aren't allergic.
Beyond that, natural mouthwash can offer some ingredients that aren't common in standard rinses, such as tea tree oil, aloe vera, clove, or even coconut oil. Some of the best natural mouthwashes are also 100% organic. Some are 100% vegan and no animal testing was done during research and development.
Finally, some people like natural mouth rinses because they want to avoid excess waste. Many of them actually choose to make their own homemade mouthwash or rinse their mouths with hydrogen peroxide. For now, we're just going to focus on what you can find on the market today.
So without further ado, let's take a look at a few of our favorite natural mouthwashes.
Best fluoride-free mouthwash
If your main concern is finding a mouthwash without fluoride and you aren't as interested in special oils or extracts, Listerine Naturals is definitely a top contender.
Made by the number one mouthwash brand in the US, this mouthwash has all the same antibacterial properties as your standard Listerine. The only difference is that it doesn't contain fluoride or any artificial sweeteners or dyes.
If you plan on buying this in-store, you should be sure to look closely at the label. Listerine does manufacture a natural mouthwash with fluoride (which still contains no artificial color or flavor), so make sure you are picking up the right one. That said, a sure bet is ordering online by following the link above.
Best vegan mouthwash
For a trusted company which uses zero animal products and never uses animals for testing, check out Tom's of Maine. Their Wicked Fresh mouthwash is just one of many vegan oral hygiene products they offer, and it's definitely a worthy member of their family.
There are several flavors of Tom's mouthwash and some of them have different features. All of their mouth rinses are alcohol-free, but certain ones contain fluoride. Others don't. Most flavors are a variation of mint, but there is one in strawberry for kids. Basically, you will want to have a closer look at the label to make sure that the Tom's mouthwash you're buying is the one you want.
Of course, one thing that is common across all of their mouth rinses and other products is that they are all 100% vegan.
Best natural mouthwash for whitening
If you're looking for a natural way to whiten your teeth, you've probably heard of activated charcoal. Made by another popular brand of natural mouthwash, Hello mouthwash with activated charcoal offers a natural way to fight gingivitis and periodontal disease while also whitening your teeth.
Importantly, just because it has charcoal doesn't mean it falls short in other standards of natural mouthwash. Hello with activated charcoal also benefits from these features:
Fluoride-free
SLS-free
No artificial dyes or flavor
Alcohol-free
Contains xylitol, tea tree oil, and coconut oil
100% vegan
Put all those together, plus the added benefit of whitening without any potentially harmful chemicals like hydrogen peroxide, and you get a natural mouth rinse powerhouse.
Best natural mouthwash for kids
Hello doesn't just make a natural whitening mouthwash. In fact, they have a whole line of popular natural mouthwashes worth checking out, including their kids' mouthwash.
Concerned parents who want their child to have a good oral hygiene routine should certainly give it a shot. This mouth rinse is vegan, fluoride-free, and has no artificial sweeteners or flavors. It meets all the important criteria for a natural mouthwash. Most importantly, it comes in a kid-friendly watermelon flavor!
Mouth rinse with other special ingredients
Now you've seen our general top picks for natural mouthwash, but maybe there's a specific ingredient you're looking for. So it's worth mentioning a couple more mouthwashes with ingredients that aren't always easy to find.
If you want a spicier flavor in your natural mouthwash, look no further than this mouthwash from JASON, which contains tea tree oil and aloe vera, as well as clove and cinnamon to help fight against bad breath.
That being said, we would consider this to be more of a cosmetic mouth rinse. As a result, it does not contain gluten, parabens, petrolatum, phthalates, or sulfates. This natural mouthwash also lacks in the best clinically-trusted ingredients known to help with gum disease.
Another notable option from Hello Oral Care is their Naturally Healthy Antigingivitis Mouthwash. This one is also SLS and fluoride-free. What sets it apart from other Hello mouth rinses is that it contains aloe vera and coconut oil. If you are looking for a quality, natural mouthwash that includes those two ingredients (and aren't that excited about activated charcoal) then this is the Hello mouthwash for you.
Finally, Dr. Brite offers an alternative to mouthwash in the form of gentle oral sprays. These sprays get rid of bad breath while they soothe and clean with natural ingredients like activated charcoal, organic aloe and organic mint!
Conclusion
Here's a table comparing all the mouthwashes we've looked at:
| | | | |
| --- | --- | --- | --- |
| | | | |
| | | | |
| | Tom's of Maine Wicked Fresh | | |
| | Hello Mouthwash with Activated Charcoal | | |
| | | | |
| | Hello Naturally Healthy Antigingivitis Mouthwash | Mouthwash with aloe and coconut oil | |
| | | Mouthwash with clove and aloe | |
Dentists won't usually stress using mouthwash as much as brushing or flossing. Nonetheless, it constitutes an important part of your oral hygiene routine. What type of mouth rinse you choose is up to you, and there are many options, but if you want maximum effectiveness you should be sure to buy a therapeutic mouthwash with natural ingredients that help prevent periodontal disease, and not just bad breath.
Though there are lots of appropriate times to use mouthwash, we want to remind you that it's not ideal to rinse your mouth out immediately after brushing. Residual toothpaste will continue to clean and strengthen your teeth for some time after you brush your teeth, and you shouldn't cut that short! Instead, wait 30 minutes or find another time that fits into your schedule, like right after lunch.
If you're interested in natural mouthwash and other natural oral care remedies, you may want to find a holistic dentist near you.
FAQs
How can I get rid of gingivitis naturally?
It may not come as a surprise, but the best and most natural way to get rid of gingivitis is frequent tartar removal. You can do this by brushing your teeth twice (and flossing once) every day. Most people's routine does often involve lots of plastics and synthetic chemicals, but these can be avoided by using organic toothbrushes and natural toothpaste.
Is fluoride really dangerous?
Many people are wary of fluoride and try to avoid it at all costs, but it's not always for the right reason. Fluoride can be quite dangerous to those with an allergy but is otherwise quite safe. It shouldn't be ingested in high concentrations, but many cities around the world are known to treat their drinking water with fluoride and this has never been shown to negatively affect the health of their citizens.
Can I swallow a natural mouthwash?
Although there are lots of different kinds of mouthwash with different ingredients, your best policy would definitely be to never swallow mouthwash, no matter what. Certain chemicals in mouthwash, both natural and synthetic, are helpful to your teeth but can be harmful if swallowed. For example tea tree oil is a popular ingredient in natural mouthwash but is toxic when ingested.
Sign up to receive the latest news and offers from Dentaly.org