Buying your child their first kids' toothbrush is one of the most important things you will ever do for them. As they grow older, the type of children's toothbrush they use will change, but the need to brush their teeth properly remains. Get your children started early with good teeth-brushing habits, and you're hopefully setting them up for good children's oral health that will last a lifetime.
It's not always an easy task to make sure your kid's toothbrush actually gets used, but buying the right toothbrush for kids is certainly going to help. Here, we'll go through:
What makes a good children's toothbrush
Using the right toothbrush for your child's age
The best toothbrushes for kids of different ages— from baby to teen
Different types of baby toothbrush
Options for eco-friendly toothbrushes for kids
When to change your child's toothbrush
Teaching your child good dental hygiene is one of the seemingly endless things you need to do as a parent. We aim to make it a little bit easier, so read on for your guide to buying your first baby toothbrush, and subsequent toothbrushes for kids.
Note that this guide focuses on manual children's toothbrushes. If you're looking for a powered brush or want to know more about electric vs manual brushes, check out our guide to children's electric toothbrushes.
How is a children's toothbrush different from an adult one?
Kids' teeth are a bit different from adult teeth, and their gums are more sensitive. It's easy for their gums to become irritated from brushing, which is why you should choose a toothbrush that's specially designed for kids.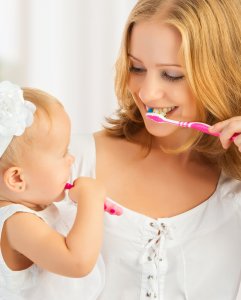 Some of the key things to look for when choosing the best children's toothbrush for your child include:
A small head so that it can reach all around the mouth and clean every surface of every tooth, especially at the back of the mouth
A big handle because a child's hand is less able to grip the smaller handles that most adult toothbrushes use
A good grip to reduce the chances of your child dropping their toothbrush, or slipping as they brush and hurting themselves
Soft bristles will make sure their gums don't get irritated and painful—if brushing their teeth hurts then they won't want to do it
Round-ended bristles also help reduce any irritation, keeping things soft and comfy for them
A bright design or fun characters will help make things fun and engaging for your child so that teeth brushing doesn't seem like a chore or something to dread
How to use a kids' toothbrush
The technique for brushing teeth is generally the same for children and adults, except that children don't need as much toothpaste. We won't go into the details now, but we have a complete guide to how to brush your teeth as well as a detailed guide to children's oral health that you can refer to.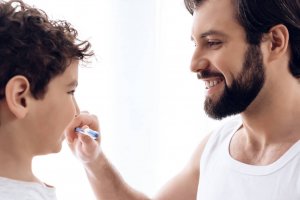 Get your kids involved in teeth brushing early so that they know what to do and it becomes second nature. Children need help brushing their teeth up until around age seven. This is the age at which they develop the manual dexterity needed to brush thoroughly. If they resist your help, let them brush first and then finish off with a "special polish" to make sure nowhere is missed.
Letting your child choose their own toothbrush and toothpaste can really help make them feel more involved and willing to participate. There are some great children's toothbrushes that have features like timers and teething rings attached; we'll tell you more about these further down. For more information about choosing a good toothpaste for your child, read our guide here.
Teach your child not to walk around with their toothbrush in their mouth, since there is a risk of injury if they fall.
Choose the best toothbrush for your kid's age
As children grow up, their teeth seem to change as quickly as they do. But you don't need to wait until baby's first teeth appear; even before then you can start caring for their oral health and getting them into the habit of brushing.
From the first few teeth, to a full set, through a mix of baby and adult teeth, all the way to their complete set of adult teeth, the best children's toothbrush at each stage depends on how old your child is.
Growing up means teeth get stronger and gums less sensitive. Plus, your child will get better at holding and using a toothbrush. All of these factors need to be taken into account when choosing your child's toothbrush.
Best toothbrush for babies and toddlers
If you're looking for a baby or toddler toothbrush, there are plenty of options on the market. Common baby and toddler toothbrushes include baby finger toothbrushes. You can buy handy silicone baby toothbrushes that fit over your finger to help with cleaning babies' gums. These baby toothbrushes can also be really useful when your child's first few teeth come through; your finger might be less scary than a traditional kids' toothbrush.
Read more in our review of silicone toothbrushes.
Regular toothbrushes for babies and toddlers are easy to find in supermarkets and pharmacies, as well as online. Just check the packaging to make sure the brush you choose is suitable for ages 0–2. The best baby toothbrush will have a small head and very soft bristles.
Believe it or not, you can start looking after your child's mouth before they even have teeth! The ADA recommends running a soft cloth over their gums after feeding to make sure natural sugars aren't sticking around their gums. This also gets them used to the feeling of having something cleaning their mouth.
Let's have a look at some of the best baby and best toddler toothbrush brands:
Baby Banana toothbrush
As your child starts to go through teething and learns how to grip better, a Baby Banana Teething Toothbrush for Infants will help them through the various stages. This baby teething toothbrush is made entirely from silicone, and thus safe for your child to chew on when their mouth is hurting from all the teething. It's also easy to clean when it gets dropped on the floor—as it inevitably will.
Being able to use this Baby Banana toothbrush as a toy as well as a brush can help your child get used to toothbrushes. The double grip handle means that they can still hold on as you do the proper brushing around all their teeth for them.
Many parents swear by the Baby Banana toothbrush as the best baby toothbrush on the market.
Here is an adorable video showing the baby banana toothbrush in action:
Baby Buddy toothbrush
The Baby Buddy Baby's 1st Toothbrush is another baby teething toothbrush with a built-in teether. It will soothe sore gums while those chompers start to come in. It features six sides that will clean upper and lower teeth at the same time!
There's also the Baby Buddy 360 toothbrush, which is great for when you're ready to teach your baby how to get used to the feel of a normal toothbrush. Some parents say that its 360-degree head makes it the best baby toothbrush. It's made from super soft microfiber bristles for removing plaque, and massaging your baby's tongue, teeth and gums.
Teething can be a difficult time for babies and parents. Find out more about what you can do to ease the process in our article 'How long does teething last?'
Oral-B baby toothbrush
The Oral-B Pro-Health Stage 1 baby toothbrush is shaped like a normal adult toothbrush, so you can use it at first to gently clean your baby's gums, and then they can eventually do it themselves. It can be used on gums before there are any teeth, and newborn teeth when they come in.
Best Toothbrush for Kids Aged 3-7
Once your child's grip gets better, you can buy a kids' toothbrush that looks more like the one you use yourself. Except they come with cartoon characters because kids get all the fun!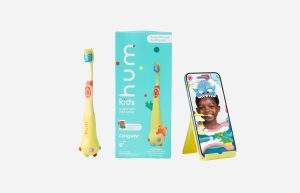 The Colgate hum manual kids toothbrush is designed for ages 5 and up, and, while it is manual, it is also a smart toothbrush. That means that kids can track their brushing progress with a live game on their phone, making brushing an undeniably fun experience.
Apart from that it also has a comfortable thumb grip, a tongue cleaner, and a suction cup for clean storage. This toothbrush is a great intermediary for parents who want to be able to track their kids' brushing habits, but don't want their kids to have an electric toothbrush.
The Frost child's toothbrush is a manual brush that features an adorable bear handle. The small heads are comfortable for small ouths, and the soft bristles will gently remove debris and plaque.
The bristles are antibacterial and the brush is made from plant-based plastic.
These toothbrushes come in packs of two, with the following color combinations:
Purple and yellow, purple and green, blue and yellow, blue and green.
Up next — what's more fun than a light-up timer toothbrush? The Firefly Ready Go Manual Light Up Toothbrush features a stoplight timer that counts down from green to yellow to red, helping children brush longer.
The light-up timer flashes for 60 seconds, the dentist recommended time for properly cleaning each row of teeth. Once the light stops blinking, it's time to brush the next row! It comes in fun kid-approved characters to help make brushing fun while effectively cleaning teeth.
It has premium soft bristles which gently clean between teeth and along the gumline. It also features a less-mess suction cup for stand-up storage and a cleaner bathroom.
Oral-B kids' toothbrushes are a popular choice because they feature an array of Disney characters. The Oral-B toothbrush for kids 'Stages' range includes both manual and electric brushes, with manual brushes for ages 0-2, 3-5 and 6+. If you're still undecided on the best type of toothbrush for your child, read about the pros and cons of electric toothbrushes for kids in our separate guide.
If you're worried about graduating too quickly to bigger kids' toothbrushes, Totz Plus toothbrushes may be a good option. They are for 3 years and older, and easy for small hands to grip.
Another big plus of this brand is that their parent company makes an effort to use organic ingredients, produce in the US, and is women-run!
Of course, you'll also see children's toothbrushes from Crest, Aquafresh and other well-known brands when you're out shopping. As long as they have soft bristles and a small enough head, the important thing is to choose one your child likes—whether because of the color, shape, or character it features. It's all about getting them to enjoy the process of brushing their teeth.
Best Children's Toothbrush for 8 Years and Up
By the age of seven or eight, your child should be capable of brushing their teeth by themselves. They're probably still a little young for a full adult toothbrush but there are lots of junior toothbrushes with smaller heads and soft bristles for this age group.
There are plenty of brands that make toothbrushes for kids in this range.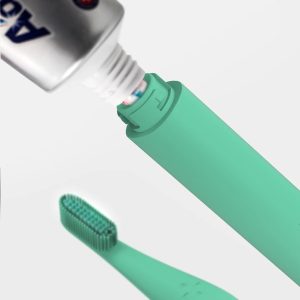 Our top pick is the Nest Kids Toothbrush. This brush features an easy-to-grip, soft silicone design in a fresh mint color, and the most important part is that it self-dispenses toothpaste.
That's because this toothbrush has an inner, airtight compartment where you can put your kid's favorite toothpaste. All they have to do is press a button and a pea-sized amount of toothpaste is dispensed onto the sapphire-topped bristles.
Kids love learning to brush on their own, and by getting the perfect amount of toothpaste every time, there's no risk that they will ingest too much if it accidentally gets swallowed. You can read more about the Nest Kids Toothbrush, as well as their adult line in our full Nest Toothbrush review.
If you're a fan, you may want to opt for an Oral-B kids toothbrush such as the Oral-B Pro-Health Control Grip Toothbrush. This brush gets stellar ratings, is made for ages eight and up and is the perfect transition to an adult toothbrush.
By around the age of ten or eleven, they should be fine to start using an adult toothbrush. If you're unsure, ask your dentist for their opinion.
It won't harm your child to keep using junior models until they're ready to change. If having funky colors and their favorite characters or celebrities on their toothbrush makes them brush twice a day, great!
Kids' Bamboo Toothbrushes
With the current focus on avoiding single-use plastic, kids' bamboo toothbrushes are becoming more popular. Some of the benefits of bamboo toothbrushes are:
Reduce the amount of plastic that goes in the garbage
Use a renewable resource—bamboo grows very fast
Bamboo is biodegradable; it will break down within 10 years
Although probably not suitable for very young children and babies, kids' bamboo toothbrushes should be fine for children from around 2 years old. They're a great way to help your child to become aware of the environment in their everyday actions. Again, look for a brush with soft bristles and a small head, like this Lingito bamboo toothbrush for children.
Designs are much more limited with bamboo toothbrushes than with plastic, but the more popular they become, the more likely we'll see more kid-friendly designs. They might cost a little more too, but it's not a huge difference in price given the environmental benefits; not to mention that switching to bamboo is recommended by National Geographic, everyone's favorite nature magazine. Additionally, buying in bulk online can make them more economical.
Here's a comparison of the pros and cons of plastic vs. bamboo toothbrushes for kids:
| | | |
| --- | --- | --- |
| | | |
| | | |
| | | |
| | | |
| | Cartoon and film characters, many colours | Shaped bamboo, limited colors and patterns |
| Effective for brushing teeth | | |
If you do opt for a bamboo toothbrush, make sure you dispose of it correctly! Check out the short video below to find out how.
Kids' toothbrush sets
If you're having trouble motivating your child to brush their teeth, you may want to get a kids' toothbrush set. Kids' toothbrush sets can be fun and interactive for your little ones. They can come with a child toothbrush, and a colorful kids' toothbrush timer. Both Crest and Colgate children's toothbrushes include sets with your kid's favorite cartoon characters.
For your baby, you may not want to use the same toothpaste you use for your kids but the American Academy of Pediatrics recommends brushing teeth with a small amount of toothpaste as soon as teeth begin to erupt.
If you are looking for a baby toothbrush and toothpaste set, Dr. Brown's Infant-to-Toddler Toothbrush Set comes highly recommended. It's shaped like an elephant, you can choose blue or pink, and the toothpaste is flavored with real pear and apple.
Changing Your Child's Toothbrush
Changing the type of brush your child uses as they get older is one thing, but you also need to make sure to replace worn-out brushes.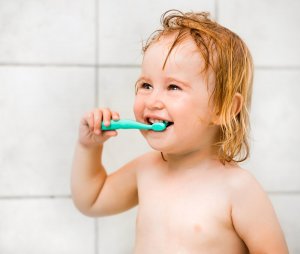 Just like with adults, a child's toothbrush is going to get worn after regular use. As a general rule, you should change their toothbrush every three months.
However, keep an eye on the bristles of the brush they're using. Once they start to fray or get pushed to the side and flattened, it's time to change the brush. If your baby or child has a tendency to chew their brush, the bristles can get worn out quite quickly, so try to discourage this (unless it's for teething too). Continuing to use a brush with frayed bristles can damage tooth enamel and gums.
It's also a good idea to change your kid's toothbrush every time they have had a cold so the germs don't stick around.
If you're using a kids' bamboo toothbrush, remember to get rid of the bristles before you compost it or send it for recycling. Most bristles on bamboo handles are still made of soft nylon and aren't biodegradable so they need to go into your normal family waste.
Conclusion
Your child will need different kinds of toothbrushes as they grow up. You can find lots of options to help them form the habits they're going to need for a healthy mouth in the future.
The key to getting the right baby or kids' toothbrush is finding one that doesn't hurt them and makes brushing fun. If you're unsure of when to change the size of your kid's toothbrush, check with your dentist for the best advice for your child.
Always keep an eye on the condition of your child's toothbrush, too. If it gets too worn down it will stop brushing effectively, and may damage their teeth and gums.
By working with your child to look after their dental health now, you are giving them a headstart for the future. The earlier a child gets into good habits, the more likely they will stick. Picking the best kids' toothbrush for them is just one aspect of your child's oral health, but a very important aspect at that.
FAQs
What is the best toothbrush for my baby?
The best baby toothbrush will be the one that is gentlest on your baby's gums, and most comfortable to use. Your baby's first toothbrush must be soft and easy to hold. It's also a good idea if it has a part that your teething baby can chew on. The Baby Banana toothbrush mentioned above is a great option that you may want to check out. However, when your baby is still very young, you may want to start out with a silicone baby finger toothbrush.
What is the best toothbrush for toddlers?
The best toddler toothbrush will be just as gentle on your toddler's gums as their baby toothbrush. Some parents like to make the switch to a toothbrush that looks more like an adult toothbrush. That way, the toddler gets used to the concept. Firefly is the #1 kids toothbrush brand in America, and the Ready Go Manual Light-Up Toothbrush is a parent and kid-favorite. The Baby Budy 360 toothbrush is also claimed by some parents to be the best toddler toothbrush.
What is the best baby toothbrush and toothpaste?
If you're looking for a set of a baby toothbrush and toothpaste together, you may want to consider Dr. Brown's Infant-to-Toddler toothbrush set. The toothpaste features apple and pear flavors.
Sign up to receive the latest news and offers from Dentaly.org