Many people want to know how to find cheap dental implants or more affordable dental implants alternatives. That's because dental implants are the longest-lasting and most natural-looking solution for replacing missing teeth.
But how expensive are dental implants? Just a single implant can cost upwards of $3,500 in the US.
Although you shouldn't make a decision based purely on cost, we know it's an important consideration, and full dental implants cost a lot more than a single.
Fortunately, there are ways for North Americans to get affordable dental implants both in the US and overseas.
In this guide, we have a variety of tips for making the cost of dental care—not just implants—less restrictive.
We also offer some advice on the other things to consider when choosing a dental professional.
So if you or a loved one need to replace missing teeth but are concerned about the high cost of teeth implants, we hope you can find a solution here which makes inexpensive dental implants a reality.
Can a loan help fund your implants?
Even after finding the most affordable dental implants near you, you might need help paying for your treatment. A dental loan can give you access to the funds you need, right away.
Check out your best dental loan offers using SuperMoney and get one step closer to financing your implants.
Implants: the basics
Before we talk about the ways to find low-cost dental implants, we'll quickly go over what exactly a tooth implant is and how it is placed.
The term 'implant' refers to the titanium or zirconia screw inserted into the jaw bone, where the tooth root would usually be. Find out more about the differences between these two metals in our guide here.
An abutment is placed on top of this, then a tooth crown (synthetic tooth) is attached to the abutment.
However, when people refer to a tooth implant they often mean the entire structure, including the abutment and crown.
Implant procedure
The process for placing an implant is as follows:
Consultation with an oral surgeon, prosthodontist, or periodontist to confirm you are a suitable candidate for implants; this includes x-rays and/or scans of your mouth
Cost estimate provided
Extraction of any teeth that are being replaced
Bone graft or sinus lift surgery (if required)
Placement of implant; site stitched over and left to heal
Installation of abutment, plus a temporary crown, if provided
Dental impressions for creation of tooth crown
Fitting of crown
This entire process can take up to a year because of the healing time required at each stage. For patients who don't require teeth extractions or surgery, it will be a little quicker (and cheaper).
Some periodontists may place the implant and abutment on the same day, also called same-day dental implants, which also shortens the overall procedure.
Your experience will vary depending on your overall oral health, the number and position of implants required, and the type of implant you choose.
You can read about this process and the types of implant available in much more detail in our full guide to dental implants. The following animation shows the full process of placing a traditional implant:
Why are implants so expensive?
In a recent survey by the Kaiser Family Foundation, it was found that 41% of adults have unpaid medical and dental bills, making implants a non-option for many.
And according to a study by the American Dental Association, not being able to afford dental care is the main barrier to obtaining needed care. And the same goes for implants. They are one of the most expensive procedures, with many patients opting for less optimal but cheaper alternatives.
That's also why many patients want to know 'where can I find affordable implants near me?' Unfortunately, because of what is involved with fitting an implant, the average costs for dental implants are usually pretty high, and cheap dental implants are hard to come by. There are even some claims out there that you can get implants for $399, but given the standard cost of quality materials and professional training, that price point is highly suspect.
You're not only paying for high-quality materials that will last 10 or 20 years, or even a lifetime, but also for the expertise of a skilled oral surgeon who can plan and perform effective treatment.
Teeth implants in the US cost $3,500 – $4,000 on average per tooth (including the abutment and crown). That's a lot of money, especially if you need more than one.
You can use this price calculator to see how much your implants might cost, as well as any additional costs you should factor in:
Dental Implant Cost Calculator
$
0,00
Total estimated cost
Additional Costs
Treatment cost breakdown
This tool is intended as a guide and all prices are approximate. Please visit a dentist for a personal quotation.
As you can see, dental insurance plans can help you pay for this expensive procedure. If you need help finding a plan, you can go to Dentalinsurance.com. This online insurance marketplace makes it easy to search for a wide range of plans in your area, and enroll directly if you find one that works for you.
If you need some guidance during the process, you can also call them at 888-626-0057 to speak with one of their licensed agents. Plus there are all sorts of helpful resources and videos that will help you make an informed decision.
What is the cheapest price for dental implants?
Most dentists in the US charge at least $2,500 – $3,000 per implant; usually more. You may get a discount for multiple teeth, but there's no getting around the fact that this is an expensive procedure.
If you're looking for the most affordable dental implants then you may want to consider traveling abroad. Countries like Mexico, Costa Rica, Hungary and Turkey offer much lower prices for implants, often under $1,000 per tooth.
This is an especially good way to save on dental implants if you are missing multiple teeth. You can read about the cheapest countries for All-on-4 implants in our guide.
Cheap dental implants near me
When looking for cheap dental implants, don't just accept the quote given by your regular dentist. As with any significant purchase, to find the best price for dental implants, you should shop around to compare prices.
A dentist can't give a detailed cost estimate without first examining your mouth. This consultation may or may not be free, and of course, you don't want to spend too much money at this stage.
However, you can get an idea of implant prices by contacting the clinic or checking their website.
Alternatively, call the number below to check prices with available implant dentists near you. Even dental clinics located close together can charge quite different prices for dental implants.
Check dental implant prices with a dentist near you
When you compare quotes, be sure to check exactly what is included. One dentist may appear to offer affordable dental implants, until you realize there are a ton of additional costs to pay. You should check for things like: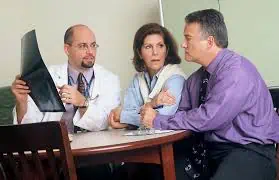 Consultations
Radiography (x-rays and scans)
Anesthesia
Dental impressions
Preparatory surgeries
Materials (implant, abutment and crown)
Medication (antibiotics, painkillers, etc.)
Recovery support
Follow-up visits
If you're unsure, ask your dentist to clarify what is included and what you will have to pay extra for. Only then will you be able to see whether you've found cheap teeth implants or a dentist with hidden fees.
For full mouth implants consider All-on-4
If you have lost all or most of your teeth because of decay, trauma or a medical condition, you may need full mouth implants.
These, of course, can be extremely costly. If you choose traditional implants and implant-supported bridges you can expect to pay $20,000 to $50,000 per arch (jaw).
Another option for more affordable dental implants is an implant-supported denture such as All-on-4 implants. Many dentists around the country are experienced in this kind of treatment.
These let you replace a full jaw of teeth using as few as four implants, making them significantly cheaper than traditional methods which require 8-10 implants per jaw.
Discount dental implant solutions like All-on-4 cost around $15,000 per jaw on average, making them some of the cheapest dental implants in the US for a full arch. Another benefit of All-on-4 is they can be fitted in a single visit, giving them their nickname 'teeth in a day'.
Naturally, this method has drawbacks as well. Read all about the pros and cons of All-on-4 implants or similar discounted dental implants systems like G4 by Golpa before choosing them purely because of the cost benefits.
How to find cheap dental implants in the US
Before we dive in to the various ways to save on dental implants, have a look at the table below for a quick over of some of the most helpful options — dental insurance (read more about the best dental insurance plans in the US), dental discount plans, dental loans, and dental tourism.
We'll talk a little bit more about dental tourism too, since you might not be as familiar with this option.
Go abroad for cheap dental implants
Dental tourism has become a popular option for those looking for inexpensive dental implants. South American countries and some Eastern European countries offer treatments at a fraction of the price they could cost in the US.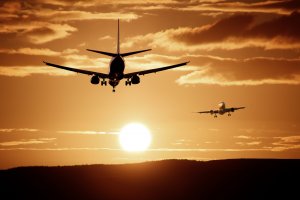 Don't assume that you have to compromise on quality in order to get these lower prices; you may actually find that standards are higher, equipment is more advanced, and service is better than you'd experience at home.
Besides choosing a clinic with a good reputation and a dentist you trust, another important thing for patients to consider is whether or not the brand of implant that they will get abroad is also available in the US.
If it's not, getting an implant fixed or replaced in the future will be much more difficult.
When done well, traveling overseas for implants can bring substantial savings, even if you only need a single implant. If you need several implants or full mouth treatment and are looking for the cheapest place to get dental implants, we strongly recommend you consider dental tourism.
With prices 50-75% lower than in the US, you could save yourself thousands of dollars while being treated in a state-of-the-art clinic. Plus, you get to enjoy a well-earned break. The table below gives an idea of the savings to be made by traveling to another country for dental implants or other treatment:
Example flight cost (return)

Average cost for tooth implant

Prices don't include medical insurance or accommodation costs
If you'd like some help finding a dental implant clinic abroad, you can get it from MTC. This medical tourism company has years and years of experience helping patients find reputable dentists abroad. They put a strong emphasis on customer service, so you know you're in good hands.
To get started, just fill in your details below for a free quote and a prompt call back.
Request a free quote for dental treatment abroad
Are you looking for dental implants under $1000, or under $500? There may be a few options for free implants for folks who live under the poverty level, are disabled or veterans. Have a look at some of the options below. Please note that these are not all of the options, and you may find more through a thorough investigation.
Cheap dental implants from a dental school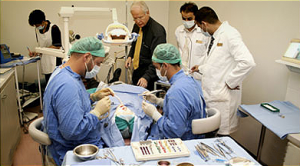 Another option is to find dental schools that do dental implants for low-income patients in the US.
There are many schools around the US that allow undergraduates to gain clinical experience and education while under the close supervision of experienced dentists and oral surgeons.
Some school clinics offer these services free while others charge a reduced price for low-cost dental implants.
In some cases, you may only have to cover material and equipment costs, but if you're looking for dental implants under $500, this may be the ticket.
Dental school clinics are a good way to access affordable teeth implants and other dental care in the US, but they are understandably popular among people who can't afford dental care.
Don't be surprised if you find yourself on a long waiting list, and know that it can take up to two years for the entire treatment process, due to lots of paperwork and availability of the supervising doctor.
Affordable dental implants with clinical trials
If you are looking for dental implants for low-income patients, you may want to take a look at clinical trials done by the National Institute of Dental and Craniofacial Research. If you check their clinical trial options periodically, you may find one that is free, or that offers treatment at a lower cost.
Cheap dental implants from nonprofits
There are many nonprofit organizations that strive to create equality when it comes to access to important dental care like implants. Each organization has its own criteria and offerings but you can ask your dentist about them and check them out for yourself by searching online.
You may have to contact the organization directly to get more information on what services they provide. You can visit the following links as a starting point:
Give Back a Smile focuses on implants for survivors of domestic and sexual abuse, and Dental Lifetime Network sometimes offers dental implants for veterans.
Additionally, there are some dental implants grants programs you may want to have a look at.
Are teeth implants covered under Medicare or Medicaid?
Unfortunately, Medicare coverage is not available for any dental treatments. Medicaid assistance programs for low-income patients are run by each individual state, so coverage for affordable dental implants is going to vary depending on which state you live in.
However, dental implants are generally considered elective treatments and therefore not covered in the US. You can read more in our article about Medicare and Medicaid dental coverage.
But this is all besides the point if you're after affordable dental implants, because this treatment is very rarely covered in the US. Unless there is a clear medical need for an implant, you will be offered an alternative such as a crown, bridge or denture.
This brings us back to the question of how to find the cheapest dental implants in the US.
Consider the alternatives
If you are looking for a cheaper alternative to dental implants, you may want to consider mini dental implants, bridges or dentures. Mini implants are a type of dental implant, they're just smaller.
This makes them suitable for patients with low jaw bone density, and it also makes them more affordable than standard implants. If this option sounds interesting to you, read more about it in our full mini implant guide here.
Dental bridges, kind of like having 1 dental implant for 2 teeth, and removable dentures are the principal alternatives to implants to replace missing or removed teeth.
A dental bridge replaces one or two missing teeth with the support of healthy neighboring teeth. You can also get an implant-supported bridge which uses two implants to replace three or four teeth in a row.
Bridges aren't as durable as implants, lasting only around five to ten years, potentially longer if looked after well. There is also a risk of bone loss where the missing teeth are. However, they are a natural-looking alternative if implants are too expensive and certainly better than nothing.
Dentures, also known as 'false teeth', can replace any number of missing teeth. A metal and plastic frame holds the replacement teeth in place. Dentures are removable and may not be as comfortable or natural-looking as the alternatives. However, they are by far the cheapest option.
If it's going to take you a while to save up for implants, you might opt for a bridge or denture in the meantime, especially if your missing tooth is in a prominent position.
Don't cut corners just to get low-cost dental implants
In your search for cheap teeth implants cost, you may come across an offer that seems too good to be true. Well, guess what? It probably is.
Things you should avoid doing in a bid to cut costs include:
Choosing discount dental implants made from inferior quality materials (the cheapest dental implants aren't always the best option)
Using a dental professional who is not trained in implantology
Overloading implants by getting fewer than you actually need
There are many good brands of implant available—too many to list here—so you should ask your dentist which brand he or she uses and then research it carefully. Some dentists offer a choice of brands at different prices. They should be quite open about the differences in quality and cost so you can make an informed decision.
Dentists who are qualified to specialize in placing implants may be registered as a prosthodontist with the American College of Prosthodontists. You can check the register of members here.
Prosthodontists are dental professionals who have undergone special training in the placement of prosthetic teeth including crowns, dentures, bridges and implants. Periodontists are also qualified to perform dental implants and may be registered with the American Academy of Periodontology.
Ultimately, we're talking about surgery to place a piece of metal into your jawbone. Finding an experienced professional who doesn't cut corners will help minimize your chances of complications.
However, as you have just read, there are ways to find affordable dental implants while still doing things the right way.
Call a local dentist to check implant prices now
Caring for your teeth after implants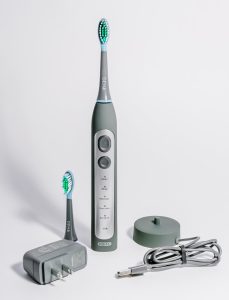 Just because your implants aren't your natural teeth, it's imperative to take care of them as if they were. Implants require the same at least twice a day cleaning as natural teeth, yearly dental checkups and daily flossing as well.
For an optimally healthy smile and effective surface-stain removal, we recommend the CariPRO Ultrasonic toothbrush.
This power toothbrush delivers 40,000 vibrations per minute and offers 5 different cleaning modes—clean, white, massage, gum care, and sensitive.
The gum care setting is especially beneficial if you have implants because caring for your gums becomes even more critical.
Learn more about the CariPRO electric toothbrush in our complete review.
Another product we recommend for keeping your implants clean and your gums healthy is a water flosser—check out our full guide to water flossers to find out more.
Conclusion
As you have learned by now, dental implants can be very expensive. But there are definitely options available to you for cheaper dental implants, without losing any of the quality.
If you need affordable dental implants, try some of the options we mentioned above, like looking into nonprofits, or going on an adventure with dental tourism.
It might take some thorough research to find the best option for you, but it's worth it, as not taking care of missing teeth now may lead to more problems in the future. We have a whole article dedicated to going to finding a cheap dentist without insurance that you may want to check out as well.
FAQs
Where can I get cheap dental implants?
You may be eligible for implants from a nonprofit organization, but if you aren't eligible, there are other options you can try, like going abroad for dental implants. There are many countries around the world with quality dental care, but for lower prices than you will find in the US.
How much do cheap dental implants cost?
If you decide to travel abroad, you can find implants for less than $1,000 in places like Mexico and Costa Rica. Alternatively, you could participate in a clinical trial. You could also apply to receive a grant, your treatment could potentially be free.
What is the cheapest way to do All-on-4 dental implants?
The cheapest way to do any sort of dental procedure is to go abroad to places like Mexico and Costa Rica, where you can find quality care but for a much lower price. Low-cost dental implants abroad are becoming a very popular option for many US residents.
How can I find low-cost dental implants in my area?
Dental implants are expensive, but they're also the best way to replace missing teeth. If you need help financing them, you can find low-cost dental implants near you by investigating these options:
Check out options for cheap dental implants from dental schools
Look for cheap dental implants from clinical trials
Ask dental charities about their options for low-income dental implants
Call 866-383-0748 to check prices with a few different implant dentists nearby
What is the cheapest way to replace a tooth?
The cheapest way to replace a tooth is with a temporary denture or a removable partial denture. You may be tempted not to get your tooth replaced, but this is not advisable. Leaving a gap where your tooth once was might cause additional oral health problems. But you should keep your eyes open for options for low-cost dental implants as well.
Sources
American Academy of Implant Dentistry: Implants versus dentures and bridges. Consulted 22 August, 2019.
ASDA: U.S. Dental Schools. Consulted 22 August, 2019.
NIDCR: Clinical Trials. Consulted 22 August, 2019.
AAP: Find a Periodontist. Consulted 22 August, 2019.
CDG: A Better Life, A Better Smile. Consulted 22 August, 2019.
ADCF: Find an Upcoming Free Dental Clinic or Volunteer Opportunity. Consulted 22 August, 2019.
ADA: Main Barriers to Getting Needed Dental Care All Relate to Affordability. Consulted 16th October 2020.
Dental Lifeline Network: State Programs. Consulted 22 August, 2019.
AACD: Give Back a Smile Patient Application. Consulted 22 August, 2019.
ACP: Find a Colleague. Consulted 22 August, 2019.
Kff.org: Health Care Debt in the U.S.: The Broad Consequences of Medical and Dental Bills. Consulted 11th July 2022.
Sign up to receive the latest news and offers from Dentaly.org