Dental implants are the longest-lasting and most natural looking solution for replacing missing teeth. But with a single implant costing upwards of $1,500 in the US, many people want to know how to find cheap dental implants or more affordable solutions.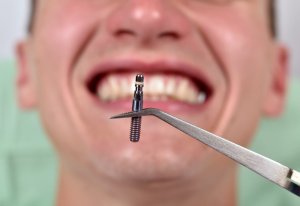 Although you shouldn't make a decision based purely on cost, we know it's an important consideration.
Fortunately, there are ways for Americans to get affordable implants both in the US and overseas. In this guide we have a variety of tips for making the cost of dental care – not just implants – less restrictive. We also offer some advice on the other things to consider when choosing a dental professional.
So if you or a loved one need to replace missing teeth but are concerned about the high cost of teeth implants, we hope you can find a solution here which makes cheap implants a reality.
Implants: the basics
Before we get stuck into ways to find low-cost implants, we'll quickly go over what exactly a tooth implant is and how it is placed.
The term 'implant' refers to the titanium screw inserted into the jaw bone, where the tooth root would usually be. An abutment is placed on top of this, then a tooth crown (artificial tooth) is attached to the abutment.
However, when people refer to a tooth implant they often mean the entire structure, including the abutment and crown.
Implant procedure
The process for placing an implant is as follows:
Consultation with an oral surgeon, prosthodontist, or periodontist to confirm you are a suitable candidate for implants – this includes x-rays and/or scans of your mouth
Cost estimate provided
Extraction of any teeth that are being replaced
Bone graft or sinus lift surgery (if required)
Placement of implant – site stitched over and left to heal
Installation of abutment – plus a temporary crown, if provided
Dental impressions for creation of tooth crown
Fitting of crown
This entire process can take up to a year because of the healing time required at each stage. For patients who don't require teeth extractions or surgery, it will be a little quicker (and cheaper). Some periodontists may place the implant and abutment at the same time, which also shortens the overall procedure.
Your experience will vary depending on your overall oral health, the number and position of implants required, and the type of implant you choose.
You can read about this process and the types of implant available in much more detail in our full guide to dental implants. The following animation shows the full process of placing a traditional implant:
Dental costs in the US
Now you know what is involved with fitting an implant, you can see why cheap dental implants are hard to come by. You're not only paying for high-quality materials that will last 10 or 20 years – or even a lifetime – but also for the expertise of a skilled oral surgeon who can plan and perform effective treatment.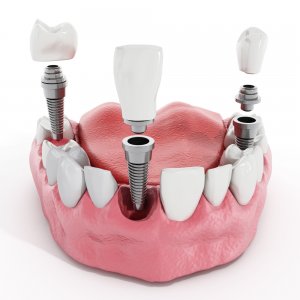 Teeth implants in the US cost $3,000 on average per tooth (including the abutment and crown). That's a lot of money, especially if you need more than one.
Are teeth implants covered under Medicare or Medicaid?
Unfortunately, Medicare coverage is not available for any dental treatments. Medicaid assistance programs for low-income individuals are run by each individual state, so coverage is going to vary depending on which state you live in. However, dental implants are generally considered elective treatments and therefore not covered in the US.
But this is all besides the point if you're after affordable dental implants, because this treatment is very rarely covered in the US. Unless there is a clear medical need for an implant, you will be offered an alternative such as a crown, bridge or denture.
This brings us back to the question of how to find the cheapest dental implants in the US.
Find more affordable implants by shopping around
Don't just accept the quote given by your regular dentist. As with any significant purchase, you should shop around to compare prices.
A dentist can't give a detailed cost estimate without first examining your mouth. This consultation may or may not be free, and of course you don't want to spend too much money at this stage. However, you can get an idea of implant prices by contacting the clinic or checking their website.
Even dental clinics located close together can charge quite different prices for dental implants.
When you compare quotes, be sure to check exactly what is included. One dentist may appear to offer affordable dental implants – until you realize there are a ton of additional costs to pay. You should check for things like: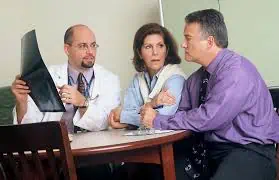 Consultations
Radiography (x-rays and scans)
Anaesthesia
Dental impressions
Preparatory surgeries
Materials (implant, abutment and crown)
Medication (antibiotics, painkillers, etc.)
Recovery support
Follow-up visits
If you're unsure, ask your dentist to clarify what is included and what you will have to pay extra for. Only then will you be able to see whether you've found cheap teeth implants or a dentist with hidden fees.
Look beyond the procedure
A dentist's prices will be affected by a number of factors, including business overheads. In big cities where building rents and employee wages are higher, this will be passed on in the cost of treatment.
If you live in a large town or city, try traveling to the outskirts or a nearby suburban area to check if any dentists there offer more affordable implants. The inconvenience of driving a little further may well be worth it if you save yourself hundreds or thousands of dollars.
You may find that dentists who have recently opened a practice in your area are offering low-cost implants in order to attract new patients. Similarly, a dentist who has just started offering implants may have lower prices. Of course, you should still check they are properly qualified and ask to see examples of their work.
Do remember that you'll have to make several visits over the course of your treatment, as well as visiting for checkups afterwards. Consider factors like travel costs and time off work when deciding where to get your treatment.
For full mouth implants consider All-on-4
If you have lost all or most of your teeth because of decay, trauma or a medical condition, you may need full mouth implants.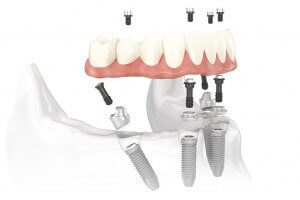 These, of course, can be extremely costly. If you choose traditional implants and implant-supported bridges you can expect to pay $20,000 to $50,000 per arch (jaw).
A more affordable option is an implant-supported denture such as All-on-4. These let you replace a full jaw of teeth using as few as four implants, making them significantly cheaper than traditional methods which require 8-10 implants per jaw.
Implant solutions like All-on-4 cost around $15,000 per jaw on average, making them some of the cheapest dental implants in the US for a full arch. Another benefit of All-on-4 is they can be fitted in a single visit – giving them their nickname 'teeth in a day'.
Naturally, this method has drawbacks as well. Read all about the pros and cons of All-on-4 or similar systems before choosing it purely because of the cost benefits.
Get a dental plan
If you have health insurance with dental coverage or a separate dental plan, check to see whether you can claim for some or all of the costs related to dental implants.
Cheaper dental plans usually only cover certain treatments, including emergency dental care. Some limit their coverage to work carried out by a specific dentist or facility.
More expensive policies may make some allowance for implants, even if they don't cover the full cost. You'll usually have to pay for treatment in full yourself and then claim back the portion allowed by your policy.
However, dental plans will usually only pay out when an implant is replacing a tooth lost in an accident, because of a medical condition, or possibly to natural causes. If you are getting implants for purely cosmetic reasons, you're unlikely to get coverage from even the most generous of insurers.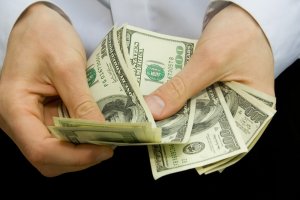 Keep in mind that dental insurance policies almost always come with a waiting period for non-emergency treatment. Fortunately, there is usually not an urgent need for implants so if you have to wait three or six months after taking out insurance, it's not the end of the world. You can have a bridge or denture fitted in the meantime if you're self-conscious of how your teeth look.
Also remember that dental plans may not cover pre-existing conditions, so check the small print carefully before signing up.
Finance your teeth implants with a dental loan
Did you know you can take out a personal medical loan to finance your dental treatment – just as you might do with any other major purchase?
A dental loan allows you to get the treatment you need right away, even if you haven't saved up enough to pay for it up-front. You borrow the money to pay the dentist in full, and then you repay the loan in regular installments over a period that suits you.
To find out how much you could borrow for your dental work, visit our loan comparison partner SuperMoney. You just need to enter your details once, and you'll receive personalized loan offers from competing lenders. It's easy to compare your offers and decide which suits you best, but there's no pressure to accept any of them.
You might be eligible to borrow up to $100k through SuperMoney and – best of all – requesting loan quotes in this way won't affect your credit score. Combined with any of the other money-saving tips in this article, a loan could make your implants a reality far sooner than you realized, so check your rates now.
Go abroad for cheap dental implants
Dental tourism has become a popular option for those looking for cheap tooth implants. South American countries and some Eastern European countries offer treatments at a fraction of the price they could cost in the US.
Don't assume that you have to compromise on quality in order to get these lower prices; you may actually find that standards are higher, equipment is more advanced, and service is better than you'd experience at home.
Traveling overseas for implants can bring substantial savings, even if you only need a single implant. If you need several implants or full mouth treatment and are looking for ways to save money, we strongly recommend you consider dental treatment abroad.
With prices 50-75% lower than in the US, you could save yourself thousands of dollars while being treated in a state-of-the-art clinic. Plus, you get to enjoy a well-earned break. The table below gives an idea of the savings to be made by traveling to another country for dental implants or other treatment:
Visit a dental school clinic for free or cheap implants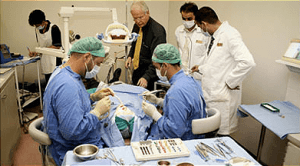 Another option is to go to a dental school clinic in the US. There are 66 schools around the US that allow undergraduates to gain clinical experience and education while under the close supervision of experienced dentists and oral surgeons.
Some school clinics offer these services free while others charge a reduced price for treatment. In some cases you may only have to cover material and equipment costs. Dental school clinics are a good way to access affordable teeth implants and other dental care in the US, but they are understandably popular among people who can't afford dental care.
Don't be surprised if you find yourself on a long waiting list!
Consider the alternatives
Bridges and removable dentures are the principal alternatives to implants to replace missing or removed teeth.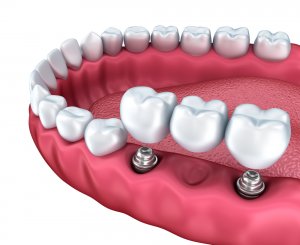 A dental bridge replaces one or two missing teeth with the support of healthy neighbouring teeth. You can also get an implant-supported bridge which uses two implants to replace three or four teeth in a row.
Bridges aren't as durable as implants, lasting around 10-15 years if looked after well, and there is a risk of bone loss where the missing teeth are. However, they are a good, natural-looking alternative if implants are too expensive.
Dentures, also known as 'false teeth', can replace any number of missing teeth. A metal and plastic frame holds the artificial teeth in place. Dentures are removable and may not be as comfortable or natural-looking as the alternatives. However, they are by far the cheapest option.
If it's going to take you a while to save up for implants, you might opt for a bridge or denture in the meantime, especially if your missing tooth is in a prominent position.
Don't cut corners just to get low-cost implants
In your search for cheap teeth implants you may come across an offer that seems too good to be true. Well, guess what – it probably is.
Things you should avoid doing in a bid to cut costs include:
Choosing implants made from inferior quality materials (the cheapest dental implants aren't always the best option)
Using a dental professional who is not trained in implantology
Overloading implants by getting fewer than you actually need
There are many good brands of implant available – too many to list here – so you should ask your dentist which brand he or she uses and then research it carefully. Some dentists offer a choice of brands at different prices. They should be quite open about the differences in quality and cost so you can make an informed decision.
Dentists who are qualified to specialize in placing implants may be registered as a prosthodontist with the American College of Prosthodontists. You can check the register of members here. Prosthodontists are dental professionals who have undergone special training in the placement of prosthetic teeth including crowns, dentures, bridges and implants. Periodontists are also qualified to perform dental implants and may be registered with the American Academy of Periodontology.
Ultimately, we're talking about surgery to place a piece of metal into your jawbone. Finding an experienced professional who doesn't cut corners will help minimize your chances of complications.
However, as you have just read, there are ways to find affordable dental implants while still doing things the right way.