You've lost or broken your retainer. Now what? You'll need to get a new one, but how much does retainer replacement cost? And where do you get your new retainer?
Come along as we answer all of your questions right away about replacing retainers, including:
New retainer cost: Between $50 and $800
How to get a new retainer: Online or at the dentist
Buying a retainer online: Get custom retainers from Sporting Smiles
Keep reading to get all information you need to buy the best replacement retainer for you to keep your teeth straight after orthodontics treatment.
Did you know?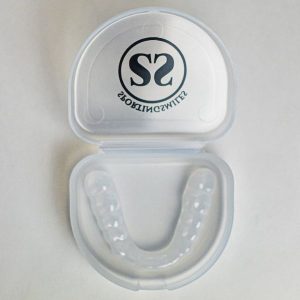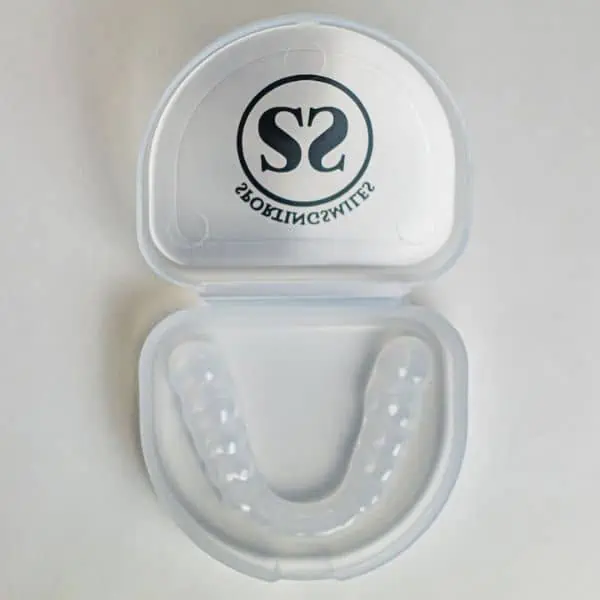 You don't have to bear the cost and inconvenience of going to the dentist for new retainers.
Thanks to modern technology, ordering your retainers online and taking your teeth impressions at home is easy!. Not only does this cut out multiple dental visits; but it's also a lot cheaper when you order direct.
How much does a new retainer cost?
A new replacement retainer costs from $50 to $800 depending on the type you get. Replacing clear plastic retainers tends to cost more, whereas the traditional Hawley retainer is the cheapest.
Clear plastic retainer replacement cost
The cost of replacing clear plastic retainers can vary greatly. For a set, you can pay anywhere from $150 to $800. To narrow down the price range, it helps to take a look at specific brands, like Invisalign (Vivera) or Essix retainers.
Invisalign retainer replacement cost
There is no fixed price for Vivera retainers (Invisalign retainers), but you can purchase them in sets of four, which helps bring the price down a bit. For a set of four Vivera retainers, you can expect to pay anywhere from $400 to $1,000. These are some of the most affordable retainers available, and they also tend to be quite durable.
Essix retainer replacement cost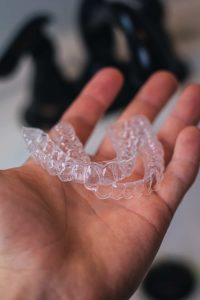 Essix retainers are the original clear plastic retainer and these can cost anywhere from $50 to $200 per set if you get them from the dentist. If you order them online, the cost can go down quite a bit because you're cutting out the middleman.
If you're interested in ordering replacement Essix retainers online, make sure to choose a reputable service like Sporting Smiles. With Sporting Smiles, professionally trained technicians custom craft your retainers from quality materials.
You can save even more on Sporting Smiles retainers by using promo code SMILE10 at checkout to get 10% off your order. Get yours now by clicking the button below:
Another retainer replacement option is Sentinel. They offer clear Essix retainers as well as mouthguards, and the process is very similar to that of Sporting Smiles — you order an impression kit and you get your custom-made retainers.
The main difference between Sporting Smiles and Sentinel is that Sentinal retainers have a contoured edge, while Sporting Smile edges are cut straight across. Neither is objectively better nor more effective, it just comes down to personal taste.
If you want retainers with contoured edges, you can order your Sentinel impression kit now.
Hawley retainer replacement cost
Hawley retainers are often the best bang for your buck, but they aren't the most aesthetic option because they have a metal bar across the front of your teeth. More people report speech difficulties with this type as well. However, they are the most durable kind of retainer and they're easy to clean. They're also quite affordable, ranging from $150 to $300.
Have a look at the table below for a summary of the different retainer costs and lifespan estimates:
| | | | | |
| --- | --- | --- | --- | --- |
| | | | | |
| | | | | |
| | | | | |
| | | | | |
| | | | $400-1000 (price for a set of 4) | |
How to get a new retainer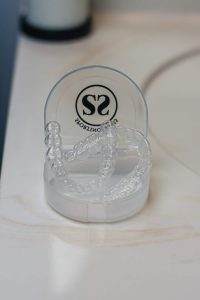 The process for replacing retainers varies depending on the kind of retainer you have and who your orthodontist is. Generally, however, to get a replacement retainer, your orthodontist will need a model of your teeth to work from.
This can be made with the traditional molding putty, or with 3D scans, which tend to be more accurate. These models of your teeth will then be sent to a lab where your actual retainer will be made.
There are also a growing number of online options for retainer replacement. You can get clear plastic retainers and Hawley retainers online. This process usually involves ordering a tooth impression kit online, making the models of your teeth at home, and sending them back to the company.
They will then use your models to craft your replacement retainers in the lab and send them back to you. Many people like this option because it doesn't require them to leave their home, while others prefer direct contact with their orthodontist, or may find it difficult to make their own impressions at home.
If you have a permanent retainer, then you'll need to get your retainer replaced or fixed by your orthodontist. Don't try to fix your permanent retainer at home!
Many orthodontists recommend that a patient come to the office for a new impression to be made for a replacement retainer, regardless of how long the patient has been without it.
A new impression will record the most accurate image of the mouth, including any changes in restorations and minor or severe occlusion shifts. This eliminates the need for most post-manufacture changes and ensures that the appliance sits comfortably.
In the video below, Doctor Ty summarizes the process for getting a new retainer from your orthodontist:
Can I buy retainers online?
You can buy retainers online. In fact, buying retainers online—new or replacement—is becoming more popular because they are high quality and the process is convenient and affordable. You can get most types of retainers online, including Invisalign, Essix, and Hawley retainers.
You can't get permanent retainers online because your dentist or orthodontist needs to be present to fix them permanently to your teeth.
Permanent retainers require a dental professional for placement to ensure appropriate clearance from the soft tissue and accurate positioning with the appropriate wire to prevent further movement of the teeth from inappropriate forces.
Essix retainer online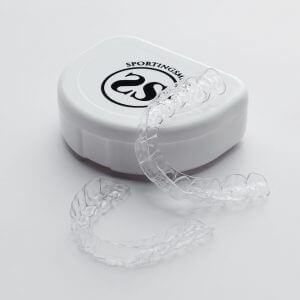 If you don't want to or can't get to a dentist, or you're interested in saving money, you can use a variety of online services to get Essix retainers online. These companies will send you an impression kit that you use to make molds of your teeth at home.
Once you've made your molds, you'll send them off to a dental lab. The lab will create your retainers and then they'll send them back to you in the mail.
This is a great option for many people, but not everyone; in some cases, you may have to go see your orthodontist or dentist in person to get a new retainer, especially if your teeth have shifted a lot.
One company that offers affordable and quality Essix retainers online is Sporting Smiles. They make it easy—just order your impression kit online, make your impressions, and then send them into the lab where professionally trained lab technicians will custom-make your Essix retainers.
Sporting Smiles also offers various package options:
Essix Plus, Set of 2: $130
Essix Plus, Single retainer: $90
Essix Standard, Set of 2: $110
Essix Standard, Single retainer: $85
If you'd like to get your custom retainers from Sporting Smiles, click on the button below to get started and use code SMILE10 to save an extra 10%.
As we mentioned above, if you're looking for clear retainers that have scalloped or contoured top edges, you may want to consider Sentinel. The concept is pretty much the same as Sporting Smiles — custom-made retainers that you order online.
Hawley retainer online
If you want to purchase your Hawley retainer online, you'll typically pay between $150–$300.
The general steps you'll need to go through to get your Hawley retainer are as follows:
Make sure that the Hawley retainer is most suitable for your needs. These retainers are typically used to hold teeth in place that are already straightened—they aren't used to straighten teeth.
Order your impression kit to make your teeth molds at home.
Take your teeth impressions per kit instructions.
Receive your replacement Hawley retainer in the mail.
Can I get a new retainer from a different orthodontist?
Yes, you can get a new retainer from a different orthodontist. They might be able to get your records from your previous orthodontist, but they also may make new models of your teeth.
Patients are advised to replace their retainers with the same or similar type of retainer originally provided by the orthodontist. At minimum patients should have a discussion with an orthodontist if considering switching the type of retainer they use.
If you get the OK from your orthodontist, it's also fine to get your retainers online, as long as you use a reputable company.
When should I get a replacement retainer?
If you lose or break your retainer, you should make sure to order a new one as soon as possible. This is important because after orthodontic treatment, your teeth will continue to move.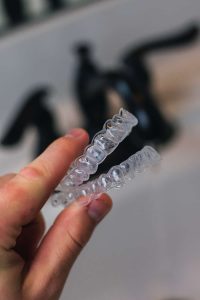 Oftentimes they try to get back to their original position. The longer you put off getting a new retainer, the greater the risk you'll end up with crooked teeth again.
Aside from losing or breaking a retainer, some types of retainers require you to change them every few months or every couple of years. Hawley retainers can go longer than clear plastic retainers before needing to be replaced – around 5 to 8 years. And permanent retainers can last 20 years or more – making it the longest-lasting – before they break or become unglued.
Here are some signs that you may need to replace your retainer if it:
Shows visible signs of wear, like holes or cracking
Is broken
Has a buildup of plaque or is discolored (this can be avoided with proper retainer cleaning)
Doesn't fit
Gets lost
I lost my retainer and can't afford a new one
Even the most affordable retainers can still take a chunk out of your budget, and you might be tempted to put off replacing your retainer to avoid the extra cost. It's important to not put off replacing your retainer because the longer you do, the more your teeth will shift out of place.
You'll also need to get new molds made of your teeth, which could make the price of your replacement retainers go up. So how can you find affordable retainer replacement? Let's find out!
Cheap retainer replacement
The cheapest retainer replacement will be the online method. There are many companies offering affordable retainer replacements at a much lower cost than you would find at the dentist.
In many cases, that doesn't mean that your online retainers are of inferior quality; it's just that because these online companies cut out the middleman and you make your own teeth molds at home, they're able to keep costs down.
You can order custom retainers online from Sporting Smiles, and use code SMILE10 to save an extra 10%.
Conclusion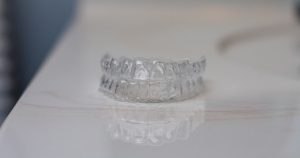 At some point in your life, you'll probably need to replace your retainers. Some retainers last longer than others—permanent retainers can last 20 years, whereas clear plastic retainers may need to be replaced every couple of years. Some retainers need to be replaced every 6 months.
No matter what type of retainer you have, it's important to replace your retainers if they are broken, lost, or simply worn out. That's because your teeth will begin to move out of alignment, and you may even need to get braces again.
To replace your retainer, you can visit your orthodontist or you can order them online through a service like Sporting Smiles. Sporting Smiles makes it hassle-free to replace your retainers.
It's also one of the most affordable ways to get new retainers because you make your own tooth molds at home, cutting out the service fees of the middleman. If you'd like to order affordable, quality, clear Essix retainers online, you can get started by clicking the button below.
Use code SMILE10 to get 10% off your order.
And once you have your replacement retainer, it's important to keep it clean. We recommend a specialized retainer cleaner like this one from cariPRO.
FAQs
How much is a replacement retainer?
The cost of replacement retainers will depend on the type of retainer you get and whether you get it in-office or online. Invisalign retainers can cost anywhere from $400 to $1,000. Essix retainers generally cost between $50 and $200, and Hawley replacement retainers cost between $150 and $300 to replace.
Can you buy retainers online?
There are plenty of online services that create quality and affordable retainers, including Hawley and Essix retainers. To order a retainer online, you first order an impression kit. Then you can make molds of your teeth at home and send these back to the company, and they custom-make your retainers in a dental lab.
Once they're finished, they'll send your retainers back to you directly at home.
How often should I get a new retainer?
The frequency with which you should replace your retainer depends on the kind of retainer. Some require you to change them every few months. Others, like permanent retainers, can last 20 years. You should also replace your retainers if they show signs of severe wear and tear, discoloration, or if they break or crack.
Sign up to receive the latest news and offers from Dentaly.org