What are Vivera retainers, and should you wear them after braces?
Vivera teeth retainers are Invisalign's brand of clear post-aligner retainers, and you can use them regardless of whether you get your orthodontic treatment with Invisalign. But with all of the options available, is this the best retainer choice for you?
In this guide, we answer the following questions:
What are Vivera retainers?
How much do they cost?
How do you order them?
How long do they last?
How do you clean them?
We hope this information helps you make the best decision for your new smile!
Affordable clear retainers online
Another type of clear retainer like Vivera is the Essix retainer. Essix retainers are clear and removable and affordable. You can order custom Essix retainers online without having to visit your dentist through Sporting Smiles.
All you have to do is order your impression kit, make your impressions at home and then send them on to the lab! There, professionally trained technicians will tailor your retainers for a perfect fit.
Use promo code SMILE10 and get 10% off.
What are Vivera retainers?
Vivera retainers are a clear type of tooth retainer meant to be worn after you finish your treatment with braces or aligners. These clear retainers from Invisalign are made with state-of-the-art technology.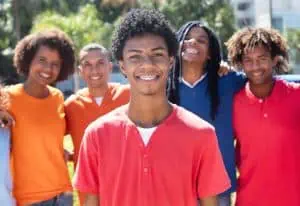 Research suggests that retainers are critical to maintaining that confident and beautiful smile after you've undergone orthodontic treatment.
To get them, you don't need to make impressions of your teeth. Instead, Invisalign uses its latest 3D imaging technology to create a custom and precise fit for you. While the instructions for the number of hours of required wear may vary from person to person, usually they are meant to be worn at night and a few hours during the day, at least at the beginning.
Here's a fun video introducing Vivera retainers:
Benefits of Invisalign retainers
These retainers from Invisalign offer many benefits over other clear retainers:
According to Invisalign, their retainers are 30% stronger than other retainers. This makes them more durable and better at keeping your teeth aligned.
They are lab-tested to last longer than other retainers.
They are smooth and comfortable, with little irritation to the lips and mouth. This is mainly due to 3D imaging technology that creates a perfect fit.
These retainers from Invisalign can be reordered easily because your 3D imaging is digitally stored for future reference. No additional appointments for impressions and imaging are needed.
They do not affect your speech.
How much do Vivera retainers cost?
Invisalign Vivera retainers cost slightly more than most clear retainers due to their durability. The cost of getting these retainers ranges from $400 to over $1,000 for four sets.
Here's a quick overview of the various kinds of retainers you can choose from:
| | | |
| --- | --- | --- |
| | | |
| | | Made of long lasting materials, very durable, custom-fit |
| | | Very affordable, more durable than Essix retainers, easy to clean, easy to order online |
| | | Last up to 5 years with proper maintenance, easy to take out of mouth while eating, clear and practically invisible |
| | | Virtually invisible, impossible to lose, you don't need to remember to put them in, last for several years |
As you can see, Essix retainers are more affordable than Vivera retainers. If you're looking for an affordable alternative, that's still quality and custom-made, you can order Essix retainers online from Sporting Smiles. Get 10% off your order with code SMILE10.
How to order Vivera retainers
The process for ordering a retainer after Invisalign or any other orthodontic braces is relatively straightforward: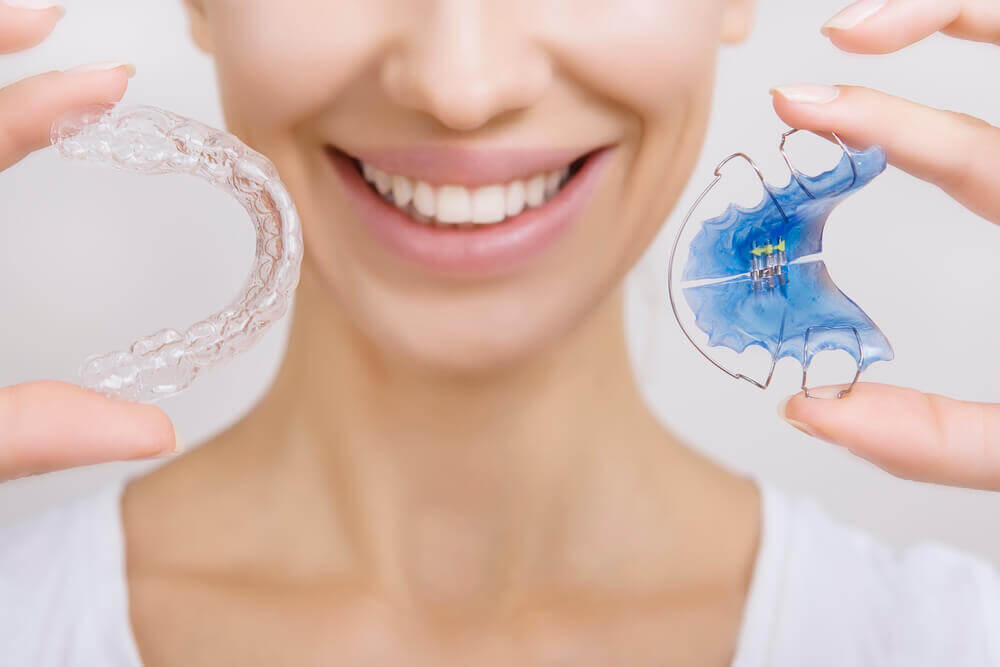 Tell your dentist that you want Vivera.
Your orthodontist may need to take a scan of your teeth. The results of your scan will be stored in Invisalign's database, so for future orders, you won't need to get scans done again, unless your teeth have moved a lot.
Post-appointment, you'll pick up your retainers from your dentist.
How long do Vivera retainers last?
Four sets of these last about three years with good care before you'll need an Invisalign retainer replacement. They are meant to last longer than standard options.
That's because they are made from tougher thermoplastic material and manufactured with the latest technology.
The thermoplastic material is 30% stronger than other leading retainers like Essix and Hawley retainers. With Vivera retainers you will rarely encounter cracking or breaking.
To find out more about what patients think about Invisalign, you can read our Invisalign reviews article.
How to clean your retainers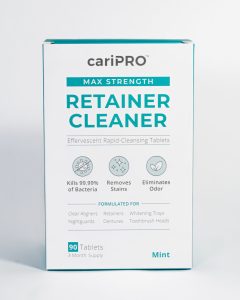 You can use mouthwash and lukewarm water to gently clean the retainers while rubbing with your fingers. Cleaning Viviera retainers with toothpaste and brush might be too harsh. The retainers are strong but not as hard as your tooth's enamel. Toothpaste is usually too abrasive for cleaning retainers.
We recommend using a specialized retainer cleaner, like this one from cariPRO. It's an easy and fast way to keep your retainers clean and help them last longer.
For more information on how to clean your retainers, you can read our detailed guide here. We also have a guide for how to clean clear aligners.
Conclusion
After orthodontic treatment, it's normal to wear retainers regardless of which teeth straightening treatment you may undergo. Retainers ensure that your orthodontic treatment doesn't relapse.
There are many kinds of retainers available, and Vivera retainers from Invisalign are a popular option. They are manufactured using the latest technology, and with proper care, you can ensure they last a long time.
If you like the idea of a clear, removable aligner, but you'd like to pay a little less than you would with Vivera, you may want to consider ordering custom-made Essix retainers from Sporting Smiles. Use promo code SMILE10 to get 10% off your order.
FAQs
How much are Invisalign retainers?
Invisalign retainers cost between $400 and $1,000 on average for four sets; however, you are getting four sets of top and bottom retainers made from long-lasting materials. Keep in mind that individual quotes will vary — you can call 866-383-0748 to find an Invisalign dentist near you who can give you a detailed price quote.
How long should I wear Vivera retainers?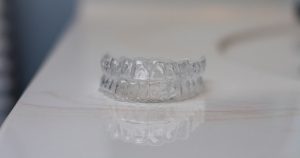 Just as with any post-orthodontic treatment with retainers, you'll probably need to wear these retainers for the rest of your life. Usually, after a few months you'll be able to switch over to nighttime wear only.
Where can I buy Vivera retainers?
You can buy Vivera retainers through your dentist. Many people opt for these Invisalign retainers after Invisalign treatment, but you can also get a Vivera retainer even if you had regular braces.
Will Vivera retainers fit in my mouth?
All Vivera retainers are fitted to your exact smile. Your dentist will scan or make an impression of your teeth for the perfect fit. Then your scans will be stored in Invisalign's database. So if you need replacement retainers, you won't need additional scans.
How do I clean Vivera retainers?
Rinse your retainer with warm water and soak in warm water mixed with mouthwash or a cleaner made for dentures. Don't brush them with your toothbrush and toothpaste, as you might damage them. Also don't wash them with hot water.
Sign up to receive the latest news and offers from Dentaly.org