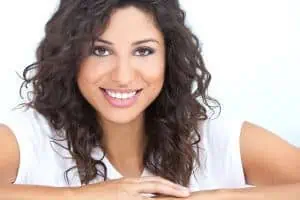 What are Candid aligners and are they the best adult braces for you? This brand has made a name for themselves as one of the best at-home teeth straightening options available. But even knowing that, it's good to do your due diligence and thoroughly research any big decision you make about your oral health before you commit.
That's why in this article, we'll fill you in on all you need to know about Candid teeth aligners including some basic but super important information like:
How do they work?
How much do they cost?
How do I begin the process?
Our goal is for you to have all of the information you need in order to make the best decision for your situation.
How does Candid teeth straightening work?
The Candid clear aligners company was founded in 2017, with the aim of giving patients a way to straighten teeth without going to the orthodontist, and without having to pay as much as you would for in-office clear aligners like Invisalign.
Their basic model consisted of ordering an impression kit online and then completing treatment completely at home, with remote supervision from an orthodontist.
Candid is in the process of changing this now, and instead of moving towards having a dentist network, much like Invisalign. We'll keep you tuned as Candid updates its processes and rolls out the new treatment system. Meanwhile, you can still find out if you're eligible for this treatment by taking the free online smile assessment.
Are you interested in this type of treatment? Compare some of the best invisible braces brands below. We also have some comparison articles, like Candid vs Byte.
Find the right clear aligners for you

There are so many companies offering remote teeth straightening with aligners! Take a look at our top picks and discover why we recommend these over any others.

Best service
Complete treatment 100% remotely
Amazing customer service
Nighttime-only option
$1,395 or $83/month
NewSmile aligners are made from the clearest Essix plastic and come with a daytime or nighttime-only option to suit you. For just $1,395 you'll receive everything you need to straighten and whiten your teeth – and maintain your new smile:
Home impression kit
Full aligner treatment
Free whitening
First set of retainers
A full refund if you're not a good fit
NewSmile go above and beyond to provide a great experience to all their customers, beginning with a live video call to help you with your teeth impressions. Mail these back, and they'll send a 3D Treatment Preview for you to approve before going ahead.
Alternatively,
click here
for an extra $20 off an impression kit!
Best value
Complete treatment 100% remotely
6 month average treatment time
Nighttime-only option
$1,145 or $95/month
If you're looking for the best value aligner package, here it is! For just $1,145 you'll get:
Impression kit
Full aligner treatment course
Free teeth whitening kit
Your first set of retainers
In short, everything needed to straighten your teeth remotely and keep them looking great, with a full money-back guarantee if you're not a suitable candidate.
This low price doesn't mean you're compromising on quality of care, though. ALIGNERCO just choose not to put so much into marketing, and they pass on the savings to their customers. They are also known for their responsive and helpful customer care, which is important when you're doing things from home.
Plus, if you're in New York, you can visit their SmileStudio for a free consultation and help taking your impressions.
Nighttime-only aligners are also available for anyone who doesn't want to wear aligners during the day.
Get $150 off!
Faster treatment
3-4 month average treatment time
Assessed and planned by orthodontists
Includes whitening and first retainers
$1,895 or $83/month
Byte's HyperByte technology uses High Frequency Vibration to help your teeth move faster and with minimal discomfort. Their average treatment time is just 3-4 months, compared to 6 months for most others.
Treatment includes your first set of retainers. You'll also get their BrightByte 3-in-1 foam to whiten your teeth, clean your aligners and freshen your breath. And their Byte-for-life guarantee means you'll get free adjustments if your teeth start to move again.
Begin by ordering an impression kit so their orthodontists can assess whether you're a good match.
Get 75% off with code 02DENTALY100TS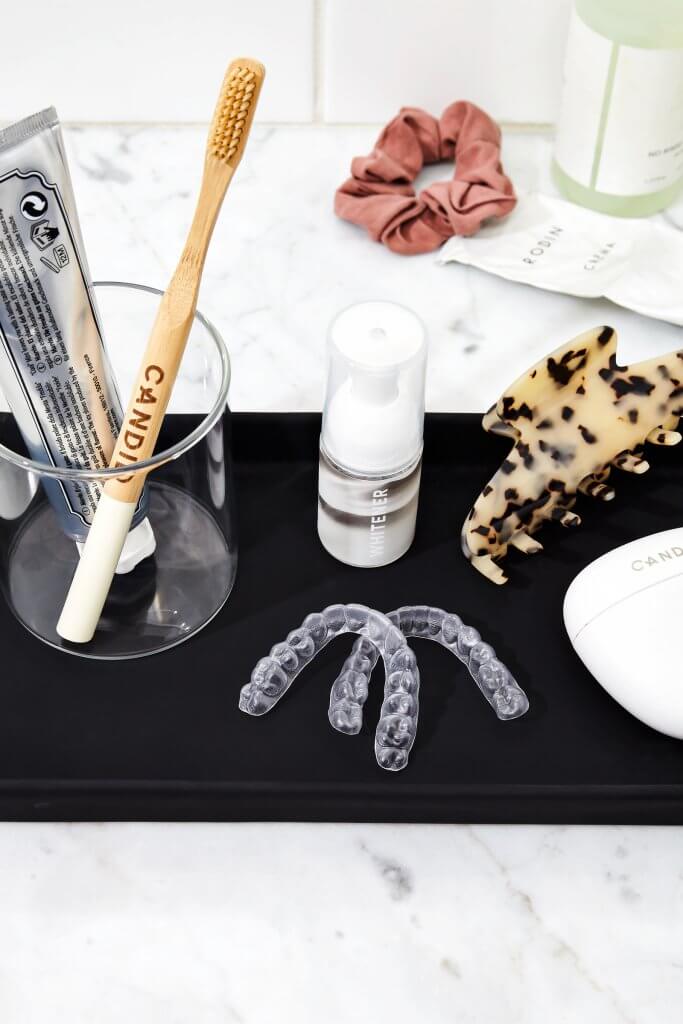 Candid orthodontics technology
Candid has always been ahead of the at-home braces curve when it comes to innovative technology. They made it easy to virtually check-in with your orthodontist using AI, your smartphone and a special scanner through a partnership with Dental Monitoring. This technology is easy to use, and it also makes treatment more accurate and reduces treatment time. You used to have to purchase it separately, but now it's included with everyone's treatment. Check out the video below to see how it works!
It's not clear exactly how this technology will be used as Candid changes their treatment models, but chances are, it will come back new and improved. For more Candid reviews, you can read our full Candid reviews article.
Candid braces treatment time
According to their website, treatment with Candid takes an average of six months, and rarely exceeds 11 months. Also with the Candid Remote Monitoring program, you do virtual check-ins with your assigned orthodontist every seven to 10 days, as opposed to the standard check-in frequency which is every two weeks.
By checking in more frequently with your orthodontist, they will be able to see if you are ready to move on to your next aligner trays without having to wait until the full two weeks is up.
That's a 20 to 30% reduction rate in treatment time. Remote Monitoring also helps reduce treatment time because it keeps you accountable and wearing your retainers during all of the time you're supposed to. When patients don't wear their aligners for all of the hours they are supposed to, treatment time oftentimes needs to be extended.
How much do Candid braces cost?
Candid braces cost $1.895, but there are also payment plans available. Have a look at the list below where we break down all of the Candid teeth costs.
Complete Candid package: Everything you need to straighten your teeth, including a free impression kit.
Impression kits: Another option is to first buy an impression kit.
Treatment: If you would rather spread your payments out, you can pay $399 down and then $65 per month.
Retainer: After your braces, you should continue to wear retainers for the rest of your life (this is the same as with any at-home or in-office braces). A set of Candid retainers costs $99.
These prices are subject to change as Candid changes their treatment model, but if you're interested in Candid aligners then the first step is to take a free online Smile Assessment to find out if you're a good candidate.
How Candid dental care is different
With so many at-home and in-office clear aligner options out there, your first impression may be that Candid is one of many. But it's really not. Candid is one of the better options for clear aligner treatment for a variety of reasons. Let's have a look at what most stands out about Candid:
The care
With many clear aligner brands, even Invisalign, both dentists, and orthodontists can plan and supervise your treatment. But Candid works exclusively with orthodontists.
Why is this important?
Because while dentists are totally awesome and are absolutely essential to oral health, orthodontists are dentists who have additional training in how to correct cases of teeth misalignment and malocclusion. Both dentists and orthodontists are in fact dentists and licensed to provide general care. However, orthodontists are dental specialists who go on to study full-time in an accredited program in their specialty area, in this case, straightening teeth. Another brand that we like that works only with orthodontists is Byte, which you can read more about in our Byte reviews article.
The diagnostic process
In general, Candid invisible aligners have a more thorough diagnostic process than other clear aligner brands. While some require as few as three photos of your teeth, Candid requires eight, and these are accompanied by your PVS impressions. They also do a thorough dental and medical history check so they know better how to tailor your treatment to you.
SureSmile aligners are similar in providing advanced care and scans to determine progress. Read more about SureSmile here.
Customer service
Candid's customer service consistently receives positive reviews from their patients. One of the reasons is that they offer online video chat so you can actually talk to someone in real-time about your issue.
The Candid patient in the following video describes her experience with Candid customer service and clear aligners overall. Her journey begins with an initial problem with her address and the shipment of her kit, but customer service got it figured it out really quickly. She says that Candid's customer service reputation is actually one of the reasons why she was interested in trying.
You can watch her full journey below, where she talks about the bumps along the way, but that she is ultimately very happy with the results and would recommend treatment with Candid.
The technology
Candid has partnered with Dental Monitoring, a multinational medical tech company that is elevating patient care and results for orthodontists around the world. Dental Monitoring has created AI-based remote monitoring technology, specifically for doctors to use with their patients.
One of the reasons that this technology is so important and places Candid on its own level in the at-home braces department has to do with patient compliance.
One of the biggest barriers to fast and successful treatment with at-home braces is that many patients don't wear their aligners as often as they should. This ends up slowing down treatment and can even have harmful effects on your teeth. This new partnership with Dental Monitoring is aimed at providing a solution to this problem, as it sends reminders to patients to follow their program. Not to mention that with more frequent check-ins with your orthodontist (every 10 days) you're held more accountable.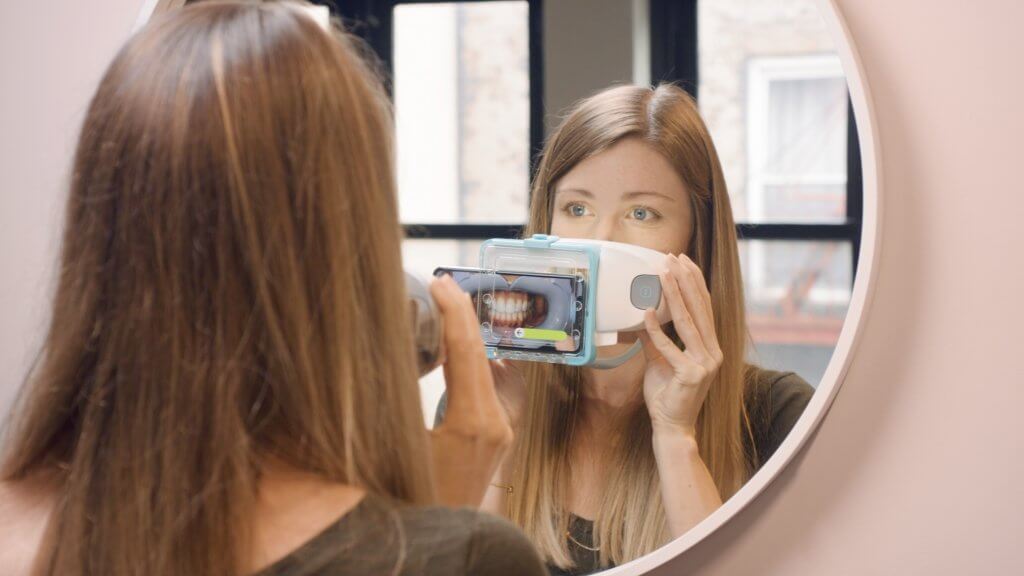 So how does it work?
Every 10 days, you open the Dental Monitoring app and slide your phone into the slot at the back of the ScanBox (this will have come with your treatment plan). You then follow the instructions to take pictures of your teeth (as outlined in the video earlier on in the article). The AI technology then analyzes the images of your teeth and sends that information to your orthodontist, who will at that point be able to tell you if you're ready to move on to your next aligner trays.
As you can see, there are some important differences between Candid and other teeth straightening options. Have a look at the table below for a summary of some of the greatest differences between Candid and other types of braces like Smile Direct Club, Invisalign and traditional braces.
Mild to moderate malocclusion

Mild to moderate malocclusion

Mild to moderate malocclusion

Mild to severe malocclusion

Mild to severe and beyond

All prices correct at time of writing but subject to change
How do I get started?
Getting started with Candid is a relatively simple and fast process.
If you want to try out treatment with Candid aligners then the first step is to take a free online Smile Assessment to find out if you're a good candidate.
Conclusion
Candid offers a safe and effective way to straighten your teeth from the comfort of your home, and for less than you would pay for other in-office brands. They have great customer service, a thorough diagnostic process, and advanced technology that makes treatment faster and more effective.
Candid is in the process of changing its treatment model to one that incorporates a network of dentists. This model may look more like the Invisalign one, but we'll keep you updated along the way.
Meanwhile, you can find out if you're a candidate by taking a free online Smile Assessment.
FAQs
How much is Candid?
Candid aligners cost $1,895, but you can also pay in installments of $65 per month. This makes them potentially thousands of dollars less than leading brands of invisible braces.
How are Candid and Invisalign different?
Candid and Invisalign are more similar than they are different, especially in terms of esthetics, comfort, and convenience. But there are four main differences between Candid and Invisalign:
Candid works exclusively with orthodontists, whereas Invisalign works with dentists and orthodontists.
Candid is cheaper! It costs $1,895 and Invisalign costs between $3,500 and $8,500.
Invisalign requires in-office appointments with your orthodontist and Candid can be completed entirely remotely.
Invisalign can treat mild to severe cases of malocclusion, while Candid is for mild to moderate cases.
Are Candid aligners better?
Candid aligners offer convenience and lower price of remote treatment, without sacrificing the quality of care. But at-home aligner treatment is meant for cases of mild to moderate malocclusion. If you have a severe case of teeth or jaw misalignment, you will most likely have to opt for treatment with in-office braces like Invisalign or even more traditional methods.
Is Candid legit?
Candid is definitely a legitimate at-home braces brand. They've helped many people achieve a straighter smile without breaking the bank — the lower costs making them more accessible.
Sign up to receive the latest news and offers from Dentaly.org