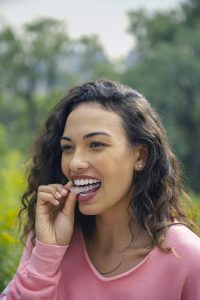 Byte vs Candid: Which is better? Well, the truth is that both are effective at straightening mild to moderate cases of malocclusion. But there are some differences between the two brands that can help you decide which is the best option for you.
For instance, Byte is more affordable than Candid and offers a shorter treatment time. Candid, on the other hand, requires you to meet with a CandidPro doctor before beginning treatment, which some patients may find to be a comforting part of the orthodontic treatment process.
In this article, we'll take a deep dive into the comparison between Byte and Candid, including:
Byte vs Candid costs
Differences in treatment time
Treatment processes
…and more!
But if you're short on time and just want a quick overview, have a look at the following comparison table:
| | | |
| --- | --- | --- |
| | | |
| | | |
| | | |
| | | |
| | | |
| | | In-person visit with CandidPro doctor at the beginning of treatment |
| | | |
| | HyperByte reduces discomfort and treatment time | ScanBox makes it easier for dentists to monitor progress |
| | | |
Overview of Candid vs Byte treatment
Byte
Byte is an accredited member of the Better Business Bureau and a member of the American Teledentistry Association. The company was designed to provide high-quality, fast, and professional results for a fraction of the cost of traditional options.
Impression kit
To begin treatment with Byte, you follow the standard process for most at-home clear aligners. That is, you order an impression kit online, and using the putty that comes in the kit, you make molds of your teeth at home.
Treatment planning
You then send these molds back into Byte, and one of Byte's licensed dentists or orthodontists will review your impressions to determine whether or not you are a good candidate for this type of treatment.
Byte will only accept you for treatment if they are sure that they can treat your case, which is an important side note — Byte treatment (and that with other clear aligners) is typically only effective with mild to moderate cases where teeth need to be straightened. More severe cases of crooked teeth or bite misalignment will need to be corrected with traditional braces.
If your Byte dentist does determine that you are a good candidate for treatment with Byte, they will design your personalized treatment plan, and send for your custom aligners to be made.
Wearing aligners and remote monitoring
Next, you'll receive your aligners in the mail, at which point you can begin your treatment. Throughout treatment, you will upload check-in photos to your Account Center every 3 to 4 weeks. This way your dentist can assess your progress and make sure that everything is going according to plan.
Your Byte aligners also come with Byte's unique HyperByte device. This is a mouthpiece that you bite down on for 5 minutes per day. It delivers high-frequency vibrations that use soft micropulses to your tooth roots and jawbone. This helps reduce discomfort and speeds up treatment time. Read more about HyperByte here.
Tooth whitening
As part of your aligner package, Byte also sends you BrightByte, their teeth whitening gel that whitens teeth while you're wearing your aligners. It also works to freshen breath and kills 99.9% of bad bacteria.
If you want to get started with Byte, you can go to their website and order your impression kit now.
You can also have a look at the video below, where Santos takes us through his journey with Byte aligners. He gives us helpful tips and tricks for getting through treatment and shows how to use the HyperByte device. He's also very well-versed in how clear aligners work in general.
Candid
Candid Aligner's mission is to help eliminate the barriers to orthodontic care, both geographical and economic, and make it so more people have access to quality treatment.
Candid recently changed their treatment model. Before, they used to be much more similar to Byte, but now they've become sort of a hybrid between in-office and at-home aligners.
CandidPro doctor
The first stage of treatment with Candid is actually more like treatment with Invisalign. That's because Candid now has a nationwide network of CandidPro doctors. To begin treatment with Candid, you must go to their website, take the smile assessment, and then be referred to a CandidPro doctor in your area.
You will then go to the Candid dentist's office in person. They will take X-rays, a 3D scan of your teeth, and photos of the inside and outside of your mouth. They will also conduct a dental and medical history questionnaire.
Treatment planning
The Candid dentist will then decide based on your records, the scans, and x-rays, whether you are a good candidate for this type of treatment. If the decision is that you are, they will begin designing your treatment plan. They will also send for your aligners to be made.
Wearing your aligners and remote monitoring
At this point, Candid goes back to being more like typical remote-dentistry clear aligners. You'll get your aligners in the mail, along with your CandidMonitoring materials. CandidMonitoring makes it easy for your dentist to follow your tooth movement throughout treatment.
To use the monitoring system, you take scans of your teeth at home with the CandidScan box, and upload them to the CandidApp. You'll do this every 14 days, so your dentist can make sure everything is going according to plan.
Tooth whitening
Along with your aligners, Candid will send some of their premium whitening foam, so you can whiten and straighten your teeth at the same time.
Candid also offers Phillips Zoom Whitening treatment for at-home use. It doesn't come as part of your aligners treatment, but you can purchase it separately.
If you'd like to see if you're eligible for treatment with Candid, you can go to their website and find a CandidPro doctor near you.
Comparison of Byte vs Candid
Let's take a closer look at how Byte and Candid measure up when it comes to the details of each brand's treatment.
Treatment time
Treatment with Candid aligners takes 6 months on average, and with Byte it takes an average of 4 months. This shorter treatment time may be owing to HyperByte, which delivers micropulse therapy to the gums, jawbones, and tooth roots in a way that helps not only ease discomfort but also speeds up treatment time.
Both Byte and Candid offer faster treatment time than regular braces or in-office invisible braces. Part of this is due to the fact that these brands are only meant to treat mild to moderate cases, so it goes without saying that if there are fewer corrections to make, not as much time will be needed to make those corrections.
In contrast, traditional braces and Invisalign can treat more severe cases, and may sometimes require up to 2 years to do so.
Treatment cost
The treatment costs for Byte include:
Impression kit: $95
Aligner set (aligners, HyperByte, BrightByte): $1,895
There's also the option to pay with a monthly payment plan for $82/month with 100% approval and a $249 down payment.
The treatment cost for Candid will vary based on the length of time you need to have treatment, but their prices have increased since they've changed the treatment model. The price range that Candid shows on their website based on three different patient cases is from $3,500 to $7,100.
Payment plans are available and it's possible, although not very likely, that your insurance could cover some of the costs.
Remote monitoring
The remote monitoring system is how your Byte or Candid dentist checks in with you to monitor the progress of your treatment.
With Byte, you upload your photos of your teeth every 3 to 4 weeks to the Account Center. Your dentist will use these photos to ensure everything is going as planned.
With Candid, you use the Candid ScanBox to take scans of your teeth which you submit to the Candid app. Your dentist has access to the photos on the app from their side, and thus monitors treatment that way.
Technology
Both Candid and Byte have their own appealing technology to enhance the treatment process.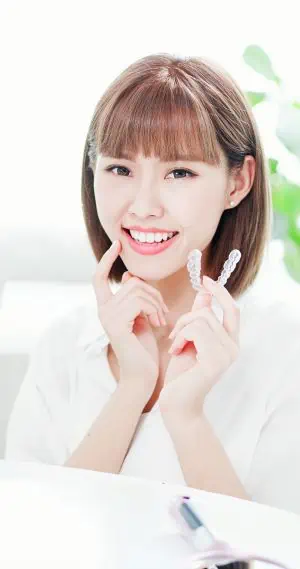 With Byte, it's their HyperByte device. This mouthpiece is worn for 5 minutes per day (or 10 for nighttime aligners) and delivers micropulse therapy to the gums, tooth roots and jawbone. The results of consistent HyperByte use are faster treatment time and less discomfort.
Candid shows off their technology with the ScanBox, which attaches to your phone and allows you to scan your teeth. The photos upload to your phone, so you can submit them to the CandidApp for remote monitoring purposes. These scans help your dentist more accurately see how progress is going.
Appearance
Candid aligners are made from Zendura FLX, which is an affordable and comfortable material. They are textured and frosted, designed to mimic the look of the surface of actual teeth.
Byte aligners are made from totally clear, smooth plastic, which may make your teeth look just a bit shiny.
Nighttime only
This is a major difference between the treatment offerings between Byte and Candid.
Byte offers a nighttime-only treatment option and Candid does not. With Byte At-Night, you wear your aligners for 10 hours per day, most of which you can complete while you're sleeping. You also up your HyperByte use to 10 minutes per day instead of 5.
The nighttime option costs more — $2,295 ($99/month payment plan), and treatment duration will take longer, averaging around 5 to 6 months.
Should you choose Byte or Candid?
Only you can decide which brand you want to go with, but below we've made a couple of lists to help you decide which treatment option is best for you based on price, treatment time, and more.
You may want to choose Byte if you:
Want quality treatment for less money
Like the idea of 100% remote treatment
Want the option to straighten teeth at night
Want to reduce discomfort with HyperByte
Want the fastest treatment option
You may want to choose Candid if you:
Want to meet with a dentist before beginning treatment
Want better scanning technology
Don't mind paying more
Other clear aligners alternatives
Below you can find our top picks for clear aligners alternatives. Invisalign isn't on the list because it's not an at-home clear aligner, but if you have a more severe case of malocclusion, it may be a good option for you.
You can call 800-794-7437 to find an Invisalign dentist in your area. You'll speak with a live operator who will put you through to a dentist who offers Invisalign near you.
Find the right clear aligners for you

There are so many companies offering remote teeth straightening with aligners! Take a look at our top picks and discover why we recommend these over any others.

Best service
Complete treatment 100% remotely
Amazing customer service
Nighttime-only option
$1,395 or $83/month
NewSmile aligners are made from the clearest Essix plastic and come with a daytime or nighttime-only option to suit you. For just $1,395 you'll receive everything you need to straighten and whiten your teeth – and maintain your new smile:
Home impression kit
Full aligner treatment
Free whitening
First set of retainers
A full refund if you're not a good fit
NewSmile go above and beyond to provide a great experience to all their customers, beginning with a live video call to help you with your teeth impressions. Mail these back, and they'll send a 3D Treatment Preview for you to approve before going ahead.
Alternatively,
click here
for an extra $20 off an impression kit!
Best value
Complete treatment 100% remotely
6 month average treatment time
Nighttime-only option
$1,145 or $95/month
If you're looking for the best value aligner package, here it is! For just $1,145 you'll get:
Impression kit
Full aligner treatment course
Free teeth whitening kit
Your first set of retainers
In short, everything needed to straighten your teeth remotely and keep them looking great, with a full money-back guarantee if you're not a suitable candidate.
This low price doesn't mean you're compromising on quality of care, though. ALIGNERCO just choose not to put so much into marketing, and they pass on the savings to their customers. They are also known for their responsive and helpful customer care, which is important when you're doing things from home.
Plus, if you're in New York, you can visit their SmileStudio for a free consultation and help taking your impressions.
Nighttime-only aligners are also available for anyone who doesn't want to wear aligners during the day.
Get $150 off!
Faster treatment
3-4 month average treatment time
Assessed and planned by orthodontists
Includes whitening and first retainers
$1,895 or $83/month
Byte's HyperByte technology uses High Frequency Vibration to help your teeth move faster and with minimal discomfort. Their average treatment time is just 3-4 months, compared to 6 months for most others.
Treatment includes your first set of retainers. You'll also get their BrightByte 3-in-1 foam to whiten your teeth, clean your aligners and freshen your breath. And their Byte-for-life guarantee means you'll get free adjustments if your teeth start to move again.
Begin by ordering an impression kit so their orthodontists can assess whether you're a good match.
Get 75% off with code 02DENTALY100TS
Conclusion
Byte and Candid both offer effective treatment for straightening your teeth at home. Byte is a 100% remote option that costs $1,895. It also has a nighttime treatment option that costs a bit more.
Candid is a hybrid treatment option, meaning that you do meet with a Candid dentist in person at the beginning of your treatment. Candid's costs have gone up since switching to this new treatment model. The average price for Candid is now between $3,500 and $7,500.
The bottom line is, if you want faster, more affordable treatment, you may want to choose Byte. And if you want to meet with a dentist in person at the beginning of your treatment, and you don't mind paying more, you may want to choose Candid.
FAQs
Is Candid as good as Byte?
Candid and Byte both offer effective teeth straightening treatments. Candid costs more than Byte, probably because you do meet in-person with a dentist before treatment. Byte offers faster and more affordable treatment. Built ultimately, both offer correction for mild to moderate cases, so it just comes down to the brand that you like best.
Which is better, Candid or Byte?
Neither Candid nor Byte are technically better than the other. They both have different pros and cons. Candid offers the option to meet a dentist in person at the beginning of treatment. But you're also paying a lot more. Byte is 100% remote and a much more affordable option.
What's cheaper, Byte or Candid?
Byte is cheaper than Candid. Byte costs $1,895 for their standard treatment option, and Candid can cost anywhere from $3,500 to $7,500, depending on your particular case.
Sign up to receive the latest news and offers from Dentaly.org