Philips has recently discontinued their Airfloss range. Many consumers find the Waterpik to be the best alternative. You can see our full Waterpik Reviews article here, and we'll keep you posted if a new Airfloss model is released. This article still compares Waterpik and Airfloss, but we'll also recommend some of the best models of water flossers that are currently available.
People with braces looking for a water flosser (or oral irrigator) usually end up with the dilemma of Waterpik vs Airfloss: which is better? Although there are a few similar products on the market, Waterpik and Philips Sonicare are by far the two dominant brands available.
We took a closer look at these two systems to determine if one is clearly better, or if they were each appropriate to suit different needs. The main questions we will address are:
Do water and air flossers work better than regular floss?
Are there significant differences between the Waterpik and Airfloss systems?
Is one more effective in removing plaque?
Is one easier to use than the other?
What range of options does each brand offer?
By the end of this article, you'll have all you need to decide which one is right for your oral hygiene routine. If you want a quick overview, have a look at the table below for a summary of the best water flosser options discussed in this article.
3 standard tips and 4 specialized tips

1-minute timer with 30-second pacer

2 power settings (high and low)

Waterpik ION Professional

Up to 4 weeks of batter per charge

7 tips and 10 pressure settings
Benefits of Airfloss or Waterpik vs string floss
Probably the most important thing to note right away is that an oral irrigator won't give you a better result than dental floss. People have been using silk or wax-coated nylon to clean between their teeth for centuries. It stands the test of time and it works great when done properly.
However, not everyone flosses their teeth in the same way or with the same frequency. With flossing, a lot of issues result from improper technique (or because you just aren't doing it enough) and not the equipment you are using.
For many people, it is difficult to thoroughly clean between all their teeth with regular floss, especially in the back of their mouth. This problem only compounds when flossing with braces, and many decide not to bother at all with such a tedious task.
Enter water and air flossers like the Waterpik and Sonicare Airfloss. Along with other recent products like floss picks, they make flossing an easy and painless process. We should say that though oral irrigators are not better than floss, they aren't necessarily worse either. The ADA has awarded both Airfloss and Waterpik its Seal of Acceptance, noting that they do significantly reduce the amount of plaque between teeth.
Here is a video review from Teeth Talk Girl in which she talks about the benefits of an oral irrigator, like Waterpik or Airfloss vs traditional string floss:
She is clearly a big fan of water flossers for any dental hygiene routine, saying they are particularly helpful for anyone with:
Braces
Permanent dental work (implants, lingual bars, or permanent retainers)
Swollen or bleeding gums
Periodontal pockets or heavy plaque buildup
Diabetes
In short, the major benefit of switching to water and air flossers is that flossing becomes quick, simple, less painful, and is easier to incorporate into a daily routine. For kids and adults, making oral hygiene quick and fun can lead to better habits which last a lifetime.
What is the difference between Sonicare Airfloss and Waterpik?
The main difference should be fairly obvious. While they both use a pressurized jet to clean your mouth, Waterpik uses a stream of water and Airfloss uses blasts of air (with a little water too).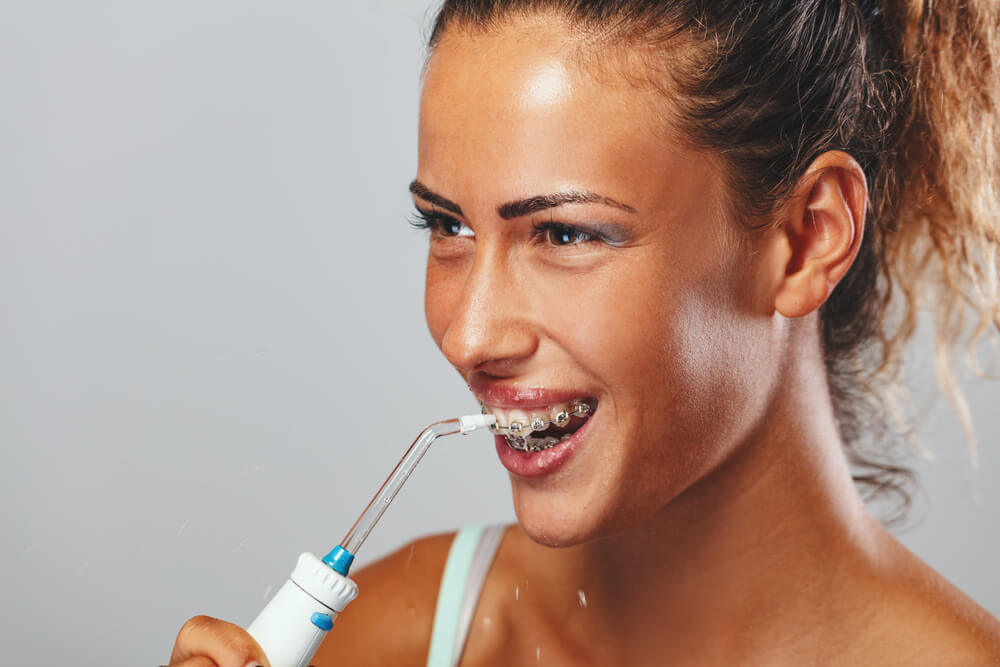 So, is that all?
Well, there's a bit more to it than that. Here, you can look at a summary of the different categories where each brand excels. Below that you can read on for more details and finally get our take on if there is a clear winner in the Sonicare Airfloss vs Waterpik debate.
| | | | | |
| --- | --- | --- | --- | --- |
| | | | | |
| | Found to be more effective than Airfloss at removing plaque and improving gum health. | Cords and hoses keep you tied to the bathroom sink. High volume of water means you will have to spit more. | Has multiple tips for different users, but takes up more space on the counter and in your suitcase. | Wide range of options with prices from around $40 to $120, including different colors, sizes and styles. |
| | Also effective for plaque removal, but did not perform as well as Waterpik in studies. | Handheld and cordless so you can move away from the sink. Air burst system is less messy. | Battery lasts for two weeks on a single charge and small size is perfect for travel. Shares charger with Sonicare brushes. | Limited range of two models with some accessories also available. Basic packages cost around $50-$70. |
Effectiveness
The first (and probably most important) question to ask when deciding on buying a Waterpik or a Sonicare Airfloss is: how effectively does it clean between your teeth? There were two studies conducted simultaneously in 2012 to examine the difference in performance of the Waterpik vs the Airfloss in removing interdental plaque and improving gum health.
Participants with similar levels of plaque and gingivitis brushed their teeth using a normal manual brush, and then flossed with either a Waterpik water flosser or Sonicare Airfloss for four weeks.
Both devices proved to be significantly effective, but in the end, Waterpik came out on top in both categories.
In the plaque removal analysis at the end of the study, the Waterpik group showed average plaque reductions of around 74.9% throughout the mouth. The Sonicare Airfloss had a lower figure of 57.5%. To determine the effect on overall dental health, the group was examined after a two-week period, and again after all four weeks. Even at the first checkup, there was a statistically significant difference in bleeding reduction between Waterpik and Airfloss, which had only grown by week four.
So it certainly looks like the Waterpik has a strong advantage vs the Airfloss regarding effectiveness, but that isn't the whole story. Remember that we said one of the main advantages to oral irrigators is actually creating a better flossing routine, so this fight isn't over yet.
User experience
When we talk about user experience, we are referring to pros and cons of each device in everyday use. Both make it easier to floss, but there are still some important differences to point out.
Most of the differences come from the fact that Waterpik uses a continuous stream of water, while Airfloss only uses minimal water with 1-3 bursts of air per tooth. This gives the Sonicare Airfloss an advantage for several reasons.
So, why does that matter? Well, to start, a Waterpik flosser that is continuously shooting water out must always be in your mouth, or else you'll be giving your bathroom (and also possibly your face) a good spray every day. Another consequence is that your mouth will fill up with water while you use it. This means you will have to spit at least once before you are done.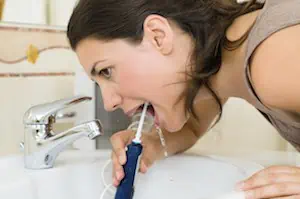 Thankfully (or not), with a Waterpik you will be close to the sink when you need to spit. Due to their continuous spray, almost all of their models need to be plugged in, and use a sizable water reservoir connected to the nozzle by a hose.
Even some of the "cordless" models still use the hose, so in general with Waterpik you will be anchored to the bathroom while flossing.
In contrast, by using short bursts of air with small amounts of water, Sonicare can pack it all into one handheld device. This gives you the option of walking around the house (maybe to find your keys) while you floss, as you aren't tied down and won't need to spit until the very end. Not only that, but there's no risk of unintentionally spraying anything or anyone down in the process.
Convenience and portability
Related to user experience are the travel considerations, as well as how much space your irrigator will occupy in the bathroom. Here Airfloss also has a leg up thanks to its handheld size and low power usage.
The Waterpik doesn't take up a massive amount of counter space—they are around the size of a water pitcher or coffee pot—but it isn't insignificant either. Meanwhile, the footprint of the Airfloss charger is very manageable and can comfortably fit into nearly any bathroom.
This translates into an easier package for travel. If you want to take your Airfloss on vacation, neither it nor the charger will take up much space and you can even leave the charger behind, as the battery can last for up to 2 weeks. A Waterpik will require some creative organization to bring along, and make sure you have an adapter to plug it in if you go abroad!
What's more, if you already have a Sonicare toothbrush, the standard charger is compatible with Airfloss, meaning you can save even more counter and plug space.
Waterpik has one notable advantage, however. They offer different tips and different colors, so everyone in the family can use the same device while having their own personal tip.
Range options and price point comparison
Here we find a very sizable difference between the two brands. When looking for different options, there are tons of different models to choose between from Waterpik vs only two from Airfloss.
You may hear about an Airfloss Pro and Airfloss Ultra, but essentially they are the same product. When the Airfloss Pro first came on the market, many consumers had significant technical issues. Philips soon removed it, solved the problems, and rebranded it as Airfloss Ultra.
Although there are extra features and accessories available, the basic Airfloss and Airfloss Ultra cost around $50 and $70, respectively. With basic to pro models from $40 to around $120 the Waterpik range has a big advantage vs Airfloss and Airfloss Ultra.
If you want a range of hygiene products that take up less counter space, there's the Waterpik Sonic Fusion, which combines a water flosser and electric toothbrush all in one. Read the review here.
For more details, you can check out our complete guide to the best Waterpiks.
So which one is better?
Although it isn't a total blowout, we have to say that Waterpik is a slightly better option overall. For us, it comes down to the fact that the advantage of more effective cleaning outweighs the portability and tidiness of the Airfloss.
The variety of Waterfloss options means you can enter at a lower price point, and there are even some handheld models available in their line if size and portability are primary concerns. Check out the Waterpik Aquarius WP-660 review. The WP-560 range is cordless.
The interchangeable tips also make it better for whole families to use, or for other dental hygiene enthusiasts like us to experiment with different nozzle types.
That said, Airfloss could be a better choice for you for several reasons. Anyone who travels a lot (or anyone who has a limited amount of bathroom counter space) will certainly appreciate its compact size and long battery life.
With the air burst system, you won't spray water anywhere, and you can move around a lot more while flossing. People who already use a Philips Sonicare brush can also use the same charger for their Airfloss vs adding a Waterpik with a larger footprint.
cariPRO: An even better option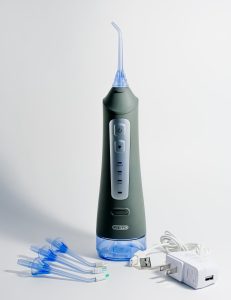 If you're not convinced by the Waterpik or the Airfloss, have a look at our top pick — the cariPRO water flosser. Here's why:
155 ml reservoir holds 45 seconds of water
Jet pressure ranges from 44 to 75 psi for a gentle stream with a big impact
4 specialty floss tips — standard, orthodontic, restorations and gum health
60-day trial
The cariPRO was specially designed by oral health care brand Smile Brilliant for those who take their oral hygiene routine very seriously. Try it out for yourself and take advantage of the current discounts.
Conclusion
To sum up, both Airfloss and Waterpik are oral irrigators that offer a trusted alternative to traditional string floss. Compared side-by-side, they both have some areas in which they excel.
Either could be a good buy for you depending on your lifestyle and oral health goals. Here's a quick rundown of the pros of each brand.
Waterpik
Powerful: Studies show it to be more effective at removing plaque from between teeth and improving gum health.
Lots of options: Waterpik offers a variety of models at several price points to suit different needs, including a flosser and toothbrush package.
Family Friendly: Kids models are available, as well as different tip types and colors for each member of the household. Models with a power cord and large reservoir are always ready, no matter how many people use it in a day.
Airfloss
Clean: Activating the burst of air with a button keeps you from accidentally getting water anywhere you don't want it, and doesn't require you to spit mid-floss.
Convenient: The small profile and footprint mean you can fit it comfortably in any bathroom, and easily pack it for a vacation. It also uses the same standard charger as Sonicare brushes. There is no hose or power cord, so you can move around while you floss.
Efficient: It uses much less water than Waterpik, and the rechargeable battery lasts for 2 weeks of flossing.
All other things being equal, compared to the Airfloss, the Waterpik has been shown to be more effective at removing plaque and improving gum health.
More than one user can deplete the water and battery of an Airfloss, while most Waterpiks don't need to be charged or refilled very often. You can't take it on vacation, but anyone who travels only occasionally will probably be alright with string floss for a couple of weeks every year.
In the end, though, the best flosser is the one that you use. When you are making your decision, consider which brand will fit best with the routine you have, or best enable the routine you want to create.
FAQs
Are water flossers better than string floss?
Water flossers are effective in removing plaque and debris from between teeth, but by and large dentists still place their trust in traditional flossing. This is because string floss is a tried and true method that has been around for centuries. However, for some people an oral irrigator will be better because it is softer on their sensitive gums, is easier to use with dental work, or just makes it easier to maintain a routine.
What is the difference between airfloss and a water flosser?
The concept of the two devices is the same: using pressurized fluid to dislodge debris and remove plaque between teeth. Most water flossers use a continuous jet of water. Airfloss has a button which activated a short, powerful burst of air with a tiny amount of water. This leads to more control and less of a need to spit while flossing.
Is it OK to use Waterpik twice a day?
Yes. Dentists recommend that you floss once per day, but if you want to do it twice a day or even after every meal that is perfectly fine. If you use string floss you should be careful not to be too aggressive, but water flossers like Waterpik are more gentle on gums. Flossing twice, or even three times a day, shouldn't pose a problem.
Can I use tap water in my Waterpik?
You have several options for filling a Waterpik, and tap water is certainly among them. You can add salt to water to make a solution (though it is not advisable for cordless units), or you can use certain types of mouth rinse, but just plain warm tap water will work just fine.
Can I put mouthwash in my water flosser?
Both Waterpik and Airfloss can be used with standard, antiseptic, or antimicrobial mouthwash. However, you should not use high-concentration mouthwashes, or any type containing essential oils. These two things can damage the plastic in the inner workings and significantly reduce the life of your device.
Sign up to receive the latest news and offers from Dentaly.org