If you're looking for affordable, high-quality dentistry abroad, then finding a dentist in Colombia may just be the right path for you. Colombian dentists are highly accredited, just like dentists in the United States. They use the same materials and the same advanced technology as well.
Dentists in Colombia undergo 5 years of dental school and an additional year of public service, working in hospitals and clinics before they can receive their Doctor of Dental Surgery degree, so you can expect a high level of treatment.
In this article, we'll go over:
Why you may want to go to the dentist in Colombia
The most common types of Colombian dentistry
Getting veneers in Colombia
Colombian dental prices
Dental tourism in Colombia reviews
We hope this information helps you make the best decision for your oral health and dental treatment needs.
Why go to the dentist in Colombia
There are myriad reasons to go to the dentist in Colombia. Have a look at some of the most common:
Lower costs
The main reason why people from the United States travel to Colombia for dental work is the lower costs. You can save up to 70% on treatments like veneers, implants, and dentures.
That's because the cost of living in Colombia is so much lower than it is in the US. When the cost of living is lower, that means that clinics have lower overhead costs to pay — a lower cost of clinic rental, lower equipment costs, and lower staff salaries.
So the cost is not a reflection of treatment quality, it's just because living in Colombia costs less than it does in the US.
High quality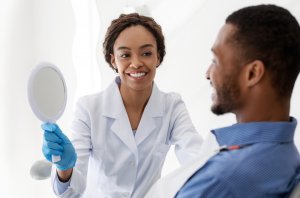 Many people associate overseas dental work with lower quality, but that just isn't true. The real truth is that most Colombian dentists are highly trained professionals that have studied at some of the best universities in Latin America and around the world.
To study to be a dentist in Colombia, you have to complete 5 years of study in dental school to earn your diploma. You then have to work for the government for 1 year of public service before you can go out to practice on your own.
Another reason you can feel confident knowing that in Colombia you'll receive high-quality dental care is that they partially rely on the millions of dental tourists that come from all over the world to keep their clinics up and running.
Many of their clients are referred from previous patients, so for their own wellbeing they must ensure that they provide excellent treatment and an overall positive experience.
Affordable hotels and flights
Flying to Colombia for dental work will be much more affordable than going to Europe for dental work, which is another common dental tourism destination. You can find flights for as low as $80 (from certain parts of the US), but if you head to Turkey or Spain, you're looking to pay around $1,000.
The same goes for hotels and accommodation. Many hotels in Colombia are high quality, while keeping the price down. Again, it all comes back to the lower cost of living in Colombia.
No jetlag
Unlike going to Europe or Asia for dental tourism, where you'll need days, or even a couple of weeks to truly adjust to the time difference, Colombia is just 3 hours ahead of California so it won't take you long to adjust. Less jetlag means a faster recovery and more time to explore this culturally rich country.
A great place to visit
More and more tourists are discovering what a wonderful place Colombia is to visit. Whether you go to Bogota, Cartagena, Cali, or Medellin, you'll find amazing architecture, charming streets, a warm, inviting culture, and, of course, wonderful food.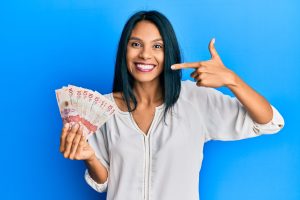 If all of that sounds like a good reason to go to Colombia for dental work, then the Medical Tourism Corporation (MTC) can help. They have years of experience helping patients find reputable clinics abroad and they focus on providing great customer service.
They'll help you communicate with your clinic in Colombia and with planning the details around your trip. Fill in your details in the form below for a callback and a free quote.
Request a free quote for dental treatment abroad
Is it safe to go to Colombia for dental work?
If you do your research before going abroad and go to a licensed clinic with high standards of care and the proper accreditation, then yes, it is safe to go to Colombia for dental work.
The World Health Organization has ranked Colombia's healthcare system 22 out of 191, and Colombia was actually the highest-ranked country in all of Latin American. The healthcare system in Colombia even ranks higher than in countries like the US, Germany, and Canada.
And if you do decide to get dental work done in Colombia you certainly won't be the only North American there. According to the Medical Tourism Index, Colombia ranks 4th as one of the most popular Latin American countries for medical tourism.
Colombian dentist training
Colombian dentists go through stringent training just like dentists from the US. If you're interested in the details you can find them below:
To get into dental school in Colombia you need to have completed the ICFEDeS test
You must also pass an entrance exam administered by your chosen dental school
Dental students must complete a 5-year program to receive their Doctor of Dental Surgery degree
The first four years are primarily didactic, including lab courses, lectures, projects, etc.
In the final year of their studies they work at hospitals and health institutions in and outside of Colombia
Common dental treatment in Colombia
In Colombia, you can get all of the treatments that you could in the US. This includes cosmetic and restorative procedures. Let's take a closer look at some of the most popular dental treatments Americans get in Colombia.
Veneers in Colombia
The cost for dental veneers in Colombia is much less than it is in the United States, although it also depends on the kind of veneer you choose.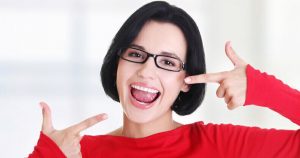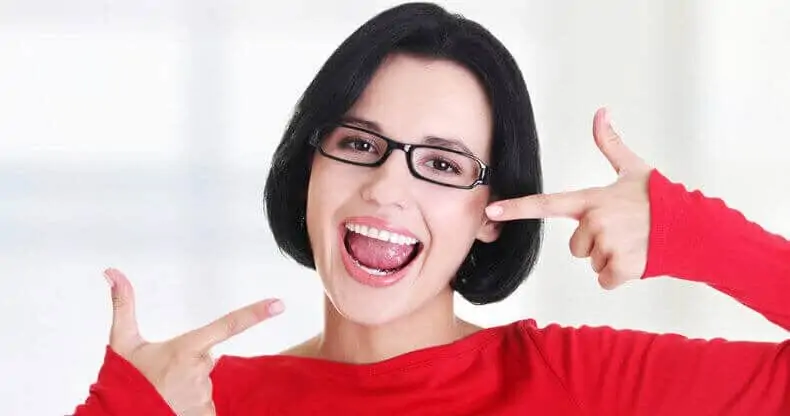 Composite Colombia veneers are less expensive. They are molded around your natural teeth with a soft material that then becomes hard. They can be completed in one visit. One downside to composite veneers is that they typically last around five years before they begin to erode and you need to get them replaced.
The higher quality option for veneers in Colombia is porcelain. These last much longer, but they also come with a higher price tag in the US. Thus, if you get your veneers in Colombia, it may be more worth your while to opt for the more expensive, higher-quality option.
Porcelain veneers in Colombia typically cost around $450, whereas in the US they can cost as much as $2,500.
Implants in Colombia
Getting dental implants in Colombia is definitely one of the most popular reasons for North Americans to go abroad for dental work. Why? The answer is simple — dental implants are the most expensive treatment you can get in the US, so you're likely to save the most when you go abroad.
The material and type of dental implants placed in Colombia are usually the same that dentists use in the US, but you should verify before you commit to treatment that the implants you are getting are familiar to the dental system here. That makes upkeep easier for you in the future.
The dental implant process in Colombia will also be the same as in the US and will likely require three visits unless you opt for one-day implants.
Typically on the first visit you'll have the implant placed into your jaw bone. Once that has settled and healed, you'll go back to get the abutment put on, and a temporary crown placed. On your third visit, you'll get your permanent crown.
The need for multiple visits is why the relative proximity of Colombia to the US compared with other dental destinations like Europe or Asia is particularly important to consider.
Dental implants in Colombia typically cost around $1,300 for a single implant and $7,000 for All-on-4s (full mouth). In the US, you can expect to pay up to $6,000 for a single implant and upwards of $15,000 for All-on-4s.
Dentures in Colombia
While dentures aren't as effective in replacing teeth as dental implants, there's still a big difference in comfort and function between cheap dentures and quality dentures. That's why it may be worth the trip to Colombia for dentures.
Dentures in Colombia can cost around $350 for a quality set, whereas in the United States you might have to pay $800 to $1,500 for custom-made, quality dentures.
Other treatments
There are other treatments you may be interested in getting in Colombia, including dentistry procedures like teeth whitening, dental crowns, root canals, and even braces. However, with less expensive procedures like dental cleanings or fillings, it's probably not worth the trip unless you bundle them with more expensive treatments like implants or veneers.
Orthodontia (like braces) may not be the best choice for getting abroad either. Not because the quality isn't good, but because of the visits required with traditional braces. Are you prepared to head back to your Colombian orthodontist every 6 weeks or so for a checkup?
Colombia dentistry costs
If you're considering traveling to Colombia to finance your dental work, you have probably already gotten a quote from your US dentist for the treatment you need. And chances are, you're feeling a bit overwhelmed with the high price tag attached to certain treatments.
The good news is, costs of dentistry in Colombia are a fraction of what it costs in the United States, with prices up to 70% lower in Colombia while still using high-quality materials and advanced treatment methods.
Have a look at the table below where we summarize the Colombian dental costs for some of the most common types of dental work.
| | |
| --- | --- |
| | |
| | |
| | |
| Acrylic dentures, single arch | |
| | |
| | |
| | |
| | |
Why is dentistry in Colombia cheaper?
The main reason that Colombian dental prices are so much lower than they are in the US is that the cost of living in Colombia is considerably less than it is in North America.
Many people assume that lower costs of dental work in Colombia, or anywhere else for that matter, are a reflection of the quality of the treatment you will receive. But that's not true.
Clinics in Colombia that have a good reputation and the requisite credentials to operate as a legal dental clinic are held to the same standards, if not higher, as dentists in the US. They also use the same materials, advanced methods, and source their implants from the same manufacturers.
It's just that things like rent, salaries, and the general cost of running a business are lower, so that means that the clinic doesn't need to charge as much for their services.
How to pay for dental work in Colombia
Even though prices for dental work in Colombia are much more accessible than they are in the US, you still might find that you have trouble covering more expensive treatments.
The good news is, it's possible that your US dental insurance plan provides some coverage for dentists in Colombia. Make sure to check your policy to see if there are any discounts available.
And if you don't have dental insurance, you can find the best plan for you with the help of Dentalinsurance.com. This online insurance marketplace makes it easy to search and compare plans, all you have to do is enter your zip code and date of birth to see the best plans in your area.
Make sure to look for plans that provide some sort of coverage for getting dental work overseas, that way you're not left hanging if something were to go wrong.
Where to get dental work in Colombia
When looking for the best places to get dental work done in Colombia, you should consider going to the larger cities. That means Bogota, the capital city of Colombia, or Cali and Medellin, the second- and third-largest Colombian cities.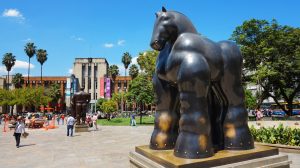 All three cities have a reputation for high-quality medical care, and in fact Colombia has 24 of the top 58 hospitals and clinics in Latin America, according to this study from América Economia. Cali is home to the 4th best-ranked hospital in Latin America, the Fundacion Valle del Lili.
Finding the best dentist in Colombia
Needless to say, there are tens of thousands of qualified dentists in Colombia, so how do you find the right one for you? This is where you need to put in your time and do some research. Make sure to look into:
The dentist you're going to
The clinic you'll be visiting
The treatment you need
Inclusions and exclusions in your treatment package
The practicalities and logistics of travel
Qualifications
It's essential to ensure that your Colombian dentist has the proper qualifications. Don't feel bad about asking to see them, as that should be standard practice.
Also, make sure that if your dentist doesn't speak fluent English that there are staff at the clinic who do. After all, it's critical for your health and wellbeing, and not to mention peace of mind, that you know what's going on at all times.
Previous work
Your research should extend to looking at previous patients and dental work from the clinic in Colombia that you choose. Don't hesitate to ask for before and after photos that the clinic has of past patients. And ask the clinic if there are any former patients who have given their permission for a consult.
You can also of course check patient reviews on YouTube, and we've included some further down.
Aftercare
Don't forget to sort out your aftercare. Find out if post-treatment care is included in your treatment cost, and where you will recover. If you are undergoing surgery, make sure your clinic provides transport from the clinic to your hotel, and any necessary follow-up treatment.
Colombia dentist reviews
This reviewer talks about her experience getting veneers in Cali, Colombia. She has had a lot of work done on her teeth, including orthodontics, but she still had a gap in her teeth that led to all sorts of problems with eating and aesthetics.
She lives in Colombia now, in Medellin, but she found a dentist in Cali that offered her a good price for her veneers. You can watch her full review below.
Other destinations for cheap dental work
If you aren't quite sold on going to Colombia for dental work but you're still interested in saving money on treatment abroad, there are plenty of other places you can go.
If you live along the eastern coast of the US, you may want to consider Costa Rica for dental work, or if you live in Arizona, hop over the border to Los Algodones, Mexico, also known as Molar City. And if you want to go somewhere that follows ADA regulations, head to a dentist in Puerto Rico.
Further destinations include dentistry in Thailand, Spain, or even Indian dentistry for a full-on dental vacation.
Conclusion
Colombia has become a popular destination for finding affordable and quality dental work. Dentists in Colombia undergo strict and comprehensive training and certification just like dentists in the US, and the materials and advanced technology they use are the same.
However, because the cost of living in Colombia is so much lower than it is in the United States, dentists in Colombia can charge less for their services. Just make sure you do plenty of research before you go so you can choose the best clinic for the treatment you need.
If you want help planning your trip to Colombia for dentistry, or anywhere else for that matter, you can count on MTC. They will put you in touch with high-quality clinics abroad and facilitate the planning and communication process. Just fill in the form below to get started with your free quote.
Request a free quote for dental treatment abroad
FAQs
How much does it cost to get teeth done in Colombia?
It depends on the treatment you choose, but a single implant will cost around $1,300 and All-on-4s can cost $7,000. A porcelain veneer can cost around $450, and laser teeth whitening just $150.
Is it safe to go to Colombia for dental work?
Yes. As long as you carefully research your clinic before you go, it is safe to go to Colombia for dental work. Colombian dentists are highly trained and use the latest technology.
Does Colombia have good dentistry?
Yes. The dentistry in Colombia is just as good as the dentistry you can get in the United States. Just make sure you do proper research before your trip to ensure you find a quality, licensed clinic.
Sign up to receive the latest news and offers from Dentaly.org