When it comes to paying for dental work, dental loans and dental credit cards are some of the most common dental finance options to explore.
In this article, we provide comparisons of the top dental loans in your area and information on how dental loans work. We also talk about credit for dental care, even if you have poor credit.
Keep reading to learn about your dental credit card and loan options, so you can make an informed decision about what's right for you.
Best dental loans
Compare dental loans in your state, to find the best option for you.
How do dental loans work?
A dental loan is a sum of money you borrow from a loan provider to pay for an expensive dental procedure. It is a personal loan that you pay back on a fixed schedule.
You may find that a personal dental loan is the best option for you when it comes to financing dental work not covered by your insurance. For example, cosmetic dentistry is not covered under most plans — read more about cosmetic dentistry loans.
Here are the main points of how dental loans work: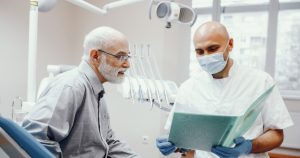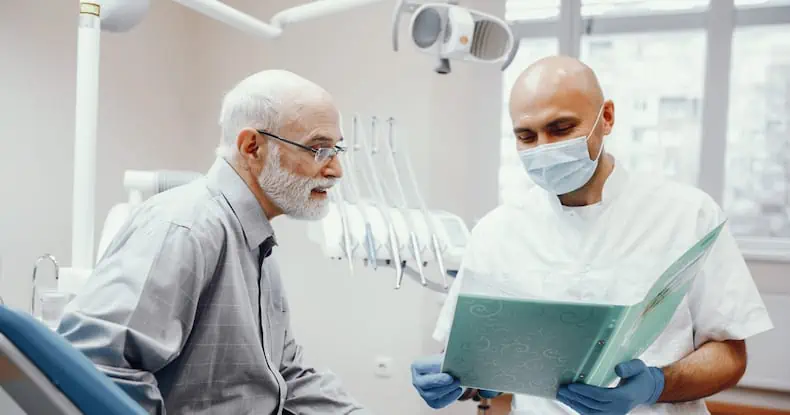 A dental loan is a personal loan, which is an unsecured term loan that you pay back over a set period of time
There is a fixed interest rate based on both your credit score and the amount borrowed
You can pay upfront for expensive treatments, and then pay the loan for dental work back in manageable amounts over time.
Online lenders want to loan you money as part of their business. It doesn't matter what you want the money for, but it does usually matter if you have good credit or not.
If you decide you want to take out a personal loan for dental work, you will need to compare competing lenders based on interest rates, the amount offered for the loan, eligibility requirements, and customer service.
Dental loan precautions
While dental loans can be helpful in paying for expensive procedures, do keep the following in mind before pursuing this option:
Make sure to use your loaned funds once available for the desired dental treatment without delay.
Understand that the initial estimate for your treatment may undergo changes depending on the duration of treatment time, necessary referrals, and appointment availability.
Loan debt will remain on your credit history until you pay it off.
Multiple loans may impact your ability to receive additional loans in the future.
No matter whether your treatment is successful or not, you will be required to complete your entire loan payment.
How to take out a dental loan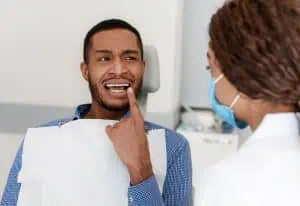 Confirm with your dentist exactly how much your treatment will cost. It's worth checking what the chances are of any extra work being needed later, so you can give yourself a buffer.
Get a 2nd opinion for expensive treatment, and make sure that your provider has plenty of experience in the treatment you are getting.
Once you know how much you need to borrow, you can search online for the best loan deal for you or speak to your existing bank.
Make sure you read the terms and conditions so you know whether the loan is suitable for you. In particular, understand the total amount you'll repay (including interest and an origination fee) – this is the true cost of your dental work. The lower the interest rate and the shorter the repayment term, the less you'll pay back overall.
After selecting a loan for your dental work you will need to formally apply. The loan company will do a credit check and either approve or deny your finance. Applying for several dental implant loans in a short period will have a negative impact on your credit score.
Once you have the funds in your bank account, you can go ahead and pay the full amount to your dentist. Check which payment methods they accept, e.g. debit card, bank transfer or cash.
You then make repayments directly to the loan company as per your agreed schedule, usually in monthly installments.
The video below gives you more information on finding and applying for a dental loan.
Can you get a loan for dental work with bad credit?
Yes, you can get dental loans for bad credit, but you will have fewer lenders to choose from, and your APR (expressed as an interest rate) for your credit for dental work will likely be much higher.
If you've had a few late payments on bills, but nothing too serious, you may still be approved for a payment plan through your dentist. But if your bad credit score stems from missed loan or mortgage payments or bankruptcy, then you will find it harder to get a loan or other finance.
There are credit card and loan providers that specialize in financing dental loans for people with bad credit ratings, but it's usually significantly more expensive to pay for your teeth on finance this way.
If it is cosmetic work you want, consider waiting until your credit score improves. Learn how to check your credit file yourself so you can see and fix any problems.
This video has some other advice that may help you get the credit you need:
SuperMoney's loan engine lets you compare personal loans for dental work from various providers, some of whom offer personal dental loans for bad credit or dental loans with no credit, and some of which offer personal dental loans with no credit check.
Compare dental loan offers now!
If you're interested in a loan, you can get help finding the best one for you by using SuperMoney's loan search engine, which shows you available loans from a wide range of providers.
Dental credit card
A dental credit card is another option available to those looking for help funding dental procedures. Many dental credit cards offer a promotional period in which you owe no interest.
It's essential that you know how long it will take you to make your payments, because if you don't finish making your payments before the promotional period is over, the interest rate may rise to the point that it is a more expensive option than a personal loan.
Before getting credit for dental care, make sure to check for procedures that may not be covered, and check that your dental provider accepts dental credit cards.
If you speak with your dental care provider first, they may even provide you with an application for the dental credit card companies they participate with.
What's the best credit card for dental work?
A popular choice when it comes to credit for dental care is the CareCredit dental card. Dentists can sign up to offer it in their offices. CareCredit requires a credit check. If you pass the credit approval, you can then use it to cover dental procedures.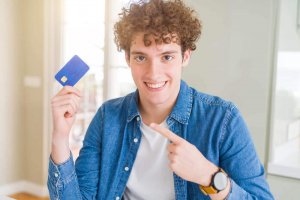 You are the best judge of which dental card best suits your finances and circumstances. There are lots of types of dental credit cards with different costs.
Some offer an interest-free period for a short time, some have a long-term low rate, and others have a guaranteed fixed rate. Assess your needs so you can find the best dental card for your dental work.
For example, if you need a credit card to pay one lump sum upfront, which you will then pay back in installments, a card with 0% interest could be helpful.
However, if you need ongoing treatment, for example, if you want to pay monthly for cheap braces with regular adjustments, then a long-term low rate offer may be more suitable. Just be aware that an interest-free period does not mean interest-free dental loans.
During your search for a dental credit card, you'll find a lot of options, and it might be a little overwhelming. That's why SuperMoney has created a credit card comparison tool, making it easy to compare the pros and cons of different cards, side by side.
At a glance, you can see the most important card factors, like the annual fee, credit score range, and customer reviews.
Dental loans vs. credit cards: Which is better?
Let's have a quick look at the benefits of loans and of credit cards so you can choose the best option for you.
Competitive rates, generally lower than with credit cards

Fixed monthly payments helps with budgeting

Easier to get approved with low credit

Potential promotional period with 0% interest
Ask a dentist: Dental Savings Plans: An Alternative to Dental Loans & Credit Cards
Paying for the dental care you need can be challenging. Unexpected dental expenses can pop up out of nowhere, even through no fault of your own. Because of this, many dental practices are beginning to offer their own in-office dental savings plans.
How do these programs work?
For a monthly fee, you'll get a variety of benefits which vary from practice to practice, but often include:
Some level of preventive care, often cleanings, exams, and/or x-rays
Discount on all additional treatments
Compared to dental insurance, credit cards, and other financing options, an in-office savings plan can help you save money on your care and predict how much you'll pay every month.
Dr. Stephen Levy, Ellicott City Smile Care
Dentalinsurance.com makes it easy to search for dental savings plans within a vast network of dentists all over the country. This online marketplace offers both insurance and savings plans so that everyone can get access to dental care. To search savings plans, click the link below.
Alternatives to dental loans
There are plenty of other ways to fund your dental work. And they may be less risky too if you are worried about making your loan payments. These options include:
Crowd-funding
Help from family
Dental grants
Dental payment plans
Dental savings plans
Conclusion
Healthcare is expensive. So much so that 41% of adults have unpaid medical and dental bills. It's essential to find a way to finance your dental work.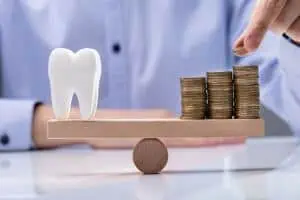 There are options available to you if you need help funding your dental work. And if your dentist says your dental work shouldn't be postponed, credit or loans can help.
These options let you pay monthly for braces (including Invisalign), dental loans or insurance for implants, veneers, and other expensive dental work. There are many variables to consider, so it's important to research your options and understand what you're signing up for.
Whatever you decide to do, read the fine print carefully, and make sure any time you borrow money you are confident that the product is suitable and affordable for you.
And whether you take out a loan or not, make sure to keep up with your preventative dental appointments and routine care to prevent the need for costly dental treatment in the future.
Browse your best options for personal loans and credit cards with SuperMoney's loan search engine and credit card comparison tool.
FAQs
Is a dental loan the best way to finance dental work?
Savings or discount plans are the most secure method, since you pay a membership fee for discounted care. Loans are probably the next secure option, but you have to pay off your loan in time. Read more about finding a cheap dentist without insurance, if you'd like to learn more about ways to pay for dental work.
Can I take a loan out to fix my teeth?
Yes, but if you have a bad credit score your options will be more limited. You have pay it back in time, otherwise your interest rates will increase exponentially.
What credit score is needed for a dental loan?
It depends on the lender. Many loan companies require a score of 640 at the least to take out a loan for dental work, but some companies require a credit score that is at least 700. They want to be sure that if they give you money, you'll be able to pay it back in time. If you don't pay it back in time, you'll have high interest rates to pay.
Sign up to receive the latest news and offers from Dentaly.org