When it comes to paying for dental work, dental loans and dental credit cards are some of the most common finance options to explore. These methods can be handy solutions for work that's not covered by your insurance; you may be able to get dental loans for implants, braces and cosmetic dentistry.
Here we'll go through choices in the US market such as dental loans, dental credit cards, how to pay for dental work when you are low on money, and how to get dental loans with poor credit.
With a better understanding of your options, we hope you'll be able to make a more informed decision about what's right for you.
Dental Loans
You may find that a personal loan is the best option for you when it comes to financing dental work not covered by your insurance. A personal loan is an unsecured term loan that you pay back over a set period of time. It has a fixed interest rate based on both your credit score and the amount borrowed.
If you aren't sure if you are eligible for state-funded insurance for dental, you can read our article on Medicaid and Medicare eligibility here.
How do dental loans work?
You can choose from dozens of online lenders who want to loan you money for your dental work as part of their business. It doesn't matter what service you wish to loan money for, whether or not you receive the loan is based on your credit, not on the service that the funds will be used for. If you decide you want to take out a personal loan for dental work, you will then be tasked with comparing competing lenders based on interest rates, the amount offered for the loan, eligibility requirements and customer service.
To start the process of getting a personal loan for your dental work, you need to confirm with your dentist exactly how much your treatment will cost. It's worth checking what the chances are of any extra work being needed later, so you can give yourself a buffer. Once you know how much you need to borrow, you can search online for the best dental loan deal for you or speak to your existing bank.
Make sure you read the terms and conditions so you know if the loan is suitable for you. In particular, understand the total amount you'll repay (including interest and fees) – this is the true cost of your dental work. The lower the interest rate and the shorter the repayment term, the less you'll pay back overall.
After selecting a loan for your dental work you will need to formally apply. At this point, the loan company will do a credit check and either approve or deny your finance. Applying for several dental implant loans in a short period will have a negative impact on your credit score.
Once you have the funds in your bank account, you can go ahead and pay the full amount to your dentist. Check which payment methods they accept, e.g. debit card, bank transfer or cash.
You then make repayments directly to the loan company as per your agreed schedule, usually in monthly installments.
Can you get dental loans with bad credit?
 If you have bad credit, you may have fewer lenders to choose from, but you will most likely still have some options available to you. Use SuperMoney's loan engine to search and compare both secured and unsecured personal dental implant loans. 
SuperMoney's loan engine lets you compare loans from various providers, some of which offer personal dental loans for bad credit or no credit, and some of which offer personal dental loans with no credit check. 
Dental Credit Card
A dental credit card is another option available to those looking for help funding dental procedures. Many dental credit cards offer a promotional period in which there will be no interest due. Before applying for dental care credit, you will want to calculate how long it will take you to pay for the dental procedure and recovery, because if you don't finish making your payments before the promotional period is over, the interest rate may rise to the point that it is a more expensive option than a personal loan.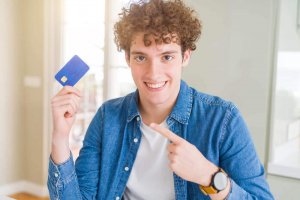 Credit cards, in general, have some benefits you might find useful. There are options to collect points or Air Miles; maybe you could save them up and treat yourself and your new smile to a holiday after your treatment ends! Or they could come in handy if you want to save money on dental work abroad in the future.
Credit cards can offer some extra security, too. There are rules in place which mean your bank is liable when things you buy don't work properly, or services are not what you expected. If you're considering getting a 'dental credit card' you should check with the bank how this protection might apply if you use your credit card for dental treatment.
What's the best credit card for dental work?
You are the best judge of which dental card best suits your finances and circumstances. There are lots of types of dental credit cards with different costs. Some offer an interest-free period for a short time, some have a long-term low rate, and others have a guaranteed fixed rate. Assess your needs so you can find the best dental card for your dental work.
For example, if you need to pay one lump sum and then pay it off over several months, a card with 0% interest could be helpful. If you need ongoing treatment, for example, if you want to pay monthly for braces with regular adjustments, then a long-term low rate offer may be more suitable. Just be aware that an interest-free period does not mean interest-free dental loans.
One possible option in the US is the CareCredit dental card. Dentists can sign up to offer it in their offices. CareCredit does require a credit check. If you are approved, you can then use it to cover dental procedures.
Important information about paying for dental work with a credit card
Before you go through the application and credit check process, check with your dentist that they definitely do accept credit cards. If they don't, be aware that your card provider might charge much higher interest rates for cash withdrawals – so don't assume this is a good alternative!
Dental Loans Vs. Credit Cards: Which is Better?
Personal unsecured dental loans often have lower rates than dental credit cards, and payment terms can be more flexible. Since with personal dental loans you have equal monthly payments, this can help with long-term budgeting practices.
At first glance, a dental card may seem like the best option because the credit agreement offers a low APR for a small period of time up front, but buyer beware: If you aren't able to pay off your card within the promotion period, you will end up having to pay double-digit back interest dated back to the beginning of your credit agreement. If it seems too good to be true, it probably is, dental loans and credit cards with no interest rate don't exist.
Some people opt for dental credit cards because they often approve you even if you have low credit, but the fixed interest rate of dental loans makes them a safer economic choice.
Can I get dental financing with bad credit?
The answer to this depends on how bad your credit score is and how your finances are at the moment. Obtaining credit for dental work when you have bad credit can be tough, and it's harder to get dental finance with no credit check in the US.
If you've had a few late payments on bills, but nothing too serious, you may still be approved for a payment plan through your dentist. But if your bad credit score stems from missed loan or mortgage payments or bankruptcy, then you will find it harder to get a dental loan or other finance.
There are credit card and loan providers that specialize in financing dental loans for people with bad credit ratings, but it's usually significantly more expensive to pay for your teeth on finance this way. If it is cosmetic work you want, consider waiting until your credit score improves. Learn how to check your credit file yourself so you can see and fix any problems.
This video has some other advice which may help you get the credit you need for your dental work:
What does private treatment cost?
There are no fixed costs for private dental care in the US; dentists are free to set their own rates. Many things affect the price of dental treatment, such as:
What treatment you need
How long the treatment will take
Which materials are needed
Where in the country you are receiving your treatment
How experienced your dentist is
Your dental clinic might publish fixed rates on their website, but you'll need to visit for a consultation in order to receive a treatment plan. This will show you the full cost of your treatment and when you'll have to pay for each part of it.
Before you explore paying for dental treatment through a dental loan or a dental credit card, shop around your area to make sure you are happy with the price. Additionally, you may be able to qualify for dental loans and funding for low-income families.
Ask a dentist: Dental Savings Plans: An Alternative to Dental Loans & Credit Cards
Paying for the dental care you need can be challenging. Unexpected dental expenses can pop up out of nowhere, even through no fault of your own. Because of this, many dental practices are beginning to offer their own in-office dental savings plans.
How do these programs work?
For a monthly fee, you'll get a variety of benefits which vary from practice to practice, but often include:
Some level of preventive care, often cleanings, exams, and/or x-rays
Discount on all additional treatments
Compared to dental insurance, credit cards, and other financing options, an in-office savings plan can help you save money on your care and predict how much you'll pay every month.
Dr. Stephen Levy, Ellicott City Smile Care
Dentalplans.com makes it easy to search for dental savings plans within a network of over 100,000 dentists. This online marketplace was founded with the belief that everyone deserves affordable access to dental care. To search savings plans, click the link below.
Conclusion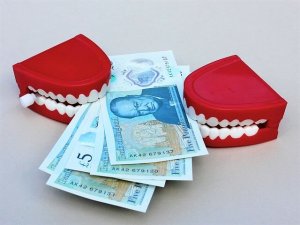 Since medical and cosmetic dental work is not funded by the government in the US, there are options available to you if you need help funding your dental work. For anyone facing a big bill, one solution is to ask your dentist about paying for dental treatment with a payment plan, while the most popular options are dental loans and dental credit cards. These options let you pay monthly for braces (including Invisalign), teeth implants, veneers and other expensive dental work. There are many variables to consider, so it's important to research your options and understand what you're signing up for.
You might be worried about your eligibility for dental financing; bad credit can happen to any of us at some point in our lives. Different companies assess whether you are eligible for dental loans in different ways, so there is no harm in exploring the criteria and terms of different providers. Do remember that multiple credit applications will affect your credit score, though.
Whatever you decide to do, read the fine print carefully, and make sure any time you borrow money you make sure that the product is suitable and affordable for you. Of course, in order to avoid the need for emergency dental loans in the future, the best way to save on dental costs is by practicing preventative care today.