Finding the right dental insurance for college students can be a complicated process. Most students are on a strict budget, and many aren't aware of all of the options out there — don't forget that if you are under 26, you may still be able to use your parents' insurance!
The best dental insurance for college students will depend on your specific budget and needs. Some college students may even be able to get free dental under Medicaid, depending on their income and which state they live in.
In this article we'll go over the following information:
Best dental insurance plans for college students
Dental insurance for international students in the US
Where to get dental insurance for college students
…and a brief refresh of how dental insurance works at the end!
We hope this information helps you find the best plan for your needs so you can focus on getting that degree.
Best dental insurance for college students
There are a variety of student dental insurance plans to choose from — it's really a matter of browsing and finding the right one for your budget and your oral care needs. That being said, have a look at the following plans, all of which have good options for college student dental insurance.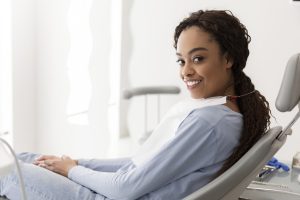 Because quotes vary from state to state and by age, we looked at plans based for Los Angeles, CA, for a 20-year-old individual. Keep in mind that monthly premiums in Los Angeles are generally higher than they would be in a small town in Arkansas, for example (nothing against small towns in Arkansas!)
Humana
Humana dental insurance plans offer plenty of discounts. This is a reliable insurance provider with a wide range of dental plans for students and a network with over 260,000 dentists. There aren't any pre-enrollment costs and you don't need anyone to underwrite you in order to receive coverage.
For example, they offer a Bright Plus PPO plan for $30.52/month. It covers 100% of cleaning costs and 60% of filling costs. There's no waiting period for preventive care and a 90-day waiting period for basic coverage. This plan offers no coverage for major restorative services.
Delta Dental
Delta Dental is one of the best-known dental insurance providers in the US and has a network of over 150,000 dentists. There are plenty of options for dental insurance for students on a budget, they even offer dental insurance for college students who are attending specific universities. To determine if you can get a lower-priced dental plan with Delta Dental, contact your university.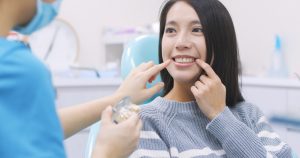 One general dental plan offered by Delta Dental is the Dental for Everyone Gold plan. It costs $47.25/month and covers 60% to 100% of cleaning costs, and 50% to 80% of fillings. There is no waiting period for preventive care and a 6-month waiting period for basic care. Major services are also covered under this plan, with a 12-month waiting period.
Ameritas
Ameritas offers dental plans with no waiting periods and coverage that begins the very next day. There are also no enrollment fees, and preventive visits like exams and cleanings have up to 100% coverage. Plus, some of the Ameritas dental plans may come with vision care, orthodontic care and hearing care.
The Hollywood Smile Premier 1500 PPO is just $29.07/month and covers from 80% to 100% of cleanings, and 50% to 80% of fillings. There are no waiting periods for this plan and the maximum is $1,500.
Dental Health Services
The SmartSmile plan is a part of Dental Health Services, an employee-owned dental benefits company that offers dental plans to people living in California, Washington, and Oregon. They aim to bring high-quality and very affordable care to their customers and thus often provide dental plans for college students.
For college students who are really on a budget, the SmartSMile DHMO was created for you. It's just $6.95 per month, with $15 cleanings, $44 fillings and $490 crowns. There aren't any plan maximums or plan waiting periods.
Careington
Careington isn't actually an insurance provider, instead, they offer a dental savings plan (also known as a discount plan). We've included this in our suggestions because a dental discount plan is a great way to get discounted dental care on the treatment you need when you need it.
The Careington 500 Series Dental Savings plan costs just $8.95 per month, with $49 cleanings and fillings starting at $77. There's no plan maximum and no waiting periods with dental discount and savings plans. You can read more about this type of dental service in our dental discount guide.
Comparison of the best dental insurance for students
Have a look at the table below for a summary and comparison of the student dental plans we mentioned above.
Dental for Everyone Gold PPO

Hollywood Smile Premier 1500 PPO

500 Series Dental Savings Discount Card

*These plans and prices are based on an individual in Los Angeles, CA, born in the year 2000.
If you want to get started browsing student dental insurance plans like the ones in the table above, you can go to DentalInsurance.com. Just enter your zip code and date of birth, and you can use this online marketplace to browse a wide range of plans. You can also call 888-626-0057 to speak to one of their helpful licensed agents.
Additional considerations for student dental insurance
Is there free dental care for college students?
There isn't free dental care necessarily, but there are affordable plans. These plans usually provide coverage for emergencies, and regular checkups, and tend to be the cheapest option.
Additionally, under the affordable care act, college students who are under 26 years of age may receive their dental and health insurance under their parents' plan.
Certain universities may offer plans for their students, or at least have information that can be helpful when looking. If your university offers dental plans, definitely take a look at your options, as these plans will be specifically designed to fit your budget.
A university may also have its own clinic on campus, providing free care to students, although these clinics usually cover reproductive and general health, and not oral health care.
Dental insurance for international students
Just because you are studying away from home doesn't mean you shouldn't continue to get your regular dental checkups or have access to dental care when you need it. Fortunately, there is dental insurance for international students in the USA.
But first, before you start looking for a plan, you should speak with your university, as they likely have resources that will be helpful in your search. They may even provide their own dental care plans for international students.
Before we talk about international student dental insurance, there's also something important we should mention about regular health plan coverage for international students. Regular health insurance plans won't provide full dental coverage, but they might offer the following essential benefits:
Accidental dental: Not only does it roll off the tongue, but accidental dental can also be used to help you cover the costs of tooth repair if your tooth or teeth are damaged in an accident.
Dental pain: Plans for international students may also offer an acute onset of dental pain benefit. This is a limited benefit that covers treatment costs if you experience severe dental pain.
But, if you're looking for more coverage for dental, which is especially a good idea if you plan on spending a longer period of time studying in the US, there is dental insurance for international students in the USA.
As a foreign student on an F1 or F2 visa or a visiting scholar, you can get a standalone dental insurance plan, or you can get a combined medical and dental insurance plan.
There are various providers of dental insurance plans for international students while they are studying in the US. We're going give an example of a couple of them, NRIOL and Visitorguard, so you can get an idea of the services they offer.
NRIOL is a private insurance agency based in Virginia that provides travel and health insurance services, one of those being medical insurance for students from abroad. They offer two packages for students — dental insurance only plans, and a medical and limited dental plan.
The dental plan includes:
Choice between three levels of coverage
No waiting periods on most services covered
No enrollment fee
Preventative, basic, and major treatment, and orthodontic care
This plan is provided by Ameritas, and you'll need to provide some basic information on their website to get a quote.
VisitorGuard
VisitorGuard is another US-based insurance company that aims to offer affordable dental insurance for international students. Just like NRIOL, they offer two options for international students to choose from, a dental and vision plan, or a medical and limited dental coverage plan.
The dental plan is provided by Primestar and looks nearly identical to the plan described above, offering the same benefits. This plan costs a flat fee of $20/month.
If you'd like to browse all of your options for international dental insurance for students studying in the US, you can also go to dentalinsurance.com. They offer a wide range of standalone dental plans that international and domestic students alike can apply for.
Dental insurance for students under 26
Fortunately, under the Affordable Care Act, you can continue to enjoy the benefits provided by your parents' health and dental insurance plans until you are 26, even if you get married.
If you aren't covered under your parents' plan, then you can get dental insurance coverage through the ACA by going to healthcare.gov and browsing the plans there.
However, unless you have a life-changing event (marriage, divorce, aging out of parents' plan, pregnancy, income change, etc.) you can't enroll through healthcare.gov outside the open enrollment period, which is generally between November and January each year.
You may also qualify for Medicaid, which you can apply for by going to heathcare.gov. Your income needs to be under a certain level and your parents can't be planning to claim you as a dependent on their tax returns, otherwise, their income will factor in as well.
In some states in the US, Medicaid offers dental coverage. You'll need to consult the specific rules for the state you live in, or the state you'll be going to school in.
Dental insurance cost for college students
The cost of dental insurance for college students will vary depending on the plan and the needs of each individual, as well as the state you live in. Thankfully, dental insurance isn't as expensive as regular health insurance, with some monthly premiums as low as around $7.
However, you'll also need to keep in mind your deductible, coinsurance and annual maximum, as these costs and factors will also impact how much you ultimately end up paying for dental treatment.
Cheap dental insurance for college students
If you're looking for affordable dental insurance for college students (and let's be real, who isn't?), you may want to consider an HMO. We'll talk more about what an HMO is below if you're interested in the details, but basically, with an HMO, you have a primary care dentist, and you will need to visit that dentist or you will pay additional fees.
HMO plans typically don't have any deductibles, but there is a copay that you will pay at the time of visit. In summary, HMO plans tend to have the lowest monthly premiums, and might not have annual maximums, but they are the most restrictive in terms of the providers you can see. If you're looking for the most affordable option, this might be it.
Check out the video below for a summary of how health insurance works in some cases for college students. The video talks about general health insurance, but a lot of the same conditions apply for dental insurance:
How dental insurance works
First, you sign up for a dental plan with a dental insurance company. You agree to pay a monthly premium, which is just a fancy word for fee, and in return, your dental insurance will cover a percentage of your treatment costs.
Some dental insurance plans cover 100% of preventive services, like cleanings and exams, and then cover parts of other services, like 50% for fillings, and 30% for root canals.
Other important terms to know about dental insurance are:
Annual maximum: This is the most that your insurance will pay for your coverage during a year. If your maximum is $1,500, that means that once your insurance company has paid $1,500 of your dental costs, you'll be responsible to cover the rest out of pocket.
Deductible: Your deductible is how much you are responsible to pay out of pocket before your insurance will kick in. For example, if you need a root canal procedure that costs $2,000, and you have a deductible of $1,000, you will pay $1,000 out of pocket before your insurance kicks in.
Copay: This is a small fee that you may have to pay when you go to a clinic to receive care.
Coinsurance: This is the percentage of costs that your insurance will pay for. For example, if the coinsurance for a filling is 50%, then your insurance coverage will pay for 50% of your filling costs, and you will have to pay the other 50% (after you've reached your deductible).
There are also different types of insurance plans:
Dental Preferred Provider Organization (DPPO): These typically have an annual deductible and coinsurance, and you will save money by seeing a dentist in your network.
Dental Health Maintenance Organization (DHMO): These plans are more affordable. They often have no deductibles and a set fee for non-preventive treatment. You typically have to choose one primary care dentist to go to, so there is less freedom.
Dental Indemnity: You can see dentists in and out of network and you don't need referrals to see specialists. These plans typically cost more.
Dental Exclusive Provider Organization (DEPO): With this type of plan you can choose to see a general dentist or a specialist. You don't need a primary care dentist, but you must see in-network dentists.
Dental Point of Service (DPOS): You can see dentists in and out of network, but you must choose a primary care dentist who can refer you to specialists.
Dental discount/savings plans: This is not a type of insurance plan, so there are no maximums, deductibles or waiting periods. You pay a monthly or annual fee for discounts on all treatments.
Conclusion
Most college students are on a budget, so you may be looking for the cheapest dental insurance for college students out there.
We've talked about the different types of plans available, and given you a sampling of some of the top offers out there, including plans from Humana, Delta Dental, and Americas. We also threw in the option of a dental savings plan from Careington and a DHMO from Dental Health Services.
Whether you choose a traditional insurance plan or a dental savings plan, it's important that your teeth are covered while you're studying. You never know when an accident can happen — whether you injure a tooth doing something intellectually-questionable during a themed frat party, or you get an unexpected cavity, dental insurance is there for preventative health and emergencies.
If you'd like to get started looking for your student dental plan now, you can go to DentalInsurance.com. This online marketplace makes it easy to browse, compare and enroll in affordable dental plans with the benefits you need.
FAQs
If I am a college student, can I coinsurance my dental plan?
A dental health insurance plan typically works with coinsurance. Coinsurance is the percentage or amount of money that your insurance plan will pay for a given treatment.
If your coinsurance is 30% for a dental filling, that means that you will be responsible for paying 70% of the filling costs.
Why is it important to get dental insurance as you graduate high school?
When you graduate high school, you go out into the real world, and you won't be eligible for the same benefits you may have gotten when you were under 18. So it's time to find dental insurance.
Thankfully, under the Affordable Care Act, you may be able to use your parents' dental insurance until you turn 26, but if not, you need to find your own dental insurance or dental discount plan so you can take care of your teeth and prevent paying a lot more for bigger problems down the road.
Can I get dental insurance with no income?
It's true that if you have absolutely no money, it may be difficult to find a dental insurance plan that you can afford. In this case, you should look for free or sliding scale clinics. We have an article dedicated to finding free dental care if this applies to you.
Can college students get Medicaid?
College students can get Medicaid if their income falls at or below 133% of the Federal Poverty Level. The Kaiser Family Foundation covers this in more detail on their website.
How long can college students use their parents' dental insurance?
Under the Affordable Care Act (ObamaCare), children, including college students, can stay on their parents' health and dental insurance until they are 26 years old. After that, it's time to fend for themselves.
Sign up to receive the latest news and offers from Dentaly.org