If you have crooked or misaligned teeth, you may be considering getting braces. But, there are so many different types of braces out there, which ones are right for you?
Crooked teeth can have a really detrimental effect on your confidence, but then again, so can the idea of having a mouthful of metal train tracks. Don't let that put you off though; there are different options, some more subtle than others.
We will discuss all kinds of braces so you can get a better idea of what may suit you and your dental needs, including:
Traditional metal braces
Lingual braces
Ceramic braces
Self-ligating braces
Invisible braces
Clear aligners
Orthodontics appliances
Teeth straightening treatments and technology have come a long way since the original train track braces. There are all sorts of braces to choose from now, but the best ones for you may come down to your dental circumstances.
Let's get started with the 2 main types of braces.
What are the different types of teeth braces?
There are 2 main types of teeth braces for adults and kids: fixed and removable. Fixed braces can only be removed by a dental professional, whereas removable braces can be taken out by the patient at any point.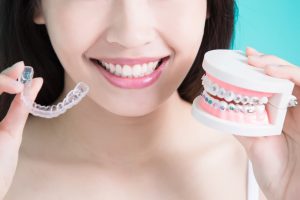 Fixed braces consist of brackets that are cemented to each tooth and are joined by wires that apply pressure to gradually align teeth. With traditional metal braces, elastic bands also help move teeth into the desired position.
Removable braces are invisible braces, also known as clear aligners, which are custom-made plastic trays that align your teeth. Generally, clear aligners involve a 3D scan or molds at the start of treatment so that trays can be made. A dentist or orthodontist monitors every step of the process so that they can make sure everything is moving in the right direction.
Fixed braces
The most well-known fixed brace is the traditional metal brace that consists of a system of stainless steel brackets and wires to straighten teeth. They are most commonly worn by children and teens, but with the advances in technology, braces are becoming more popular with adults.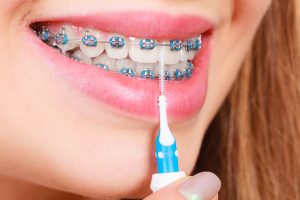 If you are wondering how to know if you need braces, read our article or book an appointment to speak with a dentist and get your teeth accessed.
Metal braces
Metal braces, also known as train tracks, traditional braces, or conventional braces are the oldest and most well-known type of braces. And, although there have been many advancements with braces, they are still the go-to treatment, especially if you want insurance to chip in.
They consist of metal brackets and wires that, along with rubber bands, help to treat even severe orthodontic problems. In more modern times dentists have started using heat-activated archwires that make adjustments easier.
You can also jazz them up a little bit with the use of colorful bands. Some of the pros and cons of metal braces include the following.
Pros
Most affordable type of fixed braces
Durable and not prone to damage
Can treat even severe orthodontic problems
Can use colorful bands to add a bit of fun
Ask a dentist: Which kind of braces work better?
Adult orthodontic patients frequently prefer ceramic braces because they are less apparent than their
metal counterparts.
Ceramic braces are constructed from translucent materials, and some models even have wires
that match your teeth to enhance their covertness further. For some, this completely changes what it's like to have braces as an adult.

Dr Azariy Yusupov, DDS, Amazing Smiles Orthodontics
Cons
Very noticeable
Cannot be removed
Regular orthodontist or dentist trips to tighten wires
Can cause gum irritation and discomfort
Ceramic braces
Ceramic braces or clear braces are very similar to traditional metal braces except they are clear or tooth-colored. The brackets are made from ceramic material instead of metal, and the wires are metal.
Pros
Affordable
Durable and not prone to damage
Can treat even severe orthodontic problems
More comfortable than metal braces
Less noticeable
Cons
Cannot be removed
Regular orthodontist or dentist trips to tighten wires
Ceramic is more brittle than metal
In the video below, Dr. Greg further explains the differences between clear and metal braces:
Lingual braces
Lingual braces are fixed braces that are attached behind the teeth, so they are not visible from the outside unless the mouth is open. They are also known as hidden braces or incognito braces. Lingual braces work very similarly to metal braces except for the fact they are positioned on the other side of the teeth.
Lingual braces are good for patients who are very self-conscious about their smile and appearance. And, although treatment takes longer, some people may prefer them to the more visible alternatives.
Pros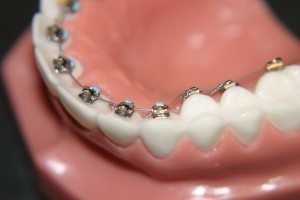 Hidden, so good for those concerned with appearance
Suitable for those who play musical instruments with their mouth
Not prone to calcification like traditionally placed braces
Cons
Take longer to treat
Harder to adjust
More expensive than traditional braces
Regular orthodontist or dentist trips to tighten wires
Can cause irritation to the tongue or speech problems
Self-ligating braces
Self-ligating braces have become more popular in recent years due to the fact they are less painful than the more traditional braces. They work and look very much the same as regular braces, except they do not use elastic bands to move teeth into alignment. Instead, they make use of a sliding bracket system with doors or clips that attach to the wire.
These braces are much easier to adjust and more comfortable; they also come in different ceramic and metal colors.
Pros
Less painful
Shorter treatment time than traditional braces
Need fewer visits to the dentist for adjustments
Cons
Not suitable for everyone
More expensive than traditional braces
More noticeable than other types of braces
Need careful attention and special equipment when cleaning and brushing with braces
Removable braces
Removable braces have become very popular with adults due to the fact that they are practically unnoticeable when worn. They are easily removed which makes eating more comfortable, and they can be worn when you are asleep and removed more in the day for meals and snacks.
They use pressure to gradually align and move teeth into the desired position over time.
Clear aligners
Also known as invisible braces, these are custom-made plastic trays that help to align teeth over time. Some, especially the remote treatment type, cannot treat as severe cases as fixed braces, but they can treat mild to moderate cases for those just to straighten teeth a bit.
In-office invisible braces can treat a wider range of cases. The most popular type of invisible brace is Invisalign, which can treat up to 90% of orthodontic cases and is very effective.
That being said, the brands that offer remote treatment are advancing constantly and becoming more efficient at straightening teeth from home.
We always recommend consulting your dentist before choosing a type of clear aligner or any type of dental treatment. You can read more about clear aligners and Invisalign alternatives if you'd like to know more.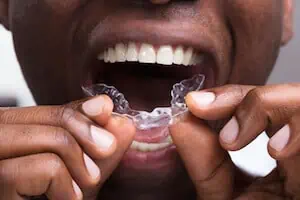 Pros
Comfortable to wear
Almost invisible
Removable
Easy to clean and maintain
Faster treatment time
Less noticeable than other styles of brace
Cons
Not suitable for severe dental problems
More expensive than traditional braces
Have a look at the table below that compares some of our top picks for remote treatment with clear aligners if you are looking for treatment for a mild case of malocclusion.
Find the right clear aligners for you
There are so many companies offering remote teeth straightening with aligners! Take a look at our top picks and discover why we recommend these over any others.
Functional Braces
While functional braces are not necessarily braces, they can be used prior to treatment to help with misalignment and malocclusion. They are orthodontic appliances that are two removable parts that work together to align your bite and change your facial profile.
Twin block braces are a type of orthodontic appliance that restricts you from closing your jaws completely unless they are in the desired position. Over time this will persuade your jaw and bite into the correct position.
Pros
Aligns your bite
Changes facial profile
Easy to clean
Removable
Cons
Can add up to 12 months to your treatment
Can be uncomfortable to wear
More suitable for children with growing jaws
Conclusion
If you want to straighten your teeth and improve your smile, but are not sure about wearing braces, don't let that put you off. There are many kinds of braces to choose from, and even if your orthodontic case is severe you may have options.
Fixed braces are more commonly used for more severe problems. However, if you are concerned about your appearance ask your dentist or orthodontist which types of braces you are eligible for. You can read about the different kinds in our full guide here.
If you need fixed braces but are concerned about how they look, ceramic braces or lingual braces might be a good option for you. Invisible braces are also a good option if you don't want your braces to be noticeable, however it may depend if they are suitable for your orthodontic needs.
If you still have concerns, speak with your dentist to help you make a decision on which braces are best for you.
FAQS
What are ceramic braces?
Ceramic braces are similar to traditional fixed braces, except the brackets are made from clear or tooth-colored ceramic material. These braces are more subtle and comfortable than metal braces.
What is the difference between fixed braces and removable braces?
Fixed braces are braces that consist of brackets and wire that are cemented into place and can only be removed by a dental professional. These are commonly used for more moderate to severe cases.
Sign up to receive the latest news and offers from Dentaly.org