What dental help for adults with disabilities, if any, exists? Fortunately, there are programs around the country that help with financing dental work for patients with disabilities. Plus, more clinics are training staff in assisting people with both physical and developmental disabilities, as well as providing the infrastructure necessary to make patients with disabilities more comfortable.
In this article we explore the following topics:
Difficulties in accessing dental care for people with disabilities
Programs that provide dental funding for disabled adults
Clinics who prioritize patients with disabilities
Special considerations for dental care for disabled patients
While it's frustrating (to say the least) that people with disabilities often come up against significant barriers when accessing dental care, we hope that this article helps you find the care you need.
Dental care for people with disabilities
People with disabilities face greater challenges than people who don't have disabilities in finding access to affordable dental care. One of the reasons is that many people with disabilities have coverage through Medicaid. Dentists are often less willing to accept dental insurance for disabled adults with Medicaid because it means that they will earn less money.
There's also the fact that many dental offices simply aren't prepared to treat people with disabilities, either because of lack of equipment or lack of training. In the not-so-distant past, many patients with disabilities were simply turned away by dentists.
Thankfully, the American Dental Association changed their code of ethics in 2018 to prohibit dental care providers from denying care to patients with disabilities. If a dentist doesn't have the skills, knowledge, equipment, or expertise to treat a person with a disability, then they must refer that patient to a dentist who can provide the right care. Even so, it can still be difficult to find a dentist who will treat people with disabilities (physical, developmental, or intellectual), and if you can find one, they may be hours away.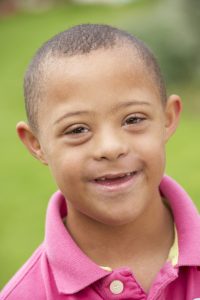 Partly because of these reasons, people with intellectual and developmental disabilities have poorer oral health on average than people without disabilities. People with physical disabilities can also have a more difficult time caring for their oral health because oral hygiene practices may be more difficult, and it may be more difficult to get to dentist visits for routine cleanings.
Programs providing dental help for adults with disabilities
According to the CDC, 61 million adults (around 1 in 4 people) have a disability in the United States. Despite the fact that so many have disabilities, as we talked about above, finding dental care can be a real challenge. Thankfully, there are some programs around the country whose mission is to help expand access to dental care for people with disabilities. Let's have a look at some of the largest programs now.
Donated Dental Services
Donated Dental Services (DDS) is the flagship program of the Dental Lifeline Network, a nonprofit organization that provides access to dental care and education for people who can't afford it and who:
Have a permanent disabilitiy
Are age 65 or older
Are medically fragile
DDS is a nationwide program with a network of 15,000 volunteer dentists and 3,700 volunteer laboratories. The program itself has a staff of 60 permanent members. The staff work as Program Coordinators who put patients in touch with the volunteers who can provide them the care they need. DDS provides free, comprehensive care for patients with disabilities who can't afford standard treatment fees.
To find out if you or someone you know qualifies for DDS state programs, you can head to this link. Click on your state for more information.
Aspen Dental Healthy Mouth Movement
Aspen Dental's Healthy Mouth Movement helps people with barriers to access to dental care around the country, whether for lack of funding, disabilities, or both. One of their main focal points is dental care for disabled veterans. Veterans with disabilities may have a particularly difficult time finding affordable dental care. For disabled veterans to qualify for dental insurance through the Department of Veterans Affairs (VA), they have to meet very specific standards, including having a service-related mouth injury or having been a POW.
In response to the lack of VA dental care for disabled veterans, Aspen also has a MouthMobile, a dentist office on wheels, which travels the country to give free care to veterans in isolated communities. The MouthMobile is handicap-accessible and has operation rooms and digital x-ray capabilities. Aspen also has a Day of Service every year where they provide veterans with free pain relief and connect them with other free resources for oral healthcare.
You can see how last year's Day of Service went in the news clip below. Make sure to have some tissues nearby.
NYU College of Dentistry
Last year, the NYU College of Dentistry opened the doors of the Oral Health Center for People with Disabilities. There they are committed to supporting patients with disabilities, as well as their families and caregivers. The dental professionals and staff who work there are all trained in providing "sensitive, essential care for individuals whose disability or disabilities prevent them from being treated in a conventional dental setting." The center is designed to accommodate the needs of patients, families, and caregivers.
Their services include:
Basic dental care
Oral and maxillofacial surgery
Orthodontics
Pediatric dentistry
Implant dentistry
They have special accommodations for patients, including the following:
Multisensory room: Reduces anxiety and helps patients relax
Wheelchair tipper: Allows patients to receive treatment from their own wheelchair
Bariatric chair: Accommodates patients up to 650 pounds
Private treatment rooms: Provides ample space and privacy
Sedation: Before using sedation on patients, a nurse practitioner and anesthesiologist examine each patient to determine a safe and effective level for their needs
Find out how you or your loved one can become a patient by visiting their webpage. This center is located in New York, but you can check for similar schools and programs in your state by visiting your state's health department or dental association website.
Dental care considerations for adults with disabilities
Obviously, different disabilities may have different care requirements. A person with a physical disability may need wheelchair accessibility and a person with a developmental disability might need anesthesia for routine dental care. Let's take a look at just some of the measures patients and caregivers may want to consider when finding the right clinic for their needs.
Down syndrome
People with Down syndrome sometimes have macroglossia (an enlarged tongue), which can cause oral health conditions like halitosis (bad breath) and gingivitis and make it more difficult for a hygienist to adequately clean the patient's mouth.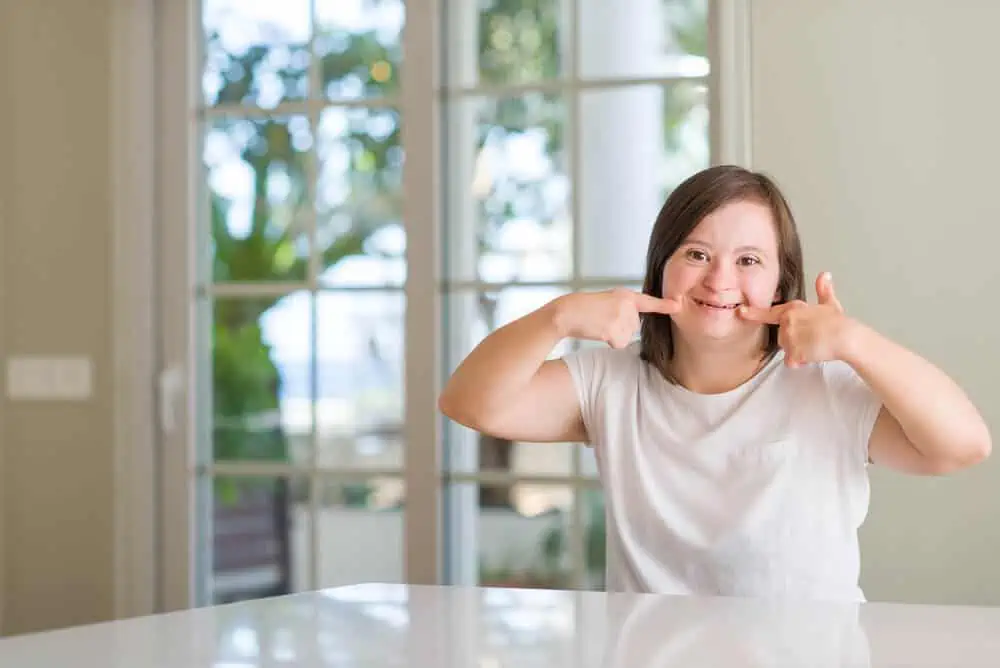 Many patients with Down syndrome don't find it difficult to visit the dentist, but there are some things you should keep in mind when choosing a clinic, such as special training for cleaning mouths with macroglossia and experience treating patients with Down syndrome in general. To learn more about oral care for people with Down syndrome, have a look at this resource from the National Institute of Dental and Craniofacial Research.
Autism
For patients with autism, it can be especially important to visit a dentist with experience, or at least an active willingness to work with individuals with special needs. Caregivers and family should explain to the dentist beforehand the best way to communicate with the patient and prepare the dentist for certain reactions the patient may have. More information about going to the dentist with autism can be found in this pamphlet provided by autismspeaks.org
Limited mobility
People with limited mobility may find themselves facing a whole different set of obstacles when it comes to going to the dentist. The fact is that most dental offices aren't equipped to accommodate people with physical disabilities. That doesn't just apply to a lack of adequate technology and machinery, it also refers to the dentists themselves.
For example, cerebral palsy, causes involuntary movements, and many dentists may be afraid to perform dental work. Another obstacle is that many patients with physical disabilities are on Medicaid. Finding offices that accept Medicaid can be challenging.
Thankfully, there is a movement among dental clinics across the nation that are actively addressing the fact that their clinics aren't accessible to people with limited mobility. The CP Rochester dental clinic in New York has extra-large operatories and a ceiling track lift system for transferring patients, as well as an articulated dental chair for people who can't sit in a regular chair.
In Minnesota, there is a law that is making this the norm—the Safe Patient Handling statue. It requires clinics to have a plan for patients who need help transferring into a dental chair, as well as entering and exiting dental offices. Staff members in these clinics also have training in working with patients who have difficulty controlling movements.
If you can't find a dental office in your area that specializes in treating people with disabilities, Dr. Steve Shuman from the University of Minnesota School of Dentistry's Oral Health Services for Older Adults program gives the following advice in an interview with The Mobility Project: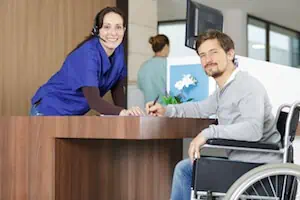 Inform the dental office if you have mobility disabilities as soon as possible.
Let the dental team know if someone will accompany you to the appointment and if they can offer additional assistance.
Tell the clinic ahead of time if you know what dental services you might need.
Fluoride treatments
People with developmental disabilities at high risk for decay may want to consider treatments with silver diamine fluoride. This is a stronger fluoride solution than that used in standard fluoride treatments. According to the American Academy of Pediatrics, silver diamine fluoride is a useful preventive tool for patients with intellectual or developmental disabilities who may have a difficult time spending very long in a dentist's chair or caring for their teeth at home. There are some drawbacks, however, including irreversible staining.
Other resources for people with disabilities and caregivers
Clinics prioritizing people with disabilities
University of Washington School of Dentistry DECOD Clinic
1959 NE Pacific Street
Room B-323
Seattle, WA 9819
(206) 543-4619
CP Rochester Dental Clinic
1000 Elmwood Avenue, Door 7
Rochester, NY 14620
(585) 402-7448
Online resources
Conclusion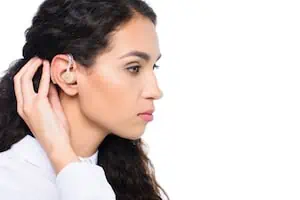 People with disabilities may find they have one thing in common: difficulty in accessing regular oral health care. Dental offices are often majority spaces designed by people without disabilities, for people without disabilities. What's more, many offices don't accept Medicaid, which is the only way many people with disabilities have of paying for their dental work.
Thankfully, there are some programs around the country that can help with financing dental work for people with disabilities. There is also increasing awareness among clinics about the need to create spaces accessible to everyone, including those with physical or developmental disabilities.
FAQs
Does disability insurance cover dental?
Basic Social Security Disability Insurance will cover dental care. However, there's also Medicaid disability dental coverage for adults with disabilities who are younger than 65. You can learn more about how to apply for Social Security or Medicaid disability benefits on the official government site. Alternatively, you can read more about Medicaid and Medicare dental coverage for disabled adults in our full guide here.
You can also have a look at the different dental insurance plans available in your state by going to Dentalinsurance.com. They offer a wide variety of plans, as well as helpful tips for choosing a plan that works for you. You can also call them at 888-626-0057 to get guidance from one of their helpful, licensed agents.
How can I find a dentist that accepts Medicaid?
To find a dentist that accepts Medicaid for adults with disabilities, you can start by doing an internet search with the keywords 'dentists who accept Medicaid in…' and add your state name. If you were given informational materials when you were approved for Medicaid, it's also likely that there is a list of local Medicaid dentists included.
Are there dentists for people with disabilities?
There are clinics that prioritize dental care for disabled adults. You can start by asking a dentist near you if they can refer you to a dentist with the tools and experience needed. In fact, it's now a law that dentists can't simply turn people with disabilities away; they have to at least make a referral.
Sign up to receive the latest news and offers from Dentaly.org