Did your dentist recommend Emax crowns? Emax crowns are dental crowns made entirely with a special ceramic material that's durable while also being aesthetically appealing.
The brand is often referred to as E-max, e.max crowns, or simply max crowns, and they're generally used by dentists to restore the integrity of teeth damaged due to decay and as an add-on treatment after a root canal procedure.
This special crown material is useful for reinforcing the structure of your teeth and protecting them from further damage.
In this article, we'll talk details about crowns and how you can get full-mouth Emax crowns, which are considered among the best solutions in restorative dentistry.
What is an Emax crown?
Emax crowns are made from a single-block of lithium disilicate material — a type of ceramics, resulting in a stronger, more resilient, and better-looking crown.
There are a variety of crown options to choose from — some common dental crown materials include: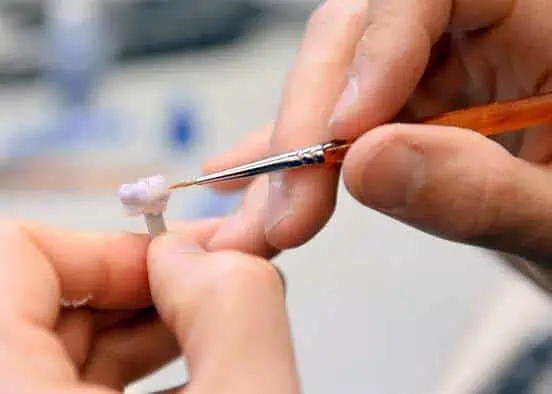 Stainless steel: These crowns are pre-fabricated and mostly used on permanent teeth. They are meant to safeguard the tooth or filling from further decay.
Metal: These crowns are extremely durable because they are made with alloys that contain gold, base-metal, or platinum. They can comfortably withstand chewing and biting and have a long lifespan.
Porcelain-fused metal: While these crowns can be more aesthetically appealing because they can color-match to the adjacent teeth, the porcelain portion can chip off.
All-resin: Though these crowns are less expensive, they aren't durable and can easily fracture over time.
All-ceramic/zirconia: (Includes Emax) This type offers a natural, near-perfect color match and might be ideal for people who have metal allergies.
Most dentists consider Emax crowns to be among the best because they have an all-ceramic composition based on lithium disilicate glass, a material more aesthetically-pleasing and durable than other types of crown materials.
They consist of quartz, phosphorus oxide, alumina, lithium dioxide, and other trace elements. An Emax crown ticks all the boxes for the restoration process. It's a blend of strength and aesthetics, and possesses several advantages over other types of traditional materials used for dental caps.
Emax crown price
Emax crowns cost anywhere from $1,200 to $1,800. This makes them a bit more expensive than zirconia or PFM crowns, which cost around $1,000 to $1,200.
If you have dental insurance that covers crowns, make sure it covers Emax before committing to the procedure. That's because some insurance providers may consider Emax crowns to be a cosmetic procedure, and thus they won't be covered.
Benefits of Emax crowns
The benefits of Emax crowns include their natural look, the strength of the ceramic material they are made of, and the fact that they preserve the natural structure of your teeth. Let's take a closer look of these benefits:
A near match for natural teeth
Emax crowns are partially translucent and tend to look very natural. In comparison, zirconia caps may look slightly opaque. That may be fine for posterior teeth, but when it comes to the visible front teeth, max crowns offer better aesthetics than zirconia crowns.
Sometimes zirconia crowns are layered with Emax material to overcome this disadvantage. This technique adds superior aesthetics and strength to dental crowns.
All-ceramic prostheses are durable
Unlike PFM (porcelain-fused metal), Emax crowns don't have any metal underneath the ceramic. In porcelain crowns, the metal is covered with a thin layer of porcelain that results in a gray line of underlying metal visible at the gum lines. This doesn't look natural.
Emax-based prostheses look completely natural, just like your own teeth. In comparison to ceramic zirconia crowns, max crowns are more durable and don't chip easily. They're made using lithium disilicate glass ceramic, which gives them strength and helps them last longer. There are fewer chances of them cracking or fracturing.
The milling procedure creates the perfect shape
One advantage of Emax crowns is that they can be easily fabricated by CAD-CAM milling. CAD-CAM milling is a procedure used by dentists to give crowns the perfect shape and size that matches the natural teeth of a patient.
With this technique, a digital impression of the teeth is made and then that impression is fed into CAD-CAM dentistry software. A customized tooth crown is then created.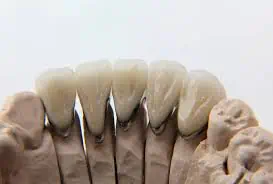 Conserving the natural tooth structure
For better oral health, it's important to have good natural teeth structure. Emax crowns are resistant to cracking, and very thin layers can be created, which helps conserve more of the original tooth.
During the preparation, dentists don't have to remove as much of the natural tooth structure, leading to greater tooth strength.
Multiple options available
Options like veneers, inlays, onlays, overlays, and short-span bridges are available for teeth restoration with the Emax system.
Although max crowns might be more costly compared to other solutions, they are still way ahead of the competition in terms of aesthetics and tooth conservation.
In the video below you can see how Emax crowns compare to other types, and get a more detailed description of why dentists often prefer them.
If you are interested in getting an Emax crown, you can find a dentist who offers them by calling 866-383-0748. Get connected to a live operator who will connect you with a provider in your area.
Emax crowns disadvantages
While there are more pros than cons to Emax crowns, there are some potential disadvantages to keep in mind:
Emax crown price: Emax crowns cost up to $1,800 and other crowns average around $1,000.
Darker staining: If your teeth have a darker tone or severe staining, zirconia may be a better match.
(Maybe) not best for molars: Some dentists say that since Emax crowns are thinner, they might not have the strength needed for back teeth, while other dentists disagree and say they are perfectly suitable.
Single-tooth replacement: Some dentists don't recommend Emax crowns for bridges that replace multiple teeth.
Bruxism: If you grind your teeth, these crowns may be more likely to fracture.
Metal post: Patients with metal posts placed during root canal treatment should consider zirconia for its opacity.
How is an Emax crown fitted?
It actually depends on the condition of your teeth, but these are the typical steps:
First, the dentist performs an examination and cleans your teeth.
Then, using a small drill, the teeth are reshaped so that the crown can fit onto them.
Depending on the level of damage or staining, a part of the tooth may be removed or drilled out. Sometimes the tooth reduction is negligible if you have very small teeth.
After this, the dentist takes a digital impression of your teeth with the help of a mold filled with dental putty. This is used as a cast for the fabrication of crowns.
For two or three weeks you might have to wear a temporary crown until the new one is ready.
Lastly, after the fitting, the dentist does a final color check against the shade chart.
Who can benefit the most from Emax caps?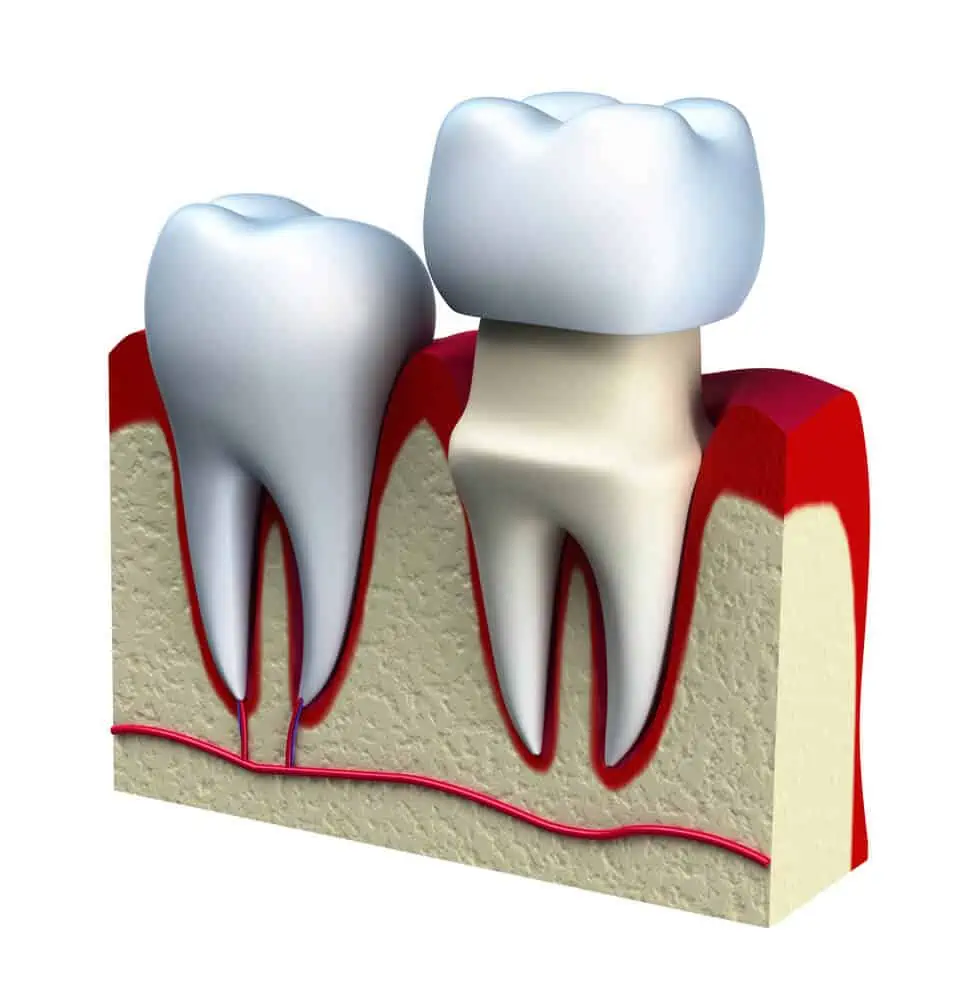 Emax crowns strengthen existing teeth and improve aesthetics. People with stained teeth, fractured teeth, and anyone who needs a crown can benefit the most from them.
Take a closer look at the profiles who might have the best outcomes with Emax crowns:
Enamel defects: Patients with mild staining or enamel defects may benefit from these crowns. If you have a metal post from a root canal, or more severe staining, like tetracycline-stained teeth, the staining may be visible under the crown.
Crooked teeth: Anterior teeth are often crooked, but dentists can correct this problem with the help of max crowns, which restore the structure and shape of crooked teeth. While the masking or appearance of crooked or malpositioned teeth can be treated, orthodontic needs for otherwise healthy teeth shouldn't generally be corrected by crowns.
Post-root canal: Root canal procedures often leave teeth very fragile and brittle. The restoration of these weakened teeth is possible with Emax. If you have a metal post from your root canal, zirconia may be a better option for crowns.
Fractured teeth: A fractured or chipped tooth due to trauma and accidents can be restored with Emax crowns by providing strength and support for the broken tooth. Emax can help prevent the tooth from breaking further.
What is the difference between Emax and zirconia crowns?
Emax crowns are an all-ceramic crown system. They aren't porcelain crowns, but they lay on top of teeth to appear translucent. This technique gives teeth a completely realistic look that matches your natural teeth. It also provides strength so that weak teeth resist breaking or cracking, and the material is chip-resistant.
Zirconia crowns, though most commonly used by dentists, aren't as aesthetically appealing or as strong as Emax. These crowns can resist more pressure than the zirconia crowns.
In short, zirconia crowns are fine, but if you want better-looking and more durable dental crowns, go for Emax. However, you will have to pay a little more compared to zirconia crowns. You can also ask your dentist about high-translucency zirconia crowns which may be a good compromise between strength and aesthetics.
To sum up, here's a breakdown of Emax versus other type of crowns:
| | | | |
| --- | --- | --- | --- |
| | | | |
| | | | |
| | | | |
| | Ranges from solid to translucent | Translucent to match natural teeth | Visible lines on front teeth |
| | | | |
| | | Approx. $1,200 - $1,800 per crown | Approx. $1,000 - $1,200 per crown |
Conclusion
If you're considering getting dental crowns, you should ideally not compromise on aesthetics and strength. Emax crowns look and perform much better than most other dental caps out there, and that's probably why most dentists recommend them.
Emax is a solution that lasts for years and looks good day in and day out — the main Emax crown disadvantage being that they cost more than other types of crowns.
Find a dentist for Emax crowns near you.
FAQs
What are Emax crowns?
Emax crowns are dental crowns made with lithium disilicate, which is durable and resembles natural tooth color. They're worth the investment because they last a long time and are aesthetically appealing.
How strong are Emax crowns, and how long do they last?
The strength of the dental crown is one of the most important factors to consider when choosing crown material. Emax crowns have a lifespan of around 10 years or more. They're made of extremely tough lithium disilicate material.
The most important thing to note is that a single block of lithium disilicate is used to make these crowns. This ensures that there are no joints in the construction and the crown can withstand maximum pressure. The chances of chipping or breaking this durable crown are low.
Its compression strength is quite high compared to other crown materials, and an Emax crown has the strength rating of 500 MPa, meaning it can resist very high pressure without cracking or failing.
Can Emax crowns be whitened?
Emax crowns may stain over time if exposed to wine, coffee, or smoking. These stains cannot be cleaned with regular brushing and flossing. The only way to make them white again would be to replace them.
Sign up to receive the latest news and offers from Dentaly.org