Same-day dentures are temporary dentures that you can begin wearing the very same day that you get unhealthy teeth extracted.
Your dentist may recommend these to you while you are waiting for your mouth to heal and for your regular dentures to be made.
In this article, we'll answer your questions about this type of temporary false teeth, including:
What are immediate dentures?
How much do same-day dentures cost?
Who can get them?
We hope this information helps you decide whether immediate dentures are the right solution for you to temporarily replace missing teeth.
Are you missing teeth? Find a dentist available now for same-day dentures near you.
What are same-day dentures?
Same-day dentures, also known as 'immediate dentures,' 'dentures in a day,' and 'one-day dentures,' are a type of false teeth dentistry wherein you get a tooth extraction and dentures the same day.
That is to say, they are temporary teeth that can be worn as soon as you get teeth extracted, which makes them some of the best dentures on the market in some people's opinions.
After getting your teeth extracted, you will have to wait several weeks or even months for your mouth to heal before you can wear your normal dentures. Also, your healed mouth may have a slightly different form than your mouth right after extraction surgery, so it's best to wait to make your permanent dentures until after your mouth is healed.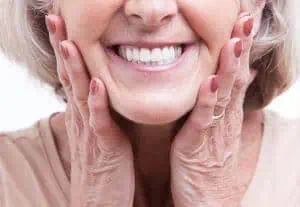 The problem with not having teeth until your permanent dentures are ready and your mouth is fully healed is that you would potentially have to walk around with a gappy smile for those weeks while you're waiting.
This can be especially hard on people who have a history of sensitive teeth and gums. But there are other reasons why it's not a good idea, including:
Irritation to your gums
More pressure when chewing on your existing teeth
Difficulty eating
Difficulty speaking
Bone loss in your jaw (this can only be solved with implants)
These 'dentures in one day' can help prevent these problems. Since you can wear them right out of the dentist's office, you won't have gaps in your teeth, and they will also help you get used to talking and eating for when you get your new teeth. What's more, they help keep your mouth muscles and joints healthy and maintain tissue integrity.
Immediate temporary dentures vs permanent dentures
There are a few differences when it comes to immediate dentures vs permanent dentures.
An immediate denture is made before you get your teeth extracted and is ready to be worn out of the office the same day you have the extraction surgery. They let patients have both their tooth extractions and dentures in the same day. These are meant to be worn until you are ready for your normal dentures, or for the first couple of months after tooth removal.
The process is as follows:
Extraction is completed, and the temporary denture is inserted in your mouth with a special material inside the denture base.
The next day, this material is removed and replaced with a new one and the procedure is repeated every four to five days for approximately five to six weeks.
Then your dentist will replace this material, a tissue conditioner, with soft lining material.
The soft liner will be changed monthly until your gums and jaw bone heal properly to receive a permanent denture.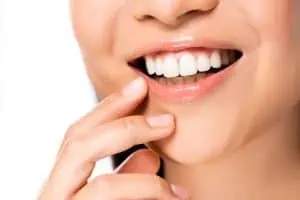 Your normal dentures are made from a mold taken after your teeth are extracted, and they can be worn after your mouth has healed.
It's better to think of immediate and normal dentures not so much as 'either-or' but instead that an immediate denture is something you can wear until you can get your regular false teeth.
So to sum up the differences:
Dentures in a day are made before your teeth are extracted.
They can be worn out of the office the same day you get your teeth extracted.
They are usually only meant for temporary wear
Temporary dentures require frequent adjustments
Once your mouth is healed and your permanent dentures are made, you will wear your permanent dentures instead of your same-day dentures.
Something you should keep in mind is that no kind of denture is the best option when it comes to replacing missing teeth. The best option is implants, but these can be too expensive for many patients. Read more about implants in our full guide here if you'd like to learn more.
How long does it take to make immediate dentures?
Times will vary depending on your dentist, but it generally takes a week or two to make an immediate denture, and potentially multiple visits to your dentist before they are made.
However, since they are made before your tooth extraction, they'll be ready the very same day that you get your teeth out.
Need new teeth? Find a dentist available now for same-day dentures near you.
Immediate denture aftercare
So what will it look like to take care of your immediate dentures post-op? To properly care for your temporary dentures after tooth removal you should make sure to follow your dentist's instructions. However general instructions include: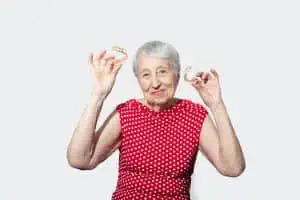 Wearing your new dentures for the first 24 hours
Not rinsing or spitting
After 24 hours removing your dentures a few times a day to rinse them
Saltwater rinses while your dentures are in your mouth
Not smoking after immediate dentures surgery and fitting
No hot liquids for the first 24 hours
Your dentist will also give you instructions on how to remove immediate dentures for the first time following surgery. They will likely recommend putting saltwater in your mouth and gently coaxing the water under your denture to loosen it.
You then spit the water out and slowly and gently take the denture out. You can use your finger to wiggle it up and down to help it release. At first, it will most likely be difficult to do, but you'll get the hang of it.
You can keep these instructions for care for immediate dentures after extraction in mind, but first and foremost, follow the directions given to you by your dentist.
It's also normal to feel some pain or discomfort following extraction and with your new dentures. However, immediate dentures pain should subside within a few days and pain meds should definitely help.
If your immediate dentures cause you a lot of pain, you should contact your dentist.
For a look at how the procedure went for one woman, and how she's faring with her immediate dentures recovery after having 26 teeth extracted, you can watch the video below:
Immediate dentures cost
The cost of same-day dentures averages $1,900 for a full set of upper and lower. The cost will also vary from person to person, depending on your oral health and the dentist you go to.
In general, temporary dentures cost more than your standard ones, because they take more time to make.
Extraction and dentures in the same day will have varying costs. Tooth extraction generally costs around $75 to $250 for a simple extraction and $180 to $550 for a surgical extraction.
And you'll also have to keep in mind that a single extraction versus a full mouth extraction and immediate dentures will have very different costs.
Ultimately, to know exactly how much your same-day dentures will cost, you'll have to ask your dentist for a personalized quote. Thankfully, to counteract the potentially high costs of treatment, there are various dental financing options available, such as dental discount plans, dental insurance, dental loans and dental tourism.
Take a look at these options in the table below:
If none of these is an option for you, you may want to have a look at our free dentures article and our dentures on Medicaid article.
What do immediate dentures look like?
If all goes well, immediate dentures should look very similar to regular dentures, and when you have them in your mouth, they should look like your natural teeth. Have a look at these before and after pictures of immediate dentures from the American College of Prosthodontists.
As you can see from these immediate dentures pictures, they look just like normal teeth, and certainly much better than rotting teeth!
Pros and cons of same-day dentures
An immediate denture can make a big difference in the lives of those who have to get multiple teeth extracted, however as with anything, they have both their pros and cons.
The main disadvantage of these temporary dentures is that since they're made in advance and put in your mouth as soon as your teeth are removed, the fit will not be exact.
This could lead to some discomfort and the need for frequent adjustments to make them fit better. That's one of the reasons why these are meant to only be used temporarily until your new teeth are ready.
Have a look at the following table for a summary of the advantages and disadvantages:
| | |
| --- | --- |
| | |
| You don't have to go without teeth | They can be uncomfortable right after extraction |
| They protect your gums while they are healing | They may not fit very well |
| They protect existing teeth by taking added pressure off them when chewing | They will most likely require frequent readjustment |
| They help you practice eating and talking with false teeth | They are meant for temporary use |
How do I find immediate dentures near me?
The best way to find same-day dentures or immediate dentures near you is to contact your dentist and other dentists within your area to ask about the services they provide.
Even if your routine dentist doesn't offer them, they may be able to direct you to a trusted colleague that does. You can also call a dentist right now by dialing 866-383-0748 and ask about instant dentures where you live.
Conclusion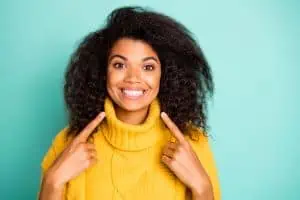 If you need to have your teeth removed due to severe decay or gum disease, your dentist may recommend same-day dentures for the first few months.
These can be helpful in protecting sensitive teeth and gums and allowing you to get used to talking and eating with your new teeth.
However, in most cases, these should only be worn until you can have a normal set of standard new teeth made. These will be stronger, last longer, require fewer adjustments and overall be more comfortable.
FAQs
Can you eat with immediate dentures?
Yes, you can eat with a same-day denture. In fact, one of the great things about them is that they help you get used to eating with dentures before you get your normal set of new teeth.
Can I get same-day dentures?
It's up to you and your dentist to decide if an immediate denture is right for your situation. It will probably depend on how many teeth you need to be extracted and their position.
If you get many or all of your teeth pulled, your dentist will probably recommend temporary dentures until you can wear your regular dentures.
If you're missing teeth, find a dentist available now for same-day dentures near you.
Are immediate dentures permanent?
No. After multiple extractions, the remaining mouth tissue degrades. Due to these changes, an immediate denture will not fit neatly in your mouth after a few months. So, unless your dentist tells you otherwise, your immediate denture is intended for temporary use. They can be worn for the first few months after tooth extraction. They cover up any gaps in your smile, help you return to eating normally and help you get used to talking with your new teeth.
For how long can I leave my immediate dentures out?
Follow your dentist's instructions, and if you have any questions about your new immediate dentures, don't hesitate to call them and ask. And different dentists may have different recommendations.
That being said, some dentists recommend wearing your immediate dentures for 24 hours a day for the first week, taking them out for cleaning. After that, you can switch to having them out for several hours during the day, and eventually, you can and should take them out at night.
Again, this is a generalization; always follow your dentist's instructions first.
How long do you have to wait to get dentures after teeth are pulled?
Most patients who get their teeth extracted want to know how long it takes to get dentures after removal. For normal dentures, you will have to wait months and up to a year.
That's because your gums and jaw bones need to perfectly heal. But with instant dentures, you can get them the same day you get your teeth pulled.
Are permanent dentures thinner than temporary?
Permanent dentures are actually those placed with implants, but normal dentures are usually thinner and more comfortable than same-day dentures. Your immediate dentures are meant for temporary use.
How can I find immediate dentures near me?
If you get multiple teeth extracted or even a single tooth but one that's in a prominent position, you may want immediate dentures. But first, you have to find an immediate dentures dentist.
This might be as easy as calling your regular dentist to see if they offer them or if they can give you a recommendation.
Sign up to receive the latest news and offers from Dentaly.org