What is the best whitening toothpaste of 2020? Some of the best options come from well-known brands like Crest and Colgate, but therea are also some more alternative options as well.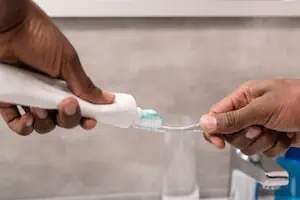 In this article, we'll talk about out best-rated toothpaste brands for white teeth, as well as natural whitening solutions that you can whip up at home, plus the best:
Natural whitening toothpaste
Charcoal toothpaste for whitening
Whitening toothpaste for sensitive teeth
So keep reading to become a fully informed consumer!
What is whitening toothpaste?
Toothpaste that is advertised to whiten teeth is just like a normal toothpaste, but the difference is that it is made to promote teeth whitening. This is nothing new, in fact like many Americans, you may have been using whitening toothpaste for years without even realizing it. It's hard to avoid them, and you certainly won't find any that are advertised as not whitening.
In fact, the concept of whitening toothpastes is a great idea. Our teeth are constantly being bombarded with things that can turn them yellow. Even if you brush your teeth regularly and with the proper brushing technique, a healthy diet is full of foods that can stain. Think about the blueberries you eat with your cereal in the morning, or the glass of red you have with dinner at night.
And as for you coffee drinkers and you smokers with yellow teeth, well you know what I'm talking about.
But, realistically, if you're not going to be giving up blueberries or cigarettes any time soon, many products can be a great help.
Does whitening toothpaste really work?
Excellent question! The truth is that despite their ubiquitousness in the global toothpaste market, whitening toothpastes haven't been shown to make a huge difference in the whiteness of teeth.
Now, that doesn't mean they should be totally discounted, we said they don't make a 'huge' difference, not they don't make 'any' difference.
According to the Mayo Clinic, shoutout to Minne-snow-ta, whitening toothpastes can whiten teeth slightly by removing surface stains, like those caused by the foods you eat, the cigarettes you smoke, or the coffee you drink. The big 'but' however is that these sorts of whitening toothpastes aren't able to change the natural color of your teeth, and they can't erase discoloration that is underneath the surface of your tooth.
So to remove surface stains, by all means, use a whitening toothpaste. We have a section further down in this article about the brands on the market that will work the best at removing these surface stains, thus giving your teeth a whiter appearance.
For anything below the surface, you'll want to consider some other teeth whitening options, which we will also go over further down.
Watch this video to see a dentist talk about the actual whitening abilities of toothpaste.
How does it work?
We mentioned above that whitening toothpastes work to remove surface stains from your teeth. But, how do they do this?
Whitening toothpastes are normally abrasive, and this actually helps to polish stains off. Although too much abrasiveness can be a bad thing, as it could wear down your enamel. And if it does that, your teeth will actually appear to be yellower, because dentin, the stuff under your enamel, is naturally yellow in color!
Ask a dentist: Does whitening toothpaste work?
The short version of the real effectiveness of toothpaste-based whitening products is that they have not been proven to offer any substantive long term benefits over standard toothpaste products that are non-whitening. When it comes to charcoal-based toothpastes, the theory is that the activated charcoal is very good at absorbing stains, however it is so new there aren't legitimate studies to show any real proof of effectiveness vs other methods.
Tooth whitening can happen three ways:
Removing external stains (which is what toothpastes can accomplish)
Bleaching which changes the internal colour of the tooth to brighten
Covering or masking the tooth with a composite resin or porcelain
Each patient has individual circumstances and needs and so the application of any or all of these strategies is different for each individual and must be carefully evaluated and the treatment applied in a personalized manner. In our opinion, while the more abrasive toothpastes can offer some stain-removal based whitening, this is usually the most short lived and limited result of the various options and as such represents something of very limited value and often unrealistic expectations and disappointing results.
James Otten DDS
These pastes can also contain peroxide and other chemicals that will break down, dissolve and whiten stains.
Some also contain something called blue covarine. This doesn't actually help to get rid of stains, instead it coats the teeth, creating the appearance of whitening—so although the toothpaste works instantly, it's quite superficial.
Other ways to whiten teeth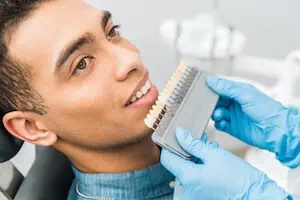 Since over the counter whitening toothpastes aren't always the best way to whiten your teeth, you may also want to consider some other options.
Some of the most effective ways to whiten teeth include:
Professional bleaching: This affordable professional teeth whitening procedure is offered by dentists. Custom trays are made to fit your teeth and are then used to apply a professional grade tooth whitening gel, meaning that it's stronger than anything you can get at home. You have to go to the dentist, so they can make trays and to give you your brightening gel, but the actual procedure happens in the comfort of your home, sometimes overnight. You can ask your dentist about all of your options.
At-home whitening kits: Whitening kits normally contain a whitening gel and then either mouth trays, or if its more advanced, an LED mouthpiece. LED lights accelerate the whitening process and make for longer-lasting results. Professional whitening kits like those offered by Snow are a great alternative to whitening toothpaste if you want to achieve more noticeable results.
Get stronger, lasting results with Snow
Over the counter whitening toothpastes are a good option for removing stains, but even the best won't actually make your teeth more white. To take your whitening to the next level, try a professional whitening kit like Snow.
Nearly 1 million happy customers
Lasting results from just 9 minutes a day
Proprietary application system to protect your gums
Made in the USA
Includes a year's worth of treatments
Satisfaction guaranteed – or your money back!
Check out Snow's best-selling whitening kit here!
Strips
Many people who want to whiten their teeth choose teeth whitening strips because you can buy them online or at the drugstore. They are also very easy to use and not messy, as the actual strips are simply placed over teeth for the instructed amount of time. Strips are a great solution for an upcoming event, as they don't cost too much, work quickly and are easy to use.
Lasers
Laser teeth whitening is a procedure that uses lasers to speed up the whitening effect of a gel applied to the teeth. You can get this done at the dentist. This sort of treatment is safe, effective…and usually expensive. But if you've got the dough to blow, go for it!
Top rated whitening toothpaste
Now that you've learned a bit more about some other effective teeth whitening options, let's get back to why you're really here: whitening toothpaste. We've searched the vast stretches of the World Wide Web to create a list of the top rated toothpaste for whitening teeth. You can see a summary of these products in the table below, and then continue reading for a deep dive into each one.
Best overall whitening toothpaste: Crest and Colgate
Crest 3D White Brilliance toothpaste
Crest 3D White may actually be cheating a bit with this whitening toothpaste. It's not actually just a toothpaste—it's a process that involves two steps:
Deep cleaning toothpaste
Whitening finisher
First, you brush your teeth as you normally would with toothpaste, only for one minute instead of two minutes. And then you brush for another minute with the whitening finisher. And lastly, you rinse. Crest actually claims that by using this product every day, your teeth will be 99% as clean as they are after a professional polish.
So, how does Crest 3D whitening toothpaste work? This toothpaste uses a combination of hydrogen peroxide and sodium hydroxide to whiten teeth, and 0.24% sodium fluoride to fight decay.
One happy customer says:
"The only toothpaste I use now. I use to have yellow teeth because they stain easily but now, especially right after brushing, I have a pearly white smile"
Colgate Optic White
We had to include two whitening toothpastes in the best rated toothpaste for white teeth "overall category" because consumers seem to be torn between Crest and Colgate on this one.
Some reviews swear by Colgate Optic White as the best tooth whitening toothpaste. This toothpaste claims to give you a visibly whiter smile if used as directed for at least four weeks. By the end of just one week with regular use, you'll already notice a brighter smile.
To achieve brighter and whiter teeth, this product uses the whitening powers of hydrogen peroxide. This active ingredient goes beyond surface stains and tackles discoloring that you've struggled with for a long time. It's also safe for daily use, as it won't wear down your enamel.
One of many reviews expresses their love for Colgate optic white toothpaste by saying:
"This is the most effective whitening toothpaste out there. I've used this toothpaste daily for five years. It keeps my teeth nice and bright. "
Best natural toothpaste for white teeth: Tom's of Maine
For those of you who want whiter teeth but don't want to give up your natural oral hygiene routine, you may want to try the fluoride-free Tom's of Maine Antiplaque and Whitening toothpaste.
It features natural toothpaste ingredients like zinc citrate and xylitol for whitening teeth; these ingredients also keeping them free from plaque and preventing cavities, and a natural peppermint flavor to freshen breath.
As with all of Tom's products, this one has never been tested on animals and meets high standards of social and environmental performance.
Among the best rated natural toothpaste on the market, there is an overwhelming amount of positive reviews on Amazon for this product; however, the reviewers mostly seem to see the whitening as an afterthought, or they don't mention it at all. Mainly they like this product for its natural ingredients, with one reviewer saying:
"I'm trying to eliminate all the sources of fluoride I can from my daily life. This toothpaste helps with that. My teeth are cleaned very well with this, showing you certainly don't need fluoride for that. It seems to "whiten" as well as any other whitening toothpaste. For real whitening, you have to see your dentist for a treatment or use trays with gel or whitening strips."
Best activated charcoal toothpaste for whitening: Cali White
If you've been anywhere except for under a rock lately, you've probably heard of the whole activated charcoal teeth-whitening trend. Well, you too can join the activated charcoal movement by trying Cali White Activated Charocal and Coconut Oil toothpaste.
This top rated whitening toothpaste includes nature's best ingredients that work to remove stains like:
active carbon
organic coconut oil
baking soda
This whitening toothpaste is also made in the US, is vegan, SLS-free, and fluoride-free. You can happily check off all of your sustainability boxes and know that you're doing your part for the environment and your oral health when you use it.
And unlike other charcoal varieties that aren't big on flavor, this activated charcoal whitening paste has a Pacific Mint flavor that gets rid of bad breath and leaves your mouth feeling refreshed. The flavor comes from xylitol and peppermint oil, so no artificial flavors either.
One happy customer says:
"My teeth look WHITE! I love all the good ingredients and it makes me feel super clean. I enjoy how it gets black and then the "reveal" of my white teeth when I rinse :)"
If you'd like to find out more about the world of charcoal toothpastes, you can have a look at our full guide to the best charcoal toothpaste.
Best whitening for sensitive teeth: Sensodyne
Just because you have sensitive teeth doesn't mean you have to settle for a boring toothpaste that doesn't give you a brighter smile. With Sensodyne Pronamel Gentle Whitening toothpaste you can protect your tooth enamel at the same time that you are removing stains, and polish up those pearly whites.
Sensodyne Pronamel is the best toothpaste for sensitive teeth that also whitens because it protects tooth enamel from the effects of acidic foods and drinks. It also re-hardens enamel that has gone soft. How does it do that? It has an optimized formula that aids those minerals found in saliva (like calcium) in penetrating your enamel to fortify it. It also has very low abrasiveness so it won't further weaken your enamel like other more abrasive options might.
Although advertised as a product that will give you a brighter smile, most reviewers appreciate its focus on sensitivity and protection against decay more than anything, with one reviewer saying:
"It's really gentle for a whitening toothpaste and it does restore lost enamel which is really important. Very gentle & tastes good."
Best toothpaste for white teeth with baking soda: Arm & Hammer
You can find baking soda in natural oral hygiene products (and name brands as well) for its whitening powers. But no other paste is as famous for its use of dental-grade baking soda than Arm & Hammer. And loyal Arm & Hammer customers can get an extra boost to whiten their teeth with their AdvanceWhite toothpaste. Customers love this product because of its:
Low-abrasion formula that won't damage enamel
Fluoride to prevent cavities and remove plaque and stains
Dental-grade baking soda that keeps your teeth clean and bright
One customer sums up their appreciation for this brand by saying:
"Good oral hygiene is super super important and having a white healthy smile and with that goal in mind, a baking soda based toothpaste is the only way to go and this is one brand that I particularly like for that reason. Not only do my pearly whites feel clean, it's visibly apparent. Smile 😃. Thank You Arm&Hammer. My number one go to toothpaste for decades and this price point ain't bad either."
Conclusion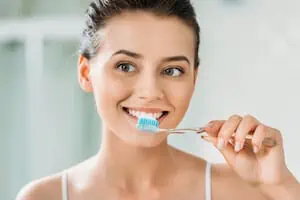 Keeping your teeth free of cavities should be your number one priority when it comes to oral hygiene. But if you've already got that covered and are looking to also have whiter teeth, adding a special whitening toothpaste to your routine might help. All of the products we mentioned receive overwhelmingly positive reviews. You'll just have to try them out for yourself and see which one works for you.
Another toothpaste that we don't mention in this article is AP 24, but that's because we have an entire article dedicated to this special whitening toothpaste. Check it out in our AP 24 toothpaste review.
If you are looking for stronger and longer-lasting results, we recommend considering a home whitening kit from Snow. It can still be done from home and it's usually a lot cheaper than professional whitening at the dentist.
But remember, the most important thing when it comes to your oral health is a proper oral hygiene routine. This should include regular brushing and flossing.
You can "brush up" on your technique by reading our articles on proper brushing techniques and how to floss your teeth to make sure you're maximizing your cleaning power.
FAQs
Which Crest toothpaste is best for whitening?
Most Crest pastes are supposed to help with whitening. However, for best results, you may want to choose a toothpaste from the Crest 3D White range like this Crest 3D white toothpaste, or the Brilliance set we mentioned above, which includes both a paste and a whitening gel.
Is Crest or Colgate better for whitening?
The jury is out on this one, but they both seem to work for many people to whiten teeth. The main difference is that Crest uses stannous fluoride to fight cavities and gum disease, whereas Colgate uses sodium fluoride. According to this study, stannous fluoride is actually more effective in fighting cavities than sodium fluoride, but which one is a better whitening toothpaste is still undetermined. Ultimately, you'll have to see which one works best for you.
What is the best whitening toothpaste for sensitive teeth?
The award for this one goes to Sensodyne . It remains the leader in the market when it comes to protecting sensitive teeth and actually helping to rebuild enamel. Will it whiten your teeth? Maybe—the reviews seem to be mixed, but it will certainly help with sensitivity issues.
Is whitening toothpaste safe for kids?
While they aren't inherently unsafe for young people, most dentists argue that kids shouldn't use whitening products until age 14 or later. First, this is because there is no point in whitening baby teeth because they will soon fall out. Beyond that, children's mouths can be more sensitive to the negative effects of whitening toothpaste.
Finally, an important consideration is whether kids should be concerned with how white their teeth are in the first place. Maybe they would benefit more from a talk about body image and self esteem instead of a whitening toothpaste. If your child is still worried about having white teeth, the best thing you can do is teach them good brushing and flossing habits without whitening toothpaste until they are older.
Can you use whitening toothpaste with braces?
Although isn't dangerous for you or your braces to use whitening toothpaste, it is probably best for you to avoid it until you have them removed. This is because any whitening effect you achieve from your toothpaste will not be present where your braces are attached to your teeth. Unless you want partially white teeth with big yellow spots in the center, your best bet is to use a regular over the counter toothpaste without whitening for the time being.
Does fluoride whiten your teeth?
Most of the top rated toothpastes contain fluoride, and many of them also claim to have a whitening effect. However, fluoride isn't really the best whitening ingredient you'll find in over the counter toothpaste. Ingredients like hydrogen peroxide, baking soda, and sodium hydroxide are much better for whitening, while fluoride is more for strengthening enamel and fighting plaque.
What is the best toothpaste for removing coffee stains?
Most whitening toothpaste is only designed to remove surface-deep discoloration. If you are looking for extra intensive stain removal then you'll want to buy toothpaste with a higher concentration of whitening ingredients like hydrogen peroxide.
Sign up to receive the latest news and offers from Dentaly.org