Are you looking for the best whitening toothpaste in the UK to remove stains from your teeth? Or maybe you're just wondering whether it's worth spending the extra on a teeth whitening toothpaste at all. Is it actually any more effective than brushing your teeth with a regular toothpaste?
These are fair questions, because we all feel under pressure to have a lovely smile, and one of the ways to achieve this is with teeth whitening. Advertisements may want you to believe you can get pearly white teeth simply by switching your toothpaste, but the reality might be quite different. That's not to say you should discount the idea altogether, though.
In this article we're going to help you understand:
The pros and cons of using whitening toothpaste
Different whitening ingredients they might use
The best teeth whitening toothpaste for stain removal, sensitive teeth and more in the UK
Natural options that use charcoal or baking soda
Some alternatives to toothpaste which might give you better results
So keep reading to become a fully informed consumer! Note that one thing we won't cover here is how to make your own whitening toothpaste at home – we have a separate guide with some great natural toothpaste recipes. Here's a quick summary of some of the best whitening toothpastes we've selected, but you can read more about each of these further down.
Best Whitening Toothpaste Brands

Best For: Everyday all-round whitening


Pearl Drops Instant Boost

Best For: Instant whitening effect


Coats teeth for a temporary whiteness boost

Pro Teeth Whitening Co Charcoal Toothpaste


Georganics Natural Toothpaste

Flavours include orange, spearmint and tea tree

Sensodyne Pronamel Gentle Whitening

Best For: Whitening sensitive teeth


Protects and hardens enamel
Does whitening toothpaste work?
Despite pretty much every mainstream brand – as well as lots of specialist brands – making a whitening toothpaste, the truth is that most haven't been shown to make a huge difference in the whiteness of teeth.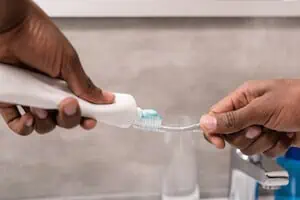 Now, that you shouldn't consider switching to a teeth whitening toothpaste at all; we said they don't make a 'huge' difference, not they don't make 'any' difference.
This study into different whitening ingredients found the top three that made the most difference, especially with sustained use, were:
Microbeads – abrasives which are banned from use in toothpastes and other cosmetic products in the UK
Hydrogen peroxide – a key ingredient in many whitening kits and professional treatments
Blue covarine – which gives the teeth a bluish tinge, making them appear whiter
Activated charcoal and some other types of abrasive showed some, less significant, whitening effect.
It's also worth noting that even the best whitening toothpastes will only remove surface stains on your tooth enamel; they can't brighten beyond the natural colour of your teeth or alter any discolouration below the surface. There are other options for stronger whitening, which we will cover later.
Ask a dentist: Does whitening toothpaste work?
The short version of the real effectiveness of toothpaste-based whitening products is that they have not been proven to offer any substantive long term benefits over standard toothpaste products that are non-whitening. When it comes to charcoal-based toothpastes, the theory is that the activated charcoal is very good at absorbing stains, however it is so new there aren't legitimate studies to show any real proof of effectiveness vs other methods.
Tooth whitening can happen three ways:
Removing external stains (which is what toothpastes can accomplish)
Bleaching which changes the internal colour of the tooth to brighten
Covering or masking the tooth with a composite resin or porcelain
Each patient has individual circumstances and needs and so the application of any or all of these strategies is different for each individual and must be carefully evaluated and the treatment applied in a personalized manner. In our opinion, while the more abrasive toothpastes can offer some stain-removal based whitening, this is usually the most short lived and limited result of the various options and as such represents something of very limited value and often unrealistic expectations and disappointing results.
James Otten DDS
In short we can say that yes, whitening toothpastes do work, but they have their limits. If you're brushing your teeth properly twice a day with a normal fluoride toothpaste, you're already a long way towards removing stains that build up from the things you eat and drink. But, a specialist whitening product may well give you the boost you're looking for.
Ingredients in teeth whitening toothpaste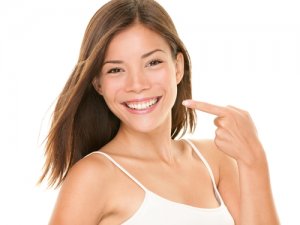 Whitening toothpaste may look much like any other toothpaste, but there are some key ingredients which make all the difference. It's good to understand a bit about these so you know exactly what you're putting in your mouth when you brush.
First, there are abrasives which physically polish stains off teeth. Some common abrasives include:
Calcium or magnesium carbonate
Sodium bicarbonate (baking soda)
Hydrated silica
Aluminium hydroxide
Calcium hydrogen phosphates
Activated charcoal
The more abrasive the toothpaste, the more effective it is likely to be at stain removal. However, too much abrasiveness can start to wear away tooth enamel, and this can actually make your teeth look yellow.
Next, most whitening toothpastes have some kind of whitening agent that breaks down and dissolves stains. Baking soda is a natural stain remover, but toothpastes can also contain peroxides – albeit in much lower concentrations than in teeth whitening kits.
Some toothpastes contain an ingredient called blue covarine. This doesn't actually help to get rid of stains; instead it coats the teeth, creating the appearance of whiteness. So although it works instantly, it's quite superficial.
Finally, look out for fluoride (a must-have ingredient for cavity prevention) and de-sensitising ingredients like potassium nitrate and stannous fluoride. In the short video below, a dentist explains how to choose a safe whitening toothpaste (and he recommends asking your dentist about it if you want to be sure):
The best whitening toothpaste in the UK
So, keeping all of this in mind, let's look at some of the best toothpastes for whitening available in the UK. We've included some well-known names as well as some specialist brands which you may not have heard of. These are all available to buy on Amazon, so you can check the current prices there and decide which one you want to try.
Best budget options: Crest and Colgate
Colgate Max White Toothpaste
Colgate, a very familiar name in the dental care sector, has an almost baffling range of whitening toothpaste. The bog-standard one, Colgate Max White Expert, is suitable for daily use. It contains silica and fluoride, and its Smartfoam system helps it get into all the hard-to-reach places between your teeth. It costs little more than a standard tube of toothpaste and is particularly affordable if you buy it in bulk.
Then, we move on to Colgate's more premium Max White range. All of these are whitening fluoride toothpastes which contain hydrogen peroxide as the main whitening ingredient:
MAX White, Expert White Shine: Makes teeth appear whiter in 5 days
MAX White, Expert White Glossy Mint: Designed to reverse years of yellowing
Max White Ultimate Catalyst: Enzyme-boosted toothpaste that removes up to 15 years of stains.
Max White Ultimate Idealist: Whitens while protecting enamel, although ingredients appear identical to the Catalyst variant.
All of these receive overall good reviews, so you can pick based on what you want to achieve from your whitening. Some people find that using a peroxide-based toothpaste daily makes their teeth sensitive, but we have another recommendation further down for people with sensitive teeth.
Our #1 recommended teeth whitening kit
Best whitening toothpaste for sensitive teeth: Sensodyne
Just because you have sensitive teeth doesn't mean you have to settle for a boring toothpaste that doesn't give you a brighter smile. With Sensodyne Pronamel Gentle Whitening toothpaste you can protect your tooth enamel at the same time that you remove stains, and polish up those pearly whites.
This is the best toothpaste to whiten sensitive teeth because it protects tooth enamel from the effects of acidic foods and drinks, along with actually re-hardening enamel that has gone soft. How does it do that? It has an optimised formula that aids those minerals found in saliva, such as calcium, in penetrating your enamel to fortify it. It also has very low abrasiveness so it won't further weaken your enamel like other more abrasive options might.
If you've experienced sensitivity when using other whitening toothpastes (or just have sensitive teeth in general), give Sensodyne a try before you give up completely on a whiter smile. "After only one use the pain from my sensitive tooth was gone. Deffinately wont be using any other toothpaste from now on," is the testimony from one happy customer.
We have a separate guide to sensitive teeth toothpastes which may also be of interest if you suffer from this problem. You can also check out our article on Snow whitening toothpaste — also made with sensitive teeth in find.
Best for instantly whiter teeth: Pearl Drops Instant Boost
You can buy several different whitening toothpastes from Pearl Drops but we've picked out Pearl Drops Instant Boost for people who want a toothpaste that will make their teeth appear instantly whiter.
It works by coating the teeth with an optical enhancer to temporarily make them look brighter. It also has a natural whitening effect which you should start to notice after a week of use. You can use this every day since it has a gentle formula and contains fluoride. Or you might just want to keep it for special occasions when you feel like giving your smile – and your confidence – a boost.
Pearl Drops recommend you use this toothpaste three times a day, rather than the usual two.
"This toothpaste is great! I have really noticed a difference in how white my teeth have got over time, but also immediately after using. The taste is great and leaves mouth and breath feeling really clean. The product can leave some pink staining to lips and tongue but this quickly fades within minutes so nothing to worry about."
Best natural toothpaste for white teeth
Now we have a few recommendations for natural whitening toothpastes. They are all fluoride-free and vegan-friendly, so the top choice may come down to your personal preferences in terms of taste and texture.
Georganics mineral-rich whitening toothpaste
Georganics' product range ticks pretty much all the boxes for eco-friendliness and sustainability. Their toothpaste comes in a reusable/recyclable glass jar and contains all natural, organic ingredients.
You've got a range of flavours to choose from: peppermint, spearmint, orange, tea tree, eucalyptus, or unflavoured. There's also an activated charcoal variant.
These toothpastes are mildly abrasive and contain coconut oil, which is another product many people use for teeth whitening. Read our coconut oil pulling guide to find out more about the science behind this.
Quite a few reviewers comment that it takes a while to get used to the taste and texture. This is a non-foaming toothpaste, which may feel strange at first if you're used to commercial brands which foam up as you brush.
Biomed Superwhite Coconut toothpaste
This teeth whitening toothpaste from Biomed is "99% natural" and contains papain and bromelain, ingredients extracted from papaya and pineapple. A study conducted on a different brand containing these ingredients found that they were significantly more effective at stain removal than a regular toothpaste.
This toothpaste also contains ingredients to help remineralize teeth and reduce sensitivity. It is flavoured with cinnamon and thyme, and the coconut oil in it can help with gum health – is there anything this toothpaste can't do?
Here's a review from one user who has noticed their gums are healthier and teeth whiter: "Brilliant toothpaste, makes so much difference to my normally bleeding gums. Now I wake up without the blood taste in my mouth. Also it made my teeth look whiter too. And it has got natural ingredients, which is a big bonus."
AloeDent Whitening toothpaste
In AloeDent Whitening toothpaste you get soothing aloe vera, antiseptic tea tree oil, and whitening silica.
AloeDent is a good choice if you like minty toothpaste that foams as you brush, but want to stick to more natural ingredients. It's also quite wallet-friendly compared to some other teeth whitening toothpastes in the UK.
Here's what one reviewer has to say: "I love this toothpaste and i will be buying more! The taste is lovely and leaves a fresh clean mouth. After trying many tooth whitening products (coffee addict) I found this has actually removed staining and my teeth are whiter! I purchased this product for the fact its flouride free and more natural and brighter whiter teeth is an added bonus!"
Best charcoal whitening toothpaste
You've probably heard about activated charcoal for teeth whitening, but is there really such a thing as a black whitening toothpaste? Well, yes there is. We have a separate article which explains how activated charcoal works to whiten teeth, but the short version is that it sucks up surface stains and also has antibacterial properties.
You can simply buy a pot of activated charcoal powder and dip a wet toothbrush into it. But if you're not ready to dive straight into raw charcoal powder, an activated charcoal toothpaste like this one from Pro Teeth Whitening Co is a good place to start.
This company offers a range of charcoal whitening products which are made in the UK using natural ingredients. Their charcoal whitening toothpaste has a fluoride-free and low abrasion formula with a minty taste to leave breath fresh and teeth feeling shiny clean.
Other ways to whiten teeth
Since whitening toothpastes aren't always the most effective way to whiten your teeth, you may also want to consider some other options. You can read our full guide to teeth whitening for more information, or you can take simple steps, like mixing your toothpaste with a teeth-whitening powder, but here's a quick overview of the alternatives:
At-home whitening kits: Whitening kits normally contain a whitening gel and then either mouth trays, or in more advanced kits, an LED mouthpiece. LED lights accelerate the whitening process and make for longer-lasting results. You should see results in a few days, with a full treatment course taking a week or two.
Stronger, lasting results with Smile Avenue
For stronger and quicker results than you'll get from most whitening toothpastes, we recommend Smile Avenue Professional Teeth Whitening Kit. Here's why: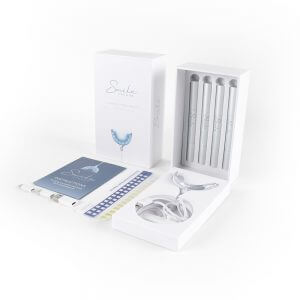 Made in the USA
24-30 days of treatment included
Mouthpiece with built-in LEDs for faster whitening
Affordable refills available
Remineralizing gel safe for sensitive teeth
30 day money-back guarantee
Free shipping and 10% off with code DENTA10
Read our Smile Avenue review for more details or visit their website for full details and use promo code DENTA10 for 10% off plus free shipping!
Professional bleaching: You can also visit a dentist to get your teeth whitened professionally. Custom trays are made to fit your teeth and are then used to apply a professional grade tooth whitening gel, meaning that it's stronger than anything you can get at home. You have to go to the dentist to get your trays made and to receive your gel, but the actual procedure is done in the comfort of your home, sometimes overnight. You can ask your dentist about all of your options.
Strips: Whitening strips are placed directly onto the teeth for a specified amount of time. They can be a bit fiddly to use, and probably won't give the same results as a whitening kit, but they can be a good option if you want a quick brightness boost.
Lasers: Laser teeth whitening is a procedure that uses lasers to speed up the whitening effect of a gel applied to the teeth. You can get this done at the dentist. This sort of treatment is safe, effective… and usually expensive. But if you're happy to pay for fast and dramatic results, this could be the way to go.
Conclusion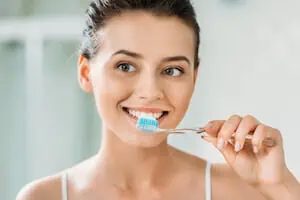 Keeping your teeth free of cavities should be your number one priority when it comes to oral hygiene. But if you've already got that covered and are looking to also have whiter teeth, adding a special whitening toothpaste to your routine might help.
All of the products we've picked out as the best whitening toothpastes in the UK receive positive reviews and are safe to use regularly, so you'll just have to try them out for yourself and see which one works for you. Often the texture and taste of a toothpaste can be the deciding factor!
If you are looking for stronger and longer-lasting results, consider a home whitening kit like Smile Avenue. Results are guaranteed with a two-week treatment course and it's a lot cheaper than visiting the dentist.
But remember, the most important thing when it comes to your oral health is a proper oral hygiene routine that includes regular brushing and flossing.
If you'd like to pair a whitening toothpaste with an optimised brush as well, you can check out our guide to the best whitening toothbrush.
FAQs
How does whitening toothpaste work?
Toothpastes for whitening work in different ways, but there is usually a combination of abrasion and bleaching at work. Some actually coat the teeth with a film that makes them appear instantly whiter.
Generally speaking, whitening toothpastes can make a small difference to the colour of your teeth. But if you want more noticeable results, you might want to look at a product designed just for whitening.
What is the best whitening toothpaste in the UK?
We haven't picked out one brand as the best teeth whitening toothpaste in the UK, since it depends a lot on the condition of your teeth and how much you are willing to spend. Your preference with certain ingredients will also determine the best toothpaste for whitening your teeth.
We recommend you read through the list above and choose one that sounds like a good match. If you aren't happy with it for whatever reason, you can always try another.
What is a whitening toothpaste that works?
It depends on what kind of results you are expecting. Few teeth whitening toothpastes will get your teeth dazzling white unless that's your natural tooth colour. But if your teeth have become stained from your diet and lifestyle, any of the top whitening toothpastes featured here are worth a try before you consider professional whitening.
What is a good intensive stain removal whitening toothpaste?
Intensive stain-removing toothpastes are often marketed as smokers' toothpastes, but they can be just as effective on teeth stained from tea, coffee and red wine. For example, White Glo Smokers' Formula Whitening Toothpaste has good reviews and a low-abrasion formula. You get a free anti-stain toothbrush when you buy this package, and used together they should make a difference to even heavily stained teeth.
Sign up to receive the latest news and offers from Dentaly.org