Trying to find the best toothpaste for sensitive teeth? With so many brands and products in the UK to choose from, it can be a daunting task to find the one desensitising toothpaste that is right for you.
Most of the big toothpaste brands make a sensitive toothpaste, but there are others which actually specialise in treating this problem. Some offer a quick fix with results in just a few days, whereas others concentrate on addressing the underlying problem over the longer term.
We hope that this guide will help you take all factors into account and ultimately know which toothpaste is best for your sensitive teeth. And if you are searching for something specific, like a sensitive whitening toothpaste or one without fluoride, we have you covered.
What causes sensitive teeth?
Let's begin by quickly looking at why your teeth are sensitive in the first place, so you can understand what your desensitising toothpaste is actually doing.
Sensitivity in teeth can be caused by several different things, and some people naturally have more sensitive teeth than others. When we say sensitive teeth, really we are referring to the fact that the nerves in the tooth are exposed to more stimuli than normal. Usually, certain foods and drinks trigger that pain or discomfort. These include:
Ice cream
Sweets
Coffee
Soft drinks
Fruits
Pickled or acidic food
This exposure often results from the deterioration of tooth enamel due to aggressive brushing or using a toothbrush with hard bristles. When the outer layer of enamel wears out there is an exposed layer of dentin full of microscopic tubes (or tubules) that then allow different substances to stimulate the nerve in your tooth. The short animation below shows this in more detail:
Sensitivity can also be caused by inadequate or improper brushing, which leads to periodontitis. This disease of the gums progresses as plaque and tartar accumulate, causing gums to slowly separate from teeth and eventually become infected. The resulting damage to your teeth and soft tissue therefore allows more substances to make contact with the nerve.
You can also get sensitive teeth during pregnancy due to an increase in hormones and blood flow, as well as a change in dietary and oral hygiene habits.
Ask a hygienist!
Toothpaste and a toothbrush along with proper brushing techniques are essential for maintaining good oral health. Just placing your brush and paste in your mouth for a minute or lesser is not going to remove the plaque or tartar deposits.
It is recommended to brush your teeth for at least 2 minutes using the proper brushing technique recommended for you.
The most commonly advised brushing technique involves placing the brush head at an angle of 45 degrees slightly below the gum line and brushing upwards in case of lower front teeth or vice versa for upper teeth.
For back teeth, circular motion is usually recommended, and slightly involving the gums to give a massaging effect. The reason for placing the brush head at the gum line is because that is where the plaque accumulation begins rather than on the surface of the teeth.
Choose the right toothpaste for you and follow the correct technique to reap the rewards of optimal dental health.
Dr Asha Ramesh
Regular dental checkups will pick up on any underlying problems, such as tooth decay or gum disease, which need to be addressed. But if your teeth are in good condition and still causing you to think twice about what you eat and drink, one of these toothpastes may well help.
Or, read our guide to find a sensitive teeth remedy, which includes home remedies, different dental products and professional treatments.
How does sensitive toothpaste work?
Sensitive toothpastes make use of certain compounds that have different effects on your teeth.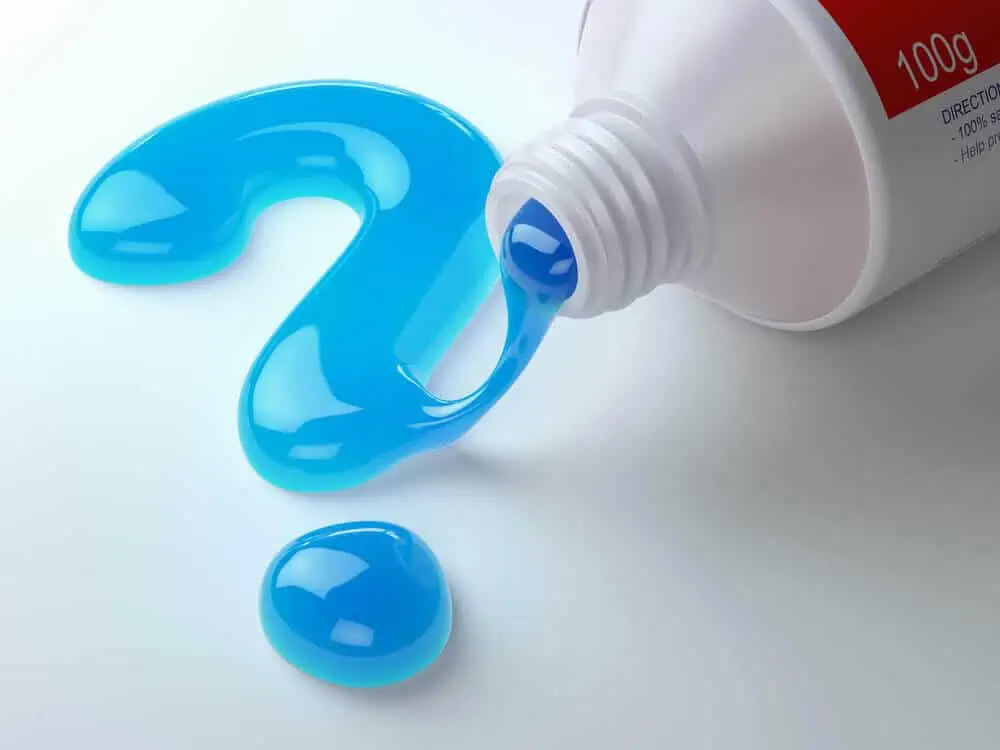 Potassium nitrate is a common sensitive toothpaste ingredient that works by desensitising the nerve endings in your tooth. Other ingredients work to physically block the dentin tubules which are leaving the nerves exposed. Some of the best sensitive toothpastes use hydroxyapatite, a mineral found in our bones and teeth, to help naturally remineralise tooth enamel and provide lasting protection against sensitivity.
Most of these toothpastes also contain fluoride in one form or another. Fluoride has long been used to help strengthen people's teeth, and this in turn helps reduce the risk of sensitivity. Some prescription toothpastes for sensitive teeth have up to 5000ppm of fluoride, but when buying over-the-counter you'll get up to 1450ppm.
If you'd prefer to use a fluoride-free sensitive toothpaste for whatever reason, or you have an allergy to any of these other common ingredients, there are still some good options available.
Best toothpastes for sensitive teeth in the UK
So without further ado, let's look at some of the products you might want to try. We've included some 'everyday' brands as well as some you may not have heard of before. The following table summarises all of the toothpastes that we will discuss in this article:
Best for: sensitive teeth and remineralisation


600ppm fluoride with unique slow release

Best for: fluoride-free sensitive teeth and remineralisation

Janina Ultra White Sensitive Whitening

Best for: sensitive Whitening


Sensodyne Repair & Protect Extra Fresh

Best for: sensitive teeth and remineralisation

AloeDent Sensitive Aloe Vera Toothpaste

Best for: Soothing aloe vera for sore gums

Oranurse Unflavoured Toothpaste

Best for: Natural sensitive whitening toothpaste
Sensodyne Repair & Protect
We have to feature Sensodyne here, because this is what they do. Whichever Sensodyne toothpaste you choose, it'll be working to relieve the symptoms of hypersensitivity. We've picked out Sensodyne Repair & Protect here since it helps to repair damage too teeth, too. Containing Sensodyne's patented ingredient Novamin, it builds up a protective layer on the teeth.
Some people don't like the taste, but most say it leaves their teeth feeling clean and their breath fresh. Many reviewers have switched to Sensodyne after their dentist recommended it, like this one who comments:
"I have very sensitive teeth when it comes to 'hot and cold' so my dentist gave me a trial pack of Sensodyne Repair and Protect and informed me to use it for 1 week before I would see any improvement. Around 10 days later the 'hot and cold' issue had gone and no problems since so I keep using it. 100% pleased."

-Zeefour, Amazon reviewer
If you're after a whitening toothpaste for sensitive teeth then Sensodyne Whitening Repair & Protect is a good budget option, but we mention some others further down.
BioMin F
If you've tried Sensodyne with little success, give BioMin F a go. The way it works is similar, but the fluoride is actually a part of the active ingredient. This means that it is released slowly and steadily for up to 12 hours after brushing, whereas with most other toothpastes the added fluoride becomes ineffective after about two hours. BioMin F is the only toothpaste in the UK with approval from the Oral Health Foundation for remineralisation and sensitivity relief.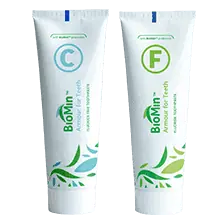 This unique formula also allows the fluoride concentration to be lower than most adult toothpastes at just 530ppm; but still more effective. If you're looking for a toothpaste without fluoride because of health concerns, you might want to read up on BioMin's technology before ditching fluoride altogether. But, they also make BioMin C which is a completely fluoride-free toothpaste for sensitive teeth.
There's no getting around the fact that BioMin costs more than Sensodyne, but you are getting a more premium product backed by award-winning research. You can buy in packs of 4 or 8 tubes on Amazon to get a better discount. In any case, plenty of reviewers consider it worth the price for the difference it has made to their teeth, often within just a few days:
"I tried all the other well known brands and they did nothing to ease the sensitivity, even though they were advertised to do so. This product did the job after about a month of use."

-Rick, Amazon reviewer
"I have very sensitive teeth. This is the best toothpaste I've had, much better that the high street ones."

-Mrs Rolt, Amazon reviewer
Our full write-up about BioMin toothpaste explains more about the technology used and contains some more detailed reviews. They also have a sensitive toothpaste for kids, in fun strawberry and melon flavours.
Colgate Sensitive Pro-Relief
As the biggest toothpaste brand globally, of course Colgate make a sensitive toothpaste. Colgate Sensitive Pro-Relief Enamel Repair toothpaste contains Arginine, which combines with calcium carbonate to form a protective layer over exposed dentin tubules. It also contains 1450ppm fluoride for enamel protection.
"Really does make a difference in a few days. Tooth was sensitive and having used it for a week it's gone," says one reviewer. Others say that they don't use it every day but keep some on hand for when their teeth start feeling sensitive again.
It's more expensive than most Colgate toothpastes, but still cheaper than some of the other specialist brands we've featured here. You should be able to find it in supermarkets and high-street chemists, which is an advantage over some other products that are easier to buy online.
Janina Ultra White Sensitive
If you're searching for the best whitening toothpaste for sensitive teeth, take a look at Janina Ultra White Sensitive whitening toothpaste. It relies on natural enzymes rather than abrasives to whiten teeth, so you're not putting your enamel at risk by using it. Dicalcium phosphate and fluoride help to strengthen teeth too.
"I love this toothpaste and the price was good from amazon about half the price of Boots!! Will continue to buy this as found it performed better than Sensodyne!" says one reviewer. Others mention that they like the strong minty taste.
Do have realistic expectations about what this or any other teeth whitening toothpaste will do for the colour of your teeth. If you want drastic results, a teeth whitening kit is probably the way to go. But for gradual stain removal, or maintaining the effect of bleaching, a whitening toothpaste like this can certainly help.
AloeDent Sensitive
AloeDent's range of natural toothpastes contain aloe vera and various other ingredients which help protect teeth and gums. In AloeDent Sensitive toothpaste you'll find echinacea, escin (from horse chestnuts) and tea tree oil. These have antibacterial and soothing properties, so can certainly help with sore gums, although the effect on sensitive teeth is more anecdotal than scientific.
Still, plenty of happy customers keep coming back to this toothpaste and say it has helped relieve their sensitive teeth and gums. It doesn't contain fluoride or SLS, so is worth a try if you'd prefer a natural toothpaste for sensitive teeth without these ingredients. It's also one of the few vegan sensitive toothpastes available in the UK.
Pro Teeth Whitening Co. Activated Charcoal Whitening Sensitive Toothpaste
Finally, we have a natural whitening toothpaste for sensitive teeth from British company Pro Teeth Whitening Co. Their products make use of activated charcoal, which is a natural stain remover. The charcoal is ground down to a very fine powder to minimise its abrasiveness in this product. It also contains soothing aloe vera.
With 100% naturally derived ingredients, this is another good vegan-friendly option without SLS and fluoride.
This toothpaste is not necessarily going to help if you suffer from extreme tooth sensitivity already. But if you want to whiten your teeth naturally and avoid abrasive ingredients that will contribute to sensitivity, this is a good choice.
Conclusion
To sum up, there are a lot of good toothpastes for sensitive teeth available in the UK! Choosing one that works for you will depend on:
How sensitive your teeth are to begin with
Whether you want a clinically proven product
Whether you want to avoid ingredients like fluoride and SLS
How much you are willing to spend
Whether you want whiter teeth as well
Fluoride is widely used to protect and strengthen enamel, which is why it's used in most toothpastes. Additional ingredients like hydroxyapatite and potassium nitrate will also help with sensitivity. If you have concerns about fluoride but still want the benefits for your teeth, BioMin F's low-fluoride formula could be a good choice. They also have fluoride-free BioMin C, if you prefer to avoid it altogether.
Whichever toothpaste you choose, it's important to brush at least twice a day and visit your dentist regularly for optimal dental hygiene.
FAQs
Does fluoride toothpaste help sensitivity?
Yes. Because fluoride helps to strengthen tooth enamel, it can be effective at relieving hypersensitivity. However, most sensitive toothpastes contain additional remineralising ingredients. These help to make the remineralisation process more effective and stop sensitivity quickly.
Is Sensodyne toothpaste good for your teeth?
Yes. In fact, any popular toothpaste would be considered good for your teeth as long as it is used correctly. Sensodyne brand toothpastes are known particularly for helping with sensitive teeth but, like any toothpaste, won't be very effective unless you brush with them twice a day.
Is Sensodyne safe to use everyday?
Yes. Any over-the-counter toothpaste is fine for daily use as long as you brush correctly. Excessive brushing with any toothpaste can cause enamel degradation, leading to increased sensitivity.
Can whitening toothpaste make teeth sensitive?
Yes, some whitening toothpastes are very abrasive and can wear away tooth enamel with prolonged use. To avoid this, use one of the toothpastes mentioned above, like Janina Ultra White Sensitive.
Which is the best toothpaste for sensitive teeth?
Look for a toothpaste containing fluoride and either hydroxyapatite or potassium nitrate to combat sensitivity and provide lasting protection to teeth. Some of the best brands, which we've reviewed in more detail above, include BioMin, Sensodyne and Colgate Sensitive.
Sign up to receive the latest news and offers from Dentaly.org