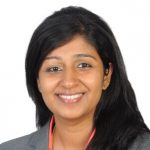 Dr. Asha Ramesh
Registered GDC number: 286060
Dental Hygienist and Contributing Expert
Dr. Asha Ramesh completed her Masters in Dentistry from India before moving into private practice in London. She is a registered dental hygienist in the UK. Dr. Ramesh has 20 publications in indexed journals with international and national distribution.
She was an invited Keynote Speaker at the World Dental and Oral Health Congress held in London and at the Global Summit and Expo for Dental and Oral Diseases, Abu Dhabi. She has won various awards on her research topics at national and international levels.
Dr. Ramesh is a medical contributor to Dentaly.org and does not endorse any of the products mentioned on pages to which she has contributed.