AP-24 toothpaste from Nu Skin is one of the many whitening toothpaste options out there if you want to build teeth whitening into your daily oral hygiene routine. It's not the cheapest though, so you're probably wondering if it's really worth the price tag.
Well, we have compiled this AP-24 whitening toothpaste review so you can find out more about the product and decide whether it's worth a try. It's certainly been getting a lot of hype, that's for sure!
Keep reading for more information on:
How this whitening toothpaste works
AP24 toothpaste ingredients
What real users say about it
Where to buy Nu Skin whitening toothpaste in the UK
We hope this information helps you decide whether or not this is the best toothpaste for you!
What is AP-24 toothpaste?
First of all, if you're looking to buy AP 24 toothpaste on Amazon or Ebay, you'll see that there are two kinds: Whitening and Anti-plaque. This AP-24 toothpaste review focuses on the whitening version, but below we'll give a brief description of the anti-plaque version in case that's of interest.
AP 24 Anti-Plaque
The AP 24 anti-plaque formula is meant to remove plaque, help fight against the future buildup of plaque and protect against cavities. For this purpose it contains the active ingredient Sodium Monofluorophosphate (fluoride) at a relatively high concentration of 1500ppm. It is safe to use on sensitive gums and teeth. This formula doesn't have the special whitening ingredients that the AP 24 Whitening toothpaste has.
AP 24 Whitening Toothpaste
The anti-plaque version has everything needed to keep your teeth healthy, but if you're looking for whitening, then you're probably more interested in the actual whitening version.
Nu Skin AP-24 toothpaste is one of many teeth whitening products available on the market for at-home use. But with so many whitening products on both the physical and virtual shelves, what makes AP-24 whitening toothpaste stand out?
Well, for a start, AP-24 toothpaste is a peroxide-free whitening toothpaste. This makes it ideal for people who have experienced tooth sensitivity with other whitening products that contain peroxides. Another benefit of AP-24 is that it contains dentist-recommended levels of fluoride to help protect and strengthen tooth enamel. This means you don't have to compromise on caring for your teeth while you're attempting to whiten them.
It has a vanilla mint taste which most reviewers are happy with, and the flip-top lid makes it convenient to use and store.
AP-24 toothpaste ingredients
Before we fully delve into this Nu Skin AP-24 toothpaste review to find out what consumers have to say, let's have a look at the ingredients. Here's a full list, if you're interested:
Aqua, Hydrated Silica, Sorbitol, Aluminum Hydroxide, Glycerin, Tetrasodium Pyrophosphate, PEG-12, Sodium Monofluorophosphate, Sodium Lauryl Sulfate, Dimethicone, Poloxamer 338, Poloxamer 407, Cellulose Gum, Sodium Sulfate, Sodium Saccharin, Sodium Oxide, Flavor, BHT, CI 77891, Limonene.
In terms of whitening, the most important ingredients are:
Hydrated Silica: A gentle abrasive that removes surface stains without eroding enamel.
Aluminum Hydroxide: Removes stains and polishes the tooth surface.
This gives the toothpaste a slightly abrasive texture, but it isn't as gritty as some whitening toothpastes you might have used. Stronger abrasives can end up damaging tooth enamel if used for extended periods.
The lack of peroxides is a pro for people who have experienced sensitivity when using peroxide-based whitening products in the past. However, this does mean that the toothpaste has limited whitening capabilities. Abrasives alone will only ever be able to get your teeth back to their natural colour; they won't get any whiter than they naturally are.
This means that AP-24 whitening toothpaste reviews are a little mixed. People with heavily stained teeth may get really noticeable results, whereas those whose teeth are already quite clean may not see much difference at all.
If you're wondering where the name AP-24 comes from, it's the name of the patented plaque-fighting agent used in Nu Skin's toothpastes. They say that it physically wraps around teeth, leaving them feeling cleaner and fresher for longer.
AP-24 toothpaste dangers
You might be wondering if there are any potential dangers to using this – or any other – whitening toothpaste. AP-24 uses gentle abrasive ingredients which shouldn't damage tooth enamel with reasonable use.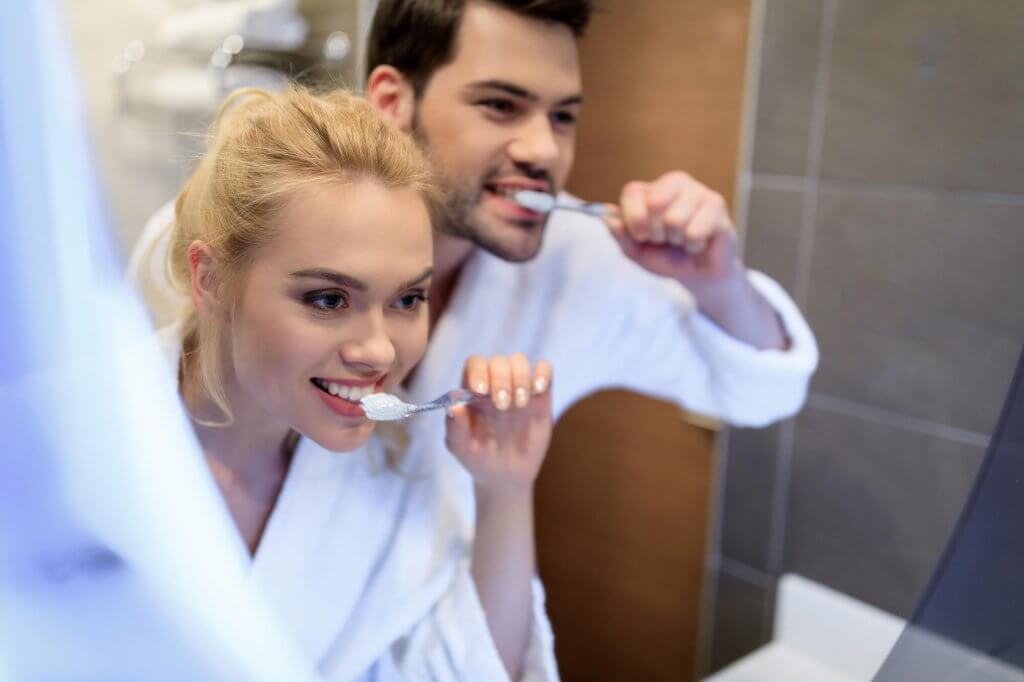 The International Standards Organization (ISO) has developed a scale to determine if a certain toothpaste is safe for daily use. Any toothpaste with an RDA (Relative Dentin Abrasivity) rating of less than 200 is generally safe. AP-24 whitening fluoride toothpaste has an RDA of 103, which places it somewhere in the middle of the scale compared to other whitening toothpastes.
The longer you use any kind of abrasive toothpaste, the greater the risk of enamel damage and tooth sensitivity. Therefore once your teeth are a shade you're happy with, you may want to switch to another type of toothpaste for a while. If you do experience any sensitivity while using AP-24, switch to another brand, like BioMin sensitive toothpaste, and speak to your dentist if you're concerned.
Ask a hygienist!
Tooth whitening is a process where the shade of the teeth is improved using whitening agents and the absorption of these agents being enhanced using laser or other modes.
Whitening doesn't technically imply a whiter tooth but it can lighten the existing colour. Most of these whitening agents contain hydrogen peroxide or some form of peroxide in varying concentrations and tooth whitening procedures can be done in-office and also at-home.
The in-office procedures will generally be shorter whereas, the at-home products will require product usage for an ongoing period of time. Most of the at-home products will contain a lesser concentration of these agents as it is being done outside of a dental professional's purview.
Although the whitening procedure can result in brighter teeth, one must be wary about smoking, drinking alcohol, or other foods that can stain teeth and affect the results of the treatment.
Please consult your dentist/hygienist, before choosing a whitening treatment.
Dr Asha Ramesh
Do be careful not to brush too hard in an effort to whiten your teeth faster, and always use a soft-bristled toothbrush that's replaced every three months.
AP-24 Whitening Toothpaste reviews
So now you know what's in AP-24 and how the ingredients work, let's look at some reviews to find out what people actually think of it.
AP-24 toothpaste reviews typically give four or five-star ratings, with people commenting that it's a nice toothpaste to use – as well as giving noticeable whitening results.
"A lot happier with my smile"
Peter gives us his AP-24 review in the following video. He has used quite a few different whitening products in the past, and gives AP-24 9 out of 10 stars overall. There's no bad aftertaste, no sensitivity, and it made his teeth feel "dentist polished".
"Very pleasant to use"
The reviewer in the video below used AP-24 toothpaste for about a month to test it out. She says she didn't notice much change in her tooth colour while using it, but since stopping, her teeth have looked "considerably worse"!
Other things she mentions are:
It has a pleasant flavour
It feels nice to use
Her teeth felt shinier while using it
Overall, she would recommend the product for other people to try but probably wouldn't buy it again herself because of the price tag.
AP-24 reviews on Amazon
Finally, let's look at a selection of reviews from Amazon, where real users share their experience using AP-24 toothpaste:
"I love this toothpaste! I have been using AP24 toothpaste for about 3-4 years now. Definitely the best whitening toothpaste on the market. Your teeth will start to look whiter after only a matter of days."
"My teeth feel clean but hasn't made them look any whiter so waste of money really"
"Didn't notice any difference in the whiteness of my teeth. The texture is like face cream which was a bit off putting. Wouldn't buy again."
"What a great whitening toothpaste, I've tried several of them but this is the best, if your looking to whiten your teeth, then get this!"
So, a bit of a mixed bag really, as you might expect with a product of this nature.
Buying AP-24 Whitening Toothpaste in the UK
You can buy Nu Skin products directly from their website, where a shipping fee of at least £2.99 applies unless you spend upwards of £300. Another option is to buy via Amazon, where you can benefit from free shipping on a much smaller purchase. You may also find better prices, especially if you buy in bulk. Click below to check the best prices for AP-24 toothpaste on Amazon:
Alternative whitening products
Our top recommended alternative to AP-24 Whitening Toothpaste that helps to improve the health of your teeth while whitening is Hismile's PAP+ Whitening Powder.
This whitening powder can be used with your regular toothpaste and uses Phthalimidoperoxycaproicacid (PAP) to whiten teeth without the use of hydrogen peroxides. It has no side effects during the oxidization process, and therefore no pain or sensitivity after use.
It also includes the ingredients Hydroxyapatite (HAp) which helps to remineralise tooth enamel and Potassium Citrate which decreases pre-existing tooth sensitivity. This powder can be used for daily whitening, or as a way of maintaining results after a whitening treatment.
Whitening toothpastes can be a good way to build whitening into your daily oral care regime and achieve mild results. If you want to see a more drastic change in your tooth colour then you'll need to consider a teeth whitening kit or professional whitening at the dentist.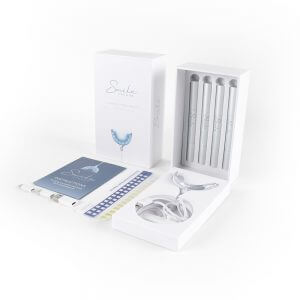 One whitening kit that we recommend is Smile Avenue. Their gel uses Phthalimidoperoxycaproic Acid (PAP) in a formula that's designed to remineralize teeth and prevent sensitivity. In just a week or two your teeth should be several shades brighter, but if you're not happy with the results there's a 30-day money back guarantee.
We've written a full review of Smile Avenue with more details about the product, or you can check current offers on their website and get an extra 10% off with code DENTA10!
Teeth whitening at the dentist can give even better results but is also much more expensive. Ultimately, the best teeth whitening method for you will depend on your budget and the results you want to see.
Conclusion
If you are in search of effective and safe teeth whitening toothpaste, the Nu Skin AP-24 could be a good option. It's certainly one of the more popular dental care products on the market if you want to remove stains and protect your teeth at the same time.
Do keep in mind that, as with most teeth whitening products, results will vary from one person to another and may depend on how stained your teeth are when you begin. Also remember to visit your dentist for regular checkups, since the colour of your teeth is only one aspect of your overall oral health.
FAQs
Does AP-24 whitening toothpaste ruin enamel?
The International Standards Organization has a scale, called the Relative Dentin Abrasivity rating, used to determine whether or not a certain kind of toothpaste is safe for daily use. If a toothpaste has a rating of less than 200, it's considered safe. And the good news is, AP 24 has a rating of 103, making it safe and less abrasive than some other leading whitening toothpaste.
Does AP-24 work?
The majority of AP-24 whitening toothpaste reviews indicate some degree of whitening. However, not everyone is raving about their results, and some people are actually disappointed. This could be because it costs 3-4 times the amount of a regular tube of toothpaste. It is possible that a whitening kit may be a better investment for guaranteed, faster results.
Is AP24 toothpaste safe?
Yes, AP24 is a safe whitening toothpaste. Its relatively low abrasiveness means that it shouldn't harm your enamel and it also contains fluoride for extra protection. If you have any concerns, speak to your dentist before using it.
Are there any risks with using AP24 toothpaste for whitening?
AP-24 has a lower abrasivity rating which means a reduced risk of causing enamel damage. Other kinds of whitening toothpaste generally rely on some degree of abrasion to polish teeth. This can result in enamel erosion if used for an extended period of time.
However, even reduced risk of enamel erosion, you may want to alternate with regular toothpaste once you have achieved a satisfactory shade of whitening.
Sign up to receive the latest news and offers from Dentaly.org