If you are looking for the best teeth aligners in the UK, you've come to the right place. Not everyone that has crooked or misaligned teeth wants to wear braces, and clear aligners are a popular and much less noticeable option.
With the market being flooded with different types of aligners, it can be hard to know which ones are any good. Everyone has different needs, so what works for one person may not be any good for you.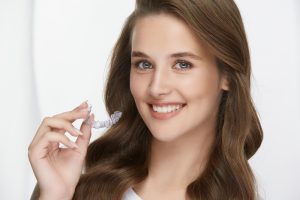 We have compiled some of the best invisible aligners in the UK so you can make an informed choice. We will discuss the following points about each one, so you can get a good idea of what might work for you:
Teeth aligner price range
In-office or remote supervision
Aligner treatment time
Who is eligible for teeth aligners?
We will also discuss invisible aligners and how they work, as well as who might be eligible for treatment. Let's get started and find out exactly what teeth aligners are.
What are invisible aligners?
Invisible aligners are custom-made, clear plastic trays that apply pressure to straighten your teeth. Aligner treatment is a removable alternative to fixed braces and they are less visible when worn.
These aligners can generally only treat mild to moderate orthodontic cases, including:
Crowded teeth
Crooked teeth
Gaps
Mild malocclusion
Some invisible aligner options, like Invisalign, can treat more complex cases using attachments and elastic bands. You have probably already heard about Invisalign as one of the best teeth aligner brands in the UK, but you have probably also realised that they are one of the most expensive.
Fortunately, there are cheaper options available – especially if you're considering at-home aligner treatment.
Find the right clear aligners for you
Are at-home clear aligners a good option for you? Learn more about our top picks.
Free scans
Free scans at 17 UK SmileShop locations
Nighttime aligners available
Lifetime Smile Guarantee™
£1,639 or £69.43/month + free teeth whitening
SmileDirectClub has been offering aligner treatment at home for over 8 years, making them one of the most experienced companies in this market.
Treatment takes 4-6 months on average, or 10 months for nighttime-only aligners. Their UK-based customer care is available 24/7 should you need to reach out at any time.
There are several ways you can get started:
Every aligner package comes with free bright on™ teeth whitening, so you can whiten your teeth while you straighten them!

Best value
Free retainers and whitening
Nighttime aligners available
0% interest finance options
£1,395 £1,295 or £83.33/month
NewSmile is a Canadian company that brought its clear aligners to the UK market in 2022. NewSmile aligners are made from the clearest material and the company offers excellent service at the best price.
They don't have any physical locations, so you'll need to purchase an aligner kit to get started. One of their Impression Specialists will guide you through the process on a video call when you're ready.
NewSmile aligners are very affordable, costing just £1,395 (currently discounted to £1,295). But even better, this price includes whitening foam to use in your aligners, plus your first set of retainers!
Choose their daytime package for treatment in 4-6 months, or nighttime aligners for a more discreet treatment that takes 8-10 months. Both options come with 0% interest payment plans available.
How do teeth aligners work?
Teeth aligners work by closely fitting to your teeth and applying pressure. Over time your teeth will gradually move into the desired positions and your smile will be aligned. Generally, you change aligners every 2 weeks so that pressure is constantly applied throughout your treatment as your teeth move.
Although this is how most clear aligners work, there are a few key differences between brands. The most important difference is that some aligners are at-home treatments, and some are in-office.
In-office aligners
In-office dentist aligners are generally more thoroughly supervised by a dentist or orthodontist. They require an initial appointment at a dental practice to access your eligibility. Then, you will get a 3D scan of your teeth, or impressions made. You will receive a treatment plan that maps your entire orthodontic treatment.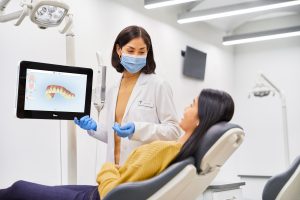 Once you receive your aligners, you will be expected to wear them for about 22 hours per day. This may change between brands but wearing aligners for fewer hours per day might cause your treatment to take longer.
Usually, you are required to attend in-practice check-ups every 2 – 4 weeks. Some brands use a mixture of face-to-face appointments and remote monitoring via an app. You should get new aligners roughly every 2 weeks to continue your treatment, all going well.
These types of aligners cost around the same as traditional braces, and you receive the same level of hands-on care with regular visits to your dentist. In-office aligners like the Invisalign system can treat more complex orthodontic cases than at-home aligners.
At-home teeth aligners
At-home aligners, otherwise known as mail-order aligners or direct-to-consumer (DTC) aligners, are supervised remotely, and you may never meet your dentist in person. Although they can treat simple cases effectively, you don't get the same hands-on care that you would from visiting a dentist regularly.
Sometimes your first appointment will be in-person for your 3D scan, or you may just receive an impression kit that you will do at home and send back. You will then receive all the aligners in the post along with a treatment plan. This treatment plan should tell you exactly when to change to a new set of aligners.
Certain brands offer a nighttime-only aligner treatment option, which means that you only need to wear your aligners for around 10 hours per day. Because of this, you can go about your day as normal and just pop your aligners in at bedtime. Since you're only wearing your aligners for half as long each day, it will take around twice as long to complete the treatment.
Some of the better-known at-home aligner brands include the following:
But are at-home invisible aligners really any good?
We can say that they do work in many cases for people with mild to moderate orthodontic issues. They can be a good choice for patients who can't afford in-office treatment, or who are very afraid of visiting the dentist.
However, we would always recommend speaking to a dentist first to understand whether you are a suitable candidate. Your dentist should also check for any cavities, gum disease, or other conditions that should be treated before wearing aligners.
What are the best teeth aligners in the UK?
Let's discuss some of the best teeth aligners available in the UK. There is a range of different features to consider, so there should be something for everybody!
SmileDirectClub
Our top recommendation is SmileDirectClub for its affordable and convenient at-home aligner treatment. Packages cost just £1,639, with daytime or nighttime treatment available.
One benefit of SmileDirectClub over other home aligner brands is its network of SmileShops in the UK. These are physical locations that you can visit for a free 3D mouth scan – a great option if you want to get started quickly or don't like having to do putty impressions.
However, if you prefer to do everything from home, or there isn't a convenient SmileShop nearby, you also have the option of ordering an impression kit. This allows you to take teeth impressions from home and post them back to the lab for treatment planning.
SmileDirectClub is able to keep its prices low because there are no physical dental practices and no in-person dental appointments. Instead, a dentist uses your digital scans or home impressions to create and prescribe your treatment, then checks in every 90 days to make sure your teeth are moving correctly and to plan.
These aligners are suitable for mild and some moderate corrections, so if your case is more complex then you may still need to go down the traditional braces route. You can take an online assessment now to see if you would be a good candidate.
NewSmile
NewSmile is a Canadian brand that has been providing home aligner treatment since 2018, but recently launched in the UK. They offer the best value treatment package; for just £1,295 you get:
Home impression kit
Treatment preview
Full aligner treatment
First set of retainers
Free whitening treatment
If you chose their nighttime treatment, it costs a little extra at £1,395. All treatments have flexible payment options with 0% interest.
You'll get a full refund if NewSmile's network of dentists and orthodontists decide you are not a good fit for the treatment. You also have the option to purchase an impression kit for £39 to get started, without committing to the full treatment.
NewSmile aligners are made from Raintree Essix plastic, which is the clearest plastic for aligners available on the market today. These aligners work on multiple teeth at the same time, which is why they can keep treatment time to just 4-6 months on average.
Straight My Teeth
Straight My Teeth is another direct-to-consumer aligner company offering affordable teeth aligners in the UK. Treatment prices start at £1,199, with two sets of retainers included.
However, Straight My Teeth has currently paused its services in the UK and is not accepting new patients.
You may not be able to get these aligners any more, but the following review video is still worth watching if you want an idea of what to expect with aligners.
Here, Geordie Jo shares her journey to straighter teeth on her YouTube channel. The video jumps in when she is just starting her 15th set of aligners. Jo gives a really realistic insight into Straight My Teeth aligners, and how it feels when you change aligners.
You can really see how much discomfort she is in at first, but over time she gets used to them. Until she changes aligners to set 16. With set 16 she shares that she is in a lot of pain and that this is the worse set yet. But, in the end, she decides to take a break and keep set 16 on for longer before moving to set 17.
Even though she experienced a lot of pain, she is actually quite happy with the changes in her teeth and shares her before and after pictures. Jo does say she wished the communication was better from customer service.
Invisalign
Invisalign aligners from Align Technology are some of the best-known aligners around the world with over 11 million patients treated so far.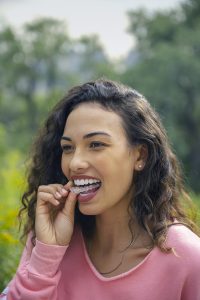 Invisalign braces are probably the most similar to fixed braces when it comes to effectiveness because they can treat the majority of orthodontic cases. The average treatment cost is around £4,000 using Invisalign Comprehensive, making it comparable to fixed braces in terms of cost, too.
Treatment with Invisalign Comprehensive takes 12-24 months on average, largely depending on the complexity of your case.
Even if you have milder orthodontic issues, Invisalign treatment is still a great choice because of the direct orthodontic supervision and overall care and service. However, if you are on a tight budget, there are more affordable options that can be just as effective.
I got Invisalign – the first 24 hours
The following video is a review from YouTube vlogger, Emma Louise. This is a great example of someone who didn't have major orthodontic issues but still opted for Invisalign treatment. She takes us through her consultation with her Invisalign provider, the process of getting her aligners, and learning how to take them in and out of her mouth.
Emma's review is only of the first couple of weeks of having Invisalign aligners. She says that she will continue to do updates on her YouTube as her treatment progresses, but so far she is happy with it!
Clear Correct
ClearCorrect is another well-known in-office aligner company. They were founded in 2006 in the US, and later launched in the UK.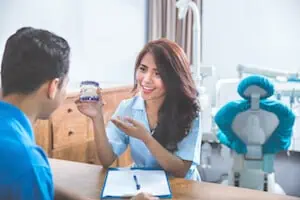 They are similar to Invisalign aligners except they are made from a slightly thinner material (Polyurethane resin). According to some reviews, this thinner material is uncomfortable and may cause sores on your tongue. But, other patients find it more comfortable.
ClearCorrect work with a network of dentists to provide treatment, but unfortunately, it isn't always easy to find a provider. This is because they don't have an easy-to-access list of providers in the UK. Your best bet at finding a ClearCorrect provider near you is to ask your local dentists.
Treatment can take between 3 months to 18 months depending on the complexity of your case, with more complex cases taking longer to treat. The cost of these aligners can range between £1,800 for mild cases that last just 3 months, to £4,500 or more.
If you want to learn more about Clear Correct you can read our full review here.
ClearCorrect before and after – was it worth it?
In the following video, YouTube vlogger Cassie Nero reviews her ClearCorrect experience and shares her before and after pictures. She says she feels a lot more confident with her teeth after treatment, however, she does think that something is not quite right with her jaw.
Cassie does say this is probably from grinding her teeth or using a dummy as a child, but she has only noticed it after treatment so she will get it fixed in the future.
Straight Teeth Direct
Straight Teeth Direct is another at-home aligner option. The treatment process begins with an online assessment, then you must purchase an impression kit for £69 or visit their dentist in London at a cost of £79. After being approved, the treatment itself costs £1,550, including one set of retainers.
Like most at-home aligners, Straight Teeth Direct can only treat mild to moderate orthodontic issues. There is no nighttime option available, and the standard treatment takes 5-9 months.
All of your treatment monitoring is done remotely via an app, with an orthodontist checking your progress, and you change your aligners every couple of weeks following your plan.
Dr Smile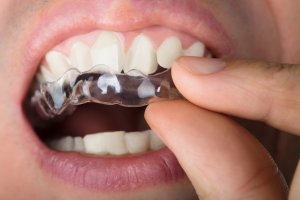 These aligners are relatively new to the clear aligner market in the UK. Treatment is carried out from home, but you do visit a GDC-registered dentist for a consultation before your treatment is approved. You also have the option of an in-person visit if needed at any time. The rest of your treatment is monitored remotely via an app.
Once your treatment has begun, you are required to check in on the app and switch aligners every 2 weeks. According to reviews, some people don't always manage to check in on the app when they should. This can lead to problems down the line if something goes wrong with your treatment.
There are no fixed prices for Dr Smile aligners; it depends on how your treatment is classified after the initial assessment. However, most cases cost between £1,390 and £2,090 to treat. Payment plans are available so you can choose to pay monthly.
Summary of best teeth aligner options in the UK
We have covered quite a few different brands here, and we hope you have found one that suits your treatment needs and your budget. Below is a summary of our top clear aligner brands in the UK:
| | | | | |
| --- | --- | --- | --- | --- |
| | | | | |
| | | | | |
| Suitable for mild problems? | | | | |
| Suitable for mid-level problems? | | | | |
| Suitable for complicated problems? | | | | |
| | | | | |
| | Yes, plans vary from dentist to dentist | Yes, 12 months interest-free | Yes, £1805.19 with finance at £69.43/month | Yes, plans vary from dentist to dentist |
| | | | | |
| | | | | |
| | In person and remotely via app | | | In person and remotely via app |
| | | | BPA-free thermoplastic PET-G | |
| | | | | |
Conclusion
Depending on your orthodontic needs, there are teeth aligners to suit everyone.
For convenient clear aligners at a fixed and affordable price, our recommendation is SmileDirectClub. You never need to take time off work to go and see a dentist with these aligners as your treatment is all done remotely. However, they are designed for only mild and some moderate orthodontic correction so you will need to check if you're a good candidate first!
You can do this by taking an online assessment, making an appointment at a SmileShop for an initial consultation, or just ordering a home impression kit straight to your door.
Another great option for treatment at home is NewSmile. Although this brand is newer to the UK, we believe their service is just as good – and they are more affordable, costing from £1,295.
If you are looking for in-person treatment, with more direct orthodontic monitoring, then Invisalign invisible braces may be for you. They are also a great choice for people with more complex orthodontic issues, including severe crowding or misalignment, but they are one of the most expensive options.
Other options out there vary in terms of the level of service, cost, treatment time and accessibility. The best teeth aligners for you will depend on a combination of these factors, as well as the amount of correction your teeth need.
Sign up to receive the latest news and offers from Dentaly.org