If you are looking for the best teeth aligners in the UK, you've come to the right place. Not everyone that has crooked or misaligned teeth wants to wear braces, and clear aligners are a popular and much less noticeable option.
With the market being flooded with different types of aligners, it can be hard to know which ones are any good. Everyone has different needs, so what works for one person, may not be any good for you.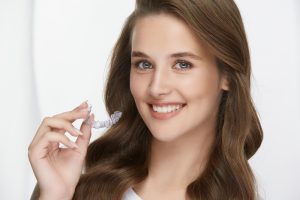 We have compiled some of the best invisible aligners in the UK so you can make an informed choice. We will discuss the following points about each one, so you can get a good idea of what might work for you:
Price range
App or in-office supervision
Treatment length
Who is eligible?
We will also discuss invisible aligners and how they work, as well as who might be eligible for treatment. Let's get started and find out exactly what teeth aligners are.
What are invisible aligners?
Invisible aligners are custom made, clear plastic trays that apply pressure to straighten your teeth. Aligner treatment is a removable alternative to fixed braces and they are less visible when worn.
These aligners can generally only treat mild to moderate orthodontic cases, including:
Crowded teeth
Crooked teeth
Gaps
Malocclusion
However, some invisible aligner options like the Invisalign system have superior technology. With the use of digital scans, attachments, buttons and elastic bands, they can treat more complex cases at a cost. Invisalign aligners are probably the most expensive brand of invisible aligners on the market.
How do clear aligners work?
Clear aligners work by closely fitting to your teeth and applying pressure. Over time your teeth will gradually move into the desired positions and your smile will be aligned. Generally, you change aligners every 2 weeks so that pressure is constantly applied throughout your treatment as your teeth move.
Although this is how most clear aligners work, there are a few key differences between brands. The most important difference is that some aligners are at-home treatments, and some are in office.
In-office aligners
In-office aligners are generally more thoroughly supervised by a dentist or orthodontist. They require an initial appointment at a dental practice to access your eligibility. Then, you will get a 3D scan of your teeth, or impressions made. You will receive a treatment plan that maps your entire orthodontic treatment.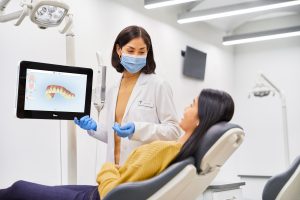 Once you receive your aligners, you will be expected to wear them for about 22 hours per day. This may change between brands but wearing aligners for fewer hours per day might cause your treatment to take longer.
Usually, you are required to attend in-practice check-ups every 2 – 4 weeks. Some brands use a mixture of face to face appointments and remote monitoring via an app. You should get new aligners roughly every 2 weeks to continue your treatment, all going well.
These types of aligners cost around the same as traditional braces, and you receive the same level of hands-on care with regular visits to your dentist. In-office aligners like the Invisalign system can treat more complex orthodontic cases than at-home aligners.
At-home aligners
At-home aligners, otherwise known as mail-order aligners, are supervised remotely, and you may never meet your dentist in person. Although they can treat mild cases effectively, it's debatable whether remote monitoring is as good as in-practice appointments.
Sometimes your first appointment will be in-person for your 3D scan or you may just receive an impression kit that you will do at home and send back. You will then receive all the aligners in the post along with a treatment plan. This treatment plan should tell you exactly when to change to a new set of aligners.
Some of the better known at-home aligner brands include the following:
PlusDent
Straight My Teeth
Are at-home aligners really any good?
We can say that they do work in some cases for people with mild orthodontic issues, and who are on a very tight budget. They can also be a good choice for patients who are very afraid of visiting the dentist.
However, we would always recommend speaking to a dentist first and opting for an in-office treatment like the Invisalign system if possible. This is especially true if your teeth require moderate or severe movement.
Best invisible aligners in the UK
Now that you know some of the differences between invisible aligners, let's discuss some of the best available in the UK. There is a range of different features to consider, so there should be something for everybody!
The following table summarises all of the invisible aligners that we will discuss:
| | | | | | |
| --- | --- | --- | --- | --- | --- |
| | | | | | |
| | | | | | |
| Suitable for mild problems? | | | | | |
| Suitable for mid-level problems? | | | | | |
| Suitable for complicated problems? | | | | | |
| | | | | | |
| | Yes, £1682.17 financed at £70.09 per month | Yes, plans vary from dentist to dentist | Yes, deposit of £295 and 12 payments of £67 | Yes, plans vary from dentist to dentist | Yes, plans available based on treatment length and complexity |
| | | | | | |
| | | In person and remotely via app | Remotely via app, but they do have 1 physical location in London | In person and remotely via app | |
| | Thermoplastic PET-G that's BPA-free | | | | |
SmileDirectClub
Our top recommendation is SmileDirectClub (SDC) for its affordable and convenient aligner treatment. SDC is a teledentistry company that offers treatment at a more affordable and fixed price than in-person brands.
While they have physical locations available for your first appointment, you need never have to see a dentist during your treatment if you don't want to. Even your first appointment isn't necessary as you can just order an impression kit rather than travel to a SmileShop.
SDC is able to keep its prices low because there are no physical dental practices and no in-person dental appointments. Instead, a dentist uses your digital scans or home impressions to create and prescribe your treatment, then checks every 90 days to make sure your teeth are moving correctly and to plan.
They are designed for mild and some moderate corrections, so if your case is more complex then you may still need to go down the traditional braces route. However, speak to your dentist first before deciding on any orthodontic treatment as they will be able to help you make the right decision. You can also take an online assessment now to see if you would be a candidate for treatment, or order a home impression kit for just £10!
Straight My Teeth
For those on a budget, Straight My Teeth is by far the most affordable teeth aligner option. You can get your entire clear aligner treatment for just £999. They also offer a 100% money-back guarantee if you find you are not eligible for treatment. But, why are they so cheap?
Well, Straight My Teeth aligners are in the at-home aligner category. They are remotely monitored via an app by a team of orthodontists, dentists and dental technicians. All contact is done through video calls and email.
You can have your initial consultation face to face, and get your 3D scan in person. Or, if their Smile Studio in London is too far for you to travel, you can order an impression kit online.
Unlike Invisalign aligners, Straight My Teeth can only treat mild to moderate cases of crowding, or gaps between teeth. If your case is more complex – or you want to be able to see a dentist in person – then you will need to opt for an in-office aligner or traditional fixed braces.
Treatment length with Straight My Teeth is typically a little shorter than fixed braces. The average treatment takes between 9 – 12 months, which is longer than some other aligner brands.
Journey to straight teeth – 15th and 16th set of clear aligners at home
The following video is a review from Geordie Jo, a YouTuber who shares her journey to straighter teeth on her channel. The video jumps in when she is just starting her 15th set of aligners. Jo gives a really realistic insight into Straight My Teeth aligners, and how it feels when you change aligners.
You can really see how much discomfort she is in at first, but over time she gets used to them. Until she changes aligners to set 16. With set 16 she shares that she is in a lot of pain and that this is the worse set yet. But, in the end, she decides to take a break and keep set 16 on for longer before moving to set 17.
Even though she experienced a lot of pain, she is actually quite happy with the changes in her teeth and shares her before and after pictures. Jo does say she wished the communication was better from customer service.
NewSmile
NewSmile aligners are clear aligners that you can use to straighten your teeth at home. Although there are similarities between NewSmile and other at-home aligner brands, there are also a few important differences.
One of these is the material used. NewSmile aligners are made from Raintree Essix plastic, which is the clearest plastic for aligners available on the market today. These aligners work on multiple teeth at the same times, which is why they can keep treatment time so short.
Treatment with NewSmile is 100% remote and this eliminates the need for dental clinic overheads and service costs. This also leads to treatment that is much more affordable than traditional braces.
NewSmile clear aligners require 22 hours of wear per day, and treatment usually lasts about six months.
In addition to upfront payments, NewSmile also offers payment plans. You can choose the 'Fast Track' payment that requires a lump sum payment of £1,095 for daytime treatment and £1,195 for the nighttime treatment. Alternatively, you can buy the impression kit separately for £39 and then buy your aligners when you are approved for treatment. If you aren't eligible, you can get a full refund on your kit.
Both of these options include the impression kit, treatment preview, aligners, retainers, and whitening.
If you want to spread your payments out, you can choose the monthly payment plan. This requires a £295 payment for the daytime option, with 12 monthly payments of £75. If you opt for the nighttime option, it requires a £295 payment, with 12 monthly payments of £83. Monthly plans start at 0% APR.
Invisalign
Invisalign aligners from Align Technology are some of the best-known aligners around the world with over 11 million patients treated so far.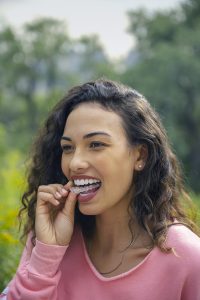 Invisalign braces are probably the most similar to fixed braces when it comes to effectiveness because they can treat up to 90% of orthodontic cases. Even if you have milder orthodontic issues, Invisalign treatment is still a great choice because of the direct orthodontic supervision and overall care and service.
The Invisalign system offers several treatment options depending on the type and amount of teeth straightening you require. The cost and duration of your aligner treatment will depend on the option most suited to you.
Invisalign Comprehensive treatment may take anywhere from 12 to 18 months, with more complex cases taking longer. Invisalign Express has the shortest treatment timescale at just 3 to 6 months and Invisalign Lite takes somewhere between 6 to 8 months. Express and Lite are only suitable for milder cases.
Invisalign Comprehensive for adults and teenagers can cost £3,500 – £5,500 and Invisalign Lite can cost £2,500 – £4,000. Invisalign Express is the cheapest option, costing £1,500 – £3,000 on average.
So, depending on your needs there is something for everyone.
I got Invisalign – the first 24 hours
The following video is a review from YouTube vlogger, Emma Louise. This is a great example of someone who didn't have major orthodontic issues but still opted for Invisalign treatment. She takes us through her consultation with her Invisalign provider, the process of getting her aligners, and learning how to take them in and out of her mouth.
Emma's review is only of the first couple of weeks of having Invisalign aligners. She says that she will continue to do updates on her YouTube as her treatment progresses, but so far she is happy with it!
Clear Correct
ClearCorrect is another well-known in-office aligner company. They were founded in 2006 in the US, but are relatively new to the UK market.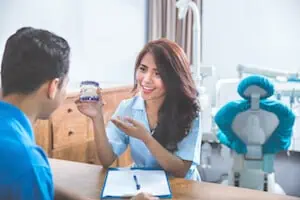 They are similar to Invisalign aligners except they are made from a slightly thinner material (Polyurethane resin). According to reviews, this thinner material is uncomfortable and may cause sores on your tongue.
ClearCorrect work with a network of dentists to provide treatment, but unfortunately, it isn't always easy to find a provider. This is because they don't have an easy to access list of providers in the UK like Invisalign do. Your best bet at finding a ClearCorrect provider near you is to ask your local dentists.
Treatment can take between 3 months to 18 months depending on the complexity of your case, with more complex cases taking longer to treat. The cost of these aligners can range between £1,200 for mild cases that last just 3 months, to £4,500+.
In general, ClearCorrect can only treat mild to moderate orthodontic cases. But, if you think your case is more complex it is always best to speak with a provider to find out if you're eligible. If you want to learn more about Clear Correct you can read our full review here.
ClearCorrect before and after – was it worth it?
In the following video, YouTube vlogger Cassie Nero reviews her ClearCorrect experience and shares her before and after pictures. She says she feels a lot more confident with her teeth after treatment, however she does think that something is not quite right with her jaw.
Cassie does say this is probably from grinding her teeth or using a dummy as a child, but she has only noticed it after treatment so she will get it fixed in the future.
Straight Teeth Direct
Straight Teeth Direct are another at-home aligner option. They are slightly more expensive than Straight My Teeth, costing £1,350, which is still a lot less expensive than most in-office aligner options.
Like most at-home aligners Straight Teeth Direct can only treat mild to moderate orthodontic issues. If you want to get Straight Teeth Direct aligners, you need to fill out a questionnaire online to deem if you are eligible.
If you are eligible you will receive an impression kit to do at home, which you then send back to receive your treatment plan and teeth aligners.
All of your treatment monitoring is done remotely via an app, and you change your aligners every couple of weeks following your plan. Then, once your treatment is complete you would need to pay for the maintainer plan to get your retainers.
I'm 90% of the way through my journey and everything has been smooth. Overall I am happy with the result so far, currently having a discussion about a few tweaks I would like to make.

Zoe, Trustpilot review
As per their prediction my treatment will last for 11months and now its 8month . I am on my last aligner and still not happy Results. I am expecting further information but its very slow in response.

Sooty, Trustpolot review
PlusDent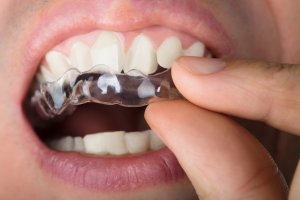 These aligners are relatively new to the clear aligner market in the UK. We have included them because they are a hybrid system of both in-office and remote monitoring. So, you still see a dentist for some of your treatment, which is better than not at all!
Your initial assessment will be in-person with a PlusDent provider registered with the General Dental Council (GDC). Then, once you begin treatment, your progress will be monitored remotely via an app. However, this is still quite different to the direct in-person orthodontic monitoring of the Invisalign system.
Once your treatment has begun, you are required to check in on the app and switch aligners every 2 weeks. According to reviews, some people don't always manage to check in on the app when they should. This can lead to problems down the line if something goes wrong with your treatment.
These aligners cost between £1,390 and £2,190, making them slightly more expensive than their competitors. There are 3 different treatment prices depending on the severity of your case, with less complex cases being cheaper, and more severe cases that take longer being more expensive. However, payment plans are available so you can choose to pay monthly.
My PlusDent appointment was great. The clinician carrying out the appointment was very thorough with her work.

– Ishaq, Trustpilot review
Unfortunately I wasn't suitable for the treatment, but the dentist I saw for the initial assessment couldn't have been more helpful.

Nicky, Trustpilot review
Some other well-known at-home aligner brands include the following:
Conclusion
Depending on your orthodontic needs there are teeth aligners to suit everyone's needs. For convenient clear aligners at a fixed and affordable price, our recommendation is SmileDirectClub. You never need to take time off work to go and see a dentist with these aligners as your treatment is all done remotely. However, they are designed for only mild and some moderate orthodontic correction so you will need to check if you're a candidate first!
You can do this by taking an online assessment, making an appointment at a SmileShop for an initial consultation, or just ordering a home impression kit straight to your door.
If you are looking for in-person treatment, with more direct orthodontic monitoring, then Invisalign invisible braces may be for you. They are also a great choice for people with more complex orthodontic issues, including severe crowding or misalignment, but they are one of the most expensive options.
If you are on a budget and want the cheapest aligners out there then Straight My teeth is the one to look at. Keep in mind that these teeth aligners can only treat mild cases and you may not get the best care through their remote monitoring.
Other options out there vary in terms of the level of service, cost, treatment time and accessibility. The best teeth aligners for you will depend on a combination of these factors, as well as the amount of correction your teeth need.
Taking everything into account, our top pick is SDC aligners for their affordable and convenient treatment. If you are interested in checking if you're a candidate take their online assessment now.
Sign up to receive the latest news and offers from Dentaly.org