ClearCorrect is one of the main options for invisible braces in the UK. If you have wonky, misaligned, or gappy teeth that are making you self-conscious, clear aligners are a great way to straighten your teeth without everybody knowing about it.
But once you've decided on this treatment option, you still need to pick a brand. How do you know if ClearCorrect is the best one for you?
While doing your research you've probably heard a lot about ClearCorrect's competitors, including the Invisalign system. Information about ClearCorrect is a bit harder to find, though, so in this article we'll go through all you need to know about:
What clear aligners are and how they work
ClearCorrect aligners and their benefits
What ClearCorrect costs in the UK
ClearCorrect vs Invisalign
How to choose the right treatment for you
Invisible braces are just one way to straighten teeth inconspicuously, and our guide to braces for adults looks at some of the other options. But for now we're going explain all about ClearCorrect clear aligners, what they cost, and how they compare to Invisalign aligners.
What is ClearCorrect?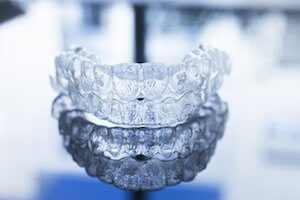 Removable clear aligners from companies like ClearCorrect and Invisalign have the same outcome as fixed braces; your teeth will be straighter at the end of your treatment. The way they work is quite different, though. Clear teeth aligners are made out of plastic and fit snugly over your teeth, similar to a mouthguard.
Your dentist or orthodontist will plan your treatment and give you your aligners. You change to a new set of aligners around every two weeks, and over the course of your treatment, they gradually shift your teeth into place.
Treatment takes 12-18 months on average, but varies for each individual. It can be as quick as 3-6 months for mild straightening.
Invisible aligners are suitable for a range of orthodontic problems, including:
They work for up to 90% of cases, but the most severe malocclusions have to be treated with fixed braces instead.
You'll need to keep your aligners in for at least 22 hours each day. They must be removed for eating and drinking anything other than water, and you must clean your teeth and your aligners before replacing them. If you want to know more about invisible braces, read our removable braces guide which has a lot more information about how they work and how they compare to other ways of straightening teeth.
ClearCorrect Invisible Aligners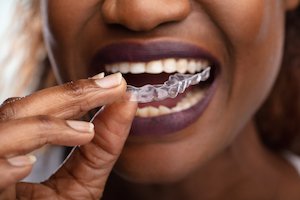 ClearCorrect was founded in 2006 in the USA, but is relatively new to the UK market. Like other aligners, they fit over your teeth and gently push them into a straighter position. The aligners are made of polyurethane resin and contain no BPA or phthalates.
ClearCorrect is part of the Straumann Group, a brand you might have heard of because they are a leading name in the dental implant industry, known for their high quality.
The company has stuck to its American roots and still carries out all its research, development and manufacturing in its Center of Excellence in Texas.
What do ClearCorrect providers offer?
ClearCorrect work with a network of UK dentists to provide teeth straightening treatment. Providers offer a consultation and develop a customised treatment plan for you.
Finding a ClearCorrect dentist or othodontist near you is not that simple, since they don't have an easily accessible list of providers in the UK. You can ask around some dentists near you, contact the company directly, or do an internet search for your local area.
Once you have a provider, you will go to an appointment for a consultation. The process should be pretty simple: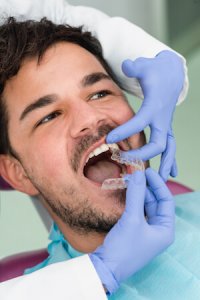 Your dentist will assess your teeth and overall oral health to see if you're suitable for ClearCorrect braces
They take impressions or do a 3D scan to map out the current position of your teeth, as well as taking photos and perhaps an x-ray
The information is sent off to the lab and an interactive treatment plan is produced to show you your potential end results
You sign off on the plan and your ClearCorrect aligners are ordered from the lab
You return to your dentist to have your ClearCorrect aligners fitted; your dentist will show you how to care for them
Every month or two you'll return for a checkup and to collect your next few sets of aligners
Treatment usually involves switching to a new set of aligners every two weeks. You just pop open a new packet every fortnight without having to go back to your orthodontist or dentist every time. It's really important that you wear them for at least 22 hours a day, only removing them when you eat or need to clean your teeth and aligners.
You'll need to go back for checkups periodically. The frequency of these will depend on your course of treatment, but the cost of going for checkups will be included in the overall price of your ClearCorrect treatment plan.
The video below of ClearCorrect before and after shows the kinds of transformation that are possible with these aligners:
How much does ClearCorrect cost in the UK?
In the UK, ClearCorrect costs from around £1,800 for minor treatment lasting 3 months to £4,500+ for a longer course. The exact cost of ClearCorrect treatment varies according to a number of factors.
How long your treatment will last
The degree of teeth straightening you need
How much flexibility you want with paying for your treatment
Note that with shorter treatment courses you may receive a fixed number of aligners, e.g. 6 or 12. You might not have the option to continue treatment if you don't get the results you want in this timeframe. A full course of treatment usually includes additional adjustments, if needed.
Speak to your ClearCorrect provider about your different treatment options, and ask what payment plans are available. You may also want to explore other finance options to spread the cost of your treatment.
Is ClearCorrect available on the NHS?
It's extremely unlikely that you or your child will be able to get invisible aligners from Invisalign or ClearCorrect on the NHS. Private treatment is usually the only option for aesthetic braces.
The NHS does cover braces for children when treatment is deemed medically necessary, but it's much less common for adults to be given braces on the NHS. And even if you are eligible, you'll get metal braces as standard.
ClearCorrect vs Invisalign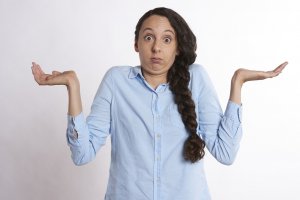 Although there are many types of clear aligners available, the Invisalign system is popular in the UK and worldwide. It's quite easy to compare ClearCorrect and Invisalign aligners since their products are similar – but there are a few key differences.
Invisalign has a large network of providers in the UK and they also have an online tool that lets you know if you're eligible for treatment with clear aligners.
When you go to a dentist or orthodontist for Invisalign treatment, you will:
Have a consultation to check your smile is suitable to be straightened with the Invisalign system
Get a scan of your teeth so the orthodontist can make a treatment plan
Have your clear aligners fitted and receive the next few sets to change fortnightly
For a full rundown of Invisalign treatment and how it can help, check out our guide to Invisalign invisible braces.
How are ClearCorrect and Invisalign the same?
There are many similarities between the two systems of clear aligners, and indeed with many other Invisalign competitors. They look alike, in that they are made of a clear plastic and moulded to closely to fit your teeth.
The general way that patients use the aligners are the same too:
You must wear them for 22 hours a day or more
You clean them with non-abrasive toothpaste
Aligners usually switch every two weeks
You can't eat whilst wearing them
Both treatment options vary in how long they take but it can be as quick as three months and as long as 18 months. Both may involve using attachments and elastics to aid with straightening.
In the video below, a dentist who uses both brands explains that they are pretty much the same from the patient's perspective, but the dentist may recommend one over another for particular cases.
What are the differences between ClearCorrect and Invisalign?
There are some pretty clear differences. For example, the materials are different. ClearCorrect uses polyurethane resin whereas Invisalign aligners use a patented material called SmartTrack, a type of thermoplastic.
Although this may seem a small difference, this can affect your comfort when you wear them. According to some ClearCorrect reviews, because the material used is very thin it can be sharp and cause sores on your tongue. This is something that doesn't get reported very often with Invisalign patients.
Align Technology has more experience since the company has been in operation for so much longer, and has treated more patients.
With this technology, the system is able to fix more complicated cases – Invisalign treatment works for around 90% of orthodontic cases.
Ask a dentist: With so many different options, how can orthodontic patients decide what's best for them?
Invisalign started the concept of straightening your teeth without braces using clear aligners. It was created by a grad student who wanted to correct crooked teeth with 3D imaging.
His idea led to Invisalign. The initial Invisalign product has been greatly improved upon. Orthodontists now scan the teeth to get accurate images. Invisalign pioneered attachments for more predictable movement and has improved the plastic as well.
There are now many other providers of clear aligners such as ClearCorrect. Each manufacturer has some unique characteristics they tout as being beneficial to the orthodontist and or patient. While Invisalign remains the industry leader, other manufacturers are beginning to offer similar features.
The most important issues related to clear aligners are really about the patient and the doctor. The best results come from an orthodontist who provides a quality product to a patient who is compliant. A qualified doctor needs to OK the treatment plan and supervises the placement of the aligners. The patient needs to respond by wearing the aligners and following the directions of the doctor.
Find a great orthodontist, wear your aligners and enjoy your wonderful new smile.
Dr Clarke Stevens
One more difference is cost, which we know is an important factor for most people. As mentioned above, prices for ClearCorrect range from £1,800 to £4,500, whereas Invisalign costs roughly £3,500 to £5,500. Again, the lower price range is for a limited treatment course lasting 3-6 months.
So Invisalign treatment is usually more expensive than ClearCorrect, but to get an exact quotation, you will need to visit your nearest provider for an assessment.
Here's an overview of the key similiarities and differences between ClearCorrect vs Invisalign, to help with your decision:
| | | |
| --- | --- | --- |
| | | |
| | | |
| Suitable for mild problems? | | |
| Suitable for mid-level problems? | | |
| Suitable for complicated problems? | | |
| | | |
| | | |
| | | |
| | Visit their website to find a provider, or ask your local dentist | Search online, ask around or contact the company |
ClearCorrect UK reviews
ClearCorrect invisible braces aren't the most famous type of aligner on the market, especially in the UK. So it's understandable that you want to check out what other people's ClearCorrect reviews to see what their experiences have been like.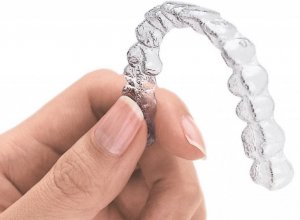 Unfortunately, that's easier said than done. It's not so hard to find ClearCorrect reviews in the US, but here in the UK they are quite thin on the ground. They have a few self-published YouTube videos, but no profile on TrustPilot, which is where many people turn for online reviews.
If you have already found a ClearCorrect dentist, you can certainly ask them to show you some before and after photos. They may even be able to put you in touch with another patient who can tell you about their ClearCorrect experience.
If you want to read some more genuine reviews from people who have used Invisalign aligners, we have a separate page of Invisalign reviews which you might find helpful.
Conclusion
ClearCorrect has only been available in the UK for a few years, and this seems to be reflected in the lack of reviews and poor user experience their brand provides for patients.
The cost of ClearCorrect is an advantage for most people, as it may work out somewhat cheaper than Invisalign. However, there are trade-offs in the reduced costs.
Your experience of wearing ClearCorrect aligners may be more uncomfortable because of the way they make their aligners. The smile that you get at the end of your treatment course is likely to be the same, but the process and cost will differ depending on which provider you choose.
Many dentists do offer Invisalign and ClearCorrect, in which case you can get prices for both and ask them which one they recommend, and why. Regardless of the treatment you choose, we recommend you have a dental checkup before starting. Your dentist will check for any problems that should be treated first, like cavities or gum disease.
Another new clear aligner option in the UK are Impress Aligners, having just expanded from Barcelona.
FAQs
How is ClearCorrect different from Invisalign?
ClearCorrect and Invisalign aligners are similar in many ways, but they use different types of plastic in their aligners. Some people find that Invisalign aligners are more comfortable than ClearCorrect.
There are also differences in their patient focus, and of course Invisalign has a longer history. Therefore more research and development has gone into their aligners.
Which is better: Invisalign or ClearCorrect?
Both are good brands, but there is a slight difference in cost and materials used.
It's usually free to have a consultation about orthodontic treatment, so you may want to speak to a couple of dentists and see what you feel most comfortable with. There's also the option of fixed clear braces to consider, with brands like Damon braces a popular choice.
Which is cheaper: ClearCorrect or Invisalign?
ClearCorrect usually works out slightly cheaper than Invisalign treatment, but Invisalign have better technology and experience and a more customer-focused approach, so it's up to you to decide what matters most. Smilelign is another clear aligner provider in the UK in the same range as ClearCorrect prices.
What's the difference between ClearCorrect and Inman Aligners?
Inman aligners are removable like ClearCorrect but contain metal wires which make them more noticeable than clear aligners when worn. They are also bulkier to wear.
How do I find ClearCorrect near me?
Currently, ClearCorrect does not give patients a simple way to find a nearby provider. You can send an enquiry on their website or phone around some dentists near you to ask if they offer this brand.
Sources
ClearCorrect: General Information. Consulted 6th April 2020.
Prices stated are indicative only and are based on publicised treatment prices at dental clinics across the UK.
Sign up to receive the latest news and offers from Dentaly.org