Are you considering removable braces as an alternative to fixed metal braces? Clear plastic aligners are an effective way to straighten teeth, and they work for the majority of orthodontic cases. The fact that they are almost invisible makes them especially popular!
If you're researching removable braces in the UK, you've probably come across the Invisalign system, as well as other brands like ClearCorrect, Smilelign, SmileDirectClub and NewSmile. We'll go into the pros and cons of each of these later on so you can figure out which is best for you.
Find the right clear aligners for you
Are at-home clear aligners a good option for you? Learn more about our top picks.
Free scans
Free scans at 17 UK SmileShop locations
Nighttime aligners available
Lifetime Smile Guarantee™
£1,639 or £69.43/month + free teeth whitening
SmileDirectClub has been offering aligner treatment at home for over 8 years, making them one of the most experienced companies in this market.
Treatment takes 4-6 months on average, or 10 months for nighttime-only aligners. Their UK-based customer care is available 24/7 should you need to reach out at any time.
There are several ways you can get started:
Every aligner package comes with free bright on™ teeth whitening, so you can whiten your teeth while you straighten them!

Best value
Free retainers and whitening
Nighttime aligners available
0% interest finance options
£1,395 £1,295 or £83.33/month
NewSmile is a Canadian company that brought its clear aligners to the UK market in 2022. NewSmile aligners are made from the clearest material and the company offers excellent service at the best price.
They don't have any physical locations, so you'll need to purchase an aligner kit to get started. One of their Impression Specialists will guide you through the process on a video call when you're ready.
NewSmile aligners are very affordable, costing just £1,395 (currently discounted to £1,295). But even better, this price includes whitening foam to use in your aligners, plus your first set of retainers!
Choose their daytime package for treatment in 4-6 months, or nighttime aligners for a more discreet treatment that takes 8-10 months. Both options come with 0% interest payment plans available.
But first, let's look at exactly what removable braces are, how they work, and who they are suitable for.
How do removable braces work?
All orthodontic appliances work by putting pressure on your teeth to move them into better alignment. Whereas traditional braces use wires and brackets fixed to your teeth, removable braces fit over your teeth a bit like a mouthguard. Each aligner is worn for around two weeks, and step by step your teeth are pushed into their new position.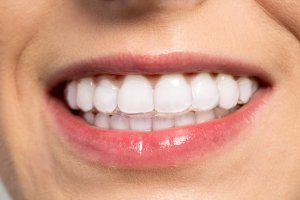 The companies that make removable braces use computer programs to plan your treatment, so you can see a 3D 'before and after' view of your teeth. Each aligner is custom-made to fit snugly at each stage of your progress.
You simply clip your clear aligners over your teeth and go about your day, while the people around you are none the wiser that you're wearing braces.
When wearing removable braces you must:
Keep your aligners in for 20-22 hours per day
Only drink water while wearing them
Take them out to eat or drink anything else
Clean your teeth and your aligners properly before putting them back in your mouth
These things can be quite inconvenient. But on the plus side, there aren't any restrictions on what you can eat, whereas with fixed braces certain foods are off-limits.
How long does treatment take with removable braces?
Treatment can take anywhere from a few months to two years; it all depends on how misaligned your teeth are, to begin with. Aligner treatment is often faster than with fixed braces. Plus, certain brands specialise in shorter treatment times.
Some brands also make nighttime clear aligners. You only have to wear these for 10 hours each night, which leaves you free to eat and drink what you like during the day. Because you're wearing them for less time each day, you can expect your treatment to take around 50% longer.
Did you know there's an easy way to see what you might look like after teeth straightening treatment, regardless of which type of braces you choose? Simply upload a selfie to Invisalign's online SmileView tool and you'll have your new smile preview in one minute. It's free – why not give it a try now?
Who can wear removable braces?
In-office brands like the Invisalign system can treat up to 90% of orthodontic cases, including some overbites, underbites and crossbites. See examples of some Invisalign before and after results. The remaining 10% of very complex malocclusions will require traditional braces. But if you need just mild or moderate tooth movement, chances are you're a good candidate for removable braces.
Is there a minimum age?
Invisalign treatment options include a special kind of removable brace designed for teenagers. These aligners are just like the regular ones but have some extra features to encourage good results from younger wearers.
Other brands set a minimum age ranging from 14 to 18 years.
Removable braces for teeth are ideal for people who:
Want to straighten their teeth discreetly
Don't want the inconvenience of cleaning around fixed braces
Have the willpower to wear aligners for the required time each day
It's easy to check whether you're eligible for Invisalign treatment using their free Smile Assessment. You'll have an answer in just two minutes!
Other devices like the Inman Aligner brace are only suitable for people who need simple adjustment of their front few teeth. Removable braces are also an alternative to consider if you are looking for cheap braces, as some clear aligners can be more affordable than fixed braces.
In-office vs. at-home
One important consideration is whether you want to visit a dentist in person for your treatment or do it all from home. In recent years, new technology from 'teledentistry' companies has made it possible to carry out the whole process without setting foot in a dentist's office.
You can take your own teeth impressions at home or visit a clinic for a teeth scan. Then they plan your treatment and post your aligners to you with instructions on when to switch to a new set.
At-home removable braces are generally cheaper than in-office, but can only treat a limited range of cases. And of course, your dentist or orthodontist is relying on images and videos to check how your treatment is progressing, rather than being able to examine your teeth in person. This brings a risk that if something starts to go wrong during your treatment, they won't notice it straight away.
If you don't want the inconvenience of visiting a dentist every few weeks and you need mild or moderate cosmetic straightening, an at-home brand could be right for you. If, however, you would prefer in-person monitoring or you need more complex treatment, in-office is probably the way to go.
Whichever type of aligners you choose, make sure you consult a dentist before starting orthodontic treatment.
Fixed vs. removable braces for teeth
Let's quickly recap these main points about removable vs. fixed braces before looking at costs in more detail:
| | | | |
| --- | --- | --- | --- |
| | | | |
| | | | |
| | Metal or ceramic brackets and wires | Almost invisible aligners | Almost invisible aligners |
| | Difficult to clean, must avoid certain foods | Remove to eat and drink; clean teeth and aligners after eating | Remove to eat and drink; clean teeth and aligners after eating |
| | | | None; check in remotely (plus optional initial scan) |
| | | | |
| | | | |
What do removable braces cost in the UK?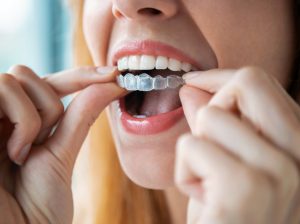 Removable brace prices in the UK range from around £1,000 to £5,500. This price will vary depending on whether you choose in-office or at-home supervision. Complex cases may cost more to treat.
SmileDirectClub and NewSmile are both based in the US and are some of the least expensive aligners companies, both of which are now available in the UK.
In-office treatments like ClearCorrect and Invisalign aligners are typically more expensive, but that's because you're paying for regular one-to-one checkups and the experience of a more established brand. We have more detail on Invisalign costs in a separate article.
Whereas at-home brands usually have a fixed price for their treatments, in-office providers require you to have a consultation in order to determine your exact treatment cost.
Best removable brace brands in the UK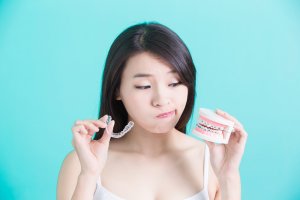 Invisalign aligners have been available for over 20 years, and the system has treated over 11 million smiles to date. This is probably the best removable brace brand if you want a well-established company that has been refining and improving its aligners for a long time. Other in-office brands to consider include ClearCorrect and Smilelign.
We've already mentioned that SmileDirectClub and NewSmile have the cheapest UK removable braces. Another good brand is Straight Teeth Direct. They cost a little more, but they guarantee an orthodontist (not just a general dentist) will oversee your treatment.
SmileDirectClub
SmileDirectClub is one of the biggest names in remote orthodontics here and in the US, and they are some of the cheapest aligners with a fixed price of £1,639.
If you want to get started with SDC you have two options. You can order an impression kit straight to your home where you can take your own teeth impressions and send them back, making your treatment 100% remote.
Or, you can go to a physical SDC location, known as a SmileShop, where a trained representative will take 3D scans of your teeth. There are currently 21 SmileShop locations in the UK to choose from depending on your location.
Whichever option you choose, a dentist or orthodontist will then analyse your teeth and prescribe a treatment plan. SDC aligners are designed to treat orthodontic cases that are mild to moderate. So, if you want to know if you are eligible for SDC aligners, the easiest way is to find out is to fill out their online assessment.
If you want to know more about SDC you can check out our dedicated article sharing SmileDirectClub reviews in the UK.
NewSmile
NewSmile aligners are relatively new to the UK, the company started in Canada and is now based in the US. They are perhaps the cheapest aligners you can get in the UK currently at £1,095. This brand of clear aligners is completely remote from when you order your impression kit to how they monitor your progress.
These aligners do have limitations due to being completely remote. While they are the cheapest due to being fully remote, they are unable to offer attachments or any in-office appointments. This limits these aligners to only treating the front six visible teeth. Despite only being able to treat the visible front teeth, they do offer a night-only option that you only wear for 10 hours a day while you sleep.
So, if you are looking for aligners on a budget and your case is only very mild, these aligners may be the right ones for you. You can check out pricing here, or head straight over to order your impression kit here!
Getting started
If you're leaning towards in-office treatment, you can easily search for Invisalign providers in your area. They have a big network so you should have several to choose from nearby. Then, book an appointment for a no-obligation consultation and treatment plan.
You can watch the following video for a recap of what removable aligner braces look like and how they work:
Conclusion
Removable braces are an appealing option for many adults and teens who want straighter teeth but would prefer to avoid traditional fixed braces. There are several good brands to choose from, but the Invisalign system has the strongest history of successful cases.
More recently, it has become possible to undergo orthodontic treatment with removable braces from home. Patients receive their aligners in the post and check in with their dentist or orthodontist remotely by sending pictures or videos of their teeth.
Aligner treatment can be very effective for most patients. Hopefully, this article has helped you understand the different options so you can decide on the right treatment for you. If you'd like to know more about what it's like wearing removable braces for teeth straightening, check out these Invisalign reviews.
FAQs
What's the best brand of removable brace in the UK?
The Invisalign system is the most established and is considered the best brand by a significant number of dentists. It's also backed up by a lot of research. However, other brands are worth considering.
Are removable braces effective?
Yes; they are just as effective as traditional fixed braces in up to 90% of cases and can offer faster treatment. If you're unsure about going ahead, book a consultation to discuss it in person.
What are removable braces called?
The official term is 'clear aligners' but you'll hear them called 'invisible braces' and 'transparent braces' as well. Some people say 'Invisalign' to mean any type of removable aligner.
Sign up to receive the latest news and offers from Dentaly.org