Teeth straightening for £799? Is it too good to be true? In this Straight My Teeth review we will look at how these aligners work, whether they are safe, and how to decide if they are right for you.
Going to the orthodontist every month to get your aligners or braces checked can be a pain, not to mention expensive. With this aligner system offered by Straight My Teeth in the UK, you can get a straighter smile using remote monitoring technology.
Straight My Teeth is a company in the relatively new field of remote orthodontics. They offer teeth straightening for adults and teens using clear aligners, but with everything done online and by post rather than in person. Sounds interesting, but how does it actually work?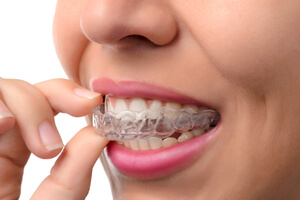 Your smile is one of the first things people notice about you, so it's understandable you want to be sure it's in good hands. In our review of Straight My Teeth we're going to explain:
Who Straight My Teeth are
How teledentistry and postal aligners work
How you begin your treatment
What Straight My Teeth costs
What Straight My Teeth reviewers says
How they compare against other aligner brands in the UK
We hope this gives you all of the information you need to make the right choice about your dental care.
See if you're eligible for Straight My Teeth aligners
Straight My Teeth costs just £799, making them one of the cheapest brands of aligner in the UK. Does that mean you're compromising on quality? Absolutely not.
Their aligners use patented technology, all treatments are monitored by licensed dental professionals, and their customer service gets great feedback. Visit their website to check if you're eligible for Straight My Teeth, or keep reading to find out more.
An introduction to Straight My Teeth
Straight My Teeth are pretty new to the market, which is why you may not have heard of them before. However, they source their aligners from a well-established company, which holds its own patents and has approval from the FDA in the US and the MHRA (Medicines and Healthcare products Regulatory Agency) in the UK.
Their UK office is in Ashford, London (close to Heathrow Airport). This is also the location of their first – and so far their only – Smile Studio.
The team is made up of orthodontists and dental technicians who assess your teeth and design a treatment plan for you. There is also a licensed dentist who works at the Smile Studio who will take 3D scans of your mouth if you choose that option.
Aside from visiting their Smile Studio, all of your interactions with Straight My Teeth in the UK are done over the internet, with a member of the team assigned to your treatment who can help you with any issues. Contact is done through video or voice calls and you can email them with any questions or problems, too.
This is quite different to in-office invisible braces like the Invisalign system, where all your checkups are done face-to-face with a dental professional.
Day or night?
Straight My Teeth offer two treatment plans with their clear aligners. The standard system involves wearing your aligners for 20-22 hours a day, with treatment taking 6-14 months on average. You must remove your aligners to eat and drink anything except water, and you must clean your teeth well before putting your aligners in.
But they have recently introduced a new NightOnly package with the following features:
Aligners are worn for 8-10 hours per day, usually at night
Average treatment 8-12 months
Costs £899 rather than £799
More restrictive eligibility
Nighttime clear aligners could be a good option if you really don't want anyone else to see you wearing aligners, or if you want to avoid the inconvenience of removing them to eat. Read more about Straight My Teeth's nighttime aligners here.
How do Straight My Teeth aligners work?
Removable aligners are a modern version of braces. Rather than having metal brackets and wires attached to your teeth, an aligner is a piece of plastic perfectly moulded to your teeth. The action is the same – both braces and aligners apply pressure to your teeth to get them to move over time.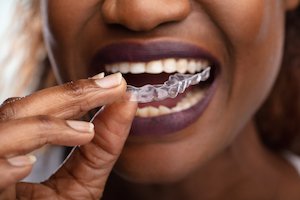 Normally you'd have braces or aligners to fix problems such as:
Solutions to straighten teeth at home like Straight My Teeth can typically handle mild and moderate cases of crowding and gaps in teeth. For more complicated bite problems, you will probably need in-office treatment with traditional braces or a more advanced aligner treatment like the Invisalign system.
In any case, your individual case will be carefully assessed to see if you are a suitable candidate – more on this below.
Once you've got your treatment plan and you agree to go ahead, your aligners are created and posted to you. The video below gives an interesting glimpse into how your aligners are created in the lab:
So, if you're wondering whether Straight My Teeth are legit, the answer is yes. They are a genuine company providing a well-established type of treatment.
How to get Straight My Teeth aligners
Now we've given you an overview of how things work, we'll go through the step-by-step process for getting Straight My Teeth aligners in the UK. It's quite different to the process for getting in-office braces, but the end result will still be a straighter smile – and a healthier bank account than if you'd gone with traditional braces!
Preparation and assessment
It's really important your teeth are ready to be straightened. If you've been to the dentist for a checkup in the last six months then you can continue to the next stage.
Missed your recent checkup? You should have one before starting treatment, to make sure your teeth and gums are in good condition. Tell your dentist that you're planning to have aligner treatment so they can check for any potential problems.
Why does this matter? Straight My Teeth want to make sure that your teeth and gums are healthy and ready to start aligner treatment. If you've got any cavities or extractions that need taking care of, any sign of gum disease, or a broken or chipped tooth, you should get that all sorted before organising your aligners.
Not all mail-order aligner companies complete such stringent checks before you start your treatment. It might seem like a pain, but actually it ensures you'll get the best results possible and not damage your teeth and gums by having aligners. If you have gum disease, for instance, then trying to straighten your teeth could cause them to become loose.
Other criteria for Straight My Teeth treatment include:
You're aged 14 or over
All the teeth being straightened are natural (no veneers, crowns, bridges or implants)
You can take Straight My Teeth's free online assessment to check if you're eligible, and to provide some more details about your treatment. You have the option to upload photos of your teeth as well, which will help their dental team assess your case. They might give you a call to discuss your treatment further.
Even if you still need to have a checkup, you can take the assessment so you know whether or not this will be a suitable treatment for you.
If it turns out you're not a good candidate, don't give up on clear aligners yet! You may still be eligible for Invisalign treatment, which is able to treat a much wider range of bite problems thanks the company's more advanced technology and processes. You can check your eligibility for Invisalign aligners online or find your nearest Invisalign provider to discuss your options.
Impressions or scans
Once you know you're eligible for aligners, the next step is for Straight My Teeth to assess your teeth in more detail. There are two ways you can do this.
If you live near Ashford in Southeast London, close to Heathrow Airport, you can visit Straight My Teeth's Smile Studio for 3D scans carried out by their resident dentist. This consultation is free, but of course it may not be very convenient if you live in another part of the country.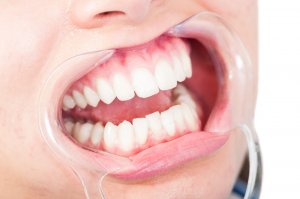 The alternative is to order a Dream Smile Box impression kit, which costs £69. In it, you get everything you need to take dental impressions at home. You need to make two sets of impressions and they give you all the materials needed. Once done, you return everything in the postage paid box that comes with the kit.
Don't worry if you make a mistake with the impressions or the company can't work with them. You can request a second kit for half the price, and this gets refunded if you go ahead with your course of aligners.
Straight My Teeth's 100% money back guarantee means that if their orthodontists decide you're not a good candidate for their treatment, they will refund the full cost of your impression kit and any package you have signed up for. So, there's really nothing to lose by giving it a try if you're interested.
Treatment Plan
To understand the results you can achieve with Straight My Teeth, before and after images are sent to you in a smile simulation. This shows you what your teeth will look like afterwards and how long it should take to achieve the results.
This is the point where you commit and make payment. You're also asked to sign a Consent to Treat and a Medical History form, and might need to upload your dental records, too.
Time to align
Your aligners should arrive in the post a couple of weeks after you give the go-ahead for your treatment. You need to wear them for 20-22 hours every day and only remove them for eating, drinking anything except water, and cleaning your teeth, unless you go for the NightOnly option.
The plan you get will give you exact details, but generally you change your aligner every two weeks. You might feel a little uncomfortable the first few days after each switch but that's normal as your teeth move into their new position.
Refinements and retainers
Nine to twelve months is the average treatment time, and some plans last for up to 14 months. The price will be the same regardless, and you'll come out with lovely straight teeth. To make sure you don't lose your hard work, you need to wear a teeth retainer to keep your teeth in place following treatment.
Straight My Teeth treatment includes one set of retainers for free, but the usual price is £99. Wear them as prescribed by your assigned dentist or orthodontist, and your teeth should stay right where they are.
If there's something you're not happy with or you want some tweaks to your new smile, you can request a refinement plan. This will involve taking new impressions so you can have some more aligners sent out.
How much does Straight My Teeth cost?
Straight My Teeth costs £799 for a single course of clear aligner treatment, including a free teeth whitening kit and two sets of retainers. Alternatively, you can pay in instalments. This starts with a deposit of £339 and six monthly payments of £110, but you don't get the whitening treatment with this option.
Their NightOnly option costs £899; a little more due to the extended treatment time, but still very affordable compared to the alternatives. The finance option for these is £125 a month for six months, with a deposit of £399.
You can also go for the SmileAdvantage Plus option for £1,049, giving you nine sets of retainers. This package includes an impression kit, Smile Projection, clear aligners, and shipping throughout the UK.
Straight My Teeth prices are some of the cheapest around, making them very competitive compared to some of the bigger names on the market. They also sometimes have discounts available which can lower the cost even further – check their website to see what promotions they are currently running.
To bring it all together for you, here's a review of what Straight My Teeth costs in the UK:
Standard (daytime) option

Dream Smile Box impressions kit

£89, refunded if ineligible

£89, refunded if ineligible

Full treatment, with whitening

Deposit £739, 6 payments of £110, total cost £1399

Deposit £799, 6 payments of £125, total cost £1549)

2 sets free (£99 value each)

2 sets free (£99 value each)

Prices correct at time of writing but may change at any time.

Refer a Friend
Straight My Teeth have a referral scheme which gives you and your friend a bonus if you refer them for treatment. When they sign up using your unique link, you get £50 cash and they get £50 off their treatment. There doesn't seem to be any restriction on the number of friends you can refer under this scheme, so if you get a few to sign up it could go a long way towards paying for your aligners!
Straight My Teeth Reviews
To really understand if you should use Straight My Teeth, reviews are a great tool to give you loads of information. There are plenty of reviews on Trustpilot, such as these:
"Very good experience! Excellent customer service. Great product for the cost compared to other companies out there. Aligners came in the time expected. I started my treatment over 6 months ago and now on my last step. I am very pleased with the results. I would highly recommend Straight My Teeth."

"I was recommended this company by a friend and I couldn't be happier with the service. I am in week 4 of my treatment and, so far, am delighted with my treatment. I can already feel the difference. Would have been happier if I knew about this wonderful place earlier."
Overall, Straight My Teeth's reviews on Trustpilot are 97% positive and they have a 4.5 star rating, at time of writing. A lot of these are from people who have just started their treatment or are part way through it, but then again the company is so new that not that many people will have completely finished their treatment yet.
"The company is legit… I don't know why their price is so cheap"
In the Straight My Teeth review video below, Jo takes us through her Straight My Teeth experience as she wears her 7th and 8th sets of aligners. She has had a fair amount of aching and pain during the process so far, especially in the few days after fitting a new set. However, these two most recent ones were not as bad as some others.
As Jo points out in her video, everyone's experience will be different. Other patients may only experience mild aching or sensitivity in their teeth for 1-2 days.
After giving an update on her progress, Jo shows her Straight My Teeth 'before and after images' documenting how far her teeth have moved so far. Then she goes on to answer some questions she's received from other people interested in Straight My Teeth aligner treatment.
You can view Jo's full series of Straight My Teeth reviews, starting with taking her impressions, here.
Comparing Straight My Teeth
Getting straighter teeth is a dream for many people and there are lots of companies looking to fill the market. Straight My Teeth has one of the lowest prices compared to some of the best aligners in the UK and for mail-order aligners, which is a big tick in their favour. Other mail-order aligners such as the following are a little more expensive:
Check out the table to see how other postal aligner companies stack up on price and other factors:
£999 (including whitening)

£1,599 or £1,749 with whitening

Deposit of £295 and 12 payments of £67

Available with credit check, apply for details

Deposit of £199 and 12 payments of £120

Materials and manufacturing

BPA-free plastic, 3D printed

Dentists, orthodontists, and dental technicians

Prices correct at time of writing but may change at any time.

If you're considering at-home aligners because you don't have the funds for in-office treatment, it makes sense to find the most affordable option you can.
As far as we're concerned, the lower price of Straight My Teeth doesn't mean you're compromising on service or quality. In fact, they one of only a handful of brands that work with orthodontists – not just general dentists – to plan your care. The only downside is that they only have one physical location so far, although they provide online support if you need help with your impressions.
How does Straight My Teeth compare?
Costing just £799 (before any discounts are applied), Straight My Teeth is one of the cheapest aligner brands in the UK. Their aligners use advanced patented technology and they have great customer satisfaction.
Ready to find out more? Visit their website to take a quick and free online assessment which will tell you if you're a suitable candidate.
The Straight My Teeth referral scheme is also a nice bonus if you have some friends that want to join you in getting straighter teeth. And don't forget to check their website for discount codes before you order.
Straight My Teeth vs Smile Direct Club
Smile Direct Club is one of the biggest names in home aligners. Their package costs £1,539, which is significantly more than the £699 you'll pay for Straight My Teeth. However, Smile Direct Club has seven permanent SmileShop locations around the UK, which is a plus if you'd like a 3D teeth scan but don't live near London.
So, unless you want to pay extra for the benefit of being able to visit a nearby studio, we'd still recommend Straight My Teeth. They seem to offer the best value, balancing quality and service, compared to other Invisalign competitors in the UK.
Conclusion
When it comes to price, Straight My Teeth are way out ahead. Their prices are considerably cheaper than competitors and there's no sign of compromise on customer service or the results you get. Plus, their NightOnly option gives you more flexibility when choosing what will suit you best.
Although they only have one Smile Studio at the moment, they are pretty new so have some time to expand. The team is happy to support you through the process of making your impressions at home, too, so it's not as daunting as it first seems.
Straight My Teeth may be a new name in this market, but they are doing a positive job in keeping their customers happy. It's easy to get started on your journey to a straighter smile, just click here to visit SMT's website and complete a short assessment or order your aligner package!
Plus, Invisalign aligners can successfully treat a much wider range of orthodontic cases. Take a free online assessment or book an appointment to discuss the best treatment for you.
We recommend visiting a dentist for a general checkup before starting any at-home treatment. It's important to deal with any untreated cavities or gum disease before wearing aligners. Plus, you could ask your dentist to assess your overall suitability for the treatment.
Sign up to receive the latest news and offers from Dentaly.org