Please note: WonderSmile went into liquidation on March 24, 2022, and is no longer operating in the UK. The company appears to still be operating in Australia and a few other countries under the name Dr Wondersmile. The review that follows was accurate prior to this event. We recommend you consider one of these alternative aligner brands.
If you're currently exploring options for teeth straightening, you may have come across WonderSmile, a solution worth considering. Their removable clear aligners effectively straighten teeth, eliminating the need for traditional dental braces.
In this WonderSmile review, we'll address crucial questions about these aligners:
What is WonderSmile?
How do you obtain these aligners?
What are the costs?
How does WonderSmile compare to Invisalign?
What do WonderSmile reviews say?
Plus, we'll let you know our top pick for clear aligners.
The Clear Alternative
If you want the clearest aligners on the market, we reccommend NewSmile aligners. They are made from raintree essix plastic — the most transparent plastic around. They also offer shorter treatment time and a lower pricetag than SmileDirectClub.
Their customer service is top-notch, and you get a whitening treatment as well. If that sounds good to you, get started by ordering your impression kit.
Get your NewSmile aligners
We understand the importance of equipping you with the necessary information to make an informed decision about your dental care. Join us as we review WonderSmile in-depth.
Let's not delay your journey to a straighter smile anymore, and find out exactly what WonderSmile is.
What is WonderSmile?
WonderSmile is an Australian company that has an international reach. It has locations all over the world including the UK, Singapore, New Zealand, and of course, Australia.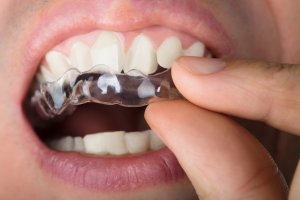 WonderSmile are a brand of clear aligners which are custom-made, removable plastic trays that fit snugly to your teeth to straighten your teeth and align your bite.
This means that they are a lot less visible than fixed braces, and you can remove them when you eat, drink and clean your teeth.
These aligners are 'at-home' aligners, meaning that you never have to see a dentist in person if you don't want to.
You can have your initial consultation with a dentist for your 3D scan, but it's not necessary as you can do your impressions at home. After that, all your treatment is monitored remotely so you don't have to go to any dental appointments.
However, the fact that they are an at-home aligner means that they may not be suitable for everyone. Also, you have to wonder how efficient remote monitoring really is.
Clear aligners can generally only treat mild and some moderate orthodontic cases, with the exception of invisible braces like Invisalign which can treat some advanced orthodontic cases.
How do you get these aligners?
The process for getting WonderSmile aligners is very simple. You can take a quick quiz on their website that may give you a better idea of whether you are eligible for treatment. Then, either find a location near you to have your initial consultation and scan with a dentist or order an impression kit to your home for £25.
If you have a scan at a WonderSmile clinic, the Smile Care consultant will send your scans to the WonderSmile team to further assess if you are eligible. If you opt to do your own moulds, the impression kit will contain the following items: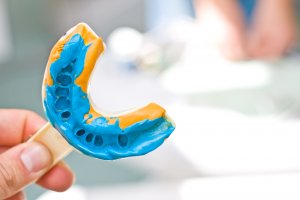 An instruction guide
Impression trays
Putty
Mouth retractor
Gloves
You will be instructed to create four moulds in total. Make sure you get a good impression because if you don't your aligner may not fit correctly. Then just send your moulds to the WonderSmile team with a prepaid label that you will find in the kit.
What is the WonderSmile process?
If it is determined that you are not eligible for treatment with WonderSmile you will be refunded. However, if you are eligible, the next steps for your aligner treatment are as follows:
Your treatment plan will be sent to you in the post, and you will have to approve it before your aligners are created
You will receive your aligners for your entire treatment in the post 25 days after you approve your plan
Wear your aligners for 22 hours a day, or 10 hours a day for the night-clear option
Your treatment will be monitored by a dental professional remotely through your online WonderSmile account
To check in, you will regularly send photographs of your teeth to help the monitoring process
When you are ready for a new aligner, you will be notified on the dashboard
Once your treatment is done you will be asked to wear a retainer which you must buy from WonderSmile for £60
Your aligner treatment comes with a lifetime guarantee, so if your teeth shift back after your treatment, WonderSmile will fix it for free. However, if you get bonded or fixed retainers your guarantee is void, as you must get your retainers from WonderSmile.
Who is eligible for WonderSmile?
These aligners are only suitable for mild and some moderate cases rather than complex or severe cases. You can find out if you are eligible by getting a 3D scan at a WonderSmile clinic, or by sending in impressions to be assessed. Some of the orthodontic issues that they can resolve include:
Those with more severe cases in need of complex tooth or jaw movements will not be eligible for WonderSmile aligners. However, you may still be able to get clear aligner treatment with Invisalign, since their technology can treat a much wider range of problems.
How much does WonderSmile cost?
WonderSmile has two different clear aligner options to choose from. There is the all-day aligners option that costs £1,450 or the night-only aligners option that costs £1,490. The price includes your initial scan or impression kit costs, your treatment plan and monitoring, and your aligners.
If you decide not to go ahead with the treatment, WonderSmile won't refund the initial £40 for the 3D scan or the £25 for the impression kit unless they decide you are ineligible for treatment.
Once your treatment is complete, each retainer will cost you £60. And, unless you want to lose your lifetime guarantee, you must buy your retainers from WonderSmile.
The following table shows the differences between the night-clear option and the all-day option, and how much they each cost.
There is a 12 monthly interest-free payment plan available if you aren't so keen on the single payment plan. For the All-Day aligners just pay a deposit of £145 and 12 monthly payments of £102.50. For the NightClear option, the deposit is £149 with monthly payments of £105.50.
WonderSmile vs Invisalign
If we compare WonderSmile to the most well-known brand of aligners, Invisalign, we can see that they are quite different in terms of service and treatment options.
While they are both clear aligners and are both used to straighten teeth, the Invisalign system is an in-office treatment that uses superior technology and can treat orthodontic cases that are more complicated.
With Invisalign dentist or orthodontist checkups every few weeks, you have the assurance that they will track your progress in detail, notice any problems straight away, and make adjustments to your treatment if needed.
The cost of Invisalign varies depending on the length and complexity of your treatment. For mild cases, Invisalign Lite costs around the same as WonderSmile and offers higher levels of care. For more complex cases the cost will be higher, but still comparable to the price of traditional metal braces.
One other important difference to note when it comes to Wondersmile vs Invisalign is that WonderSmile aligners are straight-cut, whereas Invisalign aligners follow the contours of your gums.
This means that WonderSmile is more visible than Invisalign aligners when worn as they are a straight cut across the top of your teeth. WonderSmile claims this makes them stronger than other brands of aligners.
If you're looking for a less noticeable clear aligner option that is a cheaper alternative to Invisalign here are our top picks:
Find the right clear aligners for you
Complex cases
Treats up to 90% of Cases
Up to 40% cheaper than Invisalign
Buy now, pay later in interest-free instalments.
Rated 4.9/5 on Trustpilot
As seen on 5, BBC, 4, DailyExpress, TheMail
Get 5% OFF with our discount code DENTALY5OFF and FREE Whitening and Retainers worth £790
Smile White offers a hybrid model for clear aligner treatment. You have 3 in-office appointments, so your dentist can ensure in person that your treatment is going as planned.
That means that, unlike other clear aligners, Smile White can treat even the more complex cases of bite misalignment.
To get started:
Every treatment comes with free teeth whitening, so you can whiten your teeth while you straighten them!

Best value
Free retainers and whitening
Nighttime aligners available
0% interest finance options
£1,395 £1,295 or £83.33/month
NewSmile is a Canadian company that brought its clear aligners to the UK market in 2022. NewSmile aligners are made from the clearest material and the company offers excellent service at the best price.
They don't have any physical locations, so you'll need to purchase an aligner kit to get started. One of their Impression Specialists will guide you through the process on a video call when you're ready.
NewSmile aligners are very affordable, costing just £1,395 (currently discounted to £1,295). But even better, this price includes whitening foam to use in your aligners, plus your first set of retainers!
Choose their daytime package for treatment in 4-6 months, or nighttime aligners for a more discreet treatment that takes 8-10 months. Both options come with 0% interest payment plans available.
The following table summarises the differences between WonderSmile and Invisalign:
| | | |
| --- | --- | --- |
| | | |
| | | |
| Suitable for mild problems? | | |
| Suitable for mid-level problems? | | |
| Suitable for complicated problems? | | |
| | £1,450 - £1,490 full mouth | £3,500 - £5,500 full mouth |
| | | |
| | | In person and remotely via app |
| | | |
| | Clear, straight cut, more visible than aligners contoured to gums | |
| | | |
WonderSmile UK reviews and before and after pictures
In the first review, Katherine Isabelle reviews her teeth straightening journey with WonderSmile from when she had her initial consultation to completing her treatment.
She starts with a brief explanation about these aligners, and why she is doing a full review. Katherine says she never had bad teeth, but her front teeth were slightly out of alignment.
Her whole treatment took 8 months, which is 3 months longer than the average treatment length. Her bottom teeth only took 5 months worth of treatment.
Katherine is very happy with the results of her treatment. In her video, she shares her WonderSmile before and after pictures, so you can see exactly how much her smile changed over the treatment.
This next review is by Ali on her YouTube channel. She reviews the process of getting her initial scan with WonderSmile and what that involves. Ali films her actual consultation, sharing the whole conversation between her dentist and herself, which is very insightful.
Conclusion
WonderSmile aligners are a type of at-home clear aligner available on the market. They are very similar to other brands, but they offer a night-only option for those who might struggle with wearing their aligners for 22 hours a day.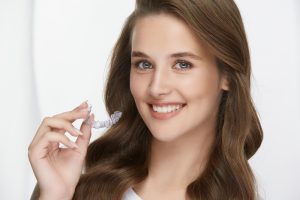 You don't necessarily need to see a dentist at all during your treatment, as you can order an impression kit.
There are WonderSmile clinics in quite a few places around the UK in major cities, so if you did want to go in for your 3D scan it is an option. However, if you don't live in a major city, then you would still have to travel to visit a clinic.
If we compare these aligners to Invisalign, they are quite different. The Invisalign system can treat more complex cases, including some severe cases. They also have in-person monitoring which can make a big difference for many people.
After looking at WonderSmile reviews, it seems that most people are happy with their treatment; however, all of the cases in the reviews are mild.
Our top pick is NewSmile because they are more affordable than Invisalign aligners and
FAQs
What are WonderSmile aligners?
WonderSmile aligners are a type of orthodontic treatment available in the UK. They are transparent, removable aligners designed to straighten teeth and correct common orthodontic cases.
How do WonderSmile aligners work?
WonderSmile aligners work by gradually shifting your teeth into their desired positions. Each aligner is custom-made to fit your teeth and is worn for approximately 22 hours a day.
Are WonderSmile aligners effective?
WonderSmile aligners have proven to be effective in treating mild orthodontic issues. The success of the treatment depends on the complexity of your case and the consistency of wearing the aligners.
How long does the treatment with WonderSmile aligners take?
The treatment duration can vary depending on the complexity of your case, but most WonderSmile aligner treatments in the UK last between 3 and 12 months.
Can you still get WonderSmile aligners in the UK?
WonderSmile went into liquidation on March 24, 2022, and is no longer operating in the UK. The company appears to still be operating in Australia and a few other countries under the name Dr Wondersmile.
Are WonderSmile aligners painful?
WonderSmile aligners are designed to be comfortable to wear, and most users experience minimal discomfort. However, it is common to feel some pressure or mild soreness when you switch to a new set of aligners.
Are WonderSmile aligners covered by insurance?
The coverage for WonderSmile aligners under dental insurance can vary. Some dental insurance plans may partially or fully cover orthodontic treatments, including clear aligners.
Sources
Wiley Online Library. Clear aligners in orthodontic treatment. Consulted 11th July 2023.
Prices stated are indicative only and are based on publicised treatment prices at dental clinics across the UK.
Sign up to receive the latest news and offers from Dentaly.org