If you're considering getting your teeth straightened using Invisalign removable aligners, you may have heard about their different treatment options like Invisalign Comprehensive, Lite and Express. But it can be difficult to get clear information about what these terms mean, what they cost, and how to know which one is right for you.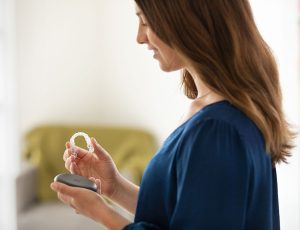 In this article, we will concentrate on Invisalign Comprehensive, which is Invisalign's clear aligner system for moderate to severe orthodontic cases. We'll cover the following topics so you can make an informed decision about your treatment:
How Invisalign Comprehensive works
Invisalign Comprehensive cost in the UK
What can these aligners treat?
Advantages and disadvantages
Alternatives to Invisalign Comprehensive
So, if you are considering Invisalign treatment or your dentist has already recommended Invisalign Comprehensive, we hope this article helps you understand more about the treatment.
What is Invisalign Comprehensive?
The Invisalign Comprehensive package is Invisalign's full invisible braces system. It is used when an orthodontic case is moderate to complex, and even some severe cases can be treated. If you are not already familiar with what Invisalign is, you can read our article to find out more.
However, to summarise, Invisalign aligners are clear plastic removable aligners that are custom made to fit your teeth snugly. They work by applying pressure to your teeth and gradually moving them into the desired position.
As you may already know, treatment with clear aligners includes more than one set of aligners. Invisalign aligners are actually a series of aligners that you change every couple of weeks to continue your treatment as your teeth move position. You will also check in with a dentist or orthodontist both in person and via the Invisalign app to monitor your progress.
The following video is an Invisalign Comprehensive review from a patient whose treatment lasted 15 months.
The Invisalign system combines clear aligners with other elements like attachments, buttons and elastic bands to create the required tooth movement.
These elements are most likely to be needed with Invisalign Comprehensive treatment for more complex cases. According to a lot of Invisalign reviews, the attachments and buttons are the most notable parts of this aligner system.
Would you like to get an idea of how your teeth might look after treatment with aligners? Use their free Smile View tool to preview your straighter smile now; all you have to do is upload a selfie and get your results back in minutes!
Who is eligible for Invisalign Comprehensive?
Invisalign Comprehensive is designed to treat a wide range of orthodontic cases from moderate to complex. This treatment is suitable for almost anyone looking to straighten their teeth with clear aligners. Depending on your case, this aligner system may be able to treat the following: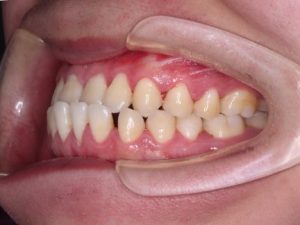 Underbites
Crossbites
Overjets
Overcrowding
Gaps between teeth (diastema)
There is no limit to the number of aligners used in Invisalign Comprehensive treatment. Once you have had a consultation with an Invisalign provider, they will create a personalised treatment plan for you.
This will let you know how many sets of aligners you'll need, and how long your treatment will take. If you have any dental restorations you will be able to see how this may affect your treatment. And, it will also give you an idea of the number of face-to-face check-ups you will need with your dentist or orthodontist to ensure your treatment is going smoothly.
While Invisalign Comprehensive can treat a wide range of orthodontic cases, not everyone is a good candidate for clear aligners. However, up to 90% of orthodontic patients can benefit from this treatment so it's worth checking if you're eligible.
Take Invisalign's Smile Assessment now to see if you are one of the 90% who can be treated.
How does Invisalign Comprehensive work?
If you are ready to start the process and want to know how to get Invisalign Comprehensive treatment then your first step is to have a consultation with an Invisalign provider. There are providers all over the UK so it shouldn't be hard to find one near you.
Not all Invisalign providers charge for the initial consultation; just use the advanced search tool on their website to find which ones are doing free first appointments.
During your initial consultation, you will get a 3D scan of your teeth and discuss your eligibility and options with the dentist or orthodontist. The Invisalign system uses state-of-the-art technology to do a 3D scan your teeth and bite and create your whole treatment plan digitally.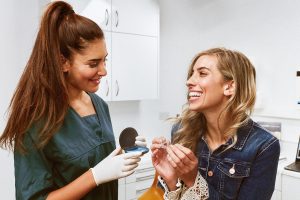 A computer-generated image will be created to show you your projected results before you even decide to go ahead with your treatment. You will also get an idea of how long your treatment might take and how many sets of aligners you will need.
Once you have decided to go ahead, Invisalign Comprehensive works like this:
Receive and begin wearing your first set of aligners
Regular check-ups in person with a dentist, and online monitoring via an app
You will change your aligners roughly every 2 weeks, or when told to by your dentist
Full treatment duration will depend on your individual case
The first step begins with finding your nearest Invisalign provider and booking an appointment online here.
If you are undecided, find a provider offering free consultations so you can discuss any reservations you may have. And if you're still wondering if clear aligners even work, read our article: Does Invisalign work?
What are the benefits of Invisalign aligners?
The main benefits of having orthodontic treatment with clear aligners is that they are almost unnoticeable when worn, and they are removable and more comfortable than fixed braces. Although clear aligners can't treat all cases, those who are eligible tend to find them more convenient than traditional braces.
The fact that they are removable means they are easily taken out for important meetings, or even just to take a nice photograph. You do, however, have to wear them for 20-22 hours per day, still taking them out to clean them and your teeth, and to eat and drink anything other than water.
For more information on why you should remove your aligners to eat and drink, check out our article: Can you drink with Invisalign?
The following table is a summary of the advantages and disadvantages of Invisalign aligners:
If you already have braces but are wondering if you can switch to the Invisalign system, you can read our full article here to learn more.
How much does Invisalign Comprehensive cost in the UK?
As you will know, many private dental costs range between dentists and from practice to practice. However, as a rough guide, Invisalign Comprehensive costs between £3,500 and £5,500.
The cost will depend on the complexity of your orthodontic case, and how long your treatment will take. It is a good idea to shop around and get quotes from a few Invisalign providers in your area to find the best price for your treatment. 
However, keep in mind that individual quotes for Invisalign will vary — you can call 866-383-0748 to find an Invisalign dentist near you who can give you a detailed price quote.
Invisalign aligners are not available on the NHS, so you will have to go to a private dentist to get this treatment. Only metal braces are available on the NHS and only under 18's can get orthodontic treatment for free. Adults will most likely have to go privately for orthodontic treatment as it is rarely an option with the NHS unless medically needed.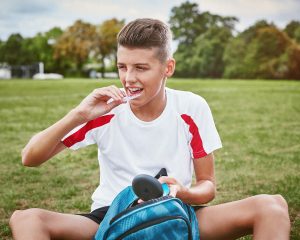 Other types of Invisalign treatment
As we have already mentioned, the Comprehensive Invisalign system is just one of several treatment options from Align Technology. They all use the same type of aligner, but the difference is in the kinds of cases they can treat:
Invisalign First: This treatment is designed for young children between the ages of 6 and 10. It can be used as an early intervention to prevent developmental problems when the child is older.
Invisalign Express: This system of aligners is used to treat aesthetic cases including mild cases of crowding and spacing. It is also a good option for some patients that have relapsed from not wearing their retainer after orthodontic treatment.
Invisalign Lite: Similar to Invisalign comprehensive, except this system is for mild to moderate cases for both adults and teenagers. Invisalign Lite takes an average of 6-8 months to complete treatment.
Invisalign Comprehensive vs Lite
When it comes to Invisalign Comprehensive vs Lite, it's important to note that you don't get to choose between the two. Instead, your dentist or orthodontist will decide which is most suitable based on the complexity of your case.
Invisalign Lite treatment may be more appealing because of the shorter treatment time and lower cost, but it will only be offered if you need simple tooth movement. Comprehensive treatment can treat more complex issues and give more refined results. Very mild cases that only need Invisalign on the top or bottom teeth may be eligible for single-arch treatment, but this isn't an option for those that need Invisalign Comprehensive.
The best way to know your treatment options is to search for Invisalign providers near you and book an appointment. After a full assessment, you should have answers to all your questions.
Alternatives to Invisalign Express
SmileDirectClub is a very popular at-home aligner brand in the UK. Priced at £1,539, it's a cheaper alternative to Invisalign Comprehensive and includes support from Customer Car and Dental teams through email, chat, and video call. You can also pay in monthly instalments with a down payment of £70.10 and 23 monthly payments of £70.09. With this option, the total cost works out at £1,682.17 (excluding the impression kit and retainers).
Quick Straight Teeth is another aligner brand available in the UK. This one focuses on straightening just the 6-8 teeth at the front of the mouth (those most visible when you smile). You'll find them very affordable compared to Invisalign Comprehensive, especially if you need treatment on both arches.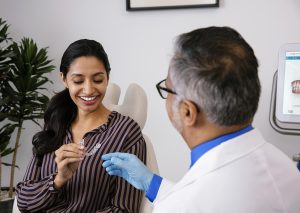 Conclusion
Invisalign Comprehensive is Invisalign's full treatment system for moderate and some complex orthodontic cases. Thanks to Invisalign's advanced research and technology, these removable clear aligners and can treat up to 90% of cases.
While the Invisalign system does have other options available, this one can treat the most cases and get the most refined results if you are eligible. Invisalign Comprehensive can treat a wide variety of orthodontic problems including overbites, underbites, overjets, overcrowding and gaps.
If you think that you may need Invisalign Comprehensive, or aren't sure which Invisalign system would be best for your needs, book an appointment with your nearest provider to learn more. You can also do a free Smile Assessment to check your eligibility right now.
Keep in mind that before you opt for any at-home treatment, visit your dentist for a general check-up to ensure there aren't any untreated cavities or gum disease before wearing aligners. Your dentist can also assess your overall suitability for any aligner treatment.
Sources
NHS. Braces and orthodontics. Consulted 22nd December 2021.
Prices stated are indicative only and are based on publicised treatment prices at dental clinics across the UK.
Sign up to receive the latest news and offers from Dentaly.org