Quick Straight Teeth make clear braces and aligners that straighten your teeth in around six months or less. If you're looking for an affordable type of dental braces for adults, and you don't need significant adjustments, this could be the solution.
But because Quick Straight Teeth is not a very well-known name, it's hard to find information about them. Perhaps you want to research costs before visiting a dentist or want to understand if they're really as good as the name suggests. That's why we've written this full review of Quick Straight teeth.
Keep reading for answers to your questions, including:
Who are Quick Straight Teeth?
How do their braces and aligners work?
How much does Quick Straight Teeth cost in the UK?
What do Quick Straight Teeth reviews say?
How do they stack up against other braces and aligner brands like Invisalign?
How do I go about getting their appliances fitted?
We hope this helps you make a more informed choice about the right treatment for you.
What does Quick Straight Teeth cost?
Quick Straight Teeth aligners costs between £1,150 and £1,750 per arch. The ceramic braces from quick straight teeth are pricier.
If you're looking for a more affordable alternative, you may want to consider Smile White. They can treat 90% of cases, have 3 in-person dentist appointments to ensure a good result, and as a bonus, you'll get free whitening and retainers worth £790.
Book a FREE e-consultation or read our Smile White review for more information.
Use "DENTALY5OFF" to save an additional 5% on your treatment.
What is Quick Straight Teeth?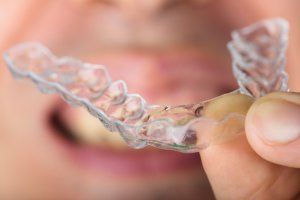 Quick Straight Teeth are UK-based and have been in operation for almost a decade. They've worked with over 5,000 clients to give them a straighter smile through their network of partner dentists.
The company offers two types of teeth straightening. One system uses clear ceramic braces and the other uses invisible aligners. Whichever you choose, it won't be all that noticeable that you're receiving orthodontic treatment – the ceramic brackets are tooth-coloured and the aligners are made of clear plastic.
Quick Straight Teeth focus on the front six to eight teeth so they can offer fast treatments, typically taking just four to six months. This means that they can't deal with more complicated cases of malocclusion, but they are suitable for mild or moderate crowding or protruding teeth.
Quick Straight Teeth braces are available through their network of dental practices across the UK. Throughout your treatment, you'll deal with your dentist or orthodontist rather than QST themselves.

How does Quick Straight Teeth work?
Since there are two products offered by QST, we'll describe each one below. The results will be similar either way, but there is a difference in cost and other pros and cons to each treatment.
But first, would you like to know what your smile could look like after braces? Find out right now using Invisalign's SmileView tool. It's free for anyone to use and you'll get your result in less than two minutes!
Quick Straight Teeth braces
We're all familiar with the idea of "train track" braces. You have a series of small, square brackets attached to your teeth which then get connected by a wire.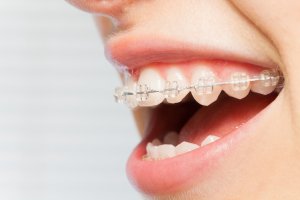 You can get something very similar from QST, but instead of the brackets being metal, they're made from ceramic. This means they're clear or tooth-coloured so a lot less noticeable when you smile. QST uses ceramic brackets made by 3M, an internationally renowned medical supply company.
Once the brackets and wires are in place, you need to visit your dentist every two to four weeks for adjustments, monitoring, and tightening.
Be careful to clean your teeth properly when you're wearing fixed braces. The ceramic brackets can also stain easily, so you need to be careful what you eat.
Quick Straight Teeth aligners
Not into the idea of having permanent fixtures on your teeth? Using aligners means you can remove your appliance whilst you're eating and drinking. They're less easy to spot when you smile, too, since they're made of clear plastic that fits over your teeth.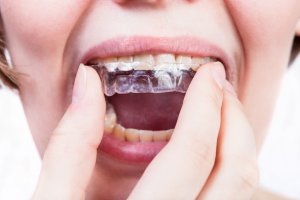 You'll get a new plastic aligner every two weeks or so and each one will be a little different. As the shape of the aligner changes, it'll put pressure on your teeth to move into a straighter position. Your chosen dentist will monitor you every two to four weeks through the process.
The convenience of being able to remove your aligners can be countered by the fact that you must wear them for 20-22 hours a day. The 2-4 hours you don't wear them must be used to eat, drink and clean your teeth. Water is the only thing you can drink when wearing your aligners.
Is QST effective?
If you have just one or two teeth out of place or need some small cosmetic improvements, Quick Straight Teeth should work just fine. The company has been established a good while now and has a solid history of cases.
If you need significant straightening involving more than just your front six to eight teeth, QST won't be an effective treatment for you. In this case, you can speak to your dentist about the alternatives like Invisalign clear aligners or another brand of fixed brace. Not all dentists offer both QST and Invisalign aligners, but you can easily search for Invisalign providers near you using their website.
Use "DENTALY5OFF" to get an additional 5% discount.
How do I get Quick Straight Teeth?
Quick Straight Teeth don't have their own dental clinics in the UK. They partner with dentists all over the country. You can check their website to find out where your nearest QST providers are. Then, book an appointment to discuss your treatment.
The process goes like this:
Make an appointment with a local dentist who works with Quick Straight Teeth in the UK.
During a free consultation, the dentist checks your teeth to see if they're suitable for either fixed braces or aligners. If your teeth are mildly or moderately crowded or protruding, you should be eligible.
The dentist takes impressions and photographs of your teeth so that QST can plan your treatment.
You can ask to see some Quick Straight Teeth before and after pictures from the dentist's other patients.
Before you choose to go ahead, the dentist will explain the treatment being recommended, give you a price, and tell you how long you can expect your new smile to take.
The dentist orders your braces or aligners from QST.
You return to have your braces or aligners fitted, and then schedule regular checkups to have adjustments or collect your new aligners.
Once you've got your selfie-worthy smile, you can discuss your retainer options with the dentist. Retainers will make sure that your teeth stay in their new position rather than drifting back to how they were.
How much does Quick Straight Teeth cost in the UK?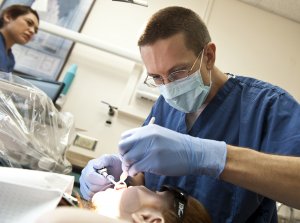 Every person's Quick Straight Teeth price varies depending on a number of factors including the length of treatment and the location of the dental clinic.
As a general guide, we can say that Quick Straight Teeth costs between £1,150 and £1,750 per arch and you may get a better price for treatment of both arches at once. Most dentists offer a free consultation for QST.
This price is comparable to the Inman Aligner and Invisalign, but cheaper than other brands of ceramic braces like Damon.
If you do just need cosmetic straightening, you might also consider at-home aligner treatment with NewSmile, which costs just £1,195 for both arches.
You'll pay your Quick Straight Teeth dentist directly, so you'll need to ask them about how you can pay. Before deciding to go ahead with your treatment, consider asking the practice:
Do they take credit cards and are there extra charges?
Can they give a discount if you can pay in cash?
Do they have a system that lets you pay in instalments?
Are there any finance companies that they can recommend?
Be sure you understand the full charges that come along if you decide to borrow money to cover your treatment.
You can also ask your chosen dentist for some Quick Straight Teeth reviews and before and after pictures from their other patients. This should give you a good idea of the results that can be achieved from just straightening the front few teeth.
Alternatives to Quick Straight Teeth
Thinking about other ways to straighten your teeth? There are plenty of other options to consider, each one suitable for different needs.
The brand most similar to QST is probably 6-Month Smiles as it also offers both invisible aligners and clear braces depending on the severity of the case. We have a detailed guide to different clear aligner brands but you can keep reading for a shorter version.
Our #1 recommended teeth aligners
Which is better: Quick Straight Teeth vs Invisalign
People often ask about Quick Straight Teeth vs Invisalign, who are the market leader in clear aligners. One of the major differences between these two brands is how exactly they can help you.
Invisalign has been working with clear aligners for over 20 years and has developed their own advanced technology. They're able to correct a whole range of issues with your bite and can work with all of your teeth, rather than the limited range of QST. You'll also probably find that Invisalign costs a bit more than QST.
At-home aligners
Following the success of Invisalign, many more aligner brands have come on the market, and some of them now offer remote treatment. This means you don't visit a dentist's office every month, but instead, your aligners are posted to you at home and a dentist or orthodontist monitors your treatment online via an app.
Similar to QST, brands like Smile Direct Club, NewSmile, SmileLife and Your Smile Direct clear aligners take around six months and offer mild to moderate cosmetic straightening. But because you're not paying for regular visits to a dentist's office, the at-home brands are much cheaper.
They also have a fixed price, as opposed to QST where you must visit for a consultation to see how much it's going to cost. Expect to pay from £1,200 to £1,800 depending on the brand you choose.
So which is best? Well, if you want the reassurance of regular face-to-face contact with a dentist, QST or the Invisalign system is the way to go. If you're looking for the most affordable treatment and don't want the inconvenience of dental checkups every two to four weeks, we recommend one of the following brands:
Find the right clear aligners for you
Complex cases
Treats up to 90% of Cases
Up to 40% cheaper than Invisalign
Buy now, pay later in interest-free instalments.
Rated 4.9/5 on Trustpilot
As seen on 5, BBC, 4, DailyExpress, TheMail
Get 5% OFF with our discount code DENTALY5OFF and FREE Whitening and Retainers worth £790
Smile White offers a hybrid model for clear aligner treatment. You have 3 in-office appointments, so your dentist can ensure in person that your treatment is going as planned.
That means that, unlike other clear aligners, Smile White can treat even the more complex cases of bite misalignment.
To get started:
Every treatment comes with free teeth whitening, so you can whiten your teeth while you straighten them!

Best value
Free retainers and whitening
Nighttime aligners available
0% interest finance options
£1,395 £1,295 or £83.33/month
NewSmile is a Canadian company that brought its clear aligners to the UK market in 2022. NewSmile aligners are made from the clearest material and the company offers excellent service at the best price.
They don't have any physical locations, so you'll need to purchase an aligner kit to get started. One of their Impression Specialists will guide you through the process on a video call when you're ready.
NewSmile aligners are very affordable, costing just £1,395 (currently discounted to £1,295). But even better, this price includes whitening foam to use in your aligners, plus your first set of retainers!
Choose their daytime package for treatment in 4-6 months, or nighttime aligners for a more discreet treatment that takes 8-10 months. Both options come with 0% interest payment plans available.
For a completely different way to straighten your front teeth, you could also consider Incognito braces, which are hidden behind the teeth.
Quick Straight Teeth reviews in the UK
Sometimes, it's best to find out about a new product from the people who've actually used it. Here are a few comments we've gathered from Quick Straight Teeth reviews around the web.
"Having a brace on for 17 weeks was surprising, not as many people noticed I was wearing one. If they did they were interest and asked lots of questions; I became quite proud of it. However, there were a couple of downsides to the brace. Biting into an apple is out of the question and the little brushes became really useful when eating spaghetti or rice. I also didn't like how yellow the glue became but you have to take the rough with the smooth. To be honest I'd do it again and only wished I'd done it sooner!"

Source: The Harrogate Girl
"I've successfully completed 15 weeks with Quick Straight Teeth, and I am now smiling for the first time since I was a child! Brilliant care, phenomenal results, and best of all affordable."

Source: Mumsnet
"I'm now 2 month into my treatment and on the strongest wire available (which goes to show how quickly these braces work!) I can already see a massive improvement with my teeth, there has been a lot of discomfort which i expected really, specially when it comes to meal times."

Source: Through Chelsea's Eyes
Overall, people seem quite happy with their results and the treatment has indeed been completed in under six months. But the faster you try to straighten your teeth, the more painful it might be, so think about what your priorities are.
Quick Straight Teeth before and after
Watch the short video below to see what results QST can achieve, especially when combined with other cosmetic dentistry like whitening and bonding.
Conclusion
Quick Straight Teeth is a way to straighten your teeth that's somewhere in between traditional, long-term braces and the new type of at-home aligners offered by other companies. You will still get to see a dentist regularly, so you can be sure your teeth are moving in the right direction.
The cost of Quick Straight Teeth in the UK is on the lower end of in-office treatments, so it could be a good alternative to Invisalign or other in-office brands.
If you're looking for a cheaper way to straighten your teeth, consider at-home aligners which don't require visits to a dentist. They aren't right for everyone but you can quickly check your eligibility for NewSmile, one of the most affordable brands in the UK, by visiting their website.
We always recommend visiting a dentist for a general checkup before starting any aligner treatment as it's important to deal with any untreated cavities and gum disease before wearing aligners. Your dentist can also assess your overall suitability for the treatment.
Sign up to receive the latest news and offers from Dentaly.org