Are you considering straightening your smile with PlusDent aligners, but aren't sure if they are the right ones for you? More and more people are deciding to get clear aligners over traditional braces these days. Especially those that are concerned with how they might look with a mouth full of metal.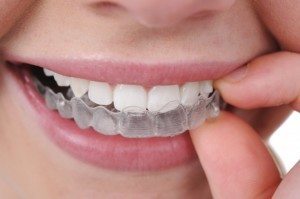 However, there are a lot of different clear aligners available to choose from. PlusDent is more of an at-home aligner, but there are others like Invisalign aligners that we will discuss that have in-office supervision and care.
So, to make sure you have all the information you need to make the right decision, this article will discuss all you need to know about PlusDent aligners, including:
What are PlusDent aligners?
How do they work?
What do they cost?
PlusDent reviews
What alternatives are there?
PlusDent vs Invisalign
Let's dive right in so you can get started on your journey to a more confident smile.
What is PlusDent?
PlusDent is a brand of clear aligners that was originally called SunshineSmile. It has recently been bought by the Straumann Group, a Swiss company that also owns Dr. Smile and Clear Correct.
PlusDent themselves are based in Berlin, Germany and were founded in 2017. SunshineSmile first started out as a series of clinics in Germany. But as they gained popularity they expanded to have clinics in the UK, France, Austria, Spain, Switzerland and the Netherlands.
They now have 30 clinics all over the UK, so you shouldn't have to travel too far for your initial consultation. Just head to their website to find your nearest clinic.
What are PlusDent aligners?
As we have already mentioned, PlusDent aligners are a type of clear aligners. But, just in case you are unsure, we will quickly go over exactly what clear aligners are.
Clear aligners are an orthodontic treatment used to straighten your teeth and align your smile. They are removable custom-made clear plastic trays that fit snugly over your teeth and apply pressure to gradually move your teeth into the desired position.
Generally, you need to check in with an orthodontist and switch aligners every two weeks to continue your treatment.
PlusDent is a hybrid system of both in-person and remote monitoring.
Your first consultation is with a dentist registered with the General Dental Council (GDC). Then, once you begin treatment, all monitoring is done remotely via the PlusDent app. This is in contrast to better-known brands like Invisalign, with fully supervised in-person treatments.
If you are interested to see how you might look after undergoing treatment with clear aligners, use Invisalign's free Smile View tool. Just upload a selfie and get your smile preview back in minutes.
How do PlusDent Aligners work?
PlusDent aligners work similarly to other clear aligner brands in the UK. But we will discuss the treatment process step by step so you know exactly what to expect.
The first step to getting started with PlusDent is to book a free in-person consultation with one of their dentists. During your consultation, the dentist will assess your teeth and answer any questions you might have about your treatment. Then, you will receive a 3D scan of your teeth which will create an accurate digital visualisation of your teeth and jaw.
This appointment is free of charge and you are under no obligation to continue with treatment if you decide PlusDent isn't right for you. Once you have had your appointment, the next steps of your PlusDent journey include the following:
You will be sent your custom orthodontic treatment plan including a 3D simulation of how your teeth will move and the expected results.
With your treatment plan, you will receive a price quotation based on the complexity of the treatment you need.
Your aligners will be custom made for you by dental technicians in Germany.
You will receive your PlusDent aligners for your entire treatment in the post.
Experienced dentists will monitor your treatment via the PlusDent app.
Wear your aligners for 22 hours a day, and change them in accordance with your treatment plan.
If your smile is not as your plan predicted you will be offered refinement for no extra charge.
Once you complete your treatment you will be expected to buy a retainer to maintain your smile. You will need to wear your retainer for 12 hours a day for the first six months.
Who is eligible for PlusDent aligners?
PlusDent aligners are suitable for those with mild to moderate orthodontic cases rather than more complex cases. They can treat crowding and spacing issues as well as some mild cases of malocclusion.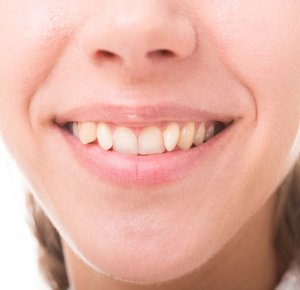 PlusDent aligners can treat a range of issues including:
It is worth noting that PlusDent states that their aligners can only treat the anterior region of the mouth. This means that it is not a full mouth treatment like Invisalign, and can only treat the front visible teeth.
Those with severe orthodontic cases that require complex tooth or jaw movements are typically not eligible for treatment. However, each individual case is different and a PlusDent dentist will access your smile and decide if you are eligible for treatment.
If you think your case is more severe or you want in-person care and supervision, don't worry, there are options more suited to your needs. Invisalign aligners can treat up to 90% of orthodontic cases, so why not do a free Smile Assessment to see if you're eligible.
If you want to consult a dentist or orthodontist in person, book a consultation with your nearest Invisalign provider to learn more.
How much does PlusDent cost?
PlusDent aligners are not the cheapest clear aligner on the market but payment plans are available. Depending on the complexity of your treatment prices range between £1,390 and £2,190.
You can choose a payment plan based on the number of instalments you would like to make, and what you can afford to pay each month. The following table summarises PlusDent prices, including the different payment plans available and overall costs:
| | | | |
| --- | --- | --- | --- |
| | | | |
| | | | |
| Payment Plan: 12 Payments | | | |
| Payment Plan: 24 Payments | | | |
| Payment Plan: 36 Payments | | | |
| Payment Plan: 48 Payments | | | |
PlusDent alternatives
There are plenty of at-home clear aligners on the market, depending on what you're looking for. If you are on a budget, PlusDent is in the more expensive range compared to some of its competitors. However, they do provide your initial consultation and 3D scan for free with no obligation.
Some at-home alternatives that are very similar to PlusDent include:
Straight My Teeth is by far the most affordable at just £999 per month. However, similarly to PlusDent is still only suitable for mild, and some moderate orthodontic cases. There are some really cheap alternatives like Smilint's "one-size-fits-all" aligners, but as with any dental product, make sure they are safe for use before you try them.
If you are looking for aligners that can treat more moderate and some severe cases then you may want to look at some in-office invisible braces like Invisalign.
PlusDent vs Invisalign
If you're trying to decide between PlusDent vs Invisalign, there are more differences than just the cost. The main difference between the two is that the Invisalign system is an in-office aligner and PlusDent is an at-home aligner.
PlusDent requires that you have an in-person appointment for your initial consultation, but experienced professionals will monitor the rest of your treatment remotely via the app. Invisalign requires that you visit your dentist or orthodontist every four to six weeks, which is more personable than an app and perhaps keeps you more accountable.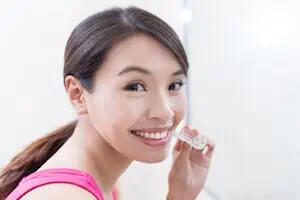 Invisalign treatment has been around much longer than PlusDent, so it has had much longer for research and development. It is also a full mouth treatment that can treat some severe orthodontic issues, unlike at-home aligner brands.
This study shows that the new advancements in Invisalign technology, such as the use of attachments, have made the Invisalign system superior to other brands of aligners. This is because they enable the aligners to have more control over tooth movements and have increased the predictability of results.
One difference that we have already briefly touched on is the cost. Invisalign aligners are generally thought to be more expensive, but depending on your case the difference may not be too great. With PlusDent being more expensive than some of its other competitors, Invisalign aligners may not cost much more in some cases.
Invisalign treatment does have cheaper options such as Invisalign Lite, so it's worth consulting your nearest provider to find out more.
The following table summarises the differences and similarities between PlusDent and Invisalign aligners.
| | | |
| --- | --- | --- |
| | | |
| | | |
| Suitable for mild problems? | | |
| Suitable for mid-level problems? | | |
| Suitable for complicated problems? | | |
| | £1,390 - £2,190 full mouth | £1,500 - £5,500 full mouth |
| | | |
| | | In person and remotely via app |
| | | |
| | | |
| | Anterior region of the mouth (the teeth visible when you smile) | |
PlusDent reviews 
My Smile Journey: PlusDent clear retainers and the pros and cons
In the following YouTube video, Victoria Taiwo reviews her treatment journey. She shows her Plusdent before and after pictures at the beginning of the video and then proceeds to explain the whole process from start to finish. She goes over the pros and cons, as well as the things she found difficult during her treatment.
Victoria is extremely happy with her end result, but she does say that the gap between her front teeth keeps reappearing. So, she is thinking about getting a fixed retainer to help with this. Victoria does say at the very end of the video that you will not get the exact same results that you would get with Invisalign treatment or fixed braces.
The service is ok but not amazing ★★★☆☆ (3/5 stars)
The service is OK but they should check in with you more frequently. I got an email yesterday saying they've reviewed my progress and I need to go back 2 steps. I'm over halfway through my treatment and it's the second email I've received from them about my case.

Well, I didn't know going back several steps was even possible and I've been disposing of the used aligners after each step. They said oh that's unfortunate, because you misplaced them, you will need to pay £60 per aligner to replace them.

I said no thanks. I'll carry on with my current tray. If they had been more attentive during the course of the treatment, or told me at any time that there would be a possibility of going back a few steps I would have kept each aligner.

As it happens, I am pleased with the results so far. I am capable of making my own decisions. So for the lack of check-ins and lack of communication about the steps and possibility of going backwards I am rating them 3/5.

Laura Walsh
This reviewer was not pleased and thought that more check-ins were needed. This highlights what many reviewers say, and may come down to the fact that all monitoring is done remotely.
Good ★★★★☆ (4/5 stars)
I found the whole process relatively good. My teeth look better now, I suppose they could be a tiny bit better, but I'm happy.

Shannon Roberts
This PlusDent customer was happy but thought her results could have been better.
Conclusion
With so many different clear aligners on the market today it can be hard to know which ones are any good. PlusDent is an OK option if you don't mind your progress being monitored remotely, but some argue remote monitoring is no replacement for in-person check-ups.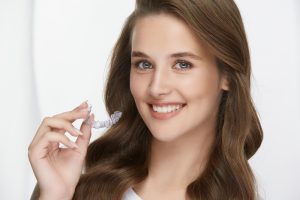 In fact, if we look at the reviews, many people did not like the impersonal monitoring via the app and some found they had to repeat steps in their treatment and felt this wouldn't have happened with more regular and in-practice appointments.
So, if you want to speak to a dentist face-to-face for more thorough check-ups, Invisalign may be your best option. Having in-person appointments with your dentist or orthodontist can help keep you accountable and they may pick up on any issues that aren't as evident over the app.
Invisalign treatment is a little more expensive than PlusDent, although they do have cheaper options. If you're on a budget, you may want to look at cheaper alternatives such as Straight My Teeth which are only £999.
Unfortunately, those that have more severe orthodontic issues may not be eligible for treatment with clear aligners like PlusDent or Straight My Teeth. But, don't worry, you may still be eligible for Invisalign aligners as they can treat up to 90% of orthodontic cases including some more severe cases.
If you are wondering if you're eligible for treatment with clear aligners you can use Invisalign's Smile Assessment tool to find out. Or find your nearest Invisalign provider and book a consultation to learn more.
Sign up to receive the latest news and offers from Dentaly.org