Finding an Invisalign dentist near you shouldn't be too hard, since they have a network of thousands of providers across the UK.
The easiest way to search for Invisalign near you and compare providers is to search online. You'll be able to browse all the dentists and orthodontists in your area who offer the Invisalign system and choose one that suits you.
Or, keep reading to learn more about what to consider when choosing an Invisalign doctor. We also have some tips for how to get the most out of their 'find a provider' tool for your invisible braces.
How to choose the best Invisalign provider near you
When browsing nearby Invisalign doctors, you'll see several pieces of information which might be important. Let's take a look at how these may inform your decision.
Invisalign provider levels
You may notice that each Invisalign doctor is assigned a level from Bronze to Diamond. But what do these categories mean?
Well, they are simply a reflection of the number of Invisalign treatments that the provider has performed. Bronze Invisalign providers are the least experienced, whereas Diamond providers have treated the highest number of patients.
Here's a full breakdown of the Invisalign provider levels:
Diamond (most treatments completed)
Platinum Elite
Platinum
Gold
Silver
Bronze (fewest treatments completed)
This ranking is not intended to represent the skill level of a doctor; it simply shows how experienced they are with providing Invisalign clear aligners.
Near work or home
If you work during normal office hours, you may find it more convenient to visit a dentist or orthodontist close to your workplace. You'll need regular checkups during your Invisalign treatment – approximately every four to six weeks. It's therefore worth choosing a location that won't be a big hassle to reach each time.
It doesn't matter whether you need an Invisalign doctor in London, Birmingham or Manchester, or somewhere slightly less well known, choose a provider located somewhere convenient for you.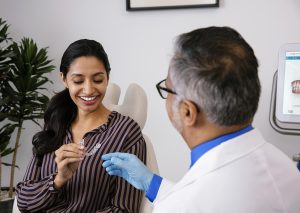 You can search for the ones with extended office hours by using the Advanced search feature.
Free Invisalign consultations
A lot of Invisalign providers offer a free initial consultation, but not all do. To find a free Invisalign consultation near you, search for Invisalign doctors and then apply the Advanced search filter 'Free initial consultation'. Then, only those who offer a free assessment will be displayed.
Speedy appointments
You can also use the Advanced search to find a provider with appointments available in the next two weeks. Select this option if you're keen to get started sooner rather than later.
Invisalign orthodontist vs dentist
Not all Invisalign providers are qualified orthodontists (specialists in tooth movement). Part of the reason for this is that Invisalign's technology does a lot of the work involved with planning and carrying out treatment. This makes it possible for any properly trained dentist to administer the treatment.
However, if you'd like the extra assurance that your Invisalign provider is also an expert in teeth straightening, you may use the Advanced search feature to select only orthodontists from the list of Invisalign providers near you.
What to expect at your first visit
When you attend your first Invisalign appointment, your dentist will begin by asking about the results you wish to achieve. This is your chance to explain why you're unhappy with your teeth and why you want clear aligners.
Then, they will do a general checkup to ensure you are a good candidate. If you have any untreated gum disease or cavities, these may need to be dealt with before you can commence treatment.
To create your Invisalign treatment plan, your dentist will do a 3D oral scan using a small camera-like device. This maps out the exact shape of your teeth in just a minute or two and is much more comfortable than traditional putty dental impressions.
This scan is used to create your treatment plan, which will include an animation of your projected tooth movement.
Preview your straighter smile
Did you know there is a way to see what you might look like with straighter teeth, without having to visit a dentist? You can use Invisalign's free SmileView tool online to see how your smile could be transformed. Just upload a selfie to get started!
Why choose Invisalign?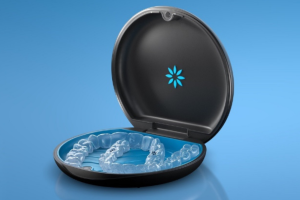 For many years Invisalign has been at the forefront of clear aligner teeth straightening. They are constantly developing new technology to make their treatment more precise and effective, and they have now successfully treated over 10 million smiles.
This study shows how the design helps to treat patients effectively and achieve great results.
There are other brands out there, but we believe Invisalign is the best choice if you want:
A market-leading company with the most established processes
A simple 3D oral scan using the iTero Element Scanner rather than dental impressions
Aligners made from Invisalign's aligners made of SmartTrack material making them more comfortable to wear
Regular face-to-face checkups to monitor your treatment and overall oral health
Some Invisalign competitors are much less expensive, but keep in mind that individual quotes for Invisalign will vary. You can call 866-383-0748 to find an Invisalign dentist near you who can give you a detailed price quote.
Finally, if you haven't already checked your eligibility for Invisalign, it's a good idea to do so with their quick online smile assessment. The majority of people that are assessed to be treated find they are good candidates for these aligners, but the most severe cases will need to be treated with fixed braces.
Sign up to receive the latest news and offers from Dentaly.org