Professional teeth whitening at the dentist is the best way to achieve a bright and white smile in a safe and effective manner. But, what are the different options, and which is the best professional teeth whitening treatment available at the dentist in the UK, and how do you choose the best one for you?
In this article, we discuss several professional teeth whitening options, how much they cost, and the pros and cons of each one. We'll look at:
Laser teeth whitening
Philips Zoom
Enlighten
Boutique
Professional teeth bleaching kits
Find out how much each of these brands of professional teeth whitening costs at the dentist and how long it takes to see results. If you decide you can't afford to get your teeth whitened professionally, we also have some suggestions for alternative teeth whitening methods and how to do it safely.
We hope this information helps you decide on the best teeth whitening treatment for your needs.
Professional-looking results at home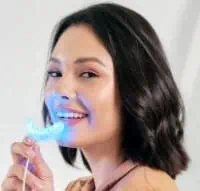 Did you know you can get professional-level whitening from home with the Smile Avenue professional teeth whitening kit? It uses LED technology and high-quality whitening ingredients made in the USA.
Smile Avenue's formula is safe for sensitive teeth and even helps to remineralize your tooth enamel as you use it. The kit delivers professional-looking results in 10-14 days, with only 16 minutes' use per day thanks to its LED technology. Use promo code DENTA10 for 10% off today, plus free shipping!
Another good option is the SmileWhite teeth whitening kit. But here you have 2 FREE dentist appointments included, and they guarantee you a brighter smile for 3 years.
What are the best professional teeth whitening treatments in the UK?
The best professional teeth whitening treatments in the UK include in-office whitening, at-home whitening kits prescribed by a dental professional, and laser whitening performed by a dental professional.
Before we examine these in detail, let's quickly look at how teeth whitening works, so you can understand what's happening when you get your teeth whitened by a dentist.
How do dentists whiten teeth?
Whichever treatment you choose, the teeth whitening process involves applying a bleaching agent (often hydrogen peroxide) to remove stains and give teeth a whiter appearance.
Qualified dental staff are allowed to use higher concentrations of peroxide than you'll find in over-the-counter teeth whitening kits, which means professional whitening can deliver better results.
External teeth bleaching
Most cosmetic teeth whitening works by applying a bleaching agent to the outside of the tooth. The hard outer layer of enamel is naturally translucent, and it's the yellow dentin beneath which actually gives teeth their yellowish colour. The whitening product soaks through the enamel to lighten the dentin, which in turn makes the teeth appear brighter.
Dentists use lasers, LED lights or other products applied to the teeth to accelerate the whitening agent and make the teeth whitening process faster. Although these methods can produce almost instant results, there is little evidence that they make teeth any whiter in the long run than a take-home bleaching kit with professional-strength gel.
Internal teeth bleaching
It's also possible to apply bleach inside the tooth. This method is used to whiten a single tooth that has become discoloured, for example as a result of trauma.
This procedure involves making a small hole in the tooth and inserting the bleaching agent into the affected area. The hole is closed with a temporary filling and the bleach is left for a while before being removed. This process can be repeated until the tooth becomes lighter.
In this article, we are focusing on external cosmetic whitening techniques that lighten all the teeth at once. If you have a single discoloured tooth, speak to your dentist about the options for internal tooth bleaching.
Our #1 recommended teeth whitening kit
Benefits of visiting a dentist for whitening
Although the price of teeth whitening at the dentist is higher than at-home alternatives, there are a number of safety benefits from being treated by a professional: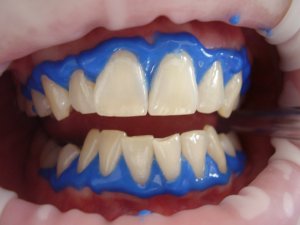 The dentist will check you're a suitable candidate for whitening. If you have inflamed gums or untreated tooth decay, for example, whitening is not advisable until you have taken care of these problems.
You can receive a professional dental cleaning before treatment. This ensures any plaque and tartar is removed, and lets the whitening gel work directly on your tooth enamel.
For in-office whitening your gums will be protected with a seal or shield.
Mouth trays are custom-made to fit your teeth properly and ensure even gel coverage.
The dentist controls your treatment intensity and duration to produce the results you desire.
There is also a higher level of patient satisfaction for whitening carried out at a dental clinic. A 2018 report found that 69% of patients were 'happy' or 'very happy' with their results – compared to just 42% of those who had used a home whitening kit. Dissatisfaction with home whitening is generally due to lack of results or tooth sensitivity.
Ask a dentist: Why get in-office whitening treatment?
Most home whitening kits just do superficial work, cutting down on surface stains. It could take up to a month to see any results, and your teeth are going to get maybe three or four shades lighter. At-home trays that you can get at the dentist's office are more effective, but you will still have to wait a week or two to get results.
With laser teeth whitening, the procedure doesn't take much more than an hour, and you get long-lasting results. It uses light-activated bleaching, and just one appointment can get your teeth eight shades lighter. You aren't going to get that kind of immediate result from a home whitening kit.
Dr. Alexei Aguil, Exquisite Dentistry
Note that only registered dental professionals are allowed to carry out tooth whitening in the UK. It's illegal for places like beauty salons to whiten teeth (or even provide professional-strength whitening kits) unless there is a dentist present. Only dental professionals have the correct training to know what to do if something goes wrong during your treatment.
How long does teeth whitening take?
The fastest professional teeth whitening methods can show results with just an hour of treatment in the dentist's office – sometimes even less. Light-activated gel gets to work faster. You may need several visits to the dentist to achieve the desired results, so the total time to whiten teeth can be a few weeks.
If you opt for a professional bleaching kit, you should start to see results after a few days of daily use but treatment will continue for around 10-14 days.
Laser teeth whitening
This form of whitening, also known as "laser bleaching" or "power whitening", uses lasers to accelerate the bleaching effect of a concentrated gel applied to the teeth.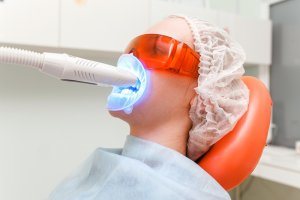 Laser teeth whitening costs more than other methods. Some clinicians agree that this method is the closest you'll get to "instant" teeth whitening; nonetheless, there is limited evidence that light-activated methods are more effective than others in the short-term, in fact, the effectiveness is usually attributed to the concentration of the active substance.
The first step of the laser teeth whitening process is to apply a seal or shield to protect the gums. Then, the teeth are coated with a bleaching product – usually containing hydrogen peroxide. A laser shone on the teeth during treatment makes this whitening technique so quick and effective.
The results of laser whitening should be clear after just one visit, but your dentist may recommend repeating the process to achieve the results you desire. Alternatively, you can get a take-home kit to further brighten your teeth over the following week or two.
Because laser whitening is such an intensive method and some heat is transferred to the teeth, there is a greater potential for sensitivity during and following treatment.
The current evidence is conflicting, some studies outline that this method causes the least sensitivity; however, other studies point out that high sensitivity is associated with the active substance rather than the method employed.
Due to the quick process, some clinicians may not recommend this method for people who want teeth whitening for sensitive teeth. Any sensitivity should subside quickly, but can be uncomfortable for some patients and extremely painful for others.
Philips Zoom teeth whitening (LED)
An alternative whitening procedure that takes place in a dental clinic is Philips Zoom! teeth whitening.
There are three different whitening treatments available from dentists under the Zoom! brand:
WhiteSpeed
Philips Zoom WhiteSpeed professional teeth whitening is similar to laser whitening treatment, but it uses an LED lamp to accelerate the whitening agent.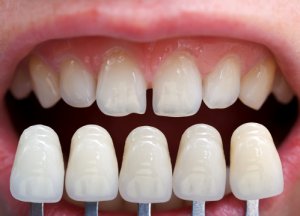 LED teeth whitening systems are not quite as intense as laser treatment so you might need more than one session to see the results you want, although Phillips claim they can whiten teeth by up to 7 shades in an hour.
With Zoom chairside bleaching, each session takes 45 minutes to one hour, with the light applied for two or three 15-minute periods.
LED whitening has largely replaced UV whitening since it's safer and proven to be more effective. It's UV light that causes sunburn and skin cancer, so using it in the mouth can damage gums, cheeks and lips.
QuickPro
Zoom QuickPro teeth whitening is a different type of professional tooth whitening that simply involves applying a whitening varnish to the teeth.
It only takes five minutes to apply, so can be done after a regular checkup or hygienist appointment. A layer of sealant keeps the 20% hydrogen peroxide varnish in place while you go about your day. After 30 minutes, you clean it off your teeth and they should be up to four shades brighter.
This treatment is more affordable than laser or LED treatment, and it saves a lot of time in the dentist's chair. The results may not be as drastic, but you should still see a noticeable difference.
DayWhite and NiteWhite take-home kits
Philips Zoom also makes take-home whitening kits. These are administered by dentists, but you use them at home. The gel comes in syringes that have a unique dual-cylinder design, which keeps the activating ingredient separate until you need it. The idea behind this is that a freshly-activated gel will be more effective at whitening your teeth.
Zoom teeth whitening gel contains either hydrogen peroxide or carbamide peroxide and is available in different strengths. You apply this using custom-made mouth trays and leave it on for anywhere between 30 minutes and several hours – including overnight – depending on the treatment agreed with your dentist.
You can purchase a take-home kit as a standalone treatment, or use one after in-office whitening to enhance the results. Zoom teeth whitening gel refills are also available, letting you maintain your results over a longer period of time.
Zoom teeth whitening review
To give you a better idea of what this whitening treatment involves, here is a video review from a lady called Em who had Zoom WhiteSpeed whitening at the dentist. She explains the process in detail and shows each step as it happened, so it's interesting to watch if you're considering having this treatment.
Em says that she has always had discoloured teeth and she's "really happy" with the natural looking results from her professional teeth whitening.
She had a full scale and polish a week before the treatment to get her teeth in the best condition for whitening. Her follow-on treatment involved using gel with mouth trays for 30 minutes, twice a day, for three days. The only sensitivity she experienced was on the second day of using the trays.
Enlighten teeth whitening
Enlighten is another brand that offers in-office whitening and take-home teeth whitening gel. But whereas with Philips you can choose which treatment options to combine, Enlighten teeth whitening happens in a fixed way.
First, your dentist will take impressions to make custom mouth trays. When these are ready, you take them home and use Enlighten teeth whitening gel for two weeks. After this, you return for teeth whitening at the dentist, which takes around 40 minutes.
Enlighten guarantees to get your teeth to a B1 shade – that's considered the lightest naturally-occurring tooth colour. They claim a 98% success rate and low sensitivity.
Boutique teeth whitening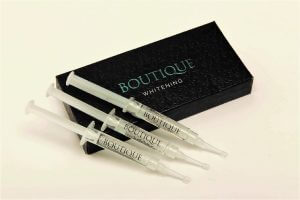 Boutique only offers take-home kits supplied through dentists. They have a variety of different gel formulas, and your dentist will suggest the best professional teeth whitening option for you according to how quickly you want to see results and whether you want to wear your trays during the day or at night.
Boutique teeth whitening kits come with BioMin toothpaste, which contains special ingredients to help remineralise teeth and reduce sensitivity during the whitening treatment.
All of these brands of dentist-supplied professional teeth whitening treatments should deliver good results since they use high-strength peroxide gels and will be tailored to meet your needs.
Non-branded professional bleaching kits
You can also get non-branded teeth whitening treatment at the dentist. These work in much the same way as those described above but tend to be cheaper as they aren't associated with a particular brand.
If you're interested in teeth whitening at the dentist, you can call around a few in your area to get prices or ask your usual dentist next time you visit. They will explain the different options and advise you on the most suitable treatment for the whitening you want to achieve.
Summary of professional teeth whitening costs and options
In this table, you can see a summary of how much teeth whitening costs at the dentist using the different methods we've mentioned. If you'd like more details, we recommend you read our guide to UK teeth whitening costs.
| | | | |
| --- | --- | --- | --- |
| | Laser/LED whitening (power whitening) | Whitening varnish (e.g. Zoom QuickPro) | |
| | | | |
| | 1 hour, 1 or more sessions plus optional take-home kit | 5 minutes in-office, 30 minutes total | 3-4 weeks with 2-3 dentist visits; 30 minutes - 8 hours for each home treatment |
| | | | First few days, but strengthen during treatment |
| | Up to 7-8 shades but may fade. Intense whitening procedures can cause greater sensitivity | Up to 4 shades. Convenient and fast. | Custom trays required. Treatment can be done overnight. |
Remember, these prices include:
The expertise of a qualified professional
Specialised technology
High-quality, concentrated whitening ingredients
Custom mouth trays for at-home treatments
Assistance if you experience sensitivity or any other problems
Additional work such as hygiene treatments and fillings will incur extra charges.
What is the best professional teeth whitening?
As you can see from the table above, professional teeth whitening at the dentist costs anywhere from £150 to £1,000 – perhaps even more – depending on the procedure you choose.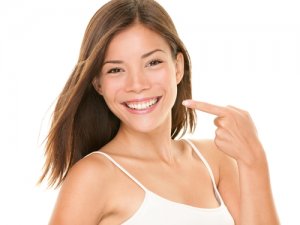 LED and laser teeth whitening cost the most because of the technology used, but offer the most drastic results quickly. Take-home treatments, where the dentist just supplies teeth whitening gels and trays, are generally more affordable.
So which is best? Are in-office treatments really worth it?
Note that the main benefit of laser and LED whitening over take-home trays is the speed at which they produce results. If you are happy with more gradual whitening, a take-home bleaching kit will still give good results over the duration of the treatment.
It's worth getting quotes from more than one dentist since professional teeth whitening costs vary from one clinic to another according to a number of factors. As we noted above, a non-branded treatment will probably cost less than well known brands like Zoom and Enlighten.
Another way to save money on professional teeth whitening is to get teeth whitening abroad. Dental treatment is considerably cheaper in countries like Turkey, Hungary and Thailand. If you're planning a holiday to one of these locations soon, you could save hundreds of pounds by getting your teeth whitened there instead of in the UK.

How do I find professional teeth whitening at the dentist near me?
Not all dentists offer cosmetic tooth whitening, and those that do each have their own preferred methods and brands. It's easy to look online for a teeth whitening dentist near you. Then, you can enquire about professional whitening costs and the methods they offer.
Your first step will be to have a consultation so the dentist can assess your suitability for your chosen teeth whitening procedure.
If you have dental caries or inflamed gums, you'll probably need treatment for this before getting your teeth whitened. The strong bleaching products that dentists use can easily lead to increased inflammation or sensitivity if used on patients with untreated dental problems.
Alternatives to in-office whitening
The main downsides to professional teeth whitening at the dentist are the cost and inconvenience. If the prices mentioned above seem high to you, or if you simply don't have the time to spare for several dental visits, an at-home LED teeth whitening kit could be a good alternative.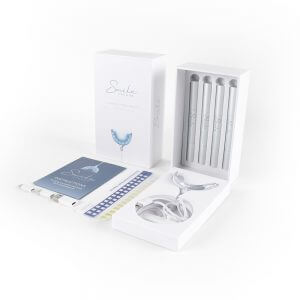 Although home kits don't give you the assurance of a dental professional administering your treatment, they are safe to use as long as you choose a good quality one and follow the instructions carefully.
One teeth whitening kit we recommend is this one from Smile Avenue. It's manufactured in the US and conforms to EU standards for cosmetic whitening products. It also contains remineralising hydroxyapatite, which makes it ideal for whitening sensitive teeth.
The LED activating technology means you should have brighter teeth in just a few days. You only need to use it for 16 minutes per day, and it plugs into your phone so it's really convenient to use.
Of course, this kit is much more affordable than in-office teeth whitening. The results may not be as drastic as laser or LED whitening at the dentist, but most people achieve 2-3 shades of whitening after 10-14 days of use. For a limited time, you can save an extra 10% by entering the discount code DENTA10 at the checkout, plus you get free shipping as standard!
Find more about at-home whitening kits in our full guide or read our full review of Smile Avenue's kit. It's available to buy on Amazon, too.
You could also consider a home whitening kit from Snow. This American brand has earned a great reputation for its professional whitening kits, including one with revolutionary wireless technology. They're a bit more expensive than some others you can buy online, but they come with a year's worth of treatment.
Best Teeth Whitening Kits 2023

Designed & developed by UK dentists

Includes 2 FREE visits at your local SmileWhite dentist

3 Year Guaranteed Results

Use code DENTALY5OFF to save an additional 5%!

"Best Professional Teeth Whitening with long-lasting results."

24-30 days of treatment included

Reusable components and affordable refills available

Ingredients to remineralize teeth and prevent sensitivity

30 day money-back guarantee

Free shipping and 10% off with code DENTA10

"Best affordable At-Home Whitening Kit."
Conclusion
If you want fast results, laser teeth whitening and LED whitening can whiten teeth by several shades in just one hour. A bleaching kit supplied by your dentist is a more affordable way to achieve good results while still under the supervision of a dental professional.
All of these methods of professional teeth whitening at the dentist cost hundreds of pounds, so people wanting a cheaper way to get whiter teeth might try a home whitening kit instead. There are many brands of kit available, and if you do choose this option, it's important to use a kit that adheres to strict quality regulations.
Our complete guide to teeth whitening has more information about kits and other teeth whitening methods (including some natural techniques) as well as how to care for your whitened teeth and make your results last longer, and you can check out our separate guide to see what your teeth could look like with teeth whitening before and after.
If you're wondering about using professional teeth whitening for false teeth or crowns, unfortunately, it's not an option that most dentists would recommend. You can read our guide on how to whiten dentures for more information.
FAQs
How long does laser teeth whitening last?
In-office laser whitening can achieve 7-8 shades of whitening, but some of this effect comes from the teeth being dehydrated after your mouth being open for so long. You may find that your teeth are not quite so white after a few hours.
However, the long-term results can last for months and years, especially if you take care to clean your teeth well and reduce the intake of stain-causing foods and drinks.
How much does teeth whitening cost at the dentist?
In-office whitening procedures cost from £400 to £1,000, but you can get a take-home whitening kit from your dentist for around £200 to £300. In-office procedures whiten teeth faster.
Is laser teeth whitening safe?
Because it is administered and monitored by a dentist, laser or LED teeth whitening is a safe procedure. They will check first that you are a suitable candidate, including checking for cavities. However, many patients do experience sensitivity and even pain from laser teeth whitening because it is such an intensive procedure.
Sign up to receive the latest news and offers from Dentaly.org