Are you considering whitening your teeth with Zoom teeth whitening? There are a lot of different ways to whiten your teeth depending on your budget and whether or not you want to see a dentist in practice or do the treatment yourself at home.
Zoom is an in-office teeth whitening treatment that involves hydrogen peroxide gel and an LED light to speed the process up. But, does Zoom whitening actually work and what are other people saying about this whitening treatment?
Find out everything you need to know about this treatment including:
Zoom whitening costs in the UK
Different options available with Zoom whitening
What Zoom teeth whitening reviews say
Laser teeth whitening vs zoom
Keep reading to find out more about Zoom whitening so you can decide if it's the right teeth whitening option for you.
What is Zoom whitening?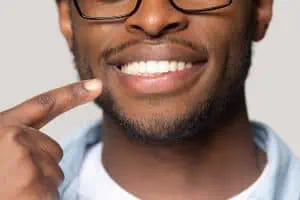 Philips Zoom is a teeth whitening procedure that uses bleach to lighten tooth enamel and dentin. Zoom can whiten stains and areas of discolouration from coffee, wine, smoking, and ageing.
The main Zoom dental whitening process is an in-office procedure. If you choose their standard whitening treatment, the dentist will use the Zoom Advanced Power Chairside Lamp that uses blue LED light technology to speed up the whitening process, along with 25% hydrogen peroxide whitening gel.
Amorphous calcium phosphate is also applied during the process to help provide enamel protection, increase tooth lustre, and reduce sensitivity.
The first step to getting Zoom whitening is to find a dentist who offers this procedure and meet with them for a consultation. They will work with you to come up with your individual and customised whitening plan using Zoom.
Zoom whitening ingredients
The active ingredient in the Zoom LED activated whitening gel is hydrogen peroxide with a concentration of 25%.
The Zoom whitening gel also contains ACP — amorphous calcium phosphate. This helps to reduce tooth sensitivity. It also protects the enamel during whitening and improves tooth lustre.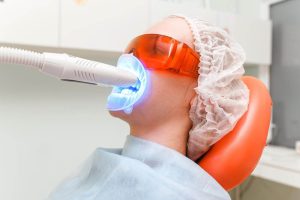 Types of Zoom whitening
If you choose Philips Zoom to whiten your teeth, you'll have a couple of options to choose from.
Philips Zoom QuickPro
Zoom QuickPro is a great option if it's your first time whitening your teeth or if you want to touch up your teeth without getting a full-on whitening treatment. The results of QuickPro are immediate and noticeable and you should see up to 4 shades whiter in just 30 minutes. This Zoom in-office whitening option is also more affordable than a complete whitening treatment.
Some dentists will even let you add on a QuickPro whitening treatment to the end of a normal check-up.
Philips Zoom WhiteSpeed
WhiteSpeed offers the most dramatic Zoom whitening results. It takes 45 minutes and your teeth should be 8 shades whiter afterwards. This type of treatment is powerful enough to remove stains from food, drinks, smoking, ageing, and some medications. It's also been shown to provide greater results than whitening without LED light.
You get customised whitening trays and a whitening kit to take home for touch-ups, the cost of which is included in your treatment.
Philips Zoom take-home whitening kits
For those who prefer to whiten from home, Philips offers two at-home whitening kits. Before you take your kit home, you will meet with your dentist and they will help you choose the best home option for you.
It is possible to buy Philips Zoom Teeth Whitening Gel online, but they do not come with the trays. It is also strongly recommended that you consult your dentist before whitening your teeth.
Philips Zoom DayWhite
This option is ideal for those who don't want to spend too much time whitening their teeth. You can get various strengths of whitening, and you wear your custom-made trays for 30 to 90 minutes per day. You should see results in as little as two weeks.
Philips Zoom NiteWhite
If you'd prefer to do your teeth whitening while you sleep, then the NiteWhite option might be for you. With NiteWhite, you whiten your teeth for two to four hours, or overnight. This option also offers various strengths and you'll see your results in two weeks.
Zoom whitening procedure
QuickPro procedure
Have a look at the steps for Zoom QuickPro:
Your dentist will prepare your mouth and gums.
They will apply a thin layer of quick-drying whitening varnish to each tooth.
You will then get a layer of protective sealant on your teeth to protect them from sensitivity.
Head home and after 30 minutes you can brush the dried varnish off.
WhiteSpeed procedure
The steps for Zoom WhiteSpeed are as follows:
Your dentist will identify the current shade of your teeth and plan treatment accordingly.
They will prep your mouth and apply the advanced whitening gel to your teeth.
Whitening will speed up with the WhiteSpeed blue LED lamp.
The light shines on your teeth during three rounds.
After the desired shade is reached, the dentist will apply the post-treatment gel to protect your enamel and relieve sensitivity.
DayWhite and NiteWhite procedure
Both the DayWhite and NiteWhite Zoom treatments are applied in the same way, but with DayWhite, you will wear your trays twice per day, for instance, in the morning and in the evening. With NiteWhite, you put them in once, overnight. Many patients choose to put them in when they go to bed and take them out in the morning.
For both options, the steps are as follows:
Place gel into each impression in your trays (a teardrop size).
Place the trays over your teeth.
Keep the trays in for the length of time prescribed.
Take your trays out and rinse them clean with cold water.
Brush your teeth.
Have a look at the summary of your different Zoom whitening options:
| | | | | |
| --- | --- | --- | --- | --- |
| | | | | |
| | | | | |
| | | | 30 minutes, twice per day for 2 weeks | 1–4 hours or overnight for 2 weeks |
| | | | | |
Zoom whitening cost
The average cost of Zoom whitening is around £300. The Zoom whitening price will depend on where you go, the type of Zoom you get, and the intensity of your treatment. In some cases, it could cost as little as £200; if you get the full in-office treatment, it could cost as much as £1,000.
Teeth whitening procedures aren't covered by the NHS or dental insurance, but a private dentist may offer a payment plan or discount plan to help spread out or cover the Zoom teeth whitening costs.
Zoom teeth whitening reviews
In this Zoom whitening before-and-after review, Em takes us along with her to the dentist's office to get her Zoom whitening treatment done. You can listen as her dentist explains each part of the process.
She is happy with her results and says that she didn't experience any Zoom whitening pain, but that she did begin to experience some sensitivity during the fourth round of treatment.
Rhiannon is using clear aligners to straighten her teeth and now she's going in for Zoom whitening treatment. She films the whole process while she is at the dentist and her Zoom before and after pictures. We have a separate guide where you can see more teeth whitening before and after photos.
Rhiannon says that she is so happy with the results and shows us just how white her teeth ended up.
Laser teeth whitening vs Zoom
Both professional laser teeth whitening and Zoom whitening will achieve noticeable results. They can react with the whitening gel in two ways: through photothermal action (by heating) or by photochemical action (light without heat).
The precise way it works, as well as the results and side effects, vary based on the type of laser used. For instance, argon and KTP lasers are the most frequently used in whitening procedures due to their photochemical reaction. But in simpler terms, here are a few key differences between these two whitening options:
Coverage: Zoom whitens all of your teeth at the same time for more consistent results. Laser whitening whitens each tooth one at a time.
Infrared: Zoom doesn't expose your teeth to as much heat as some types of lasers do.
Speed: The results with Zoom dental whitener are faster than they are with laser.
Comfort: Laser whitening tends to be more comfortable than Zoom because Zoom consists of 3 rounds of 15-minute treatments.
Customization: Because laser whitening can target specific teeth, results can be tailored to each tooth.
Some studies point out that blue LED emissions (as in the Zoom system) are comparable to argon laser emissions, which don't generate heat and so there is less sensitivity. When a patient experiences high sensitivity, it is usually due to the high concentration of hydrogen peroxide. Another study found that although both methods whiten teeth noticeably, laser bleaching is the more effective technique.
Many dentists will offer Zoom and laser whitening at their offices, so you can learn more about your options during your visit and choose the best option for your budget and whitening needs.
Zoom teeth whitening near me
If after reading this Zoom teeth whitening review you decide that you would like to pursue this treatment option, your next step will be to find a dentist who offers Zoom near you.
One easy way to do that is by doing a quick search to see which dentists in your local area offer Zoom whitening. Another option is to use the Philips Zoom postcode finder or contact Philips directly to find your nearest provider, just head to their website to find their contact details.
Alternatives to Zoom whitening
In-office professional whitening is the fastest way to get noticeable results. It's also considered to be quite safe because your dentist is supervising the process. However, this option also tends to be the most expensive, so it's understandable if you want to shop around.
Thankfully, there are more affordable options available. These include whitening strips, whitening kits, whitening pens, whitening toothpaste, and even customised whitening trays.
You can get noticeable results from take-home whitening kits, white strips, and whitening pens.
There are also options like Boutique whitening that is prescribed by a dentist but the whitening process can be done at home. The whitening gel and customised trays are the very same that dentists use in-office, but the process itself is a more convenient option for those that prefer to stay home.
These treatments will take longer than in-office whitening to achieve the same results. Many people who want whiter teeth, however, find it was worth the extra time to spend less and whiten from the convenience of home.
Products like whitening toothpaste, floss, or mouthwash won't make a very noticeable difference and are recommended to be used in addition to another whitening treatment for the best results.
Conclusion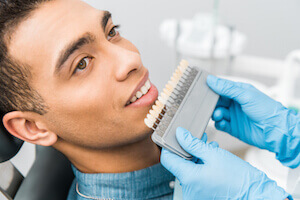 Zoom teeth whitening is a safe and effective whitening treatment. There are two in-office options to choose from — QuickPro and WhiteSpeed — and two take-home treatments as well — DayWhite and NiteWhite.
Zoom can cost anywhere between £200 and £1,000 unless you decide to go abroad for your whitening treatment, in which case it could be significantly cheaper.
If you want to whiten your teeth with Zoom, you can find a cosmetic dentist near you by using the postcode search on the Philips zoom website.
FAQs
How much does Zoom whitening cost?
Zoom teeth whitening costs an average of £300 but can range anywhere from £200 to £1,000 depending on where you go, the intensity of your treatment, and the type you choose. If you travel outside of the country, you may be able to find it for less.
How long does Zoom whitening last?
The effects of Philips Zoom teeth whitening treatment should last anywhere between 12 and 24 months. This will depend on your hygiene and diet — like if you drink coffee, smoke, or don't brush. Some studies show whitening lasting for 15 months with combined treatment of in-office bleaching and the use of trays.
Does Zoom whitening hurt?
Zoom whitening may cause some sensitivity but it shouldn't cause much pain. Your dentist will cover your lips and gums to protect them. Some people experience Zoom teeth whitening pain as brief points of pain during and after.
Does Zoom whitening work?
Zoom whitening does work. The whitening gel features 25% hydrogen peroxide, and Zoom says that their standard treatment can make your teeth up to eight shades whiter. Some studies show an improvement of even nine shades whiter.
Sign up to receive the latest news and offers from Dentaly.org