Medically reviewed by: Dr. Asha Ramesh
Are you wondering which is the best water flosser in the UK right now? Our guide is here to help you decide.
Maintaining good oral hygiene means you should be flossing every day. Statistics show, however, that only a quarter of British adults floss regularly. If this is something you struggle with, have you tried an electric water flosser?
Many people are put off using conventional string dental floss for a variety of reasons:
It hurts their gums
It gets stuck in their teeth
They find it too fiddly
It takes too long
They don't know how to floss properly
Fortunately, dental water jet flossers (also known as oral irrigators) address all of these issues by making the process quicker, easier, and gentler on teeth and gums. In this article, you'll discover how these devices work and the different features they come with.
We compare features and reviews of some of the best electric flossers available in the UK for 2021 so you can decide which one is right for you.
Number of tips: 5 different (7 in total)

Number of settings: 10 power settings

Fairywill cordless water flosser WF-5020E

Number of settings: 3 power settings

Number of tips: 4 different

Number of settings: Triple-burst customisable settings

Panasonic EW-DJ10 travel flosser

Number of tips: 1 x standard

Number of settings: 2 power settings

Cordless: Yes - uses AA Batteries
Do water flossers work as well as regular floss?
Before we look at the different products on offer, there is one important question to answer: Are water flossers any good? Can you use an electric flosser as a substitute for traditional dental floss or interdental brushes?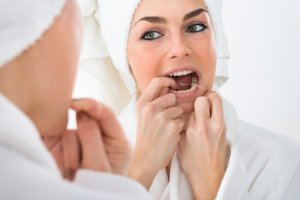 There is more than one answer to this question. One 2013 study showed that water flossing removed 29% more plaque than string floss, while other research trials have shown a greater reduction in gingivitis (gum disease) from using a water jet flosser.
In addition, oral care manufacturers usually conduct their own tests to show their product is the most effective at X, Y and Z.
Despite this, most dental professionals still advise patients to use string floss or interdental brushes – as well as an oral irrigator if they wish. The reason for this is that flossing and interproximal brushing physically scrapes dental plaque off the surface of the tooth, whereas a water jet flosser just rinses it.
Ask a hygienist: Why is interdental cleaning important?
When you are staring at yourself in the bathroom mirror while brushing your teeth, you can see the front surfaces of most teeth and maybe the molars–if you choose to look! But what about the tiny gaps between your teeth where pieces of food get stuck?
Now you know the place that the bacteria like to live and interdental spaces are practically the nook and corner of your teeth where microbes can flourish. It is not practically possible for a toothbrush to access these areas even though proclaimed on adverts, so interdental cleaning along with tooth brushing is the best practice for your oral hygiene.
Interdental cleaning aids include your dental floss, interdental brushes, dental tape, and oral irrigators. Make sure to grab one of the above and incorporate interdental cleaning in your daily oral hygiene routine.
Dr Asha Ramesh
Not what you wanted to hear?
Well, a dental water flosser may still be more effective for people who:
Have dexterity problems which make it difficult to use normal floss
Have very sensitive gums that bleed easily and find traditional dental floss painful to use
Are wearing braces
Have dental bridges, crowns or implants
Have gaps between teeth too small for interdental brushes
Just really dislike string floss and are never going to use it!
You may also be concerned about the amount of plastic waste produced by traditional floss, although there are several kinds of plastic-free dental floss. These are made with natural materials like corn, silk and bamboo, which are more eco-friendly.
If you're serious about good oral hygiene, you could use string floss or interdental brushes first to loosen any food particles and then rinse your teeth with an electric flosser. But if you can't use string floss for whatever reason (or just don't want to), a water flosser is definitely better than not flossing at all!
| | Traditional string floss | Electric flosser |
| --- | --- | --- |
| Pros | Cheap; scrapes plaque off teeth | Quick and easy to use; gentle on gums |
| Cons | Fiddly and time-consuming; may damage sensitive gums | Costs more; uses electricity; may not be as effective |
Oral irrigator features to consider
Once you decide to purchase a dental water jet flosser, you still have to work out which brand and model will suit you best. This choice can be quite overwhelming, particularly if it is your first time purchasing one. Here are some of the main things you should consider: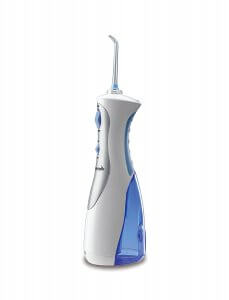 Mains operated or rechargeable: You may be used to having a cordless electric toothbrush, but some flossers are connected to a mains-powered base that holds the water reservoir. This unit is quite large, so not ideal for travelling. On the plus side, the larger reservoir means less frequent re-filling, while the flossers themselves tend to be more powerful than cordless versions.
Budget: You can spend up to £100 on a top-of-the-range electric dental flosser from brands like Waterpik and Oral-B, but some lesser-known brands like Fairywill have basic models, which work just as well, for around £30.
Settings: Some flossers have just one or two power settings while others have up to 10. Few people will make use of all 10, but it's good to have options – especially if more than one person in your household will be using the device.
Tips: As well as the standard water jet tips, some models come with special tips for different purposes. These include tips for cleaning teeth implants, flossing around braces, and cleaning your tongue.
Electric toothbrush compatibility: If you're short on bathroom shelf space or plug sockets, there are a couple of options. Firstly, you could buy a cordless water flosser that is compatible with the charging base you already have for your electric toothbrush. Secondly, you could purchase an all-in-one unit which incorporates both a toothbrush and flosser.
Plug type: Like electric toothbrushes, most flossers come with a 2-pin plug that fits standard bathroom sockets in the UK. However, some have a 3-pin plug which makes them less convenient for bathroom use, so this is something to check before you buy.
Best water flossers in the UK
So, now you understand what to look out for, here are some of the best water flossers in the UK for you to consider. All of these brands have different pros and cons, and you'll find a handy comparison table later on which summarises all of this information.
Waterpik WP-660UK Ultra Professional Water Flosser
The name Waterpik is synonymous with oral irrigators and they have a range of products to suit different needs and budgets. Using a combination of water pressure and pulse technology, their flossers remove up to 99.9% of plaque when applied to an area for just 3 seconds. We have a separate guide to the Waterpik flosser range with some detailed reviews. Check that out if you want to know more, but for now here are a couple of the most popular models.
The Waterpik Ultra water flosser has 10 power settings which range from 10 to 100 PSI. Its four different tips let you clean your teeth and mouth thoroughly even if you have braces, dental prostheses or gum problems.
This most recent model, the WP-660UK, has a compact design and is less noisy than previous versions. Because of its size, the water tank is smaller than some others on the market. However, its 650ml capacity is enough for 90 seconds or more of water flossing, depending on the setting you use.
"This waterpik is highly rated by many product reviews and i'll also give it the thumbs up. It is certainly quieter than the previous make i used and comes with a variety of piks to cover most teeth/gum situations. Overall,very pleased." is the feedback from one Waterpik review.
The Waterpik Ultra is not the cheapest water flosser out there, but you're getting technology from the market leader in oral irrigators, plus it comes with a 3-year warranty for peace of mind.
Waterpik WP-450UK Cordless Plus
If you want an electric flosser that's easy to take with you when you travel, you'll need a cordless model with a built-in water reservoir. Waterpik's Cordless Plus has two pressure settings offering 45 and 75 PSI of pressure – lower than the full-sized units but still enough to deliver an efficient clean.
It comes with four different tips including a tongue cleaner, and its easy-fill reservoir holds enough water for 45 seconds of use.
Some reviewers found it quite messy to use – at least at first. It can also be quite noisy.
Waterpik have also released the Waterpik WP-563UK Cordless Advanced. This has three pressure settings rather than two, it's shower-safe, and has been designed to be ultra-quiet. The rapid-charge system means it will charge in just 4 hours. Whether these features make it worth around 40% more than the Cordless Plus… you'll have to decide.
In this short video clip you can see the Cordless Plus Waterpik in use. The user says he loves using it (and it only made that much of a mess because he was trying to talk while using it!).
Quite a few people have had an issue with the battery in their Waterpiks, especially with the Cordless Plus, but have been able to get a replacement product quite easily if the fault occurs within the 2-year warranty period.
Fairywill cordless water flosser
You might not have heard of Fairywill water flossers before, but there's a good reason why they have made it onto our list of the best water flossers in the UK. They are one of the lesser-known brands which, although they may not have the same fancy technology as some of the others, still provide an effective way to dislodge food and plaque from between teeth.
Although it's one of the cheapest water flossers available in the UK, the Fairywill oral irrigator has 3 power options and delivers up to 110 PSI of pressure – which is more than the Waterpik equivalents that cost considerably more.
The three settings – Normal, Soft, and Pulse – emit between 1,400 and 1,800 pulses per minute at 30-110 PSI. This is one of the strongest jets available, so you may want to start on 'Soft' the first few times you use it.
The large 300ml tank means you shouldn't need to refill it half way through, unless you are particularly thorough. A 4-hour charge lasts for approximately 21 days of use, which is something that many users appreciate, and it plugs into any USB socket for convenient charging.
You get eight water flosser tips included, and it's recommended you switch to a new one every 3 months for hygiene reasons. If more than one person will be using the water flosser, it's best to have one tip each. Pictured here is the black version, but this Fairywill water flosser is also available in white with pink, blue or purple accents.
Given the price, this is a great value water flosser which doesn't look or feel as cheap as some of the other budget options out there. It comes with a 1 year replacement guarantee, plus a 45-day money back guarantee. Lots of reviews mention the excellent customer service, so you should be able to buy with confidence.
All in all, we think this is one of the best cordless water flossers in the UK, especially if you're on a tight budget.
You can also purchase this water flosser along with Fairywill's bestselling electric toothbrush for under £50 in this package!
Philips Sonicare AirFloss Pro
The other big name in the electric flossing market is Philips Sonicare AirFloss. These flossers use a different kind of technology which combines bursts of air and water. Since they don't have a continuous flow of water they use much less, and so don't require a bulky reservoir. This design also makes the Philips water flosser less messy to use, as you don't have to lean over a sink while water dribbles out of your mouth. Its tips have a thin nozzle which makes it easier to find the correct position between each tooth.
There are two models available: the standard and Pro flossers. Both come in a range of colour options. A single tap of the button delivers one burst, but both models have an auto-burst feature which delivers a burst every second when you hold the button down.
The AirFloss Pro costs around £15 – £25 more than the standard model and comes with the following extra features:
Larger reservoir
Single, double and triple burst settings
A high-performance nozzle which delivers extra power
Both AirFloss models are available to buy in high street stores like Argos and Boots, but you may find more competitive prices online.
Compared to the Waterpik, the AirFloss doesn't have as many bells and whistles (no adjustable power settings and only one kind of tip). However, some people find the AirFloss easier and less messy to use because of the way it emits water.
Airfloss water flossers do seem to suffer from reliability issues too, though. A reasonably high number of users have had problems with their units after just a few months, although they were happy with how it performed until that point. Fortunately there is a two-year warranty to fall back on.
Panasonic EW-DJ10 travel flosser
Another brand of oral irrigator stocked in many high street shops and online outlets is Panasonic. They have three models which are all cordless. One, marketed as a 'travel' flosser, uses AA batteries while the other two have a charging dock.
Panasonic's travel water flosser, the EW-DJ10, is a cheaper alternative to some other brands while still being a well-known name. Its 165ml reservoir lasts for about 40 seconds, and it has two pressure settings which emit a jet of water.
It's not just its portability which makes it suitable for travel; the water reservoir doubles up as a travel case to store the nozzle safely and reduce the amount of space it takes up.
It's slightly less powerful than the rechargeable models and you'll need to replace the batteries when they run down. Reviews suggest this is about once a month with normal usage. So, if you don't specifically need this irrigator for its travel features, you may be better off with a rechargeable model.
Panasonic EW1411 rechargeable oral irrigator
Panasonic has two rechargeable models which both have variable pressure settings, the newer one being the EW1411. You can choose between a water jet or water mixed with air, which is recommended for periodontal cleaning. Neither models have pulse action though, which sets them back from Waterpik, Philips and Fairywill cordless models.
The compact design is handy if you're short on space but it comes with one big downside: the 130ml tank only provides a 35 second capacity during normal cleaning. This means you'll have to refill it at least once – if not more – during each use. Although this is not a big hassle, it's something that many reviewers found annoying, with one calling it an "oral irritator".
The price of the basic model is similar to some other water flossers with more features, so might feel you're getting less for your money than with other brands.
Oral-B Aquacare 4 water flosser
Oral-B, a big name in powered toothbrushes, also have a range of electric teeth flossers. Their countertop model, the Oxyjet MD20, has come under criticism for quality issues, with some users complaining about low water pressure. With a retail price similar to the Waterpik Ultra, it doesn't have a lot going for it unless you particularly like the technology that Oral-B use in their water flossers.
Oral-B also make two cordless water flossers which are worth a mention although they aren't without their faults.
The Oral-B Aquacare 4 electric flosser is a cordless flosser that uses Oxyjet technology to insert micro-fine air bubbles into the water jet. The rotational setting emits spiralling water jets to dislodge plaque all around the teeth, and it also has a more traditional straight jet mode. The basic model has two power settings but a more premium model, the Aquacare 6, has three power modes.
Some users comment that the water jet slants slightly upwards, and this takes some getting used to. But the biggest criticism is that it just doesn't feel that strong compared to other brands of water flosser.
"Anyone who has used a Philips Sonicare Airflosser will be disappointed, the Braun waterjet is feeble but fills your mouth with a huge volume of water – definitely neither effective nor pleasant," comments one user, with another adding, "The pressure even on the intense settings is worse than my old flosser while the directional jet delivers the flow at an angle upwards not straight out as shown in the photos; I tried the other head but this was the same."
With the Aquacare 6 costing upwards of £100, making it one of the most expensive oral irrigators available, it doesn't seem to justify the price tag.
UK water flosser comparison
That was a lot of information to take in! If you're still undecided, this comparison table may help. Keep reading below to see our top water flosser picks for specific needs.
| Brand | Waterpik | Waterpik | Fairywill | Panasonic | Philips |
| --- | --- | --- | --- | --- | --- |
| Model | Waterpik WP-660UK Ultra | Waterpik Cordless Plus | Fairywill FW-5020E Water Flosser | Panasonic EW-DJ10 Travel Flosser | Philips Sonicare AirFloss |
| Price range | £££ | ££ | £ | £ | £££ |
| Number of tips | 5 different (7 in total) | 4 different | 8 x standard | 1 x standard | 2 x standard |
| Average cost of replacement tips | £3.50 | £3.50 | £2.50 | £3.75 | £4.50 |
| Number of settings | 10 power settings | 2 power settings | 2 power settings + pulse mode | 2 power settings | 1 |
| Capacity | 650ml, 90+ seconds | 200ml, 45+ seconds | 300ml, 60+ seconds | 165ml, 40 seconds | 60ml, 60 seconds |
| Cordless? | No | Yes | Yes | AA battery powered | Yes |
| Other features | Compact design takes up minimal space | | Quiet motor, waterproof | Compact design for travel | Auto-burst feature; low water usage |
| Warranty | 3 years | 2 years | 1 year | 1 year | 2 years |
| Best for | Use with braces, implants, etc. | Portable design for use with braces, implants, etc. | Value: low price for the features | Compact design for travelling | Water saving, less messy |
The best oral irrigator for your needs
If you're searching for the best water flosser for specific needs, take a look below at our recommendations.
Best for families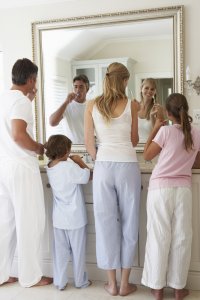 If several people will be using the same electric flosser, you'll want enough tips for everyone – plus a place to store them all neatly. A water jet flosser with a good range of power settings will ensure that each family member can use it comfortably.
The Waterpik Ultra WP-120, a slightly older version of the model reviewed above, meets both of these critera. There is a handy storage area in the lid, big enough to hold the six tips it comes with. And its 10 power settings mean it should be suitable for whoever wants to use it.
Best for cleaning braces
It can be hard to clean teeth properly while wearing braces, but an oral irrigator makes the job a lot quicker and less fiddly. Although you can clean braces with any dental water flosser, you may get more effective cleaning with one that has a specially designed orthodontic tip, such as the one that comes with the Waterpik models (cordless and countertop) or the Fairywill flosser described above.
Best for gum care
Again, the Waterpik flosser models come out top with their special PikPocket nozzles. These have a soft rubber tip to gently clean periodontal pockets and contribute to better gum health. However, you could use any model of flosser and direct the jet towards the gumline, provided it's not too strong.
Best for travelling
If you're looking for a compact water flosser that takes up minimal space while travelling, the Panasonic EW-DJ10 is a good option from a well-known brand. The 165ml water tank doubles up as a case, saving space and offering protection at the same time.
Another option at a similar price point is the Elehot travel flosser. It has a similar compact design to the Panasonic but a slightly larger 200ml capacity, offering 60 seconds of continuous usage. It's also rechargeable, via USB, so a good alternative if you'd rather not use batteries. You get five nozzles and a travel pouch, making it arguably better value for money than the Panasonic.
Best for saving bathroom space
If you're short on space in the bathroom, consider a model that can be wall mounted to save space. Otherwise, opt for a countertop water jet flosser with a compact design, such as the Waterpik Ultra.
Best for water saving
The Microburst technology used in the range of Philips Sonicare flossers means they use much less water than other designs. Whether you're concerned with conserving water or simply having a slimmer design that holds enough for two uses, one of the Philips water flosser models would suit you.
Best value for money
Taking into account price, features, strength and reliability, the Fairywill water flosser delivers great value for money. This budget water flosser has 3 power settings and 4 tips included, and comes with a 1-year warranty.
If you prefer to stick with a name you know and get a 2-year warranty then we recommend Waterpik and Sonicare AirFloss over Oral-B or Panasonic.
How to use a water flosser
You might be familiar with using an electric toothbrush, but a water flosser is quite different. If you're unsure how to use a water flosser, these steps should help: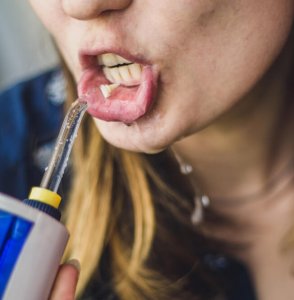 Make sure your water jet flosser is charged.
Fill the reservoir with water.
Select the correct nozzle and ensure it is firmly attached.
Place the nozzle between two teeth, at the gumline. You might find it easiest to start at the back on one side and work your way all the way around to the other side.
Tilt your head down over a sink (or in the shower if you have a waterproof oral irrigator).
Turn the water flosser on to the desired strength.
Hold the jet in position for several seconds, then move on to the next gap between your teeth.
As your mouth fills with water, let it freely flow out and keep working all the way around your teeth.
Repeat for all teeth on the top and bottom, and don't forget the very back surfaces.
Depending on the capacity of your flosser, you might need to re-fill it part way through.
If you have braces, implants, or periodontal pockets that require special cleaning, it's best to check with your dentist about the best way to clean them without risking any damage.
Should you use a water flosser before or after brushing?
You can use regular dental floss before or after you brush. There are different trains of thought on which is best, but both are effective at removing plaque.
When it comes to an oral irrigator, though, there is one important consideration. If you use a fluoride toothpaste, flossing afterwards will wash a lot of the fluoride off. Just as it's best not to rinse your mouth with water after brushing, it's best not to use a water flosser straight after, either.
You can use your water flosser before brushing or – if you have time – wait 30 minutes or so to let the toothpaste ingredients have their full effect.
Read more about how to brush correctly here.
Water flossing tips
Follow these additional tips to get an even more effective clean.
Don't turn your electric flosser on until it's positioned correctly in your mouth. The water jet shoots a long way if you turn it on before it's in your mouth, and it could injure your eyes or other parts of your body, not to mention the mess! Similarly, switch off before removing it from your mouth.
Use lukewarm water, especially if you have sensitive teeth, crowns or bridges. Cold water is likely to trigger sensitivity and even pain as it shoots around near the gums.
Don't use salt water. Even if you dissolve it carefully, some small particles could get stuck inside and clog up your oral irrigator over time.
Mix in some mouthwash for an extra burst of freshness. Don't use it neat, because you'll get through far too much. But mix a little in with the water and you'll have an even fresher feeling after using your electric flosser.
Summary of the best water flossers in the UK
Waterpik is still the biggest name in electric flossers, with their range of countertop and cordless models offering effective cleaning with variable power settings. People with braces, implants, bridges, etc. may benefit from the different tips designed for these purposes.
However, in some water flosser reviews people say they prefer the simple function of the Philips AirFloss range, which uses much less water.
Oral-B and Panasonic are other big-name brands that produce water jet flossers, although on balance they offer less value than Waterpik and Philips.
If you're looking for an affordable water flosser and aren't concerned about brand names, this one from Fairywill offers great value for money. Our testers picked it out as one of the best cordless water flossers, thanks to its compact design and powerful motor.
If you're unsure whether an electric flosser will suit you or you need advice on any specific features, speak to your dentist for their recommendations.