The Oclean W10 water flosser is the latest in the range of water flossers from the Chinese brand Oclean. Originally from Shenzhen, Oclean has become popular throughout the world of oral hygiene thanks to its electric toothbrushes, water flossers, and high-tech accessories. But how does this one compare, what's new and how well does it work?
We had the opportunity to test the new Oclean W10 water flosser and see what we thought of it. Keep reading to see how we rated it on the following points:
Ergonomics and aesthetics
Efficacy
Cost
This article will also discuss how it compares to other water flossers in the UK, and what we think could be better.
What is a water flosser?
A water flosser is a replacement and sometimes supplement for flossing with dental floss and interdental brushes for those that find flossing difficult, or those who just don't enjoy flossing.
It looks very similar to an electric toothbrush, except it includes a water tank generally in the handle, and instead of a brush head it has a nozzle that directs the stream of water.
Maintaining a good dental hygiene routine is essential, and to do this we recommend brushing your teeth properly twice a day for 2 minutes each time. Then, use dental floss or interdental brushes to clean between the teeth and remove any food particles and help to prevent dental plaque from forming in tooth grooves.
However, this isn't always a simple job, especially if you have very crooked or crowded teeth.
If this sounds like you, a water flosser could be the solution as it's simple to use and doesn't risk damaging your gums if used incorrectly. Water flossers can be used by anyone, even those suffering from gum disease or wearing braces.
In fact, water flossers can be particularly helpful for those struggling to properly clean their teeth with braces, or dental crowns. You can read more about water flossers for braces or the best Waterpik for braces in our full guides.
Our opinion on the Oclean W10 dental jet
The latest Oclean water flosser, the W10, is available in green and pink, and its stylish and compact design is particularly attractive. In comparison to its predecessor, it is more flexible, portable and stable. This water flosser also has the following benefits:
5 modes
4 high-performance nozzles
Battery indicator
Timer
200mL water tank
Quick recharge
It brings together all the characteristics that one can expect from a portable travel water flosser, with style. After using it for several weeks, we can guarantee the Oclean W10 water flosser lives up to the hype!
Overall rating: ★ ★ ★ ★ ★ (5/5)
Keep reading to learn more about the W10 water flosser, but if you're ready to make a purchase you can use code Dentaly10 for 10% off your order.
Features of the Oclean W10 water flosser
The Oclean W10 water flosser comes with:
1 x Water flosser
4 x Nozzles
1 x USB-C charging cable
1 x User Manual
In terms of the technical characteristics of the water flosser, we can note:
200mL water tank
30 days battery life
5 modes: powerful normal, standard normal, sensitive normal, pulse mode, direct shooting mode
1400 pulses per min
4 hour recharge time
Now, let's find out what the Dentaly.org team thought, point by point.
Ergonomics and aesthetics: ★ ★ ★ ★ ★ (5/5)
The water flosser itself has a wide handle with a silicone strap that you can attach to the Oclean W10 water flosser making it easy to handle. And, thanks to its waterproof IPX7 design, it stays in place and does not slip, even with wet hands.
The Oclean W10 water flosser is available in 2 pastel colours: pink and sea green. Both are very elegant and make the water flosser a nice addition to your bathroom.
The packaging is also quite attractive while remaining modern and uncluttered.
Features: ★ ★ ★ ★ ★ (5/5)
Oclean W10 has an integrated timer, 5 modes of use and 4 nozzles. It is simple to fill, use and clean, and recharges completely in 4 hours. Hard to beat! This water flosser's best feature is that it adapts to all needs, from classic daily use and cleaning of dental appliances and braces to the care of periodontal pockets.
Use: ★ ★ ★ ★ ☆ (4/5)
Oclean's new water flosser has a large central button that turns the device on and off. Another button allows you to change the mode of use, and indicator lights indicate the mode selected. This simple, no-fuss design makes the Oclean W10 extremely easy to use.
To fit a nozzle, simply insert it firmly into the hole at the top of the device. Press the small button located nearby to release it. Filling the water tank is also very easy thanks to the opening directly behind the nozzle.
What we appreciate above all is how easy it is to clean the actual water flosser, which is not always the case. It is possible to remove the water compartment in order to do so, which makes a huge difference.
The Oclean W10 is an accessory that can seamlessly fit into your daily dental hygiene routine and its compact and portable design mean you can take it travelling.
Cost: ★ ★ ★ ★ ☆ (4/5)
Costing around £59, the W10 water flosser is in the middle range of portable water flossers. It is more expensive than a basic water flosser but its many features and flawless design do not disappoint.
In comparison with the big brands in the sector, it is rather economical and has nothing to prove in terms of functional and technical features. You'll find it on sale right now for around £45, and it's definitely worth the cost!
Pros and cons of the Oclean W10 water flosser
Pros
Some of the best features of the Oclean W10 that we appreciate the most, include:
Design and colours
The 4 different nozzles for personalised use
That it's simple to use
The choice of modes (sensitive, normal, powerful, etc.)
Ergonomic grip
The built-in timer
That it's easy to clean
It's a good Waterpik for tonsil stones
Cons
As for points of improvement, we have little to say, except:
The water tank could have a larger capacity
But overall, we rate this water flosser highly!
How does the Oclean W10 compare to other water flossers?
If you are looking for a portable water flosser, Oral-B and Philips offer products with similar features, including the Aquacare Pro-Expert and the Philips Sonicare Airfloss. These two water flossers are equally efficient and easy to use but are more expensive than Oclean's W10.
Panasonic offers a similar product, the Dentacare water flosser that has a 200 ml tank as well, but the price is again higher than the Oclean model.
In comparison to these similar products, the Oclean water flosser has a neat and modern design unlike the more classic appearance of its competitors. If you are looking for a good compromise between functionality, price and style, the W10 from Oclean is without a doubt the most suitable option.
Tips for using a water flosser
If you've never used a water flosser before, here are some tips to help you get the most from your product: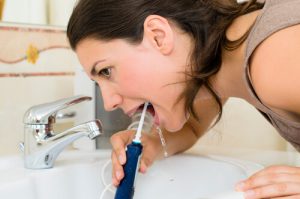 Read the manufacturer's instructions carefully, especially the section "before first use"
In the case of the water flosser from Oclean, open the water container from below in order to remove the protective foam
To fill the tank, use cold or lukewarm water
Stand over a sink to avoid getting water everywhere
Place the dental jet nozzle in your mouth before pressing the 'on' button
Start with the lowest power (sensitive mode)
Once you adjust to the pressure you can increase the intensity
Allow the water to run out of your mouth into the sink
Turn off the water flosser before removing the nozzle from your mouth
Dry the device properly after use
After a few days, you will adjust to having the water flosser as part of your hygiene routine and you will not be able to do without it! The Oclean model W10 is great for first-time users as well as those looking to upgrade their current model.
Conclusion
If you are looking for a portable water flosser that is both stylish and efficient, the Oclean W10 is for you! A beautiful and modern accessory that will look good in your bathroom while taking care of your teeth and gums.
Its many features and elegant design, all at a very competitive price, make it an easy choice. But, if you're still not convinced, don't hesitate to read Oclean W10 reviews to see just how much other customers love it! If you're ready to purchase your Oclean W10 water flosser, remember you can use code Dentaly10 for 10% off your order.
If you're looking for a good electric toothbrush to accompany your Oclean water flosser, check out our review of the Oclean X10.
Sign up to receive the latest news and offers from Dentaly.org