The MyDenTeeth iFloss1 water flosser is a cordless oral irrigator that came to the UK market in 2019. It's not one of the best-known water flosser brands, but it's certainly one of the cheapest. Does that mean it's a good buy? Keep reading to find out.
In this MyDenTeeth review, we will examine what you get for your money and how this device compares to some others on the market. We also have some tips in case it's your first time using a water flosser to clean between your teeth.
Update: This product is currently unavailable. If you're looking for an affordable and reliable water flosser, we recommend the Pecham Portable Water Flosser, which has similar features to this MyDenTeeth model.
You can also consult our guide to the best water flossers in the UK to explore some more options.
What is water flossing?
Traditional string floss is very good at removing plaque from between your teeth, but it's a pain to use. This means that very few people actually floss correctly – either because they don't know how, they can't be bothered, or flossing makes their gums bleed.
Along come water flossers (oral irrigators), which use a powerful jet of water to help dislodge plaque and food particles from hard-to-reach places between the teeth. Most people find these quicker and more convenient to use than string floss or interdental brushes.
Are water flossers as good as string floss? Some dentists may say no because they are not physically scraping along the surface of the tooth. On the other hand, this study found that a water flosser was 29% more effective than string floss when combined with manual brushing.
Ultimately, if using a water flosser means you are actually flossing every day as recommended, it's better than just occasionally using string floss.
MyDenTeeth iFloss1 cordless water flosser review
Our MyDenTeeth review aims to help you understand what you get with this product and how it compares to others on the market. This is based on the experience of our in-house product testers.
Features and components
Let's take a look at what you get in the box when you buy a MyDenTeeth iFloss1 water flosser: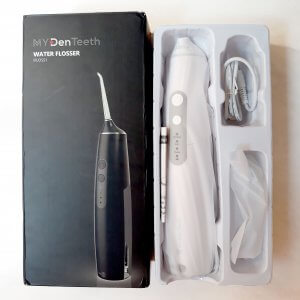 A slim-line water flosser unit with removable 230ml reservoir
4 tips: 2 standard, 1 for implants and 1 for braces
USB charging cable
Instruction manual
Then in terms of functionality, the water flosser has:
3 power settings: Normal, Soft and Pulse
Water pressure of 30-110 PSI
1800 pulses per minute
A battery indicator to show full (green), normal (blue) or low (red)
A quick charging time of around 4 hours with a full charge lasting 20+ days
IPX7 waterproof design
A simple 'twist and lock' tip attachment system
It's also worth mentioning that it's approved by the FDA (the U.S. Food and Drug Administration), meaning it has undergone various checks to verify that it is safe for use as a medical device. The product comes with a 100% satisfaction guarantee under which MyDenTeeth will refund or replace your purchase if you are not satisfied for any reason.
Ease of use
The slim, compact design of this flosser means it's much easier to hold than some others which have a very bulky reservoir (like the Waterpik pictured). It also takes up minimal space on your bathroom shelf or counter. It still holds 230ml of water, which enough to get at least half way around your mouth.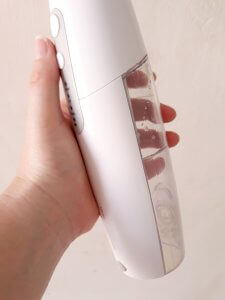 Other cordless water flossers hold between 165ml and 300ml of water, so this is somewhere in the middle. If you have it on the highest setting, which is very powerful, it will use up water more quickly. You may have to refill it once per use.
The tips are easy to attach with a system that locks them into place with a twist. Many flossers have tips which you have to push down to click into place, and these can be hard to insert and remove correctly. Do note that the tips are fixed into position; you don't get 360° rotation like some other products.
It's also great that it has a low battery indicator, which many others don't. Rather than it just stopping half way round your mouth, a red warning light indicates that it's time to charge it. The fact that it lasts 20 days or more on a single one-hour charge makes it convenient to use whether at home or away.
The only problem we noticed is that, because of the way the tip is angled, it can touch the rim of the sink when you try to refill the tank while it's still in place. Depending on the size of your sink and the height of your tap, you may have difficulty tilting the unit to the required angle to fill the tank completely. If this is the case, you can always remove the tip or detach the tank for refilling.
Cost
The iFloss1 MyDenTeeth cordless water flosser has an RRP of £39.99.
As we mentioned above, it is currently unavailable in the UK, but a good alternative with an even lower price is the Pecham Portable Water Flosser.
Like MyDenTeeth, the Pecham flosser holds its charge well and has three power settings. It also has a 360ml water tank hidden in its compact design. The product comes with a 1-year warranty as well as a 30-day satisfaction guarantee.
Overall impressions
The MyDenTeeth flosser may be cheap, but it doesn't look or feel cheap when you're using it. The plastic has a nice matte finish and the tips click into place securely. The higher pressure setting is very strong and some people might find that the lower one or the pulse setting do the job well enough.
Here's a quick summary of the pros and cons we noticed while testing the MyDenTeeth water flosser:
| | |
| --- | --- |
| | |
| | Need to refill during use |
| | |
| Variable pressure settings | Only 3 settings (some have more) |
| | May need to detach tank for refilling |
| | |
| Quick charging and long-lasting battery | |
| | |
Overall, when considering the price and all the features it offers, MyDenTeeth is a good value product which we are happy to recommend.
Product comparison
So, how does MyDenTeeth compare to other oral irrigators you might have seen? Waterpik is really the market leader, with Philips Sonicare Airfloss also a big name. Then, there are lots of others available which might all seem quite similar. Our water flosser guide has a more detailed comparison, but here's a quick overview of the differences.
Waterpik make several models of water flosser, including countertop models which plug into the mains and have a larger capacity. Read our Waterpik reviews for full details.
The most basic of their cordless models has just two power settings and a 210ml reservoir, yet it costs more than MyDenTeeth. On the plus side, you do get a 2-year warranty.
Sonicare Airfloss has a slightly different design; it combines air and water in strong bursts so you use much less water overall. Some people prefer this system; others find it less effective. In any case, it comes with a much higher price tag than MyDenTeeth.
The Oclean W10 is newer to the market but with similar features at a more affordable price, it is one of the best portable water flossers on the market. You can read our full review on the Oclean W10 water flosser here.
Then, you've got lots of other options which retail around the £30-£40 mark. They tend to all look very similar, with a bulky tank similar to the Waterpik pictured above. A 300ml capacity combined with a lower power setting is probably enough to last for a single use – no refilling needed. But these units can be harder to hold and they aren't as aesthetically pleasing as the compact designs either!
If you're going to choose a lesser-known brand because of the lower price tag, there are many out there to choose from. We'd recommend Pecham as it is a quality product with a 30-day money back guarantee and a 1-year warranty. Many other budget water flossers seem to come and go very quickly, so any guarantee they do come with may end up meaning nothing.
Tips for first use
If you've never used a water flosser before it can take some getting used to. Here are our tips for making sure you get the most out of it:
If your flosser has variable power settings, start with the lowest one and build up to higher pressures as you get used to it.
Your gums might bleed at first; that's a sign you're cleaning in places that really need it. Any bleeding should stop within 7-10 days, if not sooner.
Hold the flosser tip to your gum line between two teeth, THEN turn it on.
Close your lips around it a little to reduce the amount of spray.
Let the water dribble out of your mouth as you move the tip around your teeth.
Be careful to turn it off before removing it from your mouth.
Use warm or lukewarm water, not cold, especially if you have sensitive teeth.
The unit will probably get a bit wet. Wipe it down after use to keep it in good condition.
Use special tips for cleaning around implants and braces, just as you would with an electric toothbrush.
And that's it! Many people find that once they have started using a water flosser in their oral hygiene routine, they can't be without it. If you have never tried one, MyDenTeeth could be a good place to start. The affordable price means you're not investing a lot in something you're unsure about, and the different power settings let you get used to it gently.
Conclusion
If you're looking for an affordable cordless water flosser that looks and feels good and has more-than-basic functions, we think the MyDenTeeth iFloss1 is a great option. However, since it's out of stock right now, consider this one from Pecham instead. Both these products offers value for money and a powerful water jet to effectively clean along your gums and between your teeth.
Even people who have previously used more expensive Waterpiks seem happy with the performance of this product.
Sign up to receive the latest news and offers from Dentaly.org