Are you considering using a home teeth whitening kit to brighten up your smile? If so, you're certainly not alone. There are all kinds of things that can cause our teeth to become discoloured. Everyday foods and drinks like tea, coffee, wine, sauces and berries are just a few of the main culprits.
But, how do you know which is the best teeth whitening kit for you?
In this article, we review some of the best at-home teeth whitening kits in the UK for 2023 and share real customer reviews. We'll also answer the following questions to help you decide which teeth whitening kit is right for you.
How do teeth whitening kits work?
What are the different types of teeth whitening kits?
How much do teeth whitening kits cost?
Are teeth whitening kits safe?
What should you consider before whitening your teeth at home?
Finally, we explain why home whitening kits are such a popular option for people dissatisfied with the shade of their teeth.
The following table is a summary of all the products discussed in this article, keep reading to learn more about them!
Best Home Teeth Whitening Kits

Designed & developed by UK dentists

Includes 2 FREE visits at your local SmileWhite dentist

3 Year Guaranteed Results

Treatment Time: 16 minutes


Treatment Duration: 1-2 weeks

Main Whitening Ingredient: Phthalimidoperoxycaproic Acid (PAP)

Contains remineralizing Hydroxyapatite

Treatment Time: 10 minutes


Treatment Duration: 1 application

Main Whitening Ingredient: Phthalimidoperoxycaproic Acid (PAP)

Contains remineralising Hydroxyapatite and desensitising Potassium Citrate

Treatment Time: 15 minutes


Treatment Duration: 6 days

Main Whitening Ingredient: Phthalimidoperoxycaproic Acid (PAP)

Contains remineralising Hydroxyapatite and desensitising Potassium Citrate

Treatment Time: 9-30 minutes


Treatment Duration: 21 days (4 courses included)

Main Whitening Ingredient: Hydrogen and carbamide peroxide
What are the best teeth whitening kits in the UK for 2023?
To start with, let's look at four of the best teeth whitening kits available in the UK. You will learn:
How they work
What each kit contains
Pros and cons
Any unique features
This information will help you make up your mind about which is the best whitening kit for you. We've also included excerpts from real home teeth whitening kit reviews so you can see what other people thought of their results.
Plus, we've got exclusive discount codes for some of these whitening kits to make them even more affordable.
#1 Smile Avenue
Why have we selected this as the best teeth whitening kit in the UK right now?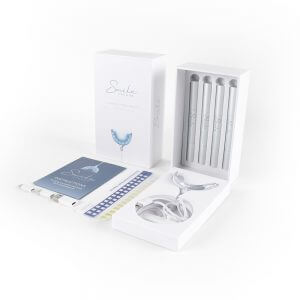 Smile Avenue Professional Teeth Whitening Kit is a highly rated product that is well established in the UK market. This kit is made in the US with high-quality ingredients, including PAP and remineralizing hydroxyapatite. Its gentle PAP teeth whitening formula produces visible results in 1-2 weeks (or less, according to some reviewers), and you can check your progress with the shade guide provided.
It's very easy and safe to use, since you paint the gel directly onto your teeth. This makes it more precise than whitening kits where you apply the gel to the mouthpiece using a syringe.
Since you get four pens of whitening gel in this kit, it will last for up to two complete courses of treatment, depending on how quickly you see results. Each pen is good for 6-7 applications. Refills are available too, so you can repeat your treatment later without having to buy a whole new kit.
The fixed-shape mouth tray is easy to use, and has built-in LED lights (rather than an exterior one) for better coverage. It conveniently plugs into your phone or laptop, and there are no batteries to worry about.
Smile Avenue's teeth whitening kit reviews are generally very positive in the UK, as well as in France, where it first launched. Here's what some users have to say about it:
"I've tried several teeth whitening kits and this is going to be my new go-to now. It's really easy to use…"

"I have not completed the recommended 14 days of treatment yet but I already feel that the improvement is visible. I am very satisfied with this purchase and the ease of use of the kit."

"I purchased this Smile Avenue kit with it being made in the USA and product of France. I am impressed with the results so far. I have used the kit for 6 days and I have seen my teeth 3 shades whiter and I have plenty more of the product left too."

-Smile Avenue Teeth Whitening Kit reviews
View our full review of Smile Avenue to learn more about why we've selected it as the best at-home teeth whitening kit for 2023.
To make this kit even better value for money, you can get 10% off Smile Avenue for a limited time, as well as free shipping, by using the code DENTA10 when you buy on their website. Click below to get started!
#2 Hismile Teeth Whitening Kit
Another of the best home teeth whitening kits – especially if you want a non-peroxide teeth whitening solution – is the Hismile whitening kit. It costs £99 and uses a system where you apply the PAP+ gel to a fixed-shape mouthpiece attached to LED lights, before inserting it into your mouth.
Hismile is an Australian company that has gained popularity around the world largely due to their research-backed whitening products. Hismile's PAP+ whitening gel contains PAP, just like Smile Avenue, but with nano-hydroxyapatite instead of regular hydroxyapatite for better enamel remineralisation.
You get enough gel pods for 6 treatments and most people see results after just 1 – 2 treatments. This means that, depending on your level of maintenance, 6 pods should last you between 6 – 12 months. If you do run out, you can buy a set of 6 refill pods for £39 to keep you going.
Very quick delivery. I was pleasantly surprised at the taste and smell. It's made big change in the colour of my teeth, very happy customer

Kerry Clemett-Jones
One reviewer was very pleased with her whitening kit, and says she was very impressed. You can read our full review of Hismile's teeth whitening kit to learn more.
#3 SmileTime Teeth Whitening Kit
The SmileTime Teeth Whitening Kit is another peroxide-free whitening treatment that has been designed to deliver results in just 15 minutes, over a course of 6 days. It is formulated with PAP, the same advanced active whitening ingredient used by Smile Avenue and Hismile. PAP whitens and brightens teeth without any pain or sensitivity.
What's in the box?
6 x applications of teeth whitening gel
1 x mouth tray
1 x LED light
1 x set of instructions
1 x results chart
How to use SmileTime's Whitening Kit
Before you use this whitening kit, brush your teeth with the SmileTime Bamboo Toothbrush and SmileTime Charcoal Whitening Powder to help remove plaque build-up. Then follow these steps:
Attach the mouth tray to the LED light.
Apply the gel evenly to both sides of the mouth tray.
Place it in your mouth and leave for 15 minutes.
Spit and rinse your mouth out when you're done, then repeat the next day.
You can read our full review of the SmileTime Teeth Whitening Kit here.
The following video shows how to use the whitening kit:
#4 Snow Teeth Whitening
Snow professional teeth whitening systems are produced in the USA and use hydrogen and carbamide peroxide in a formula designed to be suitable for sensitive teeth.
Rather than applying the gel using mouth trays, Snow's revolutionary system lets you paint the serum directly onto your teeth. This means it uses a lot less gel and there is no risk of it squirting out and damaging your gums.
Included in the basic Snow home whitening kit is:
A mouthpiece with built-in LED lights
3 whitening wands (1 wand = 21 treatments)
1 extra-strength whitening wand
Teeth whitening progress tracker
They also make a wireless kit which has been described as "the Apple of teeth whitening" thanks to its proprietary technology which uses an app to track your progress. It's hard to cram all the features into this short description, but you can check out our full write-up of Snow for more details, or read about the wireless kit.
You should get results from this kit in as little as 9 minutes per day, but it's safe to use for up to 30 minutes per session if you want stronger results. You can even use it twice a day to accelerate your whitening. A single course of treatment lasts 21 days, and these kits come with enough serum for 4 treatment courses – that's a year's worth of whitening. And for smaller touchups, you can use the Snow whitening strips.
So, although Snow is certainly not the cheapest teeth whitening kit around, it does give great value for money if you're prepared to invest a bit up-front for long-lasting results. The mouthpiece comes with a 5-year warranty and you can purchase refills via their website whenever you need to.
Other kits
What about the Insta-famous kits you've probably seen plastered all over social media? Often all that really differentiates them is the ingredients in the gel, the price, and the celebrities that are paid to endorse them.
There may not be anything intrinsically wrong with these whitening kits, in fact, many users are happy with their results. But big marketing budgets have to be funded somehow, and that's usually reflected in the price of the kits.
Also make sure you compare the kit contents so you can see what value they offer. Cheaper kits often have less gel for fewer treatments, which means you'll be forking out for a new kit or refills much sooner. This means they are not the best teeth whitening products for people who want to maintain their brighter smile long-term.
Click on the links below if you want to see our reviews of these other teeth whitening products and check how they compare – but to save you the time, we can say that Smile Avenue is still our top pick after reviewing all of these:
Our #1 recommended teeth whitening kit
UK teeth whitening kits comparison
Now that you understand more about the different elements of a home whitening kit, here's a reminder of the four products we featured earlier as the best home teeth whitening kits in the UK right now. The following table lets you easily compare these at-home whitening systems side by side:
| | | | | |
| --- | --- | --- | --- | --- |
| | | | | |
| | | PAP+, Hydroxyapatite, Potassium Citrate | | Hydrogen & Carbamide Peroxide |
| | | | | |
| | | | | |
| Number of applications included | | | | Around 80 (4 full courses) |
| Approx. price per application | | | | |
| | | | | |
| | | | | |
| | | | | |
How do teeth whitening kits work?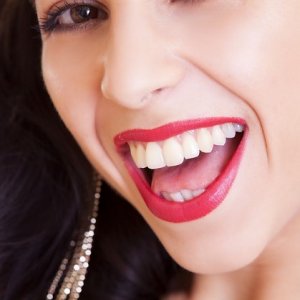 Although the individual components of home whitening kits vary, the principle behind them is the same: you apply a bleaching gel to your teeth for a certain amount of time each day.
A mouth tray confines the gel to your teeth and prevents it from leaking into your mouth during the treatment. Most kits available in 2023 have external or built-in LEDs, which help accelerate the whitening process.
The gel seeps through your tooth enamel and the layer of dentin below. The whitening components of the gel remove the stains by breaking down the discolouring molecules causing them.
Your whitening kit will include instructions to tell you how much gel to use, how long to leave the trays in for, and how often to repeat the treatment. The timings are all dependent on the ingredients used in the products, and you should follow the manufacturer's instructions closely.
Different application methods
Some teeth whitening kits come with a thermoforming mouth tray, which you place in boiling water before moulding it to the shape of your teeth. These are intended to mimic the custom mouth trays you have made at the dentist, but in reality, they are fiddly and don't always work well.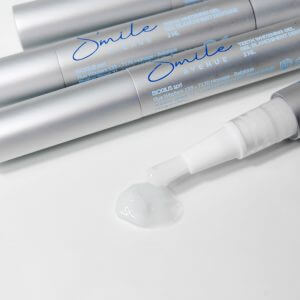 Other kits come with a fixed-shape tray. Although easier to use, the downside is that these don't fit so closely to your teeth and may give uneven gel coverage.
To get the best of both worlds, go with a more modern kit like Smile Avenue or Snow which lets you apply the gel directly onto your teeth with a brush. This ensures even coverage, is more economical, and stops the gel from squirting all over your gums.
Keep in mind that a more expensive kit won't necessarily produce the best tooth whitening results. Cheap teeth whitening kits can be just as effective if used properly, but the process itself may be less enjoyable.
Measuring success
The whiteness of teeth is measured using a colour scale. In dental clinics, you may see a row of what look like teeth in different shades of white and yellow. Dentists use these to check your original tooth colour and measure how many shades of whitening you have achieved.
The best home whitening kits come with a shade guide which you can hold up to your teeth to assess the change in colour. Without this it can be hard to measure success since our teeth can appear different shades in different lights.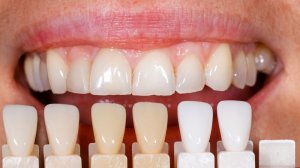 You might see promises such as "makes teeth 8 shades brighter", but in reality, your individual results will vary depending on the condition of your teeth. If you have quite yellow teeth to begin with, you might notice a more drastic difference.
Don't be tempted to use whitening trays or other products for longer than stated on the packet. You might think this will give you whiter teeth faster, but in fact, it could leave white blotches on your teeth or cause sensitivity. Similarly, over-filling the trays with more than the recommended amount of product could cause it to leak out and damage other parts of your mouth.
Over-whitening can also lead to your teeth losing their healthy shine and instead becoming dull and chalky white, so it's best to aim for a modest improvement at first.
You can see more teeth whitening before and after photos if you're interested.
Are teeth whitening kits safe?
With the recent crackdown on beauticians and other untrained individuals performing whitening treatments illegally, it's understandable to be concerned about finding a safe (and legal) way to get a whiter smile.
Any teeth whitening products you buy from a reputable high-street pharmacy should be safe to use. If you look online, though, you'll find numerous other options on offer. Products sold in other countries are regulated in different ways so it can be harder to know whether these are completely safe to use for teeth whitening at home.
Firstly, you can check the percentage of hydrogen peroxide in the bleaching agent. EU regulations limit the peroxide content to 0.1% in home teeth whitening products sold in the UK. Dentists are allowed to use whitening products containing up to 6% peroxide, which is why their treatments are more effective (and expensive!).
In the US, regulations are not so strict and home whitening products usually contain 3-10% hydrogen peroxide.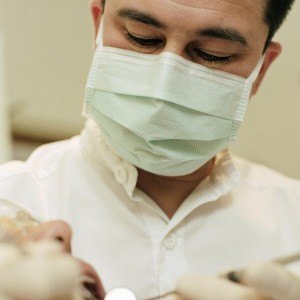 Other ingredients are not so closely regulated but any kits produced in the UK, the EU or the US have to conform to higher standards than some other countries where the focus is on low-cost production.
Although the gel used in home whitening kits is much weaker than that used by dentists, there is still a risk of injury to gums and cheeks if the product leaks out of the trays. Kits with trays that mould to the shape of your teeth can reduce this risk, although some people find these trays difficult to use.
Some of the top teeth whitening kits in the UK now use a system where the gel is applied directly to the teeth in a thin layer. This helps reduce the risk of any excess gel squirting onto your gums.
Teeth whitening for sensitive teeth is becoming more readily available as technology progresses. Both Hismile and Smile Avenue have formulated effective whitening treatments that are peroxide-free and include remineralising and desensitising ingredients.
However, before going ahead with any kind of whitening it's a good idea to speak to your dentist first. Teeth bleaching kits may be unsuitable for people with gum disease or dental crowns, and if you have any tooth decay the bleaching agent can get to your nerves more easily, causing sensitivity or pain.
Your dentist will be able to advise you of any potential risks at your next checkup.
Teeth whitening kits from the dentist
If you're not sure about a DIY teeth whitening kit, but you don't have the cash for expensive laser whitening, another option is to purchase a professional teeth whitening kit directly from your dentist.
Brands like Enlighten and Boutique are only available from licenced dentists. They are peroxide teeth whitening kits with stronger bleaching gels and therefore require professional instruction and supervision.
Your dentist will first take impressions of your teeth to create custom trays for your whitening. Then, they will show you exactly how to use your kit for safe teeth whitening at home.
While many would consider these the best home teeth whitening kits, there are a couple of downsides. First, you'll pay £200-£300 for a teeth whitening kit from the dentist, which is a lot more than any of the other kits we've featured here. Second, stronger peroxide whitening gel kits can be more likely to cause sensitivity.
You can also visit your dentist for in-office whitening treatment using advanced laser technology. Although this delivers impressive results with just one visit, the cost of treatment can easily exceed £1,000 (but you might find cheaper teeth whitening abroad). There is also a risk that you'll end up with dazzling white teeth that just look weird.
Read more about professional teeth whitening at the dentist to decide whether this is a good choice for you.
What should you consider before whitening teeth at home?
If you have any artificial teeth or teeth coverings – such as implants, bridges, crowns and veneers – these won't be affected by any whitening treatment. This shouldn't be too obvious with rear teeth, but if you have an artificial front tooth, you may have to just accept your natural tooth colour.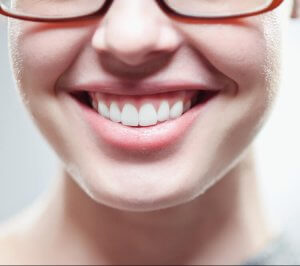 You should also have realistic expectations about the results you're likely to achieve. A 2018 survey of Brits' experiences with cosmetic dentistry found that 68% of those who had undergone teeth whitening had opted for a home whitening kit. However, only 42% of these patients reported being 'happy' or 'very happy' with the results (compared to 69% of those who had professional whitening at the dentist).
Although you might get the best results by visiting a dentist, whitening kits are much cheaper and more convenient. It's a trade-off you need to consider when deciding which treatment is right for you.
Another cause of dissatisfaction is tooth sensitivity (this can happen with any kind of whitening). Some people experience no sensitivity whatsoever, whereas others find it so painful they cut their treatment short.
Your experience will depend on the condition of your teeth and the ingredients in the whitening product you use. Choosing a whitening kit with a gentle formula will certainly help reduce your chances of experiencing sensitivity.
Most manufacturers recommend you don't use teeth whitening products while pregnant or breastfeeding. If you're currently undergoing orthodontic treatment with braces, you should wait until they are removed before whitening your teeth. You can still use a whitening toothpaste in the meantime.
Aftercare
How long your results last will depend a lot on how well you care for your teeth after whitening.
The simplest way to keep your teeth whiter for longer is to avoid exposing them to things that are likely to stain them. This includes:
Smoking
Tea
Coffee
Berries
Brightly coloured sauces like tomato sauces and curries
Wine (both red and white – although white doesn't cause stains, it can darken existing ones)
Soft drinks (even sugar-free ones have damaging levels of acid)
Think of it this way: if it will stain a white shirt or carpet, there's a good chance it will stain your teeth. Drinking through a straw helps keep damaging liquids away from front teeth.
Whitening products temporarily make your tooth enamel more porous, so the whitening agent can take better effect. This also means your teeth are more susceptible to staining from other sources while whitening is in progress.
It's therefore a good idea to steer clear of these foods and drinks not just after whitening your teeth, but during treatment as well. If this is too much to ask, at least abstain for a couple of hours after each home whitening session.
Your teeth will also stay whiter if you take good care of them (something you should be doing anyway). This means brushing twice a day with fluoride toothpaste and flossing every day.
And while vaping is technically better than smoking — does vaping stain teeth? It most certainly does!
A whitening toothpaste will help remove any surface stains that do build up on your teeth. If this causes sensitivity, try using it just two or three times a week instead. AP24 toothpaste is one popular brand in the UK, although it does come at a price. Cheaper supermarket brands may prove just as effective for you.
Finally, don't forget to visit your dentist for regular checkups and cleanings with the hygienist. They use more advanced tools to remove the stuff you miss while you're brushing.
Best Teeth Whitening Kits 2023

Designed & developed by UK dentists

Includes 2 FREE visits at your local SmileWhite dentist

3 Year Guaranteed Results

Use code DENTALY5OFF to save an additional 5%!

"Best Professional Teeth Whitening with long-lasting results."

24-30 days of treatment included

Reusable components and affordable refills available

Ingredients to remineralize teeth and prevent sensitivity

30 day money-back guarantee

Free shipping and 10% off with code DENTA10

"Best affordable At-Home Whitening Kit."
Conclusion
Do teeth whitening kits work? The answer is yes – as long as you're not expecting drastic results. Home whitening kits are an affordable and convenient way to brighten your teeth. Although individual results vary, it's possible to get your teeth several shades lighter in just a week or two.
Because safety is a concern with teeth whitening at home, we recommend you choose a product that is produced somewhere that closely regulates whitening products such as the UK, US, or EU.
Don't forget, you can use our exclusive discount code to get 10% off the Smile Avenue Professional Teeth Whitening Kit on their website. Simply enter code DENTA10 at the checkout to claim your discount. This is our pick for best teeth whitening kit in the UK because it conforms to safety standards, produces good results, and contains a generous amount of gel.
Or, for a more premium whitening experience, check out Snow Whitening Kits from the USA.
FAQS
Do teeth whitening kits damage teeth?
Most of the time, home teeth whitening kits will not damage your teeth. However, if you are not careful to follow the instructions correctly, you could end up damaging your teeth.
Do not exceed the recommended amount of time for applying the product and do not leave any residue on your teeth for longer than suggested in the instructions.
How long will it take to whiten my teeth?
Your teeth whitening treatment will depend on the type of kit you use. Most kits can take anywhere from one treatment to several over a couple of weeks to whiten teeth.
Does LED teeth whitening work?
Yes, LED teeth whitening works. LED teeth whitening is a great way to get whiter teeth without damaging them. It's been proven safe, and the results are often pretty impressive.
What are the best teeth whitening kits?
If you're looking for the best teeth whitening kits, you'll want to consider your options carefully. Look for the ones that can get good results without causing you any pain or sensitivity.
Whitening kits that include hydrogen peroxide as an ingredient often have great results but may cause sensitivity. Kits that include PAP as the active ingredient are better for getting results without sensitivity or pain.
Sign up to receive the latest news and offers from Dentaly.org