Do Briyte teeth whitening kits live up to their name? Most of us want a brighter, whiter smile, but home whitening kits can be a bit of a mixed bag. Here we're going to look at the details of Briyte teeth whitening and review how effective it can be.
Briyte is one of many options on the market for you to choose from. To help you decide which one is right for you, we're going to cover:
The different products offered by Briyte
How safe Briyte teeth whitening is
Full details of how Briyte works
Other market leaders and how they compare
We hope this Briyte review gives you all the information that you need to make the right choice for your teeth whitening needs.
Our top pick for teeth whitening
We've chosen Smile Avenue as the best whitening kit in the UK for 2021. Here's how it compares to Briyte:
Made in the USA
14 days of treatment included
Affordable refills available
Safe for sensitive teeth
Scientifically proven whitening ingredient
30 day money-back guarantee
Free shipping plus 10% off with code DENTA10
Go to their website for full details and use promo code DENTA10 for 10% off at checkout!
Who are Briyte?
Briyte is a UK based company that has been in operation since at least 2013, according to the company Facebook page, which is not very active. They make a range of teeth whitening products, namely:
As well as syringes filled with extra whitening gel for when your kit supply runs out.
There's no information available about where the products are made. This isn't too much of a worry, since it's being sold in the UK so must adhere to certain minimum standards no matter where it's manufactured.
Briyte Teeth Whitening Kits Review – Our overall rating: ★★★☆☆ (3/5 stars)
Although there's quite a product range available, we're going to stick with reviewing the main products they offer; Briyte home teeth whitening kit and the EAZKIT option. Both kits use common methods to whiten teeth so it's easy to make direct comparisons between brands.
Kit contents – Briyte Home Teeth Whitening Kit ★★★☆☆ (3/5 stars)
In this kit, you get everything that you need to be able to whiten your teeth. It comes in a metallic bag that can't be resealed so you'll need to make sure you've got somewhere to keep all the bits safe. In the bag you get:
3 x 3ml syringes of Briyte whitening gel
2 self-moulding mouth trays
Briyte LED light
Briyte whitening kit instruction manual
Shade guide
Batteries for the light
You need to mould the mouth trays to your teeth before using them. This involves immersing them in hot water and then placing them in your mouth and then sucking them onto your teeth. Briyte have an online version of the instructions available if you need help with this process.
Having mouldable trays means they fit closely to your teeth, which in theory helps with even coverage. In practice, though, the process of moulding them can be quite a hassle.
The gel included with the kit should be enough for around six applications. That's not a lot compared to some other kits on the market, but at least you can buy Briyte gel refills for when your initial supply runs out. The batteries for the light should be easily replaceable when they run out too.
Kit contents – EAZKIT Home Teeth Whitening Kit ★★★★☆ (4/5 stars)
The EAZKIT is a more technological whitening kit than the standard Briyte package. Inside the golden, resealable package you get:
A ready-to-go mouth tray
3 x 5ml tubes of teeth whitening gel
1 Aluyme 16 Mouth Light including USB charger
A user manual
A shade guide
3 brushes for applying gel to your teeth
The kit can also be used in conjunction with an app that's available for Apple and Android. You need to enter your name, location, and email address and then you can set reminders for when to whitening your teeth as well as set a 20-minute timer.
Unlike the standard kit, the EAZKIT comes with a one-size-fits-all mouthpiece which you don't have to mould to fit your teeth. This makes it easier to use, but also may not give such even coverage and may increase the risk of gel leaking out when you insert it. However, this kit also allows you to paint the gel directly onto your teeth using the brushes provided, which overcomes both of these problems.
Once you've applied the gel, you put in the mouth guard, plug in the light, and set the timer on your app.
The EAZKIT uses a different gel formula to the standard Briyte kit, according to the packaging. The gel refills are designed for the standard Briyte kit, so it's unclear whether they can be used for the EAZKIT as well.
Ease of use ★★★☆☆ (3/5 stars)
The EAZKIT is undoubtedly easier to use than the standard one, since you don't have to fuss about with moulding trays and you can paint the gel directly onto your teeth if you wish. The standard light is completely portable while the EAZKIT one needs to plug into your phone or a USB port. You'll be using the kit for 20-45 minutes per day, which is longer than many other popular kits, but it's easy enough to spend that time on your phone or watching TV.
The Briyte teeth whitening kit instructions don't say exactly how much gel you should use; just that you should place a "small drop" in each tooth impression in the mouth trays. This will probably work out at about 1.5ml, or half a syringe, per treatment (split between the upper and lower trays). If you buy the EAZKIT, it's even harder to know if you're using the right amount as there are no teeth impressions to go by. The instructions say to use a "small line" of gel and to not overfill the trays.
If you can get over the slightly ambiguous instructions, you should find these kits easy enough to use, especially if you've used other home whitening kits before.
Ingredients ★★☆☆☆ (2/5 stars)
The active ingredient noted on the packaging of the Briyte kit is sodium chlorite. It's a common ingredient in non-peroxide whitening kits, but in a study at the University of Manchester Dental School, they found, "sodium chlorite… could reduce the hardness of teeth when acid was present while also raising the likelihood of future surface abrasions."
The Briyte EAZKIT contains sodium chlorite as well as sodium bicarbonate (aka baking soda, a natural whitening ingredient), citric acid, and aloe leaf juice, among others. The company doesn't seem to explain anywhere what the benefits of the various ingredients are. Citric acid is a natural cleanser and may indeed result in whiter teeth, but it also has the potential to soften and dissolve enamel.
Full ingredients aren't listed on the company's website, nor is it clear where their products are manufactured. However, they must meet certain standards to be sold in the UK, which is some reassurance.
Results ★★★☆☆ (3/5 stars)
Both the Briyte home teeth whitening kits come with a shade guide to help you measure your progress. But what kind of results can you expect to achieve?
The standard kit instructions say you can "Increase the whiteness of your teeth 5 shades in only 5 days", while the EAZKIT comes with a promise of "up to 8 shades lighter", but there's no guarantee offered if you aren't happy with your results. There are plenty of other whitening kits which do offer some kind of guarantee, so you don't have to take your chances with one that doesn't. But with any kind of whitening, results will vary from one person to another and also depend on how yellow your teeth are in the first place.
Briyte whitening kit reviews are a little mixed. One Amazon review recently wrote, "This product takes some time and just as I [was thinking] it didn't work, I got a shock to see how white my teeth where. It's good for the money would buy again even my gums look brighter."
However, someone clearly wasn't happy when they wrote "Doesn't work," and another said, "Noticed a slight difference but not much."
Reviews of the EAZKIT tell a similar story of some people having great success whilst others see no effect at all. "The so-called whitening effect is not very noticeable and doesn't last long unless you keep using it often. The whitening gel burned and irritated my gums and the UV mouth light starts to get really hot and over-heated after a few minutes," says one review.
However, two other recent users said, "Excellent product, I loved how it instantly whitened my teeth. Great product and easy to use, amazing," and, "Easy to use and quick whitening results."
In this video, Emily talks through how to use the Briyte teeth whitening kit (including moulding the mouth trays) and shares her results:
Price ★★★☆☆ (3/5 stars)
The standard Briyte teeth whitening kit is on their website for £89.99. That's a hefty price tag when you compare it to other kits that do the same thing and come with the same type of equipment. The product listing on Amazon is currently unavailable at the time of writing.
Buying the gel refills on Amazon, you get 3 x 3ml syringes, enough for around six treatments. The price works out at around £2.70 per treatment which, again, is not particularly competitive.
The EAZKIT is more competitively priced, despite being a more premium product and containing more gel. But bear in mind that Briyte do not make gel refills specifically for this kit, and buying a new kit each time you want to whiten your teeth seems quite wasteful, especially considering the electronic components.
You don't get any kind of guarantee with Briyte; if your kit doesn't work for you then you can't ask for your money back.
Alternatives to Briyte
It can be a little worrying to see what scientists say about the main whitening ingredient used by Briyte. If you're looking for something that hasn't come in for criticism and has got proven scientific results, there are other kits on the market to choose from.
The price of the EAZKIT might seem really appealing, but it can definitely be worth paying more money to get safer results (and a promise of your money back if you're not satisfied). Here are some alternatives that we recommend:
Smile Avenue
The Smile Avenue teeth whitening kit is made in the USA and uses Phthalimidoperoxycaproic Acid (PAP), which is proven to show results after the first use. After 10-14 days of daily use your teeth should be several shades whiter, but there's a money-back guarantee for anyone not happy with their results.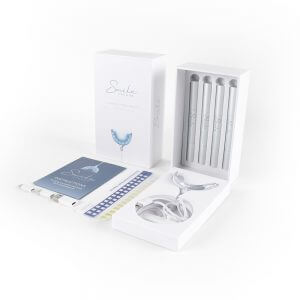 It may cost a bit more than Briyte's EAZKIT but it's less than half the price of their standard kit, and Smile Avenue gel refills are available, costing around £1.42 per treatment. So, if you plan to whiten your teeth regularly, this is a really cost-effective option.
Smile Avenue comes with a mouthpiece with built-in LEDs, similar to the one provided in the EAZKIT. The mouthpiece is a fixed shape, no moulding required.
But perhaps the biggest plus is that Smile Avenue's gel contains a remineralizing ingredient to help protect enamel from sensitivity and other side-effects of whitening.
You can read more about Smile Avenue in our full review here, or check it out on their website by clicking below. If you decide to buy it, you can get 10% off by using promo code DENTA10 at checkout. There's also free shipping as standard.
Snow
Snow's whitening system is a revolutionary new product made in the USA. It is similar to the EAZKIT in that it has a mouthpiece with built-in LEDs, you paint the gel onto your teeth, and there's an app connected to the product. However, the Snow app is much more advanced, with a Bluetooth connection to the light fitting and a more professional feel. There's an even more tech-based product with their wireless charging option as well.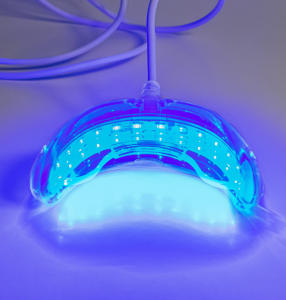 The price for a Snow kit is higher than Briyte's products, but you get a whole lot more in the package. When you invest in their system you get a year's worth of whitening gel as well value-for-money refills.
As a company, Snow have approached teeth whitening from completely different angle and do things differently, rather than the staid and standard offerings from other companies. To understand why we recommend this product so highly, view our Snow whitening Snow has a revolutionary whitening systemkit review. You can read more about Snow's products – and access the best prices – on their website.
Looking at all three kits here, Briyte comes out bottom, mainly down to the active ingredient they use being somewhat questionable. Smile Avenue and Snow both use tried and tested ingredients that haven't had negative study results.
Here's a table to sum up the differences:
| | | | | |
| --- | --- | --- | --- | --- |
| | | | | |
| | | | | |
| | | | | 21 days (contains enough for 4 courses of treatment) |
| Main whitening ingredient | | | Phthalimidoperoxycaproic Acid (PAP) | Hydrogen and carbamide peroxide |
| | | | | |
| | | Fixed shape, built-in LEDs, USB chargeable | Fixed shape, built-in LEDs, USB chargeable | Fixed shape, built-in LEDs, USB chargeable |
| | | | | |
| Cost per treatment with refills | | | | |
| Money-back satisfaction guarantee? | | | | |
Conclusion
For a cheap kit to try out teeth whitening, you could give Briyte a try. The rest of their product range gives you some good choices if you want to try out whitening with strips, pens, or activated charcoal too. But it is a worry that the main ingredient in their kits has come in for such criticism from professional dentists after a detailed study, so use this kit with caution.
To be sure you're getting something that's safe and will deliver results (or a refund), we recommend Smile Avenue or Snow.
Sign up to receive the latest news and offers from Dentaly.org