The Billion Dollar Smile teeth whitening kit is just one of seemingly endless options out there if you want a whiter smile. Choosing the best teeth whitening kit for you can be a daunting challenge when there are so many to choose from with so little separating them and such bold marketing claims.
But don't worry, we're here to help with our Billion Dollar Smile review, which should give you all the information you need to know. We'll answer your burning questions, such as:
Who are Billion Dollar Smile?
Is their whitening kit safe to use?
What exactly do you get for your money?
How does it compare to other whitening kits?
So you can judge whether this is the right way for you get a brighter, whiter smile.
Our top pick for teeth whitening
We've chosen Smile Avenue as the best whitening kit in the UK for 2021. Here's how it compares to Billion Dollar Smile:
Made in the USA
14+ days of treatment included
Mouthpiece with built-in LEDs included as standard
Affordable refills available
Safe for sensitive teeth
Remineralizes teeth while whitening
30 day money-back guarantee
Free shipping and 10% off with code DENTA10
View full details on their website and use promo code DENTA10 for 10% off at checkout!
Billion Dollar Smile – who they are and what they do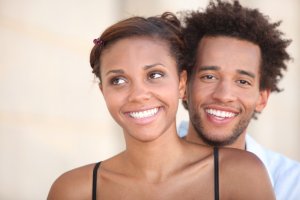 Billion Dollar Smile is a cosmetics start-up company based in the UK. They launched back in 2015 and have been developing their product range ever since.
Their flagship product, the Billion Dollar Smile Mini LED Teeth Whitening Kit, has been given lots of awards within the cosmetics industry. They also produce:
A USB teeth whitening kit
Teeth whitening strips
Purple tooth polish
Top up teeth whitening gel
There's also a Billion Dollar Smile sunbed kit that's activated by the UV light in a tanning booth. This is only sold through third parties in tanning salons and online.
Billion Dollar Smile use a lot of natural ingredients in their products and proudly say that everything is vegan. It's worth noting that the company aren't certified under Cruelty Free International's Leaping Bunny programme, which is a gold standard of vegan-friendly products.
Apart from the strips in the teeth whitening strips kit and the electronic components, everything else in the Billion Dollar Smile teeth whitening kits is made in the UK. This is useful to know, since you can be assured that production standards are high and that strict regulations have been met for the ingredients.
Billion Dollar Smile review – Our overall rating: ★★★☆☆ (3/5 stars)
Putting aside the purple toothpaste and all the other products in their range, we're going focus on giving you a Billion Dollar Smile teeth whitening kit review. We'll cover both versions of their kit – the mini LED and the USB teeth whitening kit – so you can understand the difference between both products.
Kit contents – Mini LED kit ★★★☆☆ (3/5 stars)
The box of the Billion Dollar Smile whitening kit looks really nice. It opens up like a book and there's a section assigned to each item in the kit. With a few bits and pieces to prepare and juggle, having a slot for everything is a nice touch.
But what actually goes into the box? In the mini LED kit you get:
Three syringes each containing 3ml of the whitening gel
An LED light with five mini-bulbs
One mouth guard that covers both top and bottom teeth
An instruction manual
A shade guide to help you track progress
The mouth guard is where you place the whitening gel. It's a fixed-shape tray so you don't need to go through the process of moulding it to your teeth, which can be fiddly. However, depending on the size of your teeth or jaws you might find it a loose or tight fit.
You get a total of 9ml in the kit which should last you a total of six applications, and after that you can purchase gel refills. You squeeze half a syringe worth of gel into the mouth guard, splitting it equally between the top and bottom. Then you attach the light fitting and put it into your mouth.
A useful feature on the light is that it turns off automatically after ten minutes and you can choose to reset it a couple more times if you want. There's no information about changing the batteries or how long you can expect them to last, so you might have to be paying for a whole new kit once the power goes out.
Kit contents – USB kit ★★★★☆ (4/5 stars)
With the more expensive USB kit, there are a few differences:
You get 12ml of gel
The gel comes in a pen which you use to paint it directly onto your teeth
The light can be charged using a range of power adapters that work with most smartphones, with one charge lasting 16 minutes
The recommended treatment course is still six days, but you should get more than that from this kit since it contains more gel and has a more economical application system.
Another good thing about the pen applicator is that it reduces the risk of excess gel squirting out of the mouth guard and damaging your gums. However, Billion Dollar Smile don't currently sell refills of these pens so when you're out of gel, you have to buy a whole new kit. Not economical at all.
Ingredients ★★★★☆ (4/5 stars)
Billion Dollar Smile places a lot of emphasis on their inclusion of a lot of natural ingredients in their whitening gel. It doesn't contain any peroxides, which are typically used for professional teeth whitening and in many home kits. This should reduce the risk of sensitivity, but it may also impact results because peroxides are the leading tried-and-tested teeth whitening ingredient.
A key ingredient in the Billion Dollar Smile teeth whitening gel formula is pineapple enzyme, which has shown promising scientific results for teeth whitening.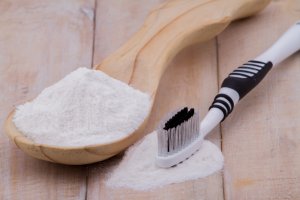 Other natural ingredients include:
Aloe vera, which has a soothing effect
Pomegranate, which might reduce dental plaque but has few proven whitening effects
Vitamin E, which can help reduce teeth sensitivity
Natural mint flavour
The gel also contains hydroxyapatite, a mineral that's found in teeth and is in some toothpastes to remineralise teeth when they've been damaged. The idea of including it in a whitening kit is that it helps repair any damage done during the whitening process. Hismile is another popular kit that includes this protective ingredient.
All the other ingredients noted are for general teeth cleaning, such as bicarbonate of soda and lye. These may help to remove some surface stains but are unlikely to contribute much to teeth whitening. So, if you prefer to use natural dental products then this could be a good choice of whitening kit for you.
Ease of use ★★★★☆ (4/5 stars)
Both kits are pretty easy to use, thanks to the fact they don't require you to mould your own mouth tray to fit your teeth.
To use the Billion Dollar Smile Mini LED Teeth Whitening Kit, you squeeze half a syringe of gel into the mouth guard, put it in your mouth and switch on the light. It'll last for 10 minutes and you can do it up to three times. I doesn't get much easier. You just need to be careful not to overfill the mouth guard otherwise the gel can ooze out and hurt your gums.
For the Billion Dollar Smile USB Teeth Whitening Kit, you use the gel pen to paint an even layer of gel over your teeth, put the mouth guard in your mouth to cover your teeth, and turn on the light. It should run for 16 minutes with a full charge, but if you haven't charged it you can run it while it's plugged in.
Some people find the gel pens easy to use, while others find the gel doesn't stick very well to their teeth and it's difficult to get even coverage. It can be a pain having to remember to keep the light charged, but then again it's not too hard to sit with it plugged into your phone while you whiten your teeth.
Results ★★★☆☆ (3/5 stars)
There are no claims about how many shades of improvement you'll see when using the Billion Dollar Smile teeth whitening kits. That makes it tough to measure how successful the kits are.
Billion Dollar Smile post before and after pictures on their Facebook page. It's worth noting that they control which images go on there so you might not get a complete picture of what people are saying. Also be wary of pictures where the lighting is clearly different in the 'after' photo as this can have a lot to do with the "results".
Overall, results are mixed. Some people see quite a difference after their six-day treatment, while others see none at all.
In this video, Niamh does a Billion Dollar Smile review where she explains how to use the whitening kit along with some of their other products.
She is a big fan of their products in general, but puts the whitening kit in position #3 because of the price. She also says the results "aren't as instant" as with some of the other whitening products she uses.
Price ★★☆☆☆ (2/5 stars)
Billion Dollar Smile teeth whitening kits are not the cheapest – coming in at £39.99 for the basic kit and £69.99 for the USB one – and that's before you consider how little whitening gel you get with them. However, it's one of the only kits that claim to have all-natural ingredients, so if that's important to you it could be worth paying the premium.
The only place to order Billion Dollar Smile is via their website (they do have a handful of product listings on Amazon but few are actually current). You'll have to pay a delivery charge, which varies depending on your location and whether you want standard or express shipping.
Another downside is that there is no apparent guarantee on Billion Dollar Smile products, except in the case of faulty items. Whereas other kits have some kind of satisfaction guarantee, you won't be able to get your money back with Billion Dollar Smile if you simply don't see any results.
Gel refills are available for the cheaper kit, but not for the USB one. However, even if you do buy refills, they work out at about £2.85 per treatment which is three times as much as some competitors.
All in all, you might find you get much better value from one of our other recommendations below.
Alternatives to Billion Dollar Smile Whitening Kits
All-natural solutions can be great, but sometimes it's better to stick with what the professionals use – especially when there's £40 or more at stake. Here are a couple of alternative teeth whitening kits which we recommend as alternatives to Billion Dollar Smile.
Both work out better value, are formulated to reduce sensitivity, and come with a money-back satisfaction guarantee.
Smile Avenue
The primary whitening ingredient that Smile Avenue uses is phthalimidoperoxycaproic acid (PAP). This is similar to hydrogen peroxide in how it works but is much gentler on your teeth and is proven to have an instant whitening effect.
Included in the box with Smile Avenue is enough gel for 24-30 applications – that's two full treatment courses. So, although the price is similar to Billion Dollar Smile, it's much better value. Their refills also work out much cheaper, which is worth considering if you plan to keep up regular whitening.
When we reviewed Smile Avenue, overall, we were very impressed with the results and the feel of the brand – they are open and clear about what they do and how it works.
Smile Avenue's whitening kit comes with the same kind of USB mouth tray that you get with the premium Billion Dollar Smile kit, with three adaptors to easily plug into any device. Plus, it contains enough gel for at least 24 days of whitening, not just 6.
We have an exclusive discount code for Smile Avenue on their website: enter DENTA10 for 10% off your kit!
Snow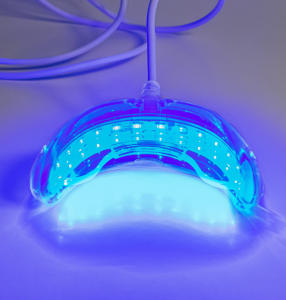 Snow is a more premium option for your teeth whitening, delivering professional-looking results backed by extensive research and development in the USA. The active ingredient is similar to Smile Avenue, they use hydrogen and carbamide peroxide, which have a track record of being able to whiten teeth.
Snow also take their use of technology to the next level. Just like Billion Dollar Smile's USB powered light, Snow can draw power from your smartphone. Where Snow have excelled is designing an app that will help you monitor your whitening journey. Even more, technology is available with a wireless charging option for Snow, too.
The Snow kit really is completely different to anything else out there, and you can read our full review to find out exactly why. Also visit their website to read more about their product range and get the best price on their kits. You'll spend a bit more up-front on Snow, but with enough gel to last a whole year, it works out great value.
Out of the three kits, Billion Dollar Smile comes out last for the amount of whitening gel you get. Smile offers three times more but Snow goes all out and gives you a whole year's worth of their whitening serum.
To make the differences clear, here's a table so you've got all the information in one place.
| | | | |
| --- | --- | --- | --- |
| | Billion Dollar Smile Mini LED kit | | |
| | | | |
| | | 10-12 days (contains enough for 2 - 3 courses of treatment) | 21 days (contains enough for 4 courses of treatment) |
| Main whitening ingredient | | Phthalimidoperoxycaproic acid (PAP) | Hydrogen & carbamide peroxide |
| | | | |
| | Fixed shape, external LEDs, battery powered | Fixed shape, built-in LEDs | Fixed shape, built-in LEDs |
| | | | |
| Cost per treatment with refills | | | |
We have written reviews on other kits including Briyte, iWhite and GlamWhite. Take a look if you want to know more, but overall we believe that Smile Avenue and Snow offer the best results and value for money.
Conclusion
If you're looking for a natural option, by all means give Billion Dollar Smile a go. But apart from that, there are not too many reasons to buy this kit over the others we've reviewed.
That's not to say their kit doesn't give any whitening results. For sure, there are advocates of Billion Dollar Smile teeth whitening kits, as we saw from the video above. But with little scientific grounding in their whitening ingredients or even a guide on the results you can expect, it's tough to really draw solid conclusions.
If you want to be guaranteed good results – or your money back – then check out Smile Avenue and Snow as good alternatives. Remember to use the discount codes above for the best prices!
Sign up to receive the latest news and offers from Dentaly.org