What is the best charcoal toothpaste in the UK? Whether you are looking for activated charcoal toothpaste to whiten teeth or freshen your breath, there are plenty of options to choose from.
In this article, we'll help you choose the from the options available on the market and take a look at various factors including:
Flavour
Ingredients
Charcoal toothpaste vs powder
Different brands
We hope this charcoal toothpaste review helps you find the best option for you! The following table is a summary of all of the products discussed in this article:
Best Charcoal Toothpaste

Hello Activated Charcoal Toothpaste

Fluoride-free, SLS-free, alcohol-free, sugar-free, and free of artificial dyes and sweeteners

Opaque, intense black colouring

Ingredients include Hydrated silica for polishing and cleaning teeth, xylitol and organic stevia for a sweet flavour, coconut oil for moisturising

My Magic Mud Activated Charcoal Toothpaste

Certified cruelty-free and vegan

Good for: Sensitive teeth

Schmidt's Toothpaste Activated Charcoal With Wondermint

Contains tea tree oil for soothing any soreness in your mouth and can help with ulcers and candida infections

Also includes the ingredients: CoQ10, goji and pomegranate extracts, organic aloe vera leaf juice, magnolia bark extract and vitamin E

Crest Charcoal 3D White Toothpaste

Gentle formula for sensitive teeth

Colgate Charcoal Toothpaste

Enamel-safe fluoride formula

Micro-polishers for removing stains

Mint flavour for fresh breath

OEDO Activated Coconut Charcoal Toothpaste

Made with organic coconut oil

Contains no SLS or parabens

Natural peppermint flavouring
What is charcoal toothpaste?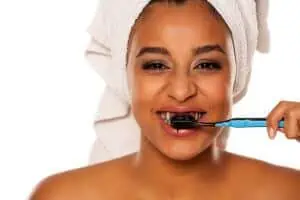 Charcoal for whitening is as trendy as pour-over coffee, CBD, or live-streamed spinning classes. Toothpaste can be made with activated charcoal for its natural ability to remove stains from teeth.
It's touted by natural beauty product lovers and more mainstream consumers alike as a surprising miracle way to whiten teeth, clean your mouth and freshen your breath. But, we'll talk more later on about whether or not these claims are too good to be true.
Does charcoal toothpaste work?
When we talk about charcoal toothpaste, we aren't talking about the same charcoal you use to grill. Instead, we're referring specifically to activated charcoal. Activated charcoal is a type of carbon that is treated so that it has porous particle surfaces.
The reason why this material is adored in the oral health and beauty industry is that these pores act as magnets for other, less desirable particles such as dirt and oil. When applied to the skin, activated charcoal is said to suck out all of the toxins and dirt, and when applied to your teeth, it actually removes the particles that are causing staining.
Despite its recent fame, the use of charcoal isn't new. In fact, the Egyptians used charcoal for getting rid of bad odours from infected wounds; the first written record from around 1,500 B.C. indicates that it was used for water treatment in 400 B.C.
Charcoal itself has some pretty powerful cleaning and detoxifying abilities, but it wasn't until the early 19th century that scientists discovered how to activate carbon.
Is charcoal toothpaste safe?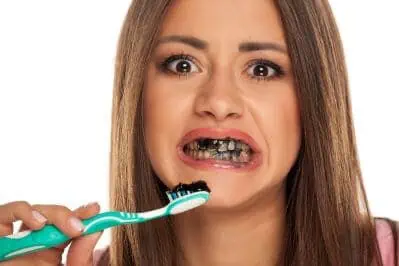 Good question. Not everybody agrees about the safety of activated charcoal and your enamel. There is a lot you'll need to consider if you want to whiten your teeth with charcoal toothpaste.
Don't use it daily (think once a month)
Use toothpaste made with extra fine powder
Everyone's teeth are different so you should ask your dentist if it's safe for yours
We reached out to some dentists to get their professional opinion on charcoal toothpaste.
"I have personally tried charcoal toothpaste a few times, and I can't say whether it has helped me or not. I don't think these kinds of toothpaste are harmful to use, but their benefits have hardly been studied. Hence, the jury remains out (on their usage). To date, very little research has been done on their effectiveness.

Charcoal, salt, and ash have all been used throughout ancient times, so in a way, using charcoal toothpaste is reviving a piece of distant history."

Joseph Salim, DMD, Sutton Place Dental Associates
"More and more research on charcoal toothpaste is being done; however, there is much still unknown about charcoal toothpaste. In a dental expert's opinion, charcoal toothpaste doesn't do much more than any other toothpaste you'd find on the market (or make yourself).

Charcoal toothpastes claim to have detoxifying and whitening properties. However, the ingredients are often not much different than your standard toothpaste. Additionally, many of these charcoal toothpastes don't contain fluoride, which many people need to use to fight tooth decay and strengthen the enamel. It won't hurt trying charcoal toothpaste, but don't expect to notice much difference when compared to your normal go-to toothpaste."

Dr. Angela Evanson, Evanson Dental
A study last year by the British Dental Journal says that these kinds of toothpaste could actually increase your risk of tooth decay and staining, although this could also be because like the dentist above says, many types of charcoal toothpaste don't contain fluoride.
"Charcoal is a great filter and purifier used across many industries and with numerous applications. A toothpaste made with charcoal would not be concerning from a safety standpoint, but the effectiveness of whitening would be marginal. A toothpaste can only influence the color of a tooth by removing surface staining. So if someone has a significant amount of surface stain accumulated through diet or habits, it's possible they could see slight improvement.

However, most whitening toothpastes are harmfully abrasive to tooth structure. Particularly if you have gum recession, these toothpastes can actually scrub away microscopic amounts of tooth structure that really adds up over time and creates notching around the gumline. This can lead to sensitivity and easier cavity formation.

At our practice we don't advocate the use of abrasive toothpastes but instead approach whitening using a gel delivered in a custom made tray the patient can wear periodically."

Ryan M. Jones DDS, FAGD, Nashville Restorative Dentistry
How do you use it?
If you are intent on using activated charcoal toothpaste, you should first consult your dentist. They can let you know how to use it safely. Still, some general guidelines include:
Use it sparingly
Use a brush with extra soft bristles
Try to find a toothpaste with a low level of abrasiveness
Do not scrub hard, and do not scrub longer than you should
Activated charcoal toothpaste vs powder: Which is better?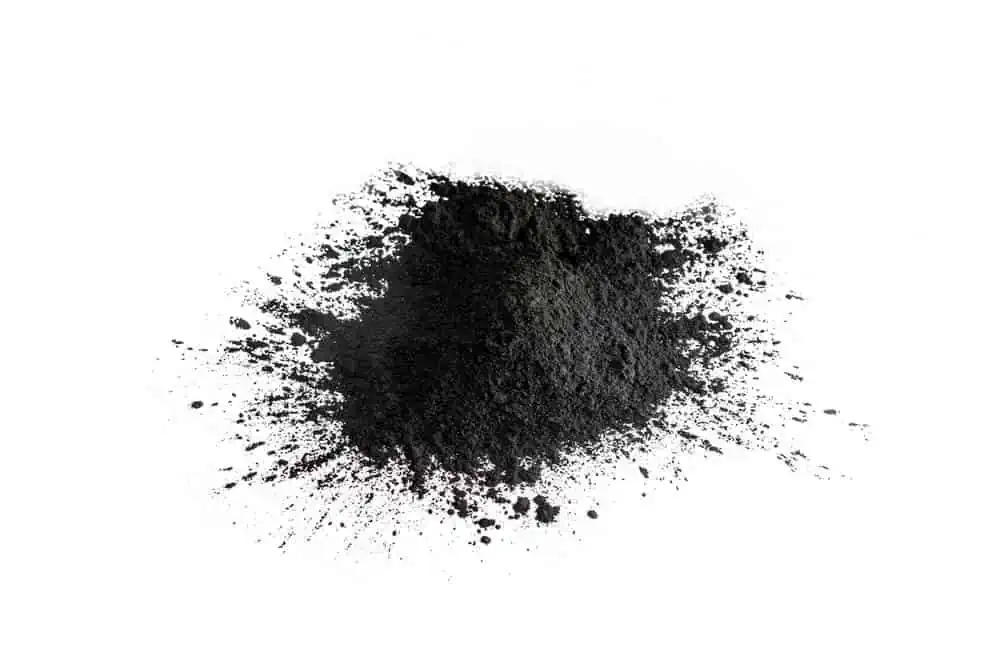 Some people like to mix their own toothpaste at home, while others prefer store-bought versions. But preferences aside, is it better to buy your charcoal toothpaste, or make it from home?
Charcoal toothpaste
Charcoal toothpaste may be preferred by some because it's convenient, easy to use, and might contain fluoride for cavity protection. The cons to this toothpaste are that it may also contain unwanted chemicals like sodium lauryl sulfate or may be manufactured with unethical practices and ingredients.
Charcoal powder
Those who prefer natural tooth care might prefer activated charcoal powder because it tends to contain fewer artificial ingredients than toothpaste. The disadvantages of powder are that it may be messy to mix at home, doesn't contain fluoride, and is less likely to be accepted by the ADA.
Is there evidence that charcoal toothpaste works?
There are a couple of studies that suggest that powder is better at controlling plaque and gingivitis than toothpaste. But these conclusions should be taken with a grain of salt.
Most likely dentists would agree that you should brush your teeth twice a day with a non-abrasive toothpaste that ideally contains fluoride. Some dentists may also agree that it's fine to brush your teeth with a DIY powder solution as long as you keep up good habits.
Charcoal toothpaste reviews
Activated charcoal is mostly known for whitening, but just like regular kinds of toothpaste, when mixed with different ingredients this black toothpaste could offer a variety of other benefits as well.
We've taken a look at some of the best options on the market to help you determine which is the best for your oral care whether you want whiter teeth, to get rid of bad breath, or you just want a natural alternative to regular toothpaste.
As mentioned above, some people consider the best charcoal toothpaste to be one that they've made themselves from activated charcoal powder. This article explains how to make your own activated charcoal toothpaste. However, for now, we're going to focus on (less messy) pre-made varieties that you can buy online.
Best charcoal toothpaste for whitening
No matter where you look, hello Activated Charcoal Toothpaste is topping the charts. The hello brand offers a natural line of toothpaste. By natural, they mean that their products are fluoride-free, SLS-free, alcohol-free, sugar-free, and free of artificial dyes and sweeteners. This toothpaste is an opaque, intense black that can definitely leave a mess in your sink.
The ingredients include hydrated silica for polishing and cleaning teeth, xylitol and organic stevia for a sweet flavour, coconut oil for moisturising, and of course charcoal powder to whiten teeth, clean them, and freshen breath. The hello brand says that this charcoal toothpaste is safe to use on enamel and that it is well within the ISO standard for enamel safety.
Hello also indicates that this toothpaste is safe to use twice a day, for adults and children 12 and older with a soft bristle toothbrush, although from our research into charcoal toothpaste, it would probably be best to check with your dentist before making this a part of your daily oral hygiene routine.
See what one happy customer has to say:
"I'm in love with this toothpaste! I like brushing with charcoal to whiten my teeth and this paste makes it so much easier and less messy. I don't know if I'm imagining it, but it seems like after using it just a couple times, my teeth already looked whiter. I also really like the taste—it's minty but not too minty. It's also not gritty at all."

Bella J
And what one not-so-happy customer has to say:
"Works good for a one-time use. I tried using it once a week… against my judgement. Now, my teeth are so sensitive."

Lace
Best charcoal toothpaste for sensitive teeth
Harm to teeth's irreplaceable enamel is a big concern for a lot of consumers with sensitive teeth, so we took a look at charcoal toothpaste that is specifically designed with your sensitive teeth in mind.
And the winner is…
My Magic Mud whitening toothpaste. This toothpaste contains activated charcoal and is fluoride-free. It's also clinically proven and 100% natural, although consumers should always be aware when it comes to the arbitrariness of the term 'natural'.
This toothpaste is advertised as being safe for enamel and sensitive teeth because of its lab-tested proprietary formula. They even go so far as to outright recommend it for daily use.
Socially conscious customers can also feel good about using this product because it's certified cruelty-free and vegan. Here's what one user with sensitive teeth has to say:
"I have sensitive teeth and can't use many whitening products. I have no sensitivity with this product. And it does a great job with the whitening!"

GIJANE
Best charcoal toothpaste for fresh breath
You may not have heard of our first choice for activated charcoal toothpaste that will also freshen your breath. It's Schmidt's Wondermint with activated charcoal. We hadn't heard of it either until the 'Wondermint' flavour caught our eye, and then we began reading through the exuberant customer reviews.
So what's so great about this charcoal whitening toothpaste? For starters, it boasts a host of A-list natural ingredients, just some of which include:
Tea tree oil: Soothes your mouth and helps with ulcers and candida infections.
Xylitol: Fights against tooth decay and gum disease.
Aloe barbadensis leaf juice: Natural antiseptic that cleanses, soothes, and stops bad breath from infections. We also know from our article on halitosis that aloe helps prevent dry mouth, a contributor to bad breath.
Goji berry fruit extract: Helps prevent tooth decay.
Pomegranate extract: Strengthens gums, fights against gum disease, and, according to some studies, even fastens loose teeth.
…and of course, charcoal!
It's all finished off with the fresh, cool Wondermint flavour.
See what some happy customers have to say:
"This is the best charcoal toothpaste on the market (IMHO)! Pleasant taste / leaves mouth and teeth feeling very clean. Does a good job whitening teeth and leaves breath fresh. I've purchased many times."

Alyx
"Best natural toothpaste that we have found. Leaves breath smelling fresh, tasting fresh, and feeling fresh. Kids prefer it too."

Bubba
Best anticavity charcoal toothpaste
If you don't mind going with a big-name in oral health, then you may want to try Crest Charcoal 3D White Toothpaste. This toothpaste is made with charcoal to remove surface stains, and it's gentle enough for sensitive teeth (according to Crest).
When you're done brushing, you're left with a brighter smile and breath freshened with an invigorating mint flavour.
This toothpaste also contains fluoride to fight cavities and keep your dentist happy. We're not clear if you should use this every day — surely Crest would say yes while dentists may advise caution. Here's how one satisfied customer is dealing with this issue:
"I was very skeptical about this product but was curious enough to try. This actually does produce visible lightening. It feels like the polishing you get at the dentist, which means it likely is removing more enamel than most toothpastes, but it gets the job done. I only use it twice a week; I'm a bit concerned about enamel loss with more continuous usage, but that's just me."

Linda
Another fluoride, big brand-name option is Colgate charcoal toothpaste. This toothpaste features activated charcoal, an enamel-safe fluoride formula, micro-polishers for removing stains, and a mint flavour for fresh breath. This is a good option if you are a loyal Colgate customer and want to try a whitening toothpaste that uses charcoal.
One such customer says:
"I have never reviewed toothpaste before, but I love this new flavor so much I just had to give it a 5-star review! I was a little worried about the nasty black charcoal toothpaste I've seen my friends use that turns your teeth a weird grayish black before shining them up. But this is a perfect choice for people who want the benefits of charcoal, but maybe want it is a subtle, refreshing way.

I swear my teeth feel cleaner and more refreshed using this more than any other tooth paste I've tried. I hope it stays in their product line and isn't just a passing trend. It's seriously my favorite go-to toothpaste now!"

CM
Bamboo charcoal toothpaste with coconut oil
There are a few kinds of charcoal toothpaste that contain both activated charcoal for teeth whitening and coconut oil. If you're looking for coconut/charcoal toothpaste, then you are probably well aware of the touted benefits of oil pulling, a process that is said to pull impurities from your mouth and teeth, including stains and food particles.
Our favourite charcoal teeth whitening toothpaste with coconut oil is OEDO Activated Coconut Charcoal Toothpaste. This toothpaste is made with organic coconut oil and contains no SLS or parabens. It's also fluoride-free.
It also works to battle bad breath as it is flavoured with natural peppermint oil.
Best charcoal teeth whitening powder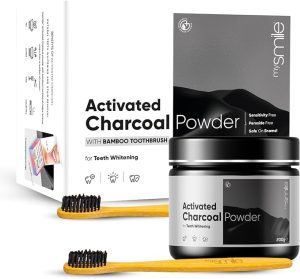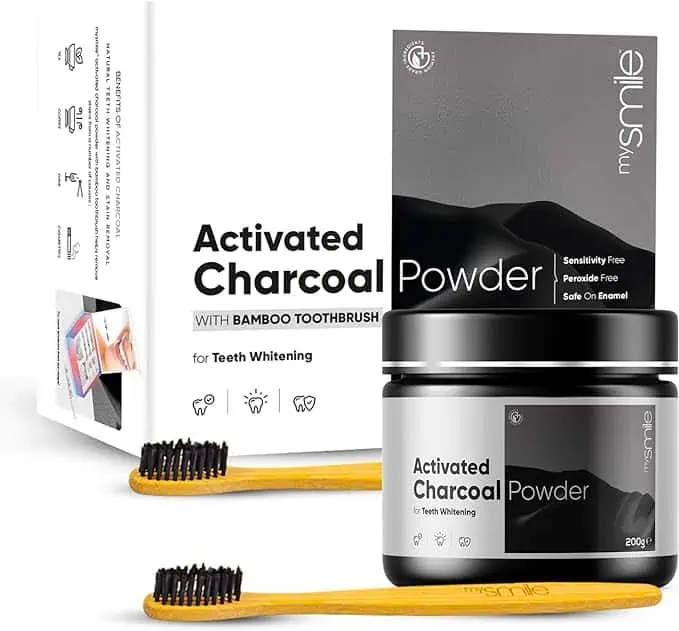 If you prefer charcoal powder instead of toothpaste our top pick is MySmile's Bamboo Charcoal Teeth Whitening Powder. This teeth-whitening powder features an advanced EU formula that removes staining after just one use.
It has been designed to work safely and effectively on sensitive teeth without damaging enamel and will leave your mouth feeling minty fresh and clean.
We recommend this option for those who would like to try their hand at using charcoal powder on their teeth. If you have sensitive teeth, this may be the right choice for you!
MySmile's tooth whitening charcoal powder comes with two 100% biodegradable handmade bamboo toothbrushes for effective brushing.
The best option for you
The best teeth whitening charcoal toothpaste for you will depend on your specific oral health and hygiene needs. Do you need a toothpaste that is gentle on enamel? Or maybe one that will help with fresh breath? And how important is it for you to use toothpaste with natural ingredients?
Conclusion
If you're looking to add a natural way to whiten teeth to your oral hygiene routine, you may want to consider activated charcoal whitening toothpaste.
But before throwing your current hygiene routine out the window, keep in mind that there is little evidence that activated charcoal in toothpaste is effective at whitening teeth, and in fact, many dentists are concerned that the abrasiveness of charcoal can do more harm than good. The same goes for activated charcoal toothbrushes.
If you do want to try it, we recommend you talk to your dentist first and until then, use charcoal toothpaste sparingly. We also recommend you try one of the brands that we reviewed because they all receive a majority of positive reviews from customers.
FAQs
What is the best charcoal toothpaste brand?
The best brand depends on what you're looking for in your toothpaste. That being said, one of the most popular options on the market right now is the brand hello. This natural toothpaste brand offers toothpaste that is fluoride-free, SLS-free, and cruelty-free.
Is charcoal powder or toothpaste better?
Charcoal powder is better for those who want a pure product and to mix their own paste at home. Toothpaste is more convenient, less messy, and contains other ingredients. Some of these ingredients may be beneficial, and some of them may be problematic. It's up to you to decide which ingredients you want and don't want in your toothpaste.
How long does it take for charcoal toothpaste to whiten teeth?
Some people claim to see results after the first time brushing, while others never notice any difference. If you want fast whitening, toothpaste isn't the best option. We recommend either at-home whitening kits or professional teeth whitening for fast, noticeable results.
Sign up to receive the latest news and offers from Dentaly.org