Smile White aligners offer the best of both worlds — remote treatment and just three in-office dental visits. They follow a similar model to Invisalign, meaning that you can get orthodontic treatment for everything from minor aesthetic adjustments to severe bite misalignment. Plus they are also more affordable.
Keep reading to learn about the SmileWhite cutting-edge technology and dentist-approved system that will give you the smile you've always wanted — or get started now.
Treat complex cases with invisible braces from SmileWhite
SmileWhite Aligners follow a treatment model similar to that of Invisalign. That means that Smile White can treat anything from mild aesthetic adjustments, to complex bite misalignment.
As a bonus, they are also more affordable than Invisalign, depending on the type of treatment you need! In addition, you get free retainers and whitening to complete your new smile!
For more information, read our Smile White Review or book a FREE e-consultation by clicking the button below.
Use our discount code "DENTALY5OFF" to save an additional 5% on your treatment. Click the button below to get started!
Smile White Aligners review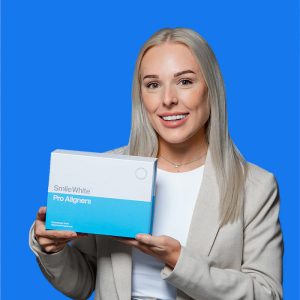 SmileWhite aligner technology
The SmileWhite aligner system uses groundbreaking Zendura® FLX technology. This cutting-edge technology is better at moving teeth than other aligners, and ensures optimal results while safeguarding the health of your bone structure.
SmileWhite aligner materials
Say goodbye to bad breath woes! These aligners are crafted with OdourBlock™ materials, making sure your breath stays fresh throughout your treatment. The material used for the aligners is rigorously tested, to ensure optimal hygiene.
Dental attachments
Aligners that have completely remote treatment don't allow the use of attachments, and can only treat mild cases. And with invisible braces like SmileWhite, attachments are essential in the treatment of more severe cases. Dental attachments gradually shift your teeth, a feature only available with dentist-based services. The team of highly qualified dentists from the extensive Smile White network will ensure that your treatment is not only safe but also super effective.
Scallop contoured trays
Nobody likes bleeding gums or bruised teeth. Thankfully, these aligners come with scallop contoured trays designed to protect your gums and teeth during the alignment process. This helps to ensure a comfortable and pain-free teeth-straightening journey.
The Smile White Straighter Smile Guarantee
The folks at Smile White are so confident in their dentist-approved system that they offer a unique Straighter Smile Guarantee. They promise you straight teeth not just when you finish treatment but also for years to come. If you're unsatisfied with your results, you'll get a full refund, no questions asked. No Hidden Costs: All-Inclusive Package for Your Convenience.
You can see for yourself just how well these aligners work in our Smile White before and after report.
Plus SmileWhite offers completely transparent pricing that includes everything you need for your smile transformation. With your aligners, you'll also get three local dentist appointments: one to scan your teeth and show you the SmileCheck video simulation plan, one to fit your attachments and aligners, and a final one to remove them and provide you with complimentary SmileLock retainers.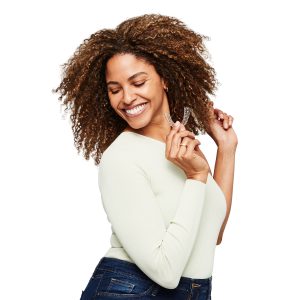 Extra perks
When you choose these aligners, you'll receive a Dental Grade Whitening Package, SmileLock Retainers, a Top-up Syringe Kit, and the lab-developed Deeper White whitening toothpaste – all worth a total of £960. All products are FDA-approved and completely safe, so you can smile with confidence.
Easy online ordering with flexible payment options
Getting Smile White aligners couldn't be easier thanks to the seamless online ordering process. You can pay in full, or in monthly instalments with Klarna — interest-free! We've got your flexibility covered.
Aftercare included
After your teeth-straightening process, you'll get three sets of SmileLock retainers worth £395 to ensure your teeth remain beautifully aligned. Plus, you'll receive the Deeper White whitening toothpaste and a handy top-up syringe kit worth £150, so your smile stays shining bright.
SmileWhite treatment options
| | | | | |
| --- | --- | --- | --- | --- |
| | | | | |
| Single Arch (Top/Bottom Teeth) Mild | | | | |
| Single Arch (Top/Bottom Teeth) Moderate | | | | |
| Single Arch (Top/Bottom Teeth) Complex | | | | |
| Dual Arch (Top and Bottom Teeth) Mild | | | | |
| Dual Arch (Top and Bottom Teeth) Moderate | | | | |
| Dual Arch (Top and Bottom Teeth) Complex | | | | |
Get 5% off your aligners with promo code DENTALY5OFF!
Smile White aligners pros and cons
Treatment for aesthetics and major bite misalignment

More affordable than other hybrid aligner brands

More expensive than 100% remote aligners
Conclusion
Smile White clear aligners offer the ideal mix of at-home remote treatment and in-person professional monitoring. Thanks to the in-person professional monitoring, even if you have severe bite problems, you can still get treatment with Smile White. The model is very similar to Invisalign, but it's the preferred option for those looking for more affordable treatment.
Our #1 recommended teeth aligners
Is Smile White like Invisalign?
Smile White is like Invisalign — the treatment model is very similar. There are a few in-office visits, but treatment is mostly remote. That means that they can treat a wide range of cases.
How much does SmileWhite aligners cost?
SmileWhite aligners cost from £1,695 for the cheapest treatment to £3,695 for the most expensive treatment, which is for very complex cases of bite misalignment.
Sign up to receive the latest news and offers from Dentaly.org