If you are considering orthodontic treatment then you may have heard about Invisalign clear aligners. But what is Invisalign and how does it work?
Invisalign treatment is becoming increasingly popular with both teens and adults as a way to straighten teeth without the metal wires and brackets of traditional fixed braces.
If this sounds like an appealing option to you, keep reading so you can make an informed decision on whether it's right for you. This article will discuss Invisalign aligners and treatment in detail and answer the following questions:
What is Invisalign aligners and how does it work?
How do these aligners look?
What is the process of getting Invisalign aligners?
Who is eligible for the treatment?
What can you expect with Invisalign treatment?
Invisalign aligners are a discreet and convenient way to a straighter and more confident smile. So, let's jump in and find out exactly what Invisalign treatment is.
What is Invisalign?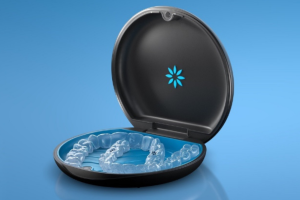 Invisalign is a popular and well-known brand that uses a system of clear removable aligners to gradually straighten and align your teeth. Their aligners are a popular alternative to the more traditional fixed braces because not only are they less visible, but they are also removable.
If you are interested in straightening your teeth but have been put off by a mouth full of metal in the past, then Invisalign treatment might be a good option for you. Clear aligners are discreet, convenient and more comfortable than the traditional alternative.
There are a lot of brands of clear aligners on the market, but the Invisalign brand stands apart for several reasons. The company behind Invisalign aligners, Align Technology, has been manufacturing clear aligners for 20+ years and focuses on having the most advanced aligners on the market.
The technology used to plan and monitor treatment enables Invisalign doctors to closely monitor your progress and even make adjustments mid-treatment if your teeth are not moving as planned. The Invisalign system also has an app that lets you keep track of your aligners and see how your smile is changing.
The Invisalign system is available via a large network of dentists and orthodontists throughout the UK. So, wherever you live, you should be able to find a provider nearby. However, keep in mind that individual quotes for Invisalign will vary — you can call 866-383-0748 to find an Invisalign dentist near you who can give you a detailed price quote.
If you are interested in knowing a little more about how these aligners compare to traditional braces, you can check out our article here.
What are Invisalign aligners made from?
Invisalign aligners are made from medical-grade thermoplastic polyurethane material called SmartTrack which is specifically engineered for Invisalign treatment. It is completely safe and free from bisphenol-A (BPA) and phthalate plasticizers.
SmartTrack technology has taken 8 years to develop but this study shows that it has improved the comfort of Invisalign aligners for patients greatly, along with other benefits.
If you are considering these aligners, why not see how you could look after treatment with Invisalign's Smile View tool. Just upload a selfie and see how you would look after treatment in minutes.
What does Invisalign do?
As mentioned above, Invisalign aligners gradually straighten and align your teeth. The way that they do this is by applying pressure to certain teeth to move them into the desired position. They may also use attachments, buttons and elastics to apply extra pressure to certain teeth or to align your bite.
The Invisalign system works by using a series of custom made aligners that you change every couple of weeks to maintain pressure on your teeth. Each new aligner will fit snugly over your teeth and get you another step closer to your new smile.
Your dentist will let you know exactly when it's time to change aligners to keep your treatment on track. For the aligners to work effectively, they must be worn for 20-22 hours per day and only taken off for eating, drinking and cleaning them and your teeth.
The following video shows exactly what these aligners are and how they work to straighten your teeth and align your smile:
What is the full Invisalign process?
Once you decide that Invisalign aligners could be the right orthodontic treatment for you, your first step is to check you are a suitable candidate. You can do this by taking an online Smile Assessment, or by finding your nearest provider and booking a consultation.
During your first consultation, you can ask all of your questions and the dentist or orthodontist will assess your teeth and eligibility. You will receive a 3D scan of your smile with the iTero scanner and your dentist will show you images of your teeth and mouth before and after Invisalign treatment.
A digital treatment plan will be created so that you can see each stage of the process. Once you are happy with your plan and agree to your treatment the rest of the process is as follows:
You will receive your custom aligners
You will attend regular appointments with your dentist or orthodontist and you will also have access to online monitoring via the app.
You will be advised when to change to a new set of aligners (roughly every 2 weeks).
Once you have finished your treatment you will need to maintain your new smile by wearing an Invisalign Vivera retainer.
If you are interested in starting the process you can take an online Smile Assessment to see if you are eligible. Or, if you would rather speak to someone in person, book a consultation with your nearest provider to learn more.
Who is eligible for treatment with Invisalign?
It's important to note that this aligner system is not suitable for everyone. Those with complex orthodontic issues may still need to consider more traditional routes of treatment. That being said, continual advancements in Invisalign's aligner technology mean that more and more cases can be treated.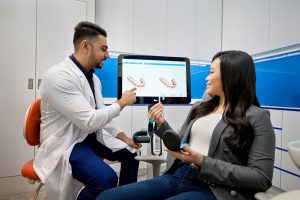 Depending on the individual case, some of the orthodontic issues that this aligner system may be able to treat include:
Crowding
Gaps between teeth (diastema)
Crooked teeth
Underbites
Crossbites
Overjets
Those with dental restorations such as crowns, bridges or veneers often assume they will not be eligible for treatment, but that is not the case. It does, however, depend on your individual case as crowns and bridges can move slower than your natural teeth, and veneers can potentially be damaged during treatment if they are not healthy and secure.
What are the different Invisalign options?
There are different levels of treatment options depending on the complexity of treatment that you need. The main difference between each system is the treatment time length and of course the severity of cases that can be treated.
Invisalign Comprehensive is the full package for cases ranging from moderate to complex, the Lite option is for mild to moderate cases, and the Express package is for purely aesthetic cases and very mild corrections. If you are eligible your dentist will be able to assess which one would be best for you.
The following table is a summary of the different options and their costs:
| | | | |
| --- | --- | --- | --- |
| Type of Invisalign treatment | | | |
| | | | |
| | | | |
| | Moderate and complex cases | | |
What can you expect with Invisalign treatment?
While everyone who is treated with the Invisalign aligner system may have a different experience, there are a few things that everyone can expect.
Wearing aligners for 20-22 hours per day will soon become normal, but you may experience some pain or discomfort each time you change to a new set. This discomfort should only last a day or so, just make sure you don't remove your aligners to ease the pain. If you keep them in you will adjust much faster and the discomfort shouldn't last long.
How long Invisalign treatment takes will greatly vary depending on the complexity and individual orthodontic issues each person has and how well you adhere to the guidelines of your treatment.
It is not uncommon to need Invisalign refinements at the end of your treatment, but this is not a bad thing, it just means that your dentist is making sure you achieve the planned results.
One thing that you can expect with this treatment is that no matter the complexity of your case, you should have a much more confident smile upon the completion of your treatment.
Invisalign alternatives
While Invisalign is a popular and effective orthodontic treatment, its cost can be a major barrier for some patients. The average cost of Invisalign treatment ranges from £2,000 to £5,500, depending on the length and complexity of the treatment. Fortunately, there are more affordable alternatives available for those who only require mild or moderate teeth movement.
Read about our top picks starting from £1,295. Make sure you consult with a dentist before commencing any aligner treatment to make sure its the right one for your needs.
Find the right clear aligners for you
Are at-home clear aligners a good option for you? Learn more about our top picks.
Free scans
Free scans at 17 UK SmileShop locations
Nighttime aligners available
Lifetime Smile Guarantee™
£1,639 or £69.43/month + free teeth whitening
SmileDirectClub has been offering aligner treatment at home for over 8 years, making them one of the most experienced companies in this market.
Treatment takes 4-6 months on average, or 10 months for nighttime-only aligners. Their UK-based customer care is available 24/7 should you need to reach out at any time.
There are several ways you can get started:
Every aligner package comes with free bright on™ teeth whitening, so you can whiten your teeth while you straighten them!

Best value
Free retainers and whitening
Nighttime aligners available
0% interest finance options
£1,395 £1,295 or £83.33/month
NewSmile is a Canadian company that brought its clear aligners to the UK market in 2022. NewSmile aligners are made from the clearest material and the company offers excellent service at the best price.
They don't have any physical locations, so you'll need to purchase an aligner kit to get started. One of their Impression Specialists will guide you through the process on a video call when you're ready.
NewSmile aligners are very affordable, costing just £1,395 (currently discounted to £1,295). But even better, this price includes whitening foam to use in your aligners, plus your first set of retainers!
Choose their daytime package for treatment in 4-6 months, or nighttime aligners for a more discreet treatment that takes 8-10 months. Both options come with 0% interest payment plans available.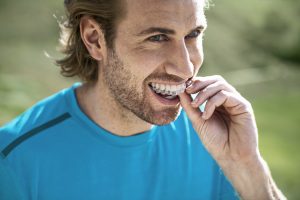 Conclusion
If you want to straighten your teeth and are considering Invisalign's aligner system, we recommend booking an appointment with a nearby Invisalign doctor so you can receive a personalised treatment plan.
This clear aligner system is a discreet and convenient way to a more confident and straighter smile. Depending on the complexity of your orthodontic case you have different Invisalign options available to you. Your dentist will assess your teeth and recommend the option that is right for you.
Align Technology, the company behind Invisalign aligners, is continuously developing its aligner technology to be able to treat more and more cases, more effectively. Currently, they are able to treat up to 90% of cases, so there is a good chance that you could be eligible for treatment.
Check your eligibility now with an online Smile Assessment, or make an appointment with your nearest Invisalign provider to learn more.
Sign up to receive the latest news and offers from Dentaly.org