If you're trying to choose between Invisalign or braces, there's a lot to consider. Cost, speed of treatment, appearance and comfort will all play a part in your decision between clear aligners and traditional fixed braces.
You might be considering clear ceramic braces or lingual braces too, as an alternative to traditional metal.
We understand that this is an important choice. After all, once you have begun your orthodontic treatment, you can't easily switch to another type of dental braces.
So here, we're going to look at all the different aspects of Invisalign vs braces, including:
What Invisalign and braces cost
Which is faster
Whether braces work better than Invisalign aligners
The practicalities of wearing clear aligners and fixed braces
How to decide which is best for you
Let's get started!
Invisalign too expensive? Here's what we recommend…
If you're deciding whether Invisalign or braces are the right choice for you, you might be concerned about the high costs of Invisalign which are not covered by the NHS. Fixed braces cost between £1,500 and £3,000 while a treatment with Invisalign may cost up to £5,500.
Putting aside the costs, Invisalign has a range of benefits: You can eat anything you want – They are almost invisible – And you can brush your teeth as usual!
If you prefer Invisalign instead of fixed braces, but the costs are too high, we recommend Smile White.
Same like Invisalign, these aligners can treat 90% of cases. But the cost is much lower than Invisalign. As a bonus, you'll get free retainers and free whitening to archive a perfect smile in a short time.
Simply book a FREE e-consultation to see whether they are a good option for you.
Use our discount code "DENTALY5OFF" to save an additional 5% on your treatment.
Braces vs Invisalign: Similarities and differences
Whether you want to straighten crowded teeth, close a gap in your teeth, or correct a bad bite, the overall goal of braces and Invisalign clear aligners is the same: to bring your teeth into better alignment.
Straighter teeth not only help you feel more confident but are also easier to care for in the longer term. In more severe cases, orthodontic work can also improve speech and reduce problems like teeth grinding.
All orthodontic treatment works by applying pressure to teeth to gradually move them. But this is really where the similarities between Invisalign and regular braces end.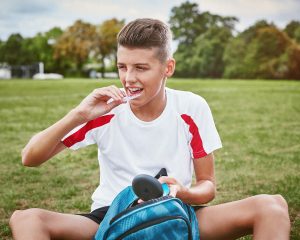 Traditional braces involve having brackets cemented to each tooth with a wire joining them. Invisalign treatment, on the other hand, involves a series of removable clear plastic aligners which fit snugly over the teeth, making this alternative less invasive.
Aligners are very difficult to spot, which is why they are also known as 'invisible braces'. The fact that they can be removed means it's easier to clean your teeth during your treatment.
However, some people find it inconvenient having to wear them for 20-22 hours per day. You're not allowed to eat or drink anything except water while wearing aligners.
Finally, it's important to note that not everybody is a good candidate for Invisalign treatment. This system is best suitable for simple to moderate non-extraction alignments which represent around 90% of cases, the most severe malocclusions will require fixed braces (and perhaps surgery).
Here's a table summarising some of the key differences between Invisalign and braces:
| | | |
| --- | --- | --- |
| | | |
| | Metal brackets and wires are very noticeable. | Clear plastic aligners are almost invisible. |
| | | No restrictions when aligners are removed. No eating with aligners in. |
| | Fiddly to clean; require special care. | Clean teeth as normal when aligners are removed. |
| | Usually just regular checkups and adjustments | Aligners can be lost or damaged |
| | £1,500 - £3,000 or more, depending on complexity | £2,000 - £5,500 on average, depending on complexity |
| | | Suitable for 90% of cases. |
Clear ceramic braces vs Invisalign
Ceramic braces use clear or tooth-coloured material so the brackets and wires are far less noticeable. However, they are still fixed to the front of your teeth so are generally less comfortable and more obvious than clear aligners.
Still, if you're concerned about aesthetics and Invisalign treatment is not an option for you, clear braces are a good alternative to metal. The cost of clear braces and Invisalign is usually about the same.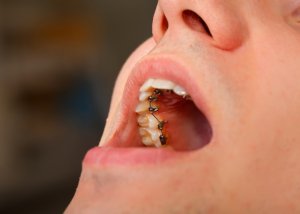 Lingual braces vs Invisalign
Lingual braces use metal brackets but they are fixed behind your teeth. This makes them, in a way, even less noticeable than Invisalign. Some people find that lingual braces affect their speech or cause tongue sores at first, but this is usually only a temporary problem. Additionally, metal allergy reactions must be considered when opting for these braces.
It's often the case that lingual braces cost more than Invisalign – especially if you choose a brand with custom-fitted brackets.
In the following video, dentist Dr David Bloom explains the differences between lingual braces vs Invisalign, to help you decide which one would be the best fit for your lifestyle.
Invisalign vs braces: Cost
Price is a big factor when deciding which braces are right for you, so what about the cost of Invisalign vs regular braces in the UK?
The first thing to know is that the cost of any orthodontic work will depend on the complexity and duration of your treatment.
Some people need minor tooth movement which can be achieved in under six months. Others need significant correction that requires 18 months or more.
And it stands to reason that the longer your treatment is, the more time you'll spend in your dentist's office and the more materials will be required. This all pushes up the cost.
Putting treatment length aside, we can say that in general, treatment with metal braces costs slightly less than the price of Invisalign. However, many patients are willing to pay a little extra in return for the convenience and discreetness of clear aligners.
The best way to find out the price for your Invisalign treatment is to book an appointment with an Invisalign provider near you. They will do a full assessment and provide a personalised treatment plan.
Invisalign dentists and orthodontists usually provide metal braces as well, so they will be able to let you know the price for both options.
Cheaper aligner options
Invisalign is a big name in clear aligners, but they are certainly not the only option. Our guide to the best teeth aligners in the UK goes over some other brands that you may want to consider, especially if you're looking for a more affordable option.
In particular, you may want to consider at-home aligners for mild or moderate cases. Since you don't have to visit a dentist for regular adjustments, you can actually complete aligner treatment from home, checking in online with your dentist.
Because you're cutting out a lot of the costs associated with the process, these aligners are available for much less than Invisalign, or even standard metal braces. Treatment takes 4-6 months on average. Check out some of our recommended options below.
Find the right clear aligners for you
Complex cases
Treats up to 90% of Cases
Up to 40% cheaper than Invisalign
Buy now, pay later in interest-free instalments.
Rated 4.9/5 on Trustpilot
As seen on 5, BBC, 4, DailyExpress, TheMail
Get 5% OFF with our discount code DENTALY5OFF and FREE Whitening and Retainers worth £790
Smile White offers a hybrid model for clear aligner treatment. You have 3 in-office appointments, so your dentist can ensure in person that your treatment is going as planned.
That means that, unlike other clear aligners, Smile White can treat even the more complex cases of bite misalignment.
To get started:
Every treatment comes with free teeth whitening, so you can whiten your teeth while you straighten them!

Best value
Free retainers and whitening
Nighttime aligners available
0% interest finance options
£1,395 £1,295 or £83.33/month
NewSmile is a Canadian company that brought its clear aligners to the UK market in 2022. NewSmile aligners are made from the clearest material and the company offers excellent service at the best price.
They don't have any physical locations, so you'll need to purchase an aligner kit to get started. One of their Impression Specialists will guide you through the process on a video call when you're ready.
NewSmile aligners are very affordable, costing just £1,395 (currently discounted to £1,295). But even better, this price includes whitening foam to use in your aligners, plus your first set of retainers!
Choose their daytime package for treatment in 4-6 months, or nighttime aligners for a more discreet treatment that takes 8-10 months. Both options come with 0% interest payment plans available.
Invisalign vs braces: Which is faster?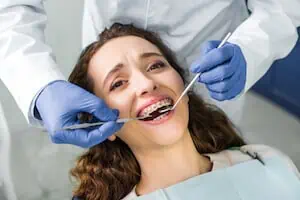 Another common question is whether Invisalign or braces are faster. Understandably, you want to get your teeth straightened as fast as possible, and in this case, you may want to opt for aligner treatment.
This study found that clear aligners do result in faster treatment times as well as less time in the dentist's chair. This can be especially true for less complex cases, provided you comply with the prescribed wear time.
Mild cases can take as little as 3-4 months with clear aligners, whereas most fixed braces treatments take at least 6 months to complete. More complex cases can take 18-24 months to complete, regardless of whether you choose Invisalign or braces.
Do braces work better than Invisalign?
Most patients can be treated just as effectively with Invisalign as with metal braces. However, in around 10% of cases involving complex tooth movement, fixed braces will be a better option.
This report states that "Although it is possible to treat complex malocclusions with plastic systems, the results are less accurate than those achieved with fixed appliances." So, if you have a more complex case, it may be that fixed braces will give a better result.
If you get braces but find that you really don't get on with them, you may be able to switch from braces to Invisalign.
It's also worth noting that if you choose Invisalign treatment, you will have access to their dental monitoring app. This helps you track your progress and also reminds you when it's time to put your aligners back in or switch to the next set.
Our #1 recommended teeth aligners
Conclusion
Having looked at Invisalign vs braces in detail, we can say that Invisalign might be a better choice if:
You want the least noticeable option
You need mild or moderate tooth movement
You'd prefer to be able to eat what you like and clean your teeth as normal
You have the willpower to wear your aligners as directed
You are allergic to metal
On the other hand, fixed braces may be better for you if:
You'd like to be able to eat whenever you want
You need complex tooth movement
You're looking for a cheaper treatment option
The best way to know about the price and duration of your Invisalign treatment is to visit an Invisalign orthodontist near you for an assessment. Chances are they also fit metal braces, and they will be happy to give you all the information you need to decide between braces or Invisalign.
If cost is a big consideration, you may also want to look at home teeth straightening options. These are more affordable, but only suitable for certain cases.
Whichever option you choose, make sure to have a general checkup before you begin treatment. You need to make sure your gums and teeth are in good condition before getting braces or aligners.
FAQs
Are braces or Invisalign cheaper?
This depends on the duration and complexity of your tooth movement. Metal braces are generally priced slightly lower, but Invisalign prices are often comparable. The best way to know for sure is to book a consultation.
Are braces faster than Invisalign?
No, not necessarily. In fact, in many cases, Invisalign is faster than braces. Invisalign treatment can be as short as 3 months, and the average duration is 12-18 months depending on the severity of your case.
We recommend you visit a nearby dentist or orthodontist who provides both options so you can get a personalised treatment plan.
Is Invisalign more comfortable than braces?
It's well known that fixed brace brackets can irritate the gums and cause mouth sores. Clear aligners have a smooth surface which eliminates this problem, making them more comfortable to wear.
Occasionally, patients experience discomfort from one of the edges of their aligners. If this occurs, you can mention it to your dentist or simply use a nail file to smooth the part in question.
Use "DENTALY5OFF" to get an additional 5% discount.
Sign up to receive the latest news and offers from Dentaly.org