Are you considering getting dental implants in Turkey? What about veneers, crowns, teeth whitening, or another dental treatment? Many dentists provide excellent dental care in Turkey at very low prices compared to the UK, making it a popular dental tourism destination. However, you're bound to have questions about getting treatments like dental implants and veneers in Turkey.
In our guide you'll find information on:
The pros and cons of getting dental work in Turkey
Common dental treatments in Turkey
Turkey dental prices
Considerations when choosing a clinic
Reviews from patients who received dental treatment in Turkey
We hope this resource helps you decide whether Turkey is the right place for you to get your dental treatment.
Before you start reading, why not get a free quotation for the work you're considering having done in Turkey? Knowing the price of your treatment can help you make up your mind about the best place to go, and it only takes a minute to fill in your details.
Get a free quotation for dental treatment in Turkey
Why get dental implants in Turkey?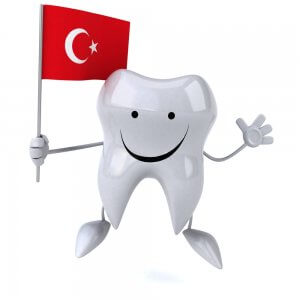 The main reason patients choose to get dental implants in Turkey is the price. Patients find that if they travel to Turkey, costs are lower, meaning a saving of 50-70% on UK dental prices. Of course, the more extensive and costly the treatment, the more you stand to save. That's the reason Turkey dental implants (including All-on-4's) and veneers are particularly popular.
Patients can also save money by visiting a dental clinic in Turkey for other cosmetic treatments like teeth whitening, and even crowns, bridges and dentures. Simply put, if your teeth need work, but costs seem unaffordable in your home country, a dental holiday in Turkey could be your solution.
You'll also find that waiting times are next to none. You should be able to schedule an appointment very quickly with your chosen dentist – helpful if you need urgent dental care.
Location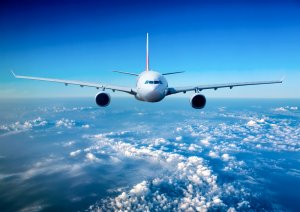 You can fly direct from London to Istanbul in under four hours. It may not be as close to the UK as other popular dental tourism destinations like Poland, Hungary and Spain, but Turkey is still convenient to reach for dental patients from all over Europe.
Turkey has a lot to offer in terms of history, culture, shopping and beaches, so some dental patients choose to extend their trip into a dental holiday and make the most of their time in the country.
Many of the best dental clinics in Turkey are located in Istanbul, which is a popular tourist destination in its own right. For visitors heading to the beach to enjoy the Mediterranean climate, there are also clinics in the south-coast city of Antalya and other coastal resort towns.
What are the standards, qualifications and regulations for dentists in Turkey?
The growth of dental tourism in Turkey is not just down to price; the industry also relies on its dentists maintaining high standards to ensure a good reputation. Over half a million tourists visit the country each year for medical treatment including dental work and cosmetic surgery.
Dentists in Turkey must train for five years at one of the country's 15 schools of dentistry. After obtaining their DDS degree they may specialise with a further five years' education in the fields of orthodontics or prosthodontics.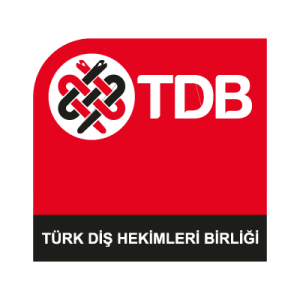 Dental education and legislation are regulated by the Ministry of Health (Sağlık Bakanlığı). Dentists practising in Turkey must have a qualification recognised by this body.
They must also register with the Turkish Dental Association (TDB), an organisation that monitors dental practices and helps develop the profession through continuing education. Currently, over 26,000 dentists in Turkey hold this membership.
Dentists performing any kind of cosmetic dentistry may also become members of the Turkish Academy of Aesthetic Dentistry (EDAD). This is optional, but it shows a dentist is committed to staying up-to-date with advancements and changes in the field through continued education. If you want to get veneers in Turkey, you may prefer to use an EDAD member dentist.
Although the majority of dental clinics in Turkey maintain high standards, there are unfortunately some dentists who are trying to make a profit without having the correct qualifications or equipment. That's why it's very important to do your own research and read reviews before visiting a dental centre in Turkey – just as you should with any location!
Further down you will find some tips for choosing the best cosmetic dentist in Turkey for your needs.

Popular dental treatments in Turkey
Whatever work you're having done, research the procedure carefully so you know what to expect. This will also help you make important decisions along the way.
Dental implants
As explained above, tooth implant cost in Turkey can be as much as 70% less than the price you might have been quoted at home, which is why they are such a popular treatment.
Depending on the type of implants you're getting and any preparatory treatments you need (such as extractions, a bone graft or a sinus lift), you'll need to make two or three visits for your implants. Each of these will probably require a stay of several days or a week. Your dentist will explain more about your treatment plan according to your individual needs.
You might be able to save thousands of pounds by getting Turkey dental implants, especially if you need a full mouth of new teeth. However, don't forget to factor in the cost of your flights, food and accommodation for each trip when working out whether your dental holiday is really worth it.
For slightly quicker treatment you might opt for All-on-4 full mouth implants, All-on-6, or All-on-8 dental implants in Turkey. These require fewer implant rods in the jaw than traditional types, which makes them a cheaper option, and Turkey is one of the cheapest places to get All-on-4 implants. They're not right for everyone though, so research this treatment carefully before going ahead with All-on-4 dental implants in Turkey.
Veneers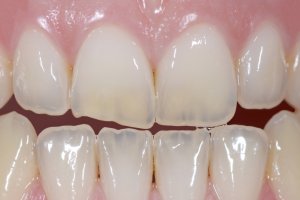 If you don't need implants but do want a straighter or whiter smile, Turkey veneer costs make them much more affordable than in the UK. Getting veneers in Turkey requires one or two visits depending on the type. Composite veneers are done directly in the clinic in a single visit, while porcelain veneers are made in a lab so you'll need to wait while they are done.
This can take anything from a couple of days to a week or more depending on where they are made. A longer stay will add to your costs so it's important to ask your chosen clinic how long you'll have to wait between visits.
A quicker alternative is a type of veneer that can be milled or 3D-printed on-site, making the process much faster. These dental veneers typically cost more, but the quicker process means you can return home sooner.
Teeth whitening
Teeth whitening prices in Turkey mean you could save hundreds of pounds on professional in-clinic treatment. However, the savings probably aren't big enough to justify a trip for teeth whitening alone. If you're on holiday in Turkey anyway, it's certainly worth looking into.
Other treatments
Although there is a big market for cosmetic dentistry in Turkey, people also come for less glamorous treatments including:
root canals
crowns
dentures
bridges
extractions
fillings
Prices are cheaper than private care in the UK for pretty much every treatment so it's worth getting all the work you need while you have the chance.
Cost of dental implants in Turkey
The table below gives an idea of the cost of dental implants in Turkey as well as some common treatments like teeth veneers. These prices are just approximate – you'll need to request a quotation from any clinic you're interested in – but they show just how low dental prices in Turkey can be.
Even after you pay for flights and accommodation, you could still save significantly on your treatment.
Single tooth implant + crown

Insurance not included. All prices are indicative and subject to exchange rates.
To get a better idea of how much it will cost to get veneers, implants or other dental care in Turkey, request a free quotation from Dentaly Go.
This dental tourism service will match you with suitable dental clinics in Turkey, all of which have been pre-screened to strict quality standards. One of their International Patient Coordinators will be in touch to discuss your treatment and help arrange quotes for you.
Locations for dental care in Turkey
Turkey is a very large country and there are many cities and towns with excellent dental clinics. If you're going to the dentist alone, Istanbul may be the best choice. Otherwise, your destination might be determined by what you want to do on your holiday.
Once you have chosen a location, do plenty of research to find a good dentist in that area.
Istanbul
If you decide to get dental implants in Istanbul you'll be spoiled for choice – and not just in terms of dental centres. The city straddles Europe and Asia and has a wealth of culture, ancient history and shopping to keep visitors occupied. There is also accommodation to suit all tastes and budgets.
When it comes to choosing a dental clinic in Istanbul you'll find some of the country's best facilities and most highly-trained specialists.
Therefore if you need extensive work, especially dental implants, Istanbul could be a good choice. It's quite easy to travel from here to a seaside resort if you want to get some beach time as well.
The city is very large so it's worth choosing accommodation close to your clinic. Especially after dental surgery, you'll appreciate not having to travel too far. Ask your clinic if they provide transport so you don't have to worry about making your own way there and back.
Antalya
Antalya is Turkey's fifth most populous city and the largest on the Mediterranean coast. It has an old harbour, beaches, resorts, water parks – everything you'd want on a summer holiday. With so many tourists passing through, dentists in Antalya usually speak good English and are used to dealing with foreign patients.
Most of the dental centres in Antalya are spread along the coast, close to the hotels and resorts. Others located towards the centre of the city may have slightly lower prices but also may not be so used to treating tourists. Check reviews before you book so you know what to expect.
Other seaside locations
If you're primarily concerned with catching some sun then you might want to visit a dentist in Izmir, Side, Marmaris, Kusadasi, Fethiye, or one of the other popular resort towns along the coast. You may not have the same amount of choice as in the larger cities, but there are still plenty of dental centres catering to tourists looking for cheap dental care.
The most important thing is to research your decision rather than getting your teeth done on a whim because you see someone advertising cheap teeth implants. If you can speak to any expats in the area you may find they have some good recommendations.
You might discover that prices are slightly higher in the main tourist areas, but they'll still be very competitive compared to the UK.
How do you choose a dentist in Turkey?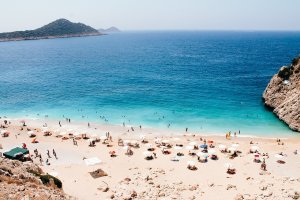 Choosing the best dental centre in Turkey for you will depend on the work you need to have done and what kind of holiday, if any, you want to have while you are there.
Any specialist procedures such as implants, root canals and prosthodontics (artificial teeth) should ideally be performed by a dentist trained in that specific field.
If you need more than one of these procedures then you should look for a clinic that employs all of the relevant specialists rather than relying on one dentist to do everything.
Here are some other important things to consider before getting your teeth done in Turkey:
Is your dentist a member of the Turkish Dental Association (TDB)? This is mandatory.
If you're having cosmetic dentistry, registration with the Turkish Academy of Aesthetic Dentistry (EDAD) is a plus.
How much experience does your dentist have with the procedure you need?
Does the dentist speak good English so you can communicate comfortably? Ask if you can speak to them directly to assess this.
What guarantee do they offer for your dental work?
Does the clinic provide extra services such as airport transfers or accommodation as part of your package?
There are many more questions you might want to ask, and you should feel comfortable gathering as much information as you need to before you make a decision.
If this seems like a lot to think about, we recommend you use a service like Dentaly Go to help you find top-quality, English-speaking clinics at reasonable prices. Their team have already done a lot of the hard work for you by hand-picking dental centres that meet strict quality standards and are experienced with treating patients from abroad.
Dentaly Go will assign you an International Patient Coordinator who will assist at every stage of the process. Read more about how it works, or click below to request a free quotation.
Submit your quotation request now!
Reviews of dental treatment in Turkey
If you're thinking of getting veneers or dental implants in Turkey, or any other work, then reviews will play an important part in your research. Knowing about other people's experiences helps you prepare for your trip and choose the right clinic for the treatment you need.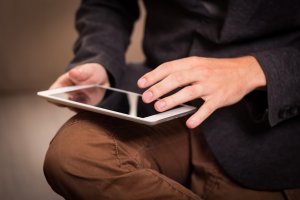 However, there is a lot of information available online and not all of it is impartial. It can be hard to know where to start as you research the best dentist in Turkey for your needs. Below we have compiled some reviews from Turkey dental patients to get you started. These will help you learn about:
How to choose the right dental centre
What to expect during and after treatment
How long certain procedures take
Turkey dental prices
What people thought of their experience
"Dentists in Turkey are insanely cheap"
Roger spent a year living in the small Turkish town of Kas, and while he was there he took advantage of the "insanely" cheap dentistry. He needed a crown and the entire procedure cost him around £150.
In his review of getting dental work in Turkey, he explains how professional and modern the clinic was, despite the fact there were only two dentists to choose from in Kas. He also notes that in places like Istanbul, Antalya and Bodrum, prices might be much higher because residents are able to afford more expensive treatment and there is a year-round medical tourism industry.
Here are some other things Roger notes:
The dental assistant spoke limited English but both dentists were fluent
If something goes wrong when you have dental work abroad, you probably won't have the same protection as in the UK
Turkey dental prices were much cheaper than he found in Southeast Asia
It took three days to have the crown made and fitted
If you want to visit a dentist in Turkey you should research your options before you go or as soon as you arrive
Crowns and teeth implants in Turkey review: "They feel like my natural teeth"
Vlogger Tae documented the highs and lows of getting crowns and dental implants in Turkey. She was in quite some pain after getting her implants fitted and experienced bad swelling following root canal treatment. But, overall, Tae was happy with how her new teeth looked.
Despite getting five root canals, 20 crowns and two dental implants, Tae's treatment took just five days from end-to-end. She'll need to return in six months to replace her temporary implant crowns with permanent ones.
Viewing honest videos like this helps you be realistic about what you'll feel like doing between dental appointments. Tae certainly wasn't in the mood for hitting the beach or shops straight after her treatment. But, that could be because she had a huge amount of work done at once. Fortunately, three weeks on she was feeling much more positive.
"I felt in very safe hands"
Claus, who travels the world by bike and on foot, wrote about his experience visiting a dentist in Istanbul. After doing a lot of research online, he decided on a clinic that had low – but not rock-bottom – prices. He explains he felt more comfortable doing this than going with the cheapest quote he received.
First, he needed four root canals, which took two days to complete and cost about £90 each. A few days later he had four zirconium crowns fitted which cost about £260 each. Since the clinic had its own laboratory, Claus was able to view the process.
Claus says he found the dentists very professional and he felt like he was in safe hands throughout. They always took care to make sure he was feeling comfortable and not in any pain. He plans to return there for more dental work in Turkey soon.
The dentist Claus visited is in the suburb of Maltepe in Istanbul, outside of the main tourist areas. The review on his blog also includes some helpful information for anyone interested in staying in this area.
Veneers in Turkey review: "It's better than anything I've seen in London"
Luis decided to get veneers because he was unhappy with how his teeth looked and whitening only helped temporarily.
He found a dental centre in Antalya that had a lot of celebrity endorsements, which made him sceptical at first. But after doing his own research and asking lots of questions over email he went ahead with getting 10 upper and 10 lower veneers. He paid £5,000 in total for his treatment; a great saving on the £15,000 – £18,000 he was quoted back in London.
He was impressed with the customer service he received, particularly the friendliness of the staff. The fact that the clinic provided all transport to and from his hotel was a great stress reliever.
In the video below Luis explains exactly what the procedure involved and how he felt along the way (warning: occasional explicit language).
Luis claims to be very happy with getting his veneers in Turkey. He plans to save enough money to get dental implants there one day.
If you are interested in professional teeth whitening procedures as well, you can check out our article on Turkey teeth whitening.
Summary of Turkey dental reviews
It seems that Turkey really is one of the best places in the world to get high-quality, cheap dental work. If you need crowns, veneers, dental implants or any other major dental care then it's definitely worth considering visiting a dentist in Turkey. Just be sure to do your own research and check other reviews of your chosen clinic before you book anything.
Ready to get your free quote for dental work in Turkey? Just take a minute to fill in your details and you'll soon hear back about prices from recommended clinics. You might be surprised at how much cheaper the treatment is compared to back home!
Get a free quote for dental work in Turkey
Alternative locations for dental tourism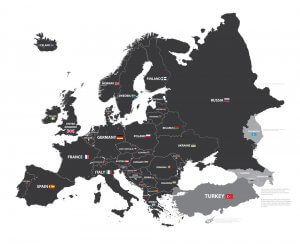 If you decide that Turkey isn't the right place for you to get dental work, there are still other European countries worth considering.
Dental treatment in Spain has a well-established reputation and prices are comparable to Turkey with slightly shorter flights. There are dental clinics in popular cities such as Barcelona and Madrid, as well as in most big seaside resorts. If it's a dental holiday you're after, Spain could be a good option.
You might also consider getting dental work in Hungary or Poland. Flights to both countries take around two and a half hours and you'll find some of the lowest prices in Europe for things like implants and veneers. Although you won't be able to hit the beach while you recover, historic cities like Budapest and Warsaw have plenty of sightseeing on offer.
FAQs
How much does it cost to get teeth done in Turkey?
Similar to the UK, dental prices in Turkey range from dentist to dentist and between practices. However, they are much cheaper and can save you 50-70% off UK dental treatment costs.
Where to get your teeth done in Turkey?
When doing your research find a dental clinic with high standards that specialises in the work you need done. There are also other things you can check before visiting a clinic in Turkey.
Some pointers include reading reviews, checking that the practice is registered with the Turkish Dental Association and questioning their experience.

Sign up to receive the latest news and offers from Dentaly.org