Why get dental implants in Hungary? Cosmetic dental work can get very expensive in the UK since it's usually not covered by the NHS. To make treatment more affordable, you might consider visiting a dentist in Hungary for dental implants, veneers, crowns and other work. Patients can typically save a huge 50-70% by doing this.
Of course, there are many things to consider before you commit to travelling overseas for dental work:
Finding a reputable dental clinic
Calculating the overall cost of your trip
Comparing it to the cost of treatment at home
Knowing what to expect while you're there
Understanding the treatment plan
Planning for aftercare and complications
We hope that this article will give you all the information you need to be able to decide whether to go ahead with dental treatment in Hungary. At the end, you'll find reviews from several patients who got dental work in Hungary, so you can discover what the experience was like for them.
If you're keen to know just how much you could save on dental implants in Hungary – or any other treatment – you can get a free quote for your dental work right away.
Just click the button below, fill in your details, and you'll soon hear back from a Dentaly Go representative about the clinics in Hungary that would be suitable for your treatment. All their recommended clinics are carefully selected to offer the best quality at affordable prices.
Get a free quotation for dental treatment in Hungary
Dental tourism in Hungary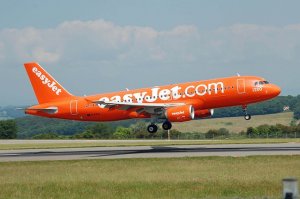 Dental tourism is simply the practice of travelling overseas to receive dental treatment. It has become a popular route for Brits thanks to the high-quality and relatively cheap dental treatment available in countries such as Hungary, Poland, Spain, and Thailand.
It's hard to know exactly how many Brits travel abroad each year for dental treatment since there is no obligation for patients or dentists to disclose this. However, some estimates put the number at 60-70,000 patients annually, with almost half of these heading to Hungary for their treatment.
Dental implants and oral surgery are the most common treatments for Brits to have overseas. The following video by the BBC explains why many Brits travel to Hungary for cheap dental work.
Hungarian dentists don't just cater to visitors from the UK; many patients travel from nearby countries like France, Germany, Austria, Switzerland and Italy as well. This Hungary dental clinic says 21% of its patients are from the UK while 25% are from Germany and 28% are from Austria.
Patients from Germany and Austria started crossing the border to Hungary for cheaper dental care back in the 1980s. This led to 'dental towns' such as Mosonmagyaróvár, which has 160 dental surgeries but a population of just 32,000.
As low-cost airlines emerged, patients were able to travel cheaply from further afield. Gradually, there emerged more dental surgeries in Budapest to offer greater convenience to air travellers.
In this article, we will focus specifically on dental tourism in Hungary. You'll discover the cost of dental implants and veneers, the reason Hungary has such a good reputation for dentistry, and the kinds of facilities you can expect to find there. Our main article on dental tourism contains more information about other countries you may consider for your treatment.
Why get dental treatment in Hungary?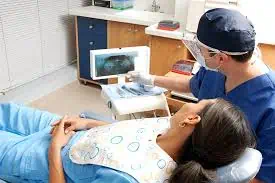 Hungary is a popular option for those seeking high-quality care at an affordable price. Dentists in Hungary are highly trained, and the cost of treatment is generally lower than in the UK.
Hungary is also a convenient destination for tourists, with many dental clinics offering services specifically designed for tourists, including language assistance and coordination of travel arrangements.
Additionally, some people may choose to travel to Hungary specifically for dental treatment as the cost of treatment in Hungary may still be less expensive than in their home country. Overall, getting dental treatment in Hungary can be a cost-effective and convenient option for those in need of dental care.
Reasons people travel to Hungary for dental treatment include:
Price: Probably the main reason why people get cosmetic dentistry in Hungary is the money they save when compared to private treatment in the UK – especially for dental implants and veneers which can cost thousands of pounds.
Training and qualifications: Dentists in Hungary undergo extensive training and are well-regulated.
State-of-the-art equipment: Many clinics in Hungary have invested heavily in the latest technology to make dental treatments as effective, quick and comfortable as possible.
Speed of treatment: NHS waiting times are notoriously long – not what you want when you have a toothache. Rather than wait months for treatment in their home country, patients may receive dental treatment in Hungary in a matter of days.
Excellent facilities: There is a strong emphasis on customer care and making the experience a pleasant one, with some clinics offering spa-like facilities for patients to use during their stay.
Location: Just 2 ½ hours by plane from the UK, it's possible to complete consultations and some treatments without an overnight stay.
Sightseeing: If you're travelling overseas you may as well be somewhere picturesque, and Budapest and many of the surrounding areas have much to offer in terms of sightseeing and recreation.

Hungary dental prices
The following table provides a comparison of dental implant prices in Hungary vs. the UK. You can see that even taking into account travel and accommodation, the cost of dental implants and veneers in Hungary is significantly less than in the UK. The more treatment you have, the greater the potential savings.
Dental treatment in Hungary

Dental treatment in the UK

Single tooth implant + crown

Insurance not included. All prices are indicative and subject to exchange rates.
Of course, prices for veneers and dental implants in Hungary vary from one clinic to the next. These are a rough guide only, and you should shop around to find a price and clinic you're happy with.
Why not start by getting a free quote from recommended dental clinics in Hungary using Dentaly Go? One of their International Patient Coordinators will soon be in touch to discuss your treatment and give you a better idea of prices.
Why are Hungary dentist prices cheaper?
You might assume that lower prices are a result of lower standards of care and outdated equipment, but if anything, the opposite is true. Dental care in Hungary is of a very high standard. Many dental clinics in Hungary are kitted out with state-of-the-art equipment and offer a level of care which far outweighs that of many UK clinics.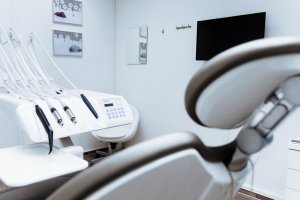 It is, in fact, business overheads that largely determine the cost of treatment. Renting a business premises in Budapest is not as expensive as in London, for example. Things like utilities, salaries and maintenance are all cheaper as well.
These savings quickly add up and mean dentists can offer their services at a comparatively low price. With larger profit margins, they can also invest more in equipment and facilities to improve the experience of their patients.
The dental tourism boom itself has also helped to keep prices down and standards up. As more and more dentists open their doors to patients from countries like the UK, France, and Germany, they are constantly competing with one another to offer the best service possible.
Do keep in mind that not all dentists in Hungary will have made this investment in technology, training and facilities. This means you shouldn't just go for the cheapest treatment you can find. Do your own research by checking online for Hungary dental tourism reviews and asking plenty of questions to ensure your chosen clinic offers the standard of care you need.
Alternatively, use a service like Dentaly Go – a dental tourism agency – since they have already done the hard work of making sure clinics meet rigorous quality standards.
Education and regulation of dentists in Hungary
Hungary's oldest medical school, Semmelweis University, was founded in 1769 and has the country's largest intake of dental students each year. Nestled in the heart of Budapest, it offers dental training in Hungarian, English and German.
Almost half of its dental graduates each year are foreigners – a testament to the quality of its education. On completion of training, graduates are awarded a Doctor of Dental Medicine (D.M.D.) degree.
Dentists who wish to become qualified in a specialist field such as orthodontics, periodontology or prosthetic dentistry must first complete 36 months of work as an employee at a professional practice. They may then return to university to complete a postgraduate course.
As a member of the EU, all dentists practising in Hungary must conform to EU standards. In addition, they must register with the Ministry of Health, which grants a certificate to those who can demonstrate a certain standard of operation. To keep this licence, a dentist must stay educated on current standards by regularly attending seminars, lectures, etc.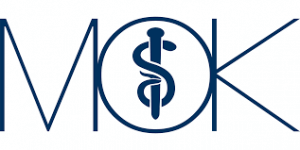 Many Hungarian dentists are also registered with the Hungarian Medical Chamber (Magyar Orvosi Kamara – MOK). Although voluntary, this accreditation is a sign of prestige which is why so many dentists strive to achieve it by meeting rigorous criteria. This membership is something to look out for in your search for a dentist in Hungary.
Clinics in Hungary are not subject to continuous monitoring, but it's assumed that a dentist who has reached a certain standard will care about how his or her clinic operates. You can select one which is ISO 9001 accredited if you want that extra peace of mind when having cosmetic dentistry in Hungary.
How do you find a dentist in Hungary?
Once you've decided to get dental treatment in Hungary, you'll still need to decide which clinic to use. Will you choose a dentist in Budapest, the capital, or in a smaller city or town?
Dental implants in Budapest
A lot of the best dental clinics in Hungary are clustered in the historic capital, Budapest. Dentists in Budapest are well known for their high standards of cosmetic dentistry as well as routine dental care.
Low-cost airlines serve this city from airports all over the UK, with return flights costing as little as £40. Many clinics offer an airport pickup service so you needn't worry about finding your way in a taxi.
Some Budapest dental clinics provide their own accommodation, but even if yours doesn't, there are accommodation options to suit every taste and budget. 3-star hotel rooms in Budapest start from around £20 per night.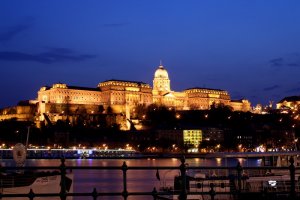 It's well worth giving yourself time to do some sightseeing in Budapest too. Up until 1872 the cities of Buda and Pest, divided by the Danube river, were separate. Although now united, they each maintain their own individual character, with hilly Buda home to a castle that offers spectacular views over the river and the rest of the city.
A walking tour will give you a taste of the city, but you'll need a few days to explore it at your own pace. Some clinics even provide their own tours and tourism programs which you can fit in around visiting your dentist. Drop into one of the thermal spas, for which Hungary is famous, for a little relaxation before or after your dental treatment.
Other locations
Clinics in locations like Mosonmagyaróvár, away from the capital, will take a little longer to reach – but again you should have no problem getting assistance with your journey. You may well find that prices are even lower in more remote areas.
With direct flights to Hungary taking around 2 ½ hours, a straightforward consultation or treatment can be completed in a single day. For more complex treatments such as dental implants, you'll probably need to stay a few nights and possibly make several visits.
Getting dental implants in Hungary
Once you have found a clinic you're happy with you'll need to have a consultation, which is essential for planning your treatment. This will include calculating the exact cost, and ensuring you're comfortable with everything.
Your clinic may refer you to a dentist in the UK for this, or they may conduct a consultation at your first visit which is often provided free of charge. Some clinics may go as far as to provide free airport transfers and even reimburse the cost of your flights if you go ahead with the proposed treatment.
The duration and number of visits required will depend on the type of implants you have.
The implant procedure
Traditional implants are fitted in stages with the complete procedure requiring three or four visits over several months.
First, the implant itself is inserted into the jaw bone and the gum tissue is stitched back over the site. It takes four to six months for the implant to settle and fuse with the bone.
In the next appointment, the abutment is installed and you may be given a temporary crown to cover it. Around two weeks later it's time for dental impressions so the implant crown or bridge can be made to fit just right. The manufacturing usually takes a few days, during which you can return home or enjoy a mini-break.
All-on-4 implants or 'teeth in a day'
All-on-4 implants can be fitted in a single day, making them a popular choice for patients getting teeth implants in Hungary. Since they only require four implants per jaw (sometimes six implants in the upper jaw), they also work out cheaper than a full mouth of traditional implants.
Patients may still be advised to stay for a few days so the dentist can monitor progress, but there is no need for week-long stays. Temporary dentures are fitted at first and then after a few months, you'll need to return to have them replaced with a permanent set.
Choosing a dentist in Hungary
The choice of dentists in Hungary can be a little overwhelming when you first start to consider your options. If you are interested in travelling to Hungary for dental work but don't really know where to start, you can request a free quote now from Dentaly Go.
They will assign you a dedicated International Patient Coordinator who will not only arrange quotes from suitable dental clinics, but also answer any questions you have and guide you all the way through the process.
It's completely free to request a quotation, and there is no obligation to continue with treatment once you have received your treatment plan.
Get started with a free quotation
We recommend you visit your usual dentist for advice before you commit to any treatment overseas. He or she will be able to identify any underlying oral health problems which may prevent you from having dental implants or other treatment abroad. You may also need to obtain a panoramic x-ray to send to the clinic in Hungary for an accurate quotation.
Questions to ask your dentist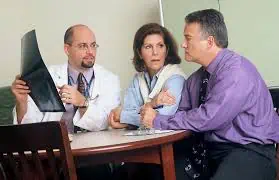 As you do your research to find the best dentist in Hungary for your needs, here are some questions to ask to ensure you have all bases covered:
How do they provide their consultations?
At what point will you be given a fixed price for your treatment?
What is included in the cost and what will you need to pay extra for?
Are you happy with the level of English they speak?
How are they accredited?
What care will they provide while you are recovering?
What aftercare will you need to arrange when you get back home?
Do they provide any insurance and/or guarantees?
What happens if you experience complications after returning home?
Other locations for dental tourism
It's not just Hungary where Brits can get cheap but high-quality dental work.
Nearby Poland also has an excellent reputation for dental training and standards, with a similarly well-established dental tourism industry. It's estimated that over 100,000 people a year visit the country for dentistry alone.
The cities of Warsaw, Gdansk and Krakow all have plenty of modern dental clinics to choose from, as well as offering some interesting sightseeing – particularly for fans of history.
One-way flights are available from £20 from many UK airports and the trip takes around two and a half hours. You could, conceivably, just pop over for the day to get dental implants in Poland.
For those who prefer a more Mediterranean climate, Spain is a good choice. In fact, it's the second most popular destination for Brits getting dental work overseas, behind Hungary. Spain has a long-established reputation for top-notch dentistry at low prices compared to the UK.
While saving money on your dental treatment you can enjoy a city break in Barcelona or Madrid, or soak up the sun in one of Spain's many coastal resorts. Read more about getting dental implants in Spain or whatever other treatment you need.
If you don't mind travelling a little further, you might also consider getting dental care in Turkey including teeth whitening in Turkey. Istanbul is where most dental tourists head, but, like Spain, you can also save on dentistry while enjoying a summer holiday on the beach in places like Marmaris, Antalya and Izmir.

Dental implants in Hungary reviews
If you're researching your options for implants or other dental work in Hungary, reviews are an important part of this process. You want to know what the experience was like for other people who got treatment such as crowns, veneers and dental implants in Hungary.
But with so much information available online (and not all of it honest), you might feel a little overwhelmed. To make your decision that bit easier, we have compiled some helpful reviews and advice from people who have visited Hungary for dental implants and other work. Here you'll find information on:
The kinds of dental work people have in Hungary
Benefits of booking through an agency
What to expect when you arrive
How to choose a clinic
Potential downsides
These are all good things to consider as you research whether dental tourism – in Hungary or anywhere else – is right for you.
"It felt as though I had been treated in a spa rather than a dentist's"
Matthew first started taking dental tourism seriously after a colleague mentioned the idea to him. He had a painful tooth infection and was facing a three-month wait in the UK for the operation he needed. Plus, he needed other work (including a crown and implant) that was going to work out very expensive with his local dentist.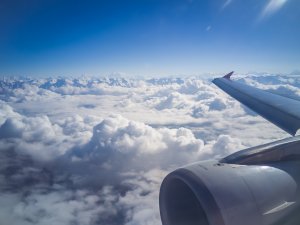 Matthew was apprehensive at first but a little online research put him at ease. He chose Budapest because of its established reputation for dental tourism and its cultural sightseeing opportunities. With flights costing £77 return, it was a very cost-effective alternative to private treatment.
In a review of his Hungary dental experience, Matthew explains how impressed he was with his treatment, the staff, and the clinic (which felt like a spa). He booked a package that included accommodation conveniently located just two doors down from the clinic.
Writing his review three months on, he says the trip was definitely worth it to skip the three-month wait and avoid private dentistry prices.
If you're visiting Hungary for dental implants or other work involving surgery like wisdom tooth removal, consider getting accommodation close to the clinic as Matthew did. You'll probably appreciate being able to go straight back to your room to recover.
"All the staff spoke perfect English and were very friendly"
This video documents the experience of a patient who travelled with his wife to Budapest for dental work. She wasn't planning to have any treatment because she hates going to the dentist. But, when she saw the facilities she felt comfortable enough to book to get her own teeth whitened.
Because this couple booked through a dental tourism company, their five-star accommodation was included. They were also provided with maps and a phone to help them get around. They were very happy with the standard of dental care and the overall service they received.
They plan to go again when they need more dental treatment. The only thing they would change is to stay somewhere a little more central, with easier access to shops and sightseeing.
Dental work in Hungary review: "I felt in safe hands"
Helen needed to replace old veneers and was quoted £10,000 – £12,000 by her dentist for work including teeth whitening and a dental bridge. She researched dental tourism in Hungary and chose a clinic based in Budapest which treats mainly British patients.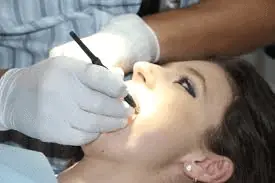 Helen's first step was to have a consultation at the company's London clinic. This cost a reasonable £25 which was refundable against any treatment she had. The estimated cost of the work was £4,700. She had to make three separate visits to Hungary, but even factoring in the cost of flights and accommodation, she saved a huge amount.
She says she felt reassured about her decision when she reached the clinic and found it was equipped with modern technology and the staff spoke good English.
"After many hours of discomfort and a little pain, I emerged with a mouth full of teeth to be proud of," says Helen.
Dental implants in Hungary review: "It was a decision that I was a bit wary about"
David, from London, explains that he was concerned about getting dental work abroad but he decided to go ahead because of the money he could save on his four implants and five crowns. Now, 18 months on, he is still very happy that he chose to get dental implants in Hungary.
He mentions that the clinic he visited was full of Brits getting dental work. He was pleasantly surprised to find that not only was the treatment much cheaper than in the UK; the quality of the work and the level of service were better than he'd experienced back home.
It's just a shame the video quality is so bad you can't appreciate the smile he is so happy with!
Summary of Hungary dental reviews
One thing that stands out in many reviews is people's surprise at how professional, pleasant and friendly the dental clinics in Hungary are – especially compared to what they are used to back in the UK. It's not, as one reviewer joked, a case of a dingy back-street dentist pulling teeth with pliers.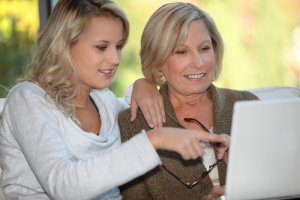 Many people choose to book through an agency so everything is arranged for them. If you're wary about travelling overseas for dental care, this peace of mind could be just what you need.
However, if you're used to planning your own travel, it's quite straightforward to book your own flights and accommodation and navigate Budapest yourself. If you choose a clinic away from the city, check whether transport is provided.
Finally, you may prefer to select a clinic that offers a consultation in the UK. This allows you to discuss your treatment options and receive a cost estimate. You might think more rationally about the treatment if you haven't already invested the time and money to travel abroad. However, your treatment plan can still change when you arrive at the clinic.
Conclusion
It's clear to see why so many people are choosing to get treatment such as dental implants in Hungary. The country has a well-established reputation for dental tourism and offers great cost savings compared to the UK. That said, there are still a lot of things you should consider when deciding whether dental tourism in Hungary is right for you.
We hope our guide and these Hungary dental reviews have helped you understand your options and prepare for your trip, should you choose to go ahead.
If you're feeling a little overwhelmed by the number of good dental clinics in Hungary, Dentaly Go can help. Just click below and submit your request, and one of their International Patient Coordinators will be in touch very soon to match you with a clinic that they have hand-picked and visited themselves.
Get your free quotation now
You might be surprised at how much you can save by travelling overseas to get dental care in Hungary!
FAQs
How much do dental implants cost in Budapest, Hungary?
Budapest dental implants cost between £1,225 and £1,530 for a single implant and crown, and between £5,000 and £20,000 for a full mouth of implants. Initial consultations in Budapest are often free. In comparison to the UK, Budapest prices are at least half the price, which is a massive saving.
Can you get all-on-4 implants in Budapest, Hungary?
It is quite popular to get all-on-4 implants, or teeth in a day in Budapest. This is because they can be done in a single day which can reduce travel costs if you don't want to stay for a full week.
Sign up to receive the latest news and offers from Dentaly.org