As time goes by, a denture that once fit perfectly may lose that snug and comfortable feeling. Fortunately, a denture reline can help reshape your dentures so they fit properly again, without you having to pay for completely new false teeth.
In this article, we will go over some important information about relining dentures, including:
The difference between a hard and soft reline
What the reline process involves
The cost of a denture reline in the UK
How to use a DIY denture reline kit at home
We hope this helps you understand your options for prolonging the life of your dentures and making them fit as well as possible.
Can dentures be reshaped?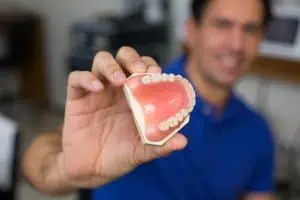 Your mouth and jaw will change shape over time, especially if you have recently had teeth removed and got same-day dentures. Not only can the gum tissue recede, but the jaw bone will start to erode where there is no longer a tooth root or implant for it to support. This can cause your dentures, whether full or partial, to become lose and uncomfortable.
Denture adhesive is one way to keep dentures in place, but this has to be applied daily and doesn't always solve the problem of dentures hurting the gums. A denture reline adds a layer of hard or soft material to permanently change the shape of your dentures to fit better. There is also the option of a denture rebase, which involves completely removing and re-forming the base of the false teeth.
We'll be focusing on relining here, since that's a much more common procedure than rebasing.
What is a denture reline?
A denture reline involves applying a new layer of material to the base of your dentures to help them fit better. There are three types of denture relines: soft reline, hard reline, and temporary reline.
Let's take a look at the three in more detail.
Soft reline
A soft denture reline is very often used for patients with tender gums. The denture is removed and soft pliable material, often silicone, is used to line the underside of the denture. Once fitted, the denture will again feel comfortable. The soft cushion allows the gums to heal.
Soft reline material will last about a year before it needs to be replaced.
Hard reline
A hard denture reline entails a bit more labour and time, but is generally more durable.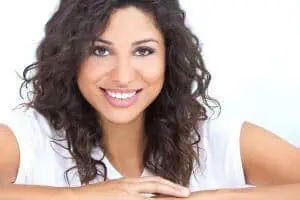 First, the dentist scrapes away a portion of the plastic from the inside of the denture and replaces it with a putty-like substance. They'll then place the appliance back in your mouth and push it into place, leaving it to dry for a few minutes. The shape of the putty shows them where to add new acrylic to make the base fit properly again.
The final adjustment to add a new hard, acrylic base might be done in-office or in a dental laboratory. The relined teeth should be a comfortable and secure fit.
Temporary reline
A temporary reline is done when a patient's gums are sore and inflamed because they have been wearing ill-fitting dentures for too long. The temporary reline provides a soft cushion so that the gums can recover to a healthy state.
During this procedure, a medicated material is applied to the underside of the appliance. The patient will usually wear the treated denture for 2-4 weeks before returning to the dentist for another assessment. It may now be possible for the old dentures to be relined; otherwise, a new set will need to be purchased.
Have a look at this table for a summary of the different types of relines.
| | | |
| --- | --- | --- |
| | | |
| | Durable, costs slightly less | Usually takes 2+ days, not suitable for sore gums |
| | Comfortable for sore gums, can be done chairside | Slightly more expensive and less durable |
| | Gives time for very sore gums to heal | Needs to be replaced with a permanent solution |
How long does it take to reline dentures?
This is a really good question, because you will have to be without your false teeth during the procedure. Of course, you'll want that time to be as short as possible.
It's possible to get a chairside denture reline which takes about an hour to complete. You'll leave the dentist's office with your re-fitted teeth and nobody will be any the wiser. This is more likely to be possible with a soft reline than a hard one – it all depends on the materials your dentist uses and their capacity to perform the reline themselves.
With a hard reline it is most likely that the denture will need to be sent to a dental lab for the new acrylic to be applied. It can take as little as 48 hours for your dentures to be returned, but it can take longer depending on workload. It's a good idea to check this with your dentist ahead of time. Or, you can search for a dental lab near you if you cannot get a dentist appointment right away.
In the detailed time lapse video below you can see exactly how much work goes into a hard denture reline:
How long will a denture reline last?
How often should you have your dentures relined? It really depends on whether you have a hard or soft reline, and also how quickly your mouth changes shape. If you have recently had teeth extracted then you may need a reline after just a few months.
Generally, a soft denture reline can be expected to last one to two years, while a hard reline can last over two years. Your dentist may recommend having your dentures serviced every one to two years to keep them fitting properly and in good condition.
How much does a denture reline cost in the UK?
Denture reline costs in the UK will vary from one place to another. As a guide, we can say that a hard denture reline costs around £75 – £125 per appliance while a soft denture reline costs £100 – £150.
Your dentist will let you know an exact cost according to the type of reline and the materials being used. If you have dental insurance, check to see whether your policy covers denture relining.
Denture reline costs on the NHS
If you got your dentures on the NHS then you can also have them relined with your NHS dentist. Denture relining on the NHS falls into the Band 2 treatment fee. This means a charge of £65.20 in England, £47 in Wales, and a variable charge in Scotland and Northern Ireland.
How to reline dentures yourself
If you're wondering whether you can reline your own dentures, the answer is yes – you can purchase a denture reline kit like the ones featured below.
Do be aware that relining your dentures at home probably won't produce such good and long-lasting results as you'll get at the dentist. You also risk altering your bite and even damaging your dentures if the material is not placed correctly. But, if denture reline costs are out of your budget at the moment, a denture reline kit can be an affordable way to make your mouth more comfortable for now.
Denture reline kits in the UK
If you can't get to a dentist right now or don't have the cash to pay for a reline, you can try doing it yourself with a denture reline kit. The results should last around three months, which is plenty of time to get yourself booked in to have the work done by a professional.
Dentemp Reline-It is one of the best denture reline kits in the UK. You get enough material for two relines and it's suitable for both upper and lower dentures. Be careful to follow the instructions carefully and you should soon have a good fit again!
"I followed the instructions to the letter (they are detailed but easy to follow) and am very pleased with the results. I will easily recover the cost in what I save on fixatives."

-Amazon reviewer
Permasoft make a soft denture reline kit which also works well… but be prepared for the bad taste. It seems that this puts many people off using this product, but here's the advice from one happy customer:
"Don't like the taste to begin with and have learnt not to bite down too hard when you first apply solution, after a day the taste has nearly gone and they fit really well and no longer rub, I would recommend this and tell people to put up with the taste to gain the benefit of the comfort for weeks to come."

-Amazon reviewer
Soaking your false teeth in vinegar or a baking soda solution may help the chemical taste fade sooner.
Conclusion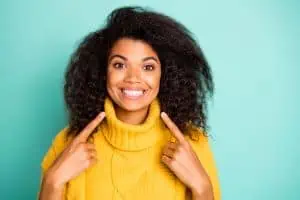 Getting your dentures relined for a better fit is not as complicated as it may seem. The process is very straightforward, and an experienced dentist should take the time to explain to their patient what type of treatment is best for them, what the process is for each type of relining – hard or soft – and what the cost will be.
Denture wearers getting a soft denture reline will quite likely leave the dentist's office wearing their false teeth after their denture reline procedure, whereas those having a hard reline will very likely have to make a return visit in a couple of days once the lab work is complete. Either way, for many people any short-term inconvenience is well worth the money saved by not having to purchase new dentures.
If you've had enough of wearing removable teeth, you might want to look at a more permanent dental restoration like teeth implants or bridges. People with no or few natural teeth remaining may be a good candidate for All-on-4, which is cheaper than regular full mouth implants.
FAQs
Can you reline your own dentures?
Denture relining kits are available for purchase in pharmacies and online. Many people have success relining their own dentures, but this should only be seen as a temporary solution. See your dentist if your device is causing you pain or discomfort.
What's the average cost of a denture reline in the UK?
A denture reline costs in the range of £75 to £150 with a private dentist. A soft reline usually costs more than a hard reline. NHS patients will pay the Band 2 treatment fee.
Can you reline a partial denture?
Yes, the denture reline procedure can be carried out on any size of acrylic denture. If you have a flexible denture that doesn't fit well any more, you'll need to ask your dentist about the options.
Sign up to receive the latest news and offers from Dentaly.org