Dental prices in the UK are going through the roof, but have you thought about going to a dentist in Marmaris instead? Heading to Turkey for dental work might seem excessive, but with savings of up to 70%, why not?
And, you may as well combine it with a holiday while you're there. Marmaris is a great place to relax in between dental appointments, you can chill out on the beach, see the sights or head out on a boat trip.
A dental holiday in Marmaris may sound great, with low dental costs and beautiful beaches, but you probably have a few questions. So, keep reading while we answer the following and more:
Why visit a dentist in Marmaris, Turkey?
How much does dental work in Marmaris cost?
How do you choose a dental centre in Turkey?
What is the best way to check the quality and standards of the dental clinic you choose?
What do you need to know to prepare for your trip?
If you are concerned about getting dental work abroad, this article will answer all of your questions so that you relax and prepare for your holiday. We aim to give you all the information you need so that you can make informed decisions about your dental care.
Why visit a dentist in Marmaris, Turkey?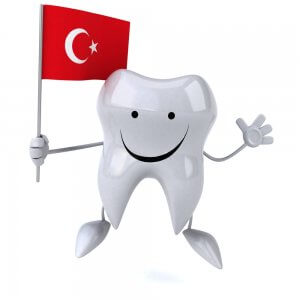 If you are considering getting dental implants in Marmaris, or other dental work like veneers or even teeth whitening, it's probably because you have seen the hefty private dental costs in the UK. Or, maybe you're eligible to get your treatment with the NHS, but you're aware of how long the waiting lists are.
Well, if you book your dental work in Marmaris you can skip the long NHS waiting lists and high private dental costs. And, with prices being up to 70% lower in Turkey, you won't have to lower your holiday budget.
Lower prices don't mean that the standards of dental care aren't as good as the UK either. The standard of care in most Turkish dental clinics is similar to the UK, but with lower overheads and living costs they can charge much cheaper prices.
So, although it can be a little scary to travel abroad for dental work, rest assured that you can find high-quality dental care in Turkey.

Why Marmaris for a dental holiday?
If you choose to visit a dental clinic in Turkey, Marmaris is a great option for both dental treatment and a holiday. It is a very popular tourist destination on the Mediterranean coast, where you can relax on sun-kissed beaches or day trip on a boat to hidden bays and caves to explore and swim.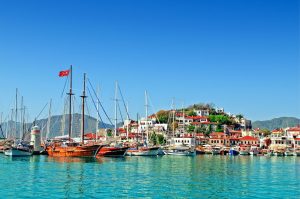 Other things that you can do in Marmaris in between dental appointments include:
Shopping
Visiting restaurants
Sailing
Night clubs
Adventures sports
Day trips to sight-see
Although you may not feel up to filling your days with countless activities, there is plenty to keep the family busy if they have come along for a holiday.
How much are Marmaris dentist prices?
One of the main reasons to get dental work in Marmaris is the low costs. And, if you're looking for affordable dental care this could be the answer you have been searching for.
Even when you add in all of the costs for accommodation, travel, and meals out, you could very well still be paying less than you would in the UK.
The following table shows the average dental cost in Marmaris compared to UK prices:
Single tooth implant + crown

Insurance not included. All prices are indicative and subject to exchange rates.
As you can see from the table, prices in Marmaris are by far the cheaper option, which may leave you with money left over in your budget for holiday costs.
However, you'll need to get a personalised quote to be sure of the price for your treatment. If you don't already have a dentist in mind, you can use Dentaly Go to help you find a clinic that is experienced with treating British patients and will provide the best quality care. Request a free quote using the form below, and one of their International Patient Coordinators will be in touch to discuss your treatment needs and match you with a clinic.
Now that you know why Marmaris is a good option for dental work, let's discuss how to choose the best dentist in Marmaris for your needs.
How do you choose a dentist in Marmaris?
There are a lot of clinics in Marmaris to choose from, so how do you find the best one for your needs? Well, a good place to start is by knowing what treatment and specialist you may need. Whether you are getting dental implants, veneers, crowns or teeth whitening, there will a specialist for each treatment.
Once you know which specialist you need, you can refine your search of dental clinics in Marmaris that have specialists in your treatment. For example, an endodontist for root canal work, a prosthodontist for crowns and veneers, or an implantologist for dental implants.
Or, if you need a few different treatments it may be worth looking at bigger dental practices that have multiple specialists.
Searching for an English-speaking dental centre in Turkey, or more specifically Marmaris, should help to refine your search. These clinics will market their services to dental tourists and English speakers, so they should be simple to find!
Questions you can ask a dental clinic in Marmaris
It is worth having a list of questions that you can ask potential clinics before deciding on one. The NHS has a checklist that you can use if you are traveling abroad for any medical treatment to help you prepare and vet different clinics. Some questions that we recommend that you ask dentists in Marmaris include:
How much experience does the dentist or specialist have with your procedure and treatment?
Do they have reviews and before and after pictures that you can see?
Does the dentist speak English?
What is included in the cost?
Are there any guarantees?
What happens in the event of complications after you have returned to the UK?
If you'd like a helping hand with choosing a great dentist in Turkey to carry out your treatment, request a free quote from Dentaly Go. They have already hand-picked clinics based on strict quality criteria, so you can be sure you'll get the best treatment at an affordable price.
Get started with a free quote
If you want more general information on dental treatments abroad, check out our full guide here.
What is the standard of dental care in Marmaris?
You may think cheaper prices mean lower quality, but that's just not the case for dentists in Marmaris, Turkey.
Every practising dentist in Turkey must be registered with the Turkish Dental Association. This means that they have to meet certain criteria and standards of care to be registered, so it should be the first thing that you check. Turkish dentists may also register with other organisations, but it is not mandatory.
It is also not mandatory that they do any further education, but ask about their continued professional development. The best dentists will care about furthering their knowledge and making sure they are up to date with industry standards and expertise.
There is a lot of competition between Marmaris dental clinics which helps to keep standards higher, and prices lower. But, that doesn't mean that every single one will be up to international standards, so make sure you ask questions, read reviews and research as much as possible before making a decision.
What do you need to know to prepare for your trip?
Once you have chosen a clinic there are a few other things you need to consider when planning your dental holiday, some of these include: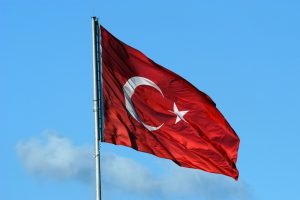 Location
Accommodation
Transport
Currency
Payments
Accommodation
Marmaris may seem like a small holiday town where everything is quite close together, however that is not the case. It is actually quite spread out so if you don't want to spend too much time travelling between your accommodation and the dental practice then you may want to make sure you book accommodation close by.
Location can make or break your holiday, so it is good to research a few different aspects. What else may impact your stay? Some areas are quite popular for the nightlife, and depending on whether or not that is your scene may affect whether you want to be staying near the main strip.
If you want to spend a lot of your time relaxing by the beach, then find accommodation that is close to the beach and get transport to and from dental appointments.
Transport
In Marmaris, the easiest way to get around is by public transport which is a system of minibuses called dolmuses. These 11-seater minibuses run frequently and efficiently and cost only TL1.50 (£0.13) for a single journey within Marmaris.
Taxis are another option, but they are considered the most expensive way to get around. So, if you want to travel by car you might be better off renting a car at Dalaman airport if you feel confident driving yourself. However, you will most likely still need to get a taxi to and from dental appointments as you may not be able to drive after any anaesthetics.
Some dental clinics in Marmaris include transportation, so make sure you check what is and isn't included in costs when you are doing your research.
Currency and payments
The local currency in Marmaris is the Turkish Lira.
Generally, dental centres in Turkey will take payments in both cash or card, and some may take alternative methods of payments such as PayPal. You may also be able to pay in a different currency to the local one, which may save you money in exchange fees. If you choose to pay by credit card, look into what fees you may incur so you don't get a shock later.
Although most places take cards these days, have some Lira on you at all times for paying for public transport, taxis, food and smaller items.
There are ATM's at the airport, but you may want to make sure you exchange a small amount of money before your trip to pay for transport from the airport to your accommodation.
Dental reviews Marmaris, Turkey
Millie T, a popular influencer and vlogger travelled to Turkey to get dental work. She wasn't exactly sure what she would have done before going to her appointment, only that she wanted her crooked front tooth fixed. When Millie was younger she broke one of her front teeth in half and it hasn't looked straight since it was fixed.
The dentist advises a full mouth of veneers, which she is happy with in the end because of the low cost of Turkey veneers.
Millie documents the whole process step by step, and even includes difficulties she had with her passport and getting to her destination. She shares her reservations but explains that it's what she wants. She does decide only to get her top teeth done in the end, but the dentist is flexible and agrees that it's fine.
Millie was extremely happy with her experience and results and shares her before and after pictures at the end for you to see the final result.
Sue's review is of her chosen dental clinic in Marmaris, and as you can see was extremely pleased with the care and treatment she received.
Bill enjoyed his stay in Turkey and is very pleased with his dental implants. He goes as far as to say they are the best in the world in both quality and price!
Other dental destinations in Turkey to consider include Izmir, Istanbul and Antalya. And, you can read more reviews of dentists in Turkey in our main guide.
Conclusion
Marmaris is a Mediterranean resort along the Turkish Riviera. It is a hugely popular tourist destination and it has the bonus of low-priced, affordable dental treatment. Prices are so low that even with the added cost of travel, accommodation and other travel expenses you may still be paying less than in the UK.
Getting dental implants in Marmaris, Turkey will be more of a much-needed break than a dentist trip. And, if you're worried about the standard of care, don't be. Low prices don't mean low quality in Marmaris. But, make sure you do your research first to make sure you choose the right dentist for your needs.
If you think you're ready to start planning your dental holiday to Marmaris, get a quotation today with Dentaly Go. Once their team understands your needs, they'll arrange free quotes from their hand-picked clinics offering top-quality treatment at affordable prices.
Get your free quote now!
Not only is Marmaris a great place for you to relax and enjoy your time between dental appointments, but it's also great for the family. With so much to do from beach trips, water sports, and boat excursions, there's something for everyone.
So, if you decide to combine visiting a dentist in Marmaris with a much needed holiday, you can rest assured everyone will have a great time away.
Sign up to receive the latest news and offers from Dentaly.org