If you have decided that Invisalign is the right solution for your teeth alignment problem, then you may be wondering if it is available on the NHS. Since Invisalign aligners are significantly more expensive than metal braces, people often ask: can you get Invisalign on the NHS?
This article will answer this question and more including the following:
Why get Invisalign aligners?
Is Invisalign treatment available on the NHS?
What are the criteria for getting braces on the NHS?
Can you get clear braces on the NHS?
How much does Invisalign treatment cost in the UK?
Invisalign is a convenient and discreet way to straighten your teeth, but it can be expensive. Keep reading to find out what orthodontic options are available to you on the NHS and if you might be eligible.
But, before we get started with treatment options that are available on the NHS, let's discuss what Invisalign aligners are and how it works.
Does the NHS pay for your Invisalign treatment?
The short answer is No, Invisalign aligners are not covered by the NHS. Invisalign treatment costs on average between £3.000 and £5.500.
If you want to do orthodontic treatment with invisible aligners – but you're on a tighter budget – we recommend you have a look at SmileWhite.
These aligners follow a treatment model similar to that of Invisalign. That means that Smile White can treat anything from mild aesthetic adjustments, to complex bite misalignment.
But they're up to 40% cheaper than Invisalign and you can get free whitening and retainers. For more information, read our Smile White Review or book a FREE e-consultation.
Use "DENTALY5OFF" to save an additional 5% on your treatment!
Why get Invisalign aligners?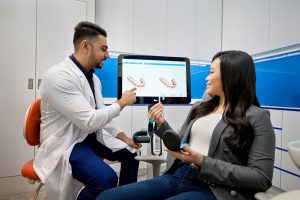 Invisalign is a popular and well-known brand of clear aligners that can treat a range of orthodontic issues. Invisalign prides itself on having the most advanced aligners on the market, but this top-level technology comes with a higher price tag than other brands.
In comparison to the traditional fixed braces, Invisalign aligners are much less noticeable and far more comfortable to wear. Treatment consists of a series of custom-made, clear plastic aligners that you change roughly every two weeks to continue treatment.
The best part about clear aligners is that they are removable, so eating and cleaning your teeth and device are much easier than with fixed braces.
Appointments with your Invisalign doctor are face-to-face, unlike some other brands of clear aligners, and you also have access to online monitoring via the app.
Aligners work by applying pressure to different areas of your mouth to gradually straighten your teeth and align your bite. This is similar to traditional braces, except instead of uncomfortable and sometimes painful braces adjustment appointments, you just change your set of aligners to a new set.
Some people with very mild orthodontic issues may only need an aligner on their bottom or top teeth.
Is Invisalign available on the NHS?
The short answer is no, the NHS doesn't cover Invisalign treatment, so if you want to get these aligners you will need to go privately through an Invisalign provider.
The orthodontic treatment options offered by the NHS are traditional fixed metal braces, and for growing children, certain orthodontic appliances are available as well.
However, getting any orthodontic treatment with the NHS can be difficult as you must meet their criteria for treatment. This is because, as you might imagine, they prioritise orthodontic treatment for dental health and not your appearance.
Our #1 recommended teeth aligners
How do you get braces on the NHS?
The criteria that determine whether you're eligible for NHS braces are based on your age, the severity of your case, and a few other factors.
The good news? If you meet these criteria, then getting braces on the NHS could be an option for you! The NHS offers free orthodontic treatment for children under 18 when there is a clear health need for treatment. However, only metal braces are available on the NHS.
Children are usually considered for braces between the ages of 12 and 13, and they are assessed on an index known as the Index of Orthodontic Treatment Need (IOTN). Scores are on a scale of 1-5 and include the following:
1-2: Not eligible for treatment
3: Assessed on a case-by-case basis
4-5: Eligible for treatment
NHS orthodontic treatment is usually available only to children, but adults may be eligible for treatment under certain circumstances. However, this is only in very rare situations and approved case by case.
You can speak to your dentist if you would like more information on whether you qualify for braces as an adult.
Can you get clear braces on the NHS?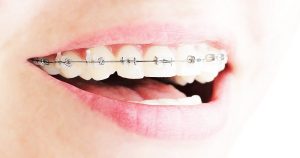 Unfortunately, it's not possible to get clear braces on the NHS. The only braces option available if you get treatment with the NHS is the standard traditional metal braces.
However, if you're interested in having clear braces, there are plenty of places that offer them for a reasonable price if you opt for private care. You will also be able to choose from multiple options if you go to a private practice for treatment. These options can include:
Clear aligners: removable clear plastic trays
Ceramic braces: fixed braces with clear or white brackets
Lingual braces: fixed braces that are hidden behind the teeth
Invisalign clear aligners are one of the more expensive options, but if you're on a budget you may be able to find a less expensive clear aligner option available.
Your individual orthodontic case may also dictate which treatment is available to you. If your case is more complex, you may need to have a traditional fixed brace.
Fortunately, if that's the case, then you can opt for ceramic braces if you are looking for a less visible alternative to metal braces.
Cheaper alternatives to Invisalign
Just because you can't get Invisalign on the NHS, doesn't mean you should give up altogether on getting clear aligners. There are many good teeth aligner options in the UK that cost less than Invisalign.
If you only need mild to moderate cosmetic teeth straightening, consider a direct-to-consumer aligner brand like NewSmile. These aligners cost just £1,295 for the full package, including whitening and retainers. The reason the cost is so low is because instead of visiting a dentist for regular checkups and adjustments, everything is monitored online using an app.
Even the treatment preparation is done remotely; you receive an impression kit to make moulds of your teeth at home.
Find the right clear aligners for you
Complex cases
Treats up to 90% of Cases
Up to 40% cheaper than Invisalign
Buy now, pay later in interest-free instalments.
Rated 4.9/5 on Trustpilot
As seen on 5, BBC, 4, DailyExpress, TheMail
Get 5% OFF with our discount code DENTALY5OFF and FREE Whitening and Retainers worth £790
Smile White offers a hybrid model for clear aligner treatment. You have 3 in-office appointments, so your dentist can ensure in person that your treatment is going as planned.
That means that, unlike other clear aligners, Smile White can treat even the more complex cases of bite misalignment.
To get started:
Every treatment comes with free teeth whitening, so you can whiten your teeth while you straighten them!

Best value
Free retainers and whitening
Nighttime aligners available
0% interest finance options
£1,395 £1,295 or £83.33/month
NewSmile is a Canadian company that brought its clear aligners to the UK market in 2022. NewSmile aligners are made from the clearest material and the company offers excellent service at the best price.
They don't have any physical locations, so you'll need to purchase an aligner kit to get started. One of their Impression Specialists will guide you through the process on a video call when you're ready.
NewSmile aligners are very affordable, costing just £1,395 (currently discounted to £1,295). But even better, this price includes whitening foam to use in your aligners, plus your first set of retainers!
Choose their daytime package for treatment in 4-6 months, or nighttime aligners for a more discreet treatment that takes 8-10 months. Both options come with 0% interest payment plans available.
Of course, this type of treatment is not a suitable option for every orthodontic case. Once you submit your teeth impressions, a dentist or orthodontist will review your case and confirm if you are eligible. If not, then Invisalign may be the next best option.
Whichever treatment you choose, make sure you have a full dental checkup before beginning. It's important that your teeth and gums are healthy before you begin aligner treatment.
Should you get braces with the NHS or private care?
If you're looking to straighten your teeth, you might be wondering if it's worth going through the NHS or if paying for private treatment would be a better option.
The NHS doesn't offer Invisalign as a treatment option, so if you want to get clear aligners, then you will have to pay for them yourself. However, NHS treatment is free if you're under the age of 18 and affordable if you're an adult. But, you do have to wait for your appointment and are limited in what you can get.
You will also have to endure waiting lists for specialist dental care, which could be another factor in deciding whether or not you should go private. Private care is paid for out of pocket, but gives you more options and quicker treatment times—often with less waiting!
In the following video Dr Gareth Williams explains NHS orthodontics compared to private orthodontics:

What does Invisalign cost in the UK compared to braces on the NHS?
Invisalign costs in the UK range from dentist to dentist and between practices. The price depends on your individual case including the severity and treatment timescale.
As mentioned above, Invisalign is not available on the NHS; nor are any other brands of clear aligners. Traditional metal braces are available and NHS orthodontic treatment will cost you £282 if you are eligible for treatment (remember – most adults are not eligible).
Those under the age of 18 that are eligible for braces will get their treatment for free with the NHS. Ceramic braces that are similar to metal braces (but less noticeable) are another option that isn't available with the NHS.
For comparison, if you were to go privately for traditional metal braces they would cost between £1,500 and £3,000. For ceramic braces, you could be paying between £2,000 – £6,000.
Again, prices will range between dental practices and depend on your individual case and treatment timescale.
The following table summarises the cost of the orthodontic options discussed and whether or not they are available on the NHS:
Free for people up to 18 years old

£282.80 in England for adults who are eligible
Conclusion
The Invisalign system isn't available on the NHS; if you want this treatment you will need to go to an Invisalign provider and pay for it yourself. The cost will depend on the complexity of your case and the length of your treatment.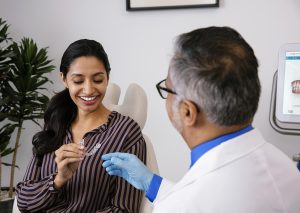 Even if you want to get metal braces with the NHS, you may find it difficult. Your case must be assessed and deemed medically necessary.
If you are a candidate and under 18 years old, orthodontic treatment with the NHS is free, but if you're older than 18, it will cost you the standard NHS price of £282.80.
Other options that are less visible than metal braces such as ceramic braces are also not available on the NHS. They are similar in cost to Invisalign treatment; however, they are fixed and more noticeable than Invisalign aligners.
People who want to get clear aligners but find Invisalign too expensive should consider other brands, including those that monitor treatment remotely.
FAQS
Is Invisalign free on the NHS?
You cannot get treatment with the Invisalign system on the NHS. If you would like to get these clear aligners you must go through an official Invisalign provider for treatment.
Do NHS dentists do Invisalign?
Many dentists have a combination of NHS and private patients. So you may well be able to get Invisalign treatment from your usual NHS dentist, but you'll need to be seen as a private patient.
How much does Invisalign cost on the NHS?
It is free to get orthodontic treatment on the NHS if you are under 18, and standard NHS rates apply if you are over 18. However, Invisalign is not one of the available treatment options. If you want treatment with the NHS you will be offered the traditional fixed metal braces.
Can you get invisible braces NHS?
The only braces option available on the NHS is the traditional metal braces. You are very unlikely to be offered clear or invisible braces unless your dentist decides they are medically necessary.
How do you get braces on the NHS?
The NHS does offer braces for some patients, but it's not an option for everyone. The criteria that determine whether you're eligible for NHS braces are based on your age, the severity of your case and a few other factors.
Use "DENTALY5OFF" to get an additional 5% discount.
Sources
BOS. What Is The IOTN? Consulted 3rd February 2022.
Prices stated are indicative only and are based on publicised treatment prices at dental clinics across the UK.
Sign up to receive the latest news and offers from Dentaly.org