If you've had any dental restorations in the past and want to straighten your teeth, can you get Invisalign with crowns, bridges or veneers?
While the Invisalign system can usually treat up to 90% of orthodontic cases, there are some restrictions that may apply to you if you have previously had other dental work. So, how do you know if you are eligible and how might your orthodontic treatment be affected?
This article will discuss everything you need to know about getting Invisalign with crowns and other dental restorations, including:
How do aligners work?
Can you get Invisalign treatment if you have crowns, bridges or veneers?
How can you find out if you are eligible?
What should you know before getting Invisalign treatment?
If you have any dental restorations, don't be discouraged, as you may still be eligible for Invisalign treatment. Let's get started and discuss exactly what Invisalign treatment is and how it works before we dive into Invisalign with crowns, bridges and veneers.
Can you receive Invisalign treatment if you have had dental restorations?
The short answer is YES, Invisalign treatment is compatible with dental crowns and other dental restorations. However, eligibility is determined case-by-case based on how the treatment may impact your restorations.
If you're on a tight budget and looking for a cheaper option, check out Smile White. Like with Invisalign, they can treat 90% of cases, and you have a few in-person dentist appointments to ensure a good result. As a bonus, you'll get free whitening and retainers worth £790.
Use code DENTALY5OFF to get 5% off your treatment.
What is Invisalign and how does it work?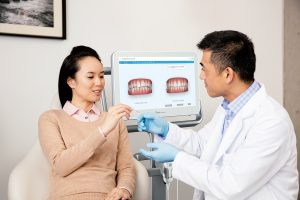 Invisalign treatment consists of a series of removable clear aligners that, when worn, apply pressure to certain parts of your teeth and mouth to gradually align your smile.
The aligners are custom made with Inivsalign's special SmartTrack material and fit snugly to your teeth. You must wear them for 20-22 hours per day and only remove them to eat or drink anything besides water and to clean your aligner and teeth.
If you have a moderate to severe case or need more complicated tooth movements you may need buttons, attachments and elastics to help apply further pressure or to fix an overbite or other misalignment issue.
Depending on your case and which Invisalign option your dentist recommends, your treatment time can be anywhere from 3 months to 2 years. However, multiple factors can influence how long your treatment may take and this can include crowns and other restorations.

Can you get Invisalign treatment if you have had dental restorations?
The short answer is yes, you can get Invisalign treatment with crowns and other dental restorations. However, eligibility is assessed on a case-by-case basis according to how the treatment may affect your restorations.
It is a common misconception that those with dental restorations cannot get orthodontic treatment such as Invisalign aligners. This is simply not true, and although there are some cases that will not be eligible for treatment, many are because clear aligners don't attach to the teeth.
The best way to know whether you are a good candidate for Invisalign treatment is to have an assessment with an Invisalign provider. You can check for nearby Invisalign dentists and orthodontists online. At your appointment, you'll be able to discuss your treatment in detail.
If you are planning to get aesthetic veneers, it may be better to have orthodontic treatment first. But if you already have veneers, crowns or bridges and want to straighten your teeth, your dentist will decide what's best. If you do go ahead with Invisalign treatment, they will carefully plan your treatment taking your restorations into account.
The following video is from a dentist in London that answers the question: Can you get Invisalign with crowns, bridges or veneers?
Let's take a closer look.
Can I have Invisalign with crowns?
Dental crowns are a common way to restore a missing tooth. They look and feel natural and keep your smile healthy. However, they can make it harder for Invisalign aligners to straighten your teeth. This is because they may move unpredictably and more slowly than natural teeth.
They don't stop you from getting Invisalign treatment, but it does depend on your case. It may just mean that your treatment lasts longer, or that you need more check-ups to ensure it's going as planned.
If you need attachments on your crown this may pose some issues. However, Invisalign doctors are skilled at placing attachments so it is generally not too much of a problem.
Can you get Invisalign with a bridge?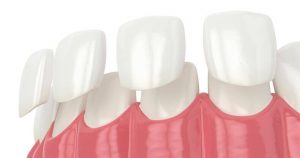 If you have a bridge you may already know that orthodontic treatment with traditional braces is not possible. This is because fixed braces may damage your bridge and cause other issues. Invisalign with a bridge, on the other hand, is possible. It might depend on the position of your bridge and the teeth that need to be moved, though.
Can you have Invisalign with veneers?
Many dentists will recommend that you get orthodontic treatment before getting veneers so they are not a concern when straightening and aligning your smile. Veneers can also be used as a means to straighten your smile, but they are purely a superficial aesthetic solution and they do not fix alignment issues.
In some cases, certain orthodontic issues that can lead to jaw pain and other oral health issues may only surface after you have already had your veneers placed. So, it may be that you need Invisalign treatment to resolve these issues. If this is the case then treatment shouldn't cause any issues if your veneers are healthy and secure.
Our #1 recommended teeth aligners
How do you find out if you're eligible for Invisalign with crowns?
If you have crowns, bridges or veneers it's advisable to make an appointment with an Invisalign doctor so that they can assess your orthodontic case.
During your initial appointment, they will use an iTero scanner to get a digital image of your teeth and mouth. Using this, your dentist will be able to assess if you are eligible for treatment then create a custom treatment plan for you. They will also be able to talk you through the process and how your dental restorations may affect treatment.
Throughout your appointment, you can ask as many questions as you want so that you know exactly what to expect and address any concerns. Then, once you have discussed and agreed to your custom plan with your Invisalign doctor, treatment can begin.
When it comes to pricing, keep in mind that individual quotes for Invisalign will vary — you can call 866-383-0748 to find an Invisalign dentist near you who can give you a detailed price quote.
Conclusion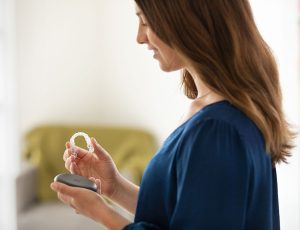 Invisalign treatment with dental restorations like crowns, bridges or veneers is entirely possible if your Invisalign doctor decides that you are a good candidate. Treatment options will depend on your particular case and your eligibility will be assessed during your initial appointment.
Invisalign with veneers or crowns might be a little different than if you were to get treatment for just your natural teeth. Crowns and bridges tend to move more slowly and less predictably than your natural teeth, and veneers can get damaged if they are not fitted securely.
There's also a small possibility your dentist may struggle to place attachments to your crowns or veneers due to the material they are made of. However, this does not mean you will not be able to get treatment, only that you may need more check-up appointments to ensure your treatment is going to plan.
If you are considering treatment with veneers or crowns, the first step is to find out if you're eligible. The best way to do this if you have any restorations is to book an appointment with your nearest Invisalign dentist or orthodontist so that they can thoroughly assess your teeth, your bite and how your restorations may affect your overall treatment.
Use "DENTALY5OFF" to get an additional 5% discount.
Sign up to receive the latest news and offers from Dentaly.org