Invisalign aligners are a great way to straighten your teeth without having a mouth full of metal train tracks. But sometimes the aligners by themselves are not enough and you may need Invisalign attachments. 
These attachments allow Invisalign aligners to treat cases that need more complex tooth movements. Even though you may not be too keen on these attachments, they still aren't as noticeable as traditional dental braces.
If you have never heard of these Invisalign buttons and attachments, then you are probably wondering what they are, and how they are used. Not to worry, we will answer these questions, as well as the following, and more.
How noticeable are Invisalign attachments?
What is eating with Invisalign attachments like?
Can Invisalign attachments fall off?
Can you whiten your teeth with these attachments on your teeth?
Do they stain?
If you need attachments with your Invisalign treatment, then some of your teeth need a little extra help moving into the right position. That's not a bad thing, as it means that even though your case is a little more complex, you are still eligible for Invisalign aligners.
Let's get started so you can learn more about what getting Invisalign attachments entails.
A cheaper option: SmileWhite
If you're on a tight budget and looking for a cheaper option, check out SmileWhite. Like with Invisalign, they can treat 90% of cases, and you have a few in-person dentist appointments to ensure a good result. As a bonus, you'll get free whitening and retainers worth £790.
Read our Smile White review or check if you're eligible for their treatment with a quick and free assessment.
What are the attachments for Invisalign aligners?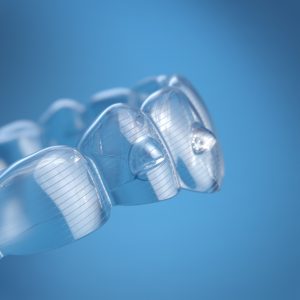 Dental attachments used in Invisalign treatments are small studs made of composite resin similar to that used for dental reconstruction and fillings.
For aesthetic reasons, Invisalign attachments are generally transparent or similar in colour to your natural teeth. They are bonded to the teeth in specific positions to enable the aligners to get a better grip on certain teeth and guide them into the desired positions.
Buttons are similar to attachments and can be either clear, tooth-coloured or metal depending on their location. If they are on the back teeth they may be metal as they will not be seen. Buttons are small auxiliaries used to anchor elastic bands.
Rubber bands help to align your bite and position the upper and lower teeth into a better position.
What are Invisalign attachments used for?
As we have briefly mentioned, Invisalign attachments help to align the teeth and bite when the aligners are not enough by themselves. While Invisalign aligners work brilliantly by applying pressure, moving and aligning teeth gradually, some orthodontic cases need a little extra help.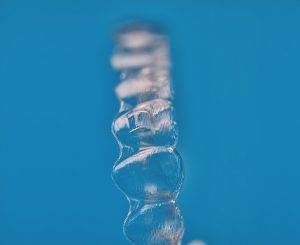 Attachments are most commonly used in more complex orthodontic cases involving severe crowding or malocclusions. They can help with moving teeth in directions that cannot be achieved by the aligners. For example, if a tooth needs to be rotated, or raised more above the gumline to line up with other teeth.
Buttons have some similarities to attachments. They are small hooks that are attached to your teeth and work with elastic bands to help correct overbites and other malocclusions.
How do these attachments work?
Invisalign attachments work by allowing the aligners to grip the teeth better so they can apply more pressure. For the attachment to work, it is bonded to the centre of the tooth that needs particular adjustments.
The next aligner tray is then made tighter around this tooth and attachment to enable greater pressure and therefore better movement in the desired direction.
The following video shows exactly how Invisalign buttons and attachments work to align your bite and teeth into better positions.
How are they placed?
If you need attachments to complete your Invisalign treatment, then your dentist or orthodontist should know before your treatment begins. This is because after they use the iTero digital scanner to scan your teeth and bite they use a software called ClinCheck to visually plan out and simulate your entire treatment plan.
Using ClinCheck your dentist or orthodontist will be able to precisely plan and evaluate the position and angulation of any attachments that you need. The position, axis and size of each attachment are calculated and adapted for each tooth, as each individual tooth has different requirements.
Once your treatment plan has been finalised the following steps explain how the attachments are placed:
Your orthodontist will clean and prepare the surface of your teeth with a special type of gel
The gel is then washed off and a bonding agent is applied to your teeth
A template aligner (made with ClinCheck software) with spaces where the attachments will go is placed on your teeth
The template spaces will be filled with composite resin and hardened with a UV light
The orthodontist will remove the template from your teeth
The following video shows how they are placed on your teeth.
Once your attachments have been placed, your dentist or orthodontist will help you learn how to remove Invisalign with attachments. It may take some practice but you should get used to them quickly.
Removing Invisalign attachments
At the end of your treatment, the process for removing Invisalign attachments is actually very simple. Your dentist will use a special tool to chip away the composite resin.
Once the resin has been removed your dentist will polish your teeth so there is no residual trace of the attachments.
Getting your attachments removed is completely painless, but you may notice some slight vibrations during the procedure. They are not hard to remove, however you should not try to do it yourself as you may damage your teeth.

The disadvantages of Invisalign attachments
Invisalign attachments are great because they make it possible for Invisalign aligners to treat more complex orthodontic cases. However, they are not without their drawbacks, some of which include the following: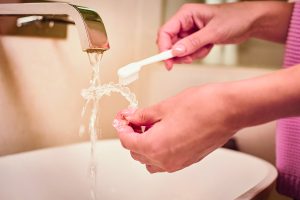 Staining of your teeth
Plaque build-up
Invisalign attachments staining
Tooth decay
Difficulty putting on and removing Invisalign aligners with attachments
Invisalign attachments pain
Aligners are more noticeable with attachments
It is more difficult to place attachments on crowns, bridges or veneers
It's important to have good dental hygiene when you have Invisalign clear attachments as plaque can build up around the attachment edges and lead to discolouration, staining and even tooth decay.
Your attachments can also stain and turn yellow if you don't keep them clean by brushing your teeth. Avoiding highly pigmented food and drinks, like coffee or wine, can also help keep the attachments from staining.
Invisalign clear attachments are more visible than wearing the aligners by themselves, but stained attachments are even more noticeable. For more information on what can stain your aligners, read our article that answers the question: Can you drink with Invisalign?
While it may be harder to put on and remove your aligners with attachments, there are devices to make things easier. Invisalign chewies can help you seat your aligners, and make sure they fit properly so your treatment goes to plan.
If you have Invisalign with crowns, bridges or veneers your Invisalign doctor may have a harder time placing your attachments due to the material they are made from. But, don't worry, Invisalign doctors are skilled so just be aware that it may just take a little longer to get your attachments placed securely.
Teeth whitening with Invisalign attachments
Maintaining good oral hygiene is important when you are undergoing any braces treatment. However, it is also important to keep your teeth from staining as whitening with Invisalign attachments is not recommended.
If you whiten your teeth while wearing Invisalign attachments you are likely to end up with dark spots in the middle of your teeth when your attachments are removed.
That is because the whitening treatment will whiten your surrounding teeth but not be able to reach under your attachments. The whitening agent may even weaken the bond and cause your Invisalign attachments to fall off.
Our #1 recommended teeth aligners
Do Invisalign attachments hurt?
Like any new orthodontic treatment, some Invisalign pain with attachments is normal. Whenever you put on new aligners you will most likely experience some pain or discomfort.
The same is true for when you put a new tray on with attachments. As attachments are meant to create more pressure in certain areas, they may hurt a little more than when you wear Invisalign without attachments.
This pain should go away once you get used to new aligners, and having attachments, but, in the meantime, you can take over-the-counter pain relievers such as Ibuprofen or Paracetamol.
You may also feel a little discomfort from the attachments when you aren't wearing your aligners, but you should get used to this over time.
Alternative treatments
If you're looking for a cheaper alternative treatment to Invisalign, there are other options available. Popular alternative teeth straightening treatments include direct-to-consumer brands like SmileDirectClub and NewSmile with pricing options between £1,295 and £1,639 compared to Invisalign's higher price bracket of around £3,500 and £5,000.
Another benefit of these brands is that you don't need to visit your dentist's office for regular checkups as they can check your progress via an app. This also reduces your overall cost of treatment.
NewSmile costs just £1,295 and you'll get a free set of retainers and whitening treatment included in the price. You can create your own teeth impressions at home, with the help of a specialist via a video call if you prefer.
SmileDirectClub costs £1,639 and you can visit one of their SmileShops in the UK for a free 3D scan. Once your scan is done they will assess your suitability for treatment and discuss your treatment plan.
Both NewSmile and SmileDirectClub offer a full money-back guarantee if you are not a good candidate for treatment.
These options are great for people who don't want to go to a dentist for regular appointments, or those who can't easily get to a dentist. They also offer nighttime-only treatment options where you can wear your aligners at night – although this may increase the overall treatment time.
Find the right clear aligners for you
Complex cases
Treats up to 90% of Cases
Up to 40% cheaper than Invisalign
Buy now, pay later in interest-free instalments.
Rated 4.9/5 on Trustpilot
As seen on 5, BBC, 4, DailyExpress, TheMail
Get 5% OFF with our discount code DENTALY5OFF and FREE Whitening and Retainers worth £790
Smile White offers a hybrid model for clear aligner treatment. You have 3 in-office appointments, so your dentist can ensure in person that your treatment is going as planned.
That means that, unlike other clear aligners, Smile White can treat even the more complex cases of bite misalignment.
To get started:
Every treatment comes with free teeth whitening, so you can whiten your teeth while you straighten them!

Best value
Free retainers and whitening
Nighttime aligners available
0% interest finance options
£1,395 £1,295 or £83.33/month
NewSmile is a Canadian company that brought its clear aligners to the UK market in 2022. NewSmile aligners are made from the clearest material and the company offers excellent service at the best price.
They don't have any physical locations, so you'll need to purchase an aligner kit to get started. One of their Impression Specialists will guide you through the process on a video call when you're ready.
NewSmile aligners are very affordable, costing just £1,395 (currently discounted to £1,295). But even better, this price includes whitening foam to use in your aligners, plus your first set of retainers!
Choose their daytime package for treatment in 4-6 months, or nighttime aligners for a more discreet treatment that takes 8-10 months. Both options come with 0% interest payment plans available.
Conclusion
Invisalign aligners are great for straightening your teeth and aligning your smile. However, sometimes the aligners themselves aren't enough to move your teeth in the direction or angle needed. That is why these attachments are needed in some cases.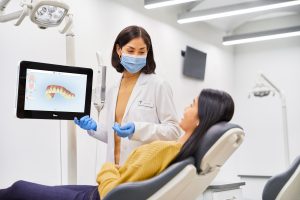 Invisalign attachments are made from a composite resin and are attached to the surface of your teeth to work with your aligners.
They can help your aligners get a better grip on the tooth and apply more pressure to move it in the right direction. Attachments can also help with rotational issues, along with buttons and elastic bands. Buttons are similar to attachments except they are used in conjunction with elastic bands to help better align cases of malocclusion.
These attachments do have their downsides. They are a little more painful than just regular aligners as they are adding greater pressure to your teeth, and plaque can build around the edges of your attachments causing staining and even tooth decay if you're not careful.
Practising good dental hygiene should help you avoid these issues.
When it comes to pricing, keep in mind that individual quotes for Invisalign will vary. Before choosing any treatment option, we recommend visiting your dentist for a consultation to discuss your options and treat any issues you may have prior to starting braces treatment.
Use "DENTALY5OFF" to get an additional 5% discount.
FAQS
Can Invisalign attachments fall off?
Yes, Invisalign attachments can fall off. If they do you must let your dentist or orthodontist know right away as this can affect your treatment, and may delay your treatment time.
It is important that your dentist replaces the attachment as they are a key part of your treatment because they influence your teeth to move in the correct way.
What do Invisalign attachments do?
Invisalign attachments attach to the surface of your teeth and work with your aligner to apply more pressure to certain teeth. They can help with severe cases of crowding or malocclusion.
The attachments allow for a better grip of certain teeth and help with rotation and other movements.
Do Invisalign attachments stain?
It is possible for Invisalign attachments to stain. But, with a good dental hygiene routine, and by avoiding certain food and drinks, you should be able to keep your attachments stain free.
How noticeable are Invisalign attachments?
Invisalign attachments are much more noticeable than if you were to just wear the aligners without attachments. However, compared with metal or ceramic braces they are less noticeable.
Sign up to receive the latest news and offers from Dentaly.org